Month 3, Day 14 of Celtic Historian David Potter's new diary on The Celtic Star which will run throughout the new season and will highlight key Celtic-related events relevant to each day, today covering 14th October…
SATURDAY 14 OCTOBER 1893
Celtic are very much indebted to Sandy McMahon for his hat-trick in the 5-2 win at Celtic Park over the hard-working St. Bernard's side from Stockbridge in Edinburgh. The other goals are scored by Johnny Madden and Joe Cassidy, but McMahon's value to Celtic is seen in the story that circulated a few days later when the ex-French President called Patrice de McMahon died. News vendors deliberately allowed people to believe that it was Celtic's Sandy in order to sell papers. "McMahon deid! Whit'll the Cellic dae noo?" is the cry.
SATURDAY 14 OCTOBER 1922
A rather dull game against Motherwell at Celtic Park was enlivened by a goal scored by Joe Cassidy, while the man of the match was "old Alec" McNair who snuffed out the menace of Motherwell's Hugh Ferguson. Meanwhile at Coatbridge, Tommy McInally, now playing for Third Lanark scored what was claimed to be the best goal ever seen at that ground,
WEDNESDAY 14 OCTOBER 1936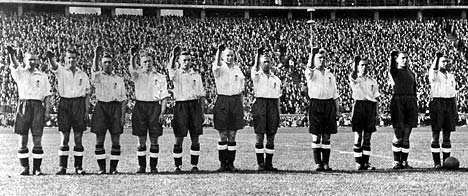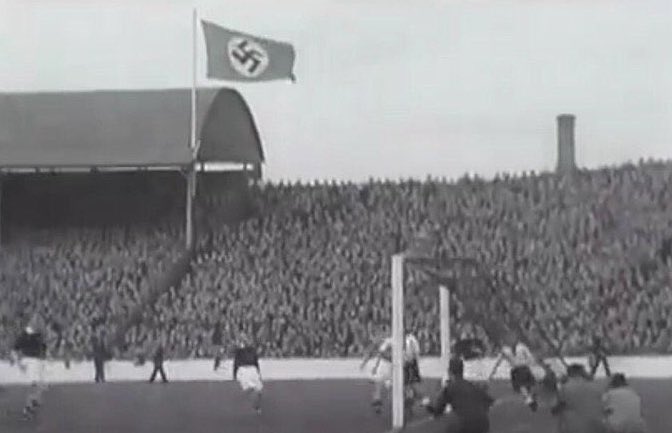 This is the day that Jimmy Delaney, playing for Scotland, scores twice to beat Nazi Germany at Ibrox with the swastika flying overhead. It was reported that the Fuehrer, already reeling at the success of the black American Jesse Owens at the Berlin Olympics, is furious, but Jaydee is the hero of Scotland who beat the Herrenvolk 2-0.
SATURDAY 14 OCTOBER 1961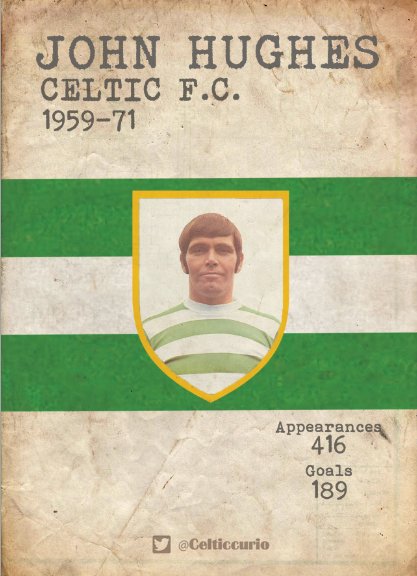 There seems little doubt that this new young Celtic team are fast developing. Today in front of 22,000 spectators they beat Stirling Albion 5-0 with a hat-trick from John Hughes and one each from John Divers and Bobby Carroll. Right half Pat Crerand is outstanding.
SATURDAY 14 OCTOBER 2006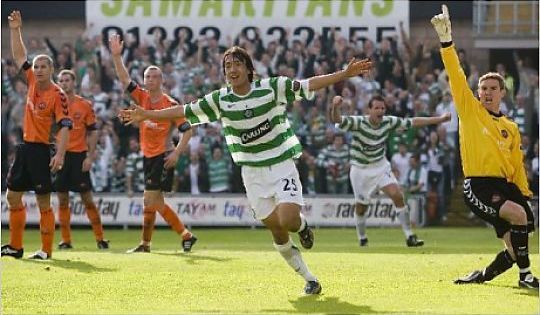 In spite of losing an early goal to Dundee United at Tannadice, Celtic really turn it on with a 4-1 victory in which Shunsuke Nakamura scores a hat-trick and Vennegoor of Hesselink scores the other. Manager Gordon Strachan purrs with pleasure at Nakamura's performance.
David Potter
Morning all, on this day in 1961 the Celtic Song by Glen Daly was first played over the scratchy old PA system at Celtic Park and was instantly popular. 61 years later the song is still sung by fans of Celtic and indeed other clubs, most notably Everton. pic.twitter.com/TYG1e0OR1j

— Lisbon Lion (@tirnaog_09) October 14, 2022
Astonishingly, the police thought the song would be a 'trouble maker.' One has to wonder what is remotely offensive about a club song? Oh wait, it's Celtic, their very existence offends some. pic.twitter.com/3bwNPfxXAt

— Lisbon Lion (@tirnaog_09) October 14, 2022
14th October 1961, Glen Daly's The Celtic Song was played at Celtic Park for the first time before a 5:0 victory over Stirling Albion.https://t.co/uwGBqRYJmN

14th October 1986, Celtic 2:0 St Mirren.

Judas and McClair. @BrianMcClair13 pic.twitter.com/STjsU5rX0o

— Li'l Ze (@LilZe_7) October 13, 2022

14th October 1995, Celtic 2:2 Hibs.

Collins and Pierre. @pierrevh17 pic.twitter.com/ZBFZ7GVC6A

— Li'l Ze (@LilZe_7) October 13, 2022

25 years ago today, Celtic beat Dunfermline 1:0 in the Coca Cola Cup semi-final.

Burley with the winner. @craigburley pic.twitter.com/jytQ9cwd3A

— Li'l Ze (@LilZe_7) October 13, 2022

Excellent rendition of it from 1998. pic.twitter.com/hRFoMFEMBt

— Li'l Ze (@LilZe_7) October 13, 2022
14th October 2000, Celtic 2:0 St Mirren.

Sutton and Larsson. @chris_sutton73

Agathe makes his debut. pic.twitter.com/9NFXYYXZTo

— Li'l Ze (@LilZe_7) October 13, 2022
5 years ago today, Celtic 1:0 Dundee.

Ntcham. @OlivierNtcham pic.twitter.com/kxIh2lsSy8

— Li'l Ze (@LilZe_7) October 13, 2022