Celtic Historian David Potter each morning on The Celtic Star looks back at key Celtic events and matches on this day starting on 16th March 1910. David's latest bestseller The Celtic Rising ~ 1965: The Year Jock Stein Changed Everything is available now in print on Celtic Star Books, and also on Amazon kindle, links below…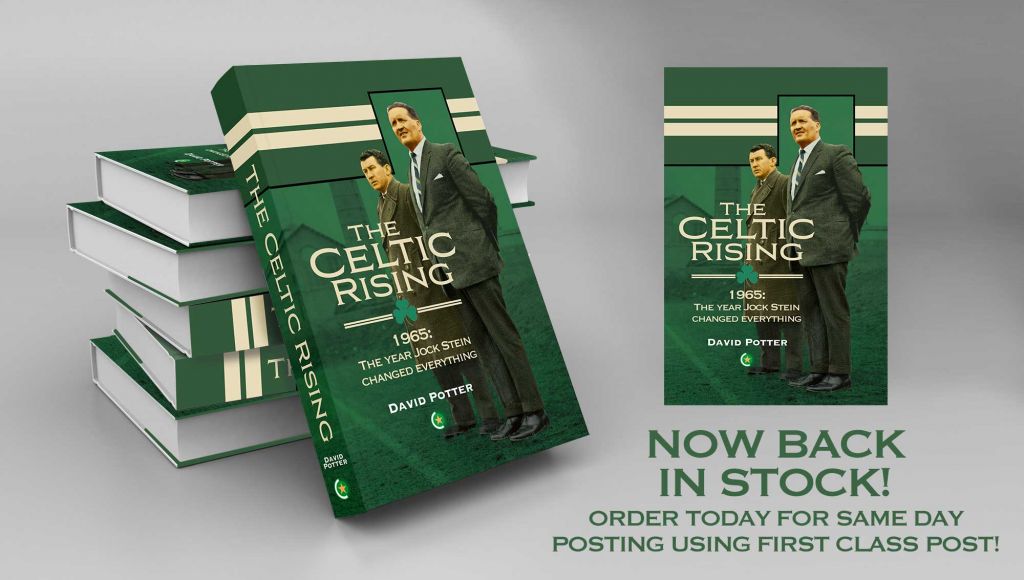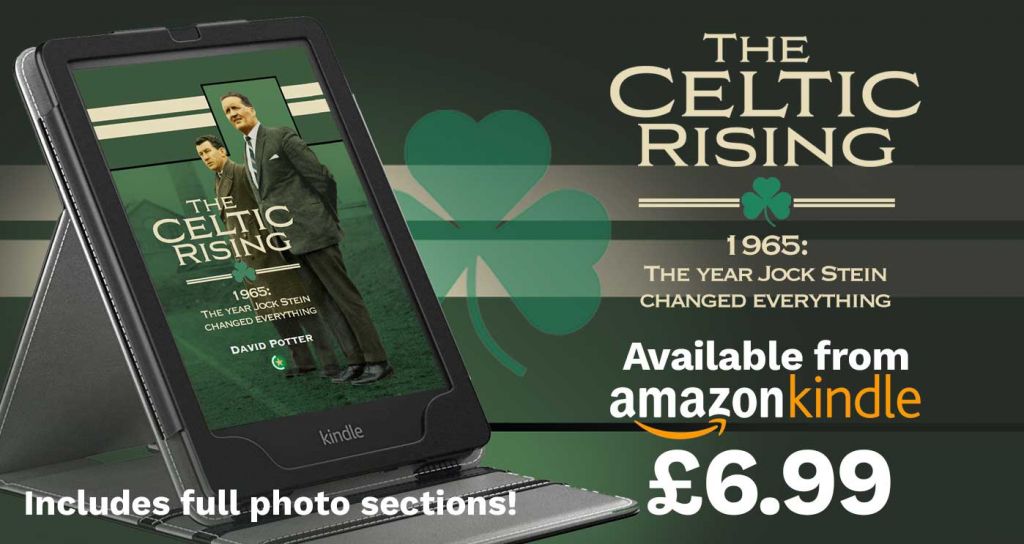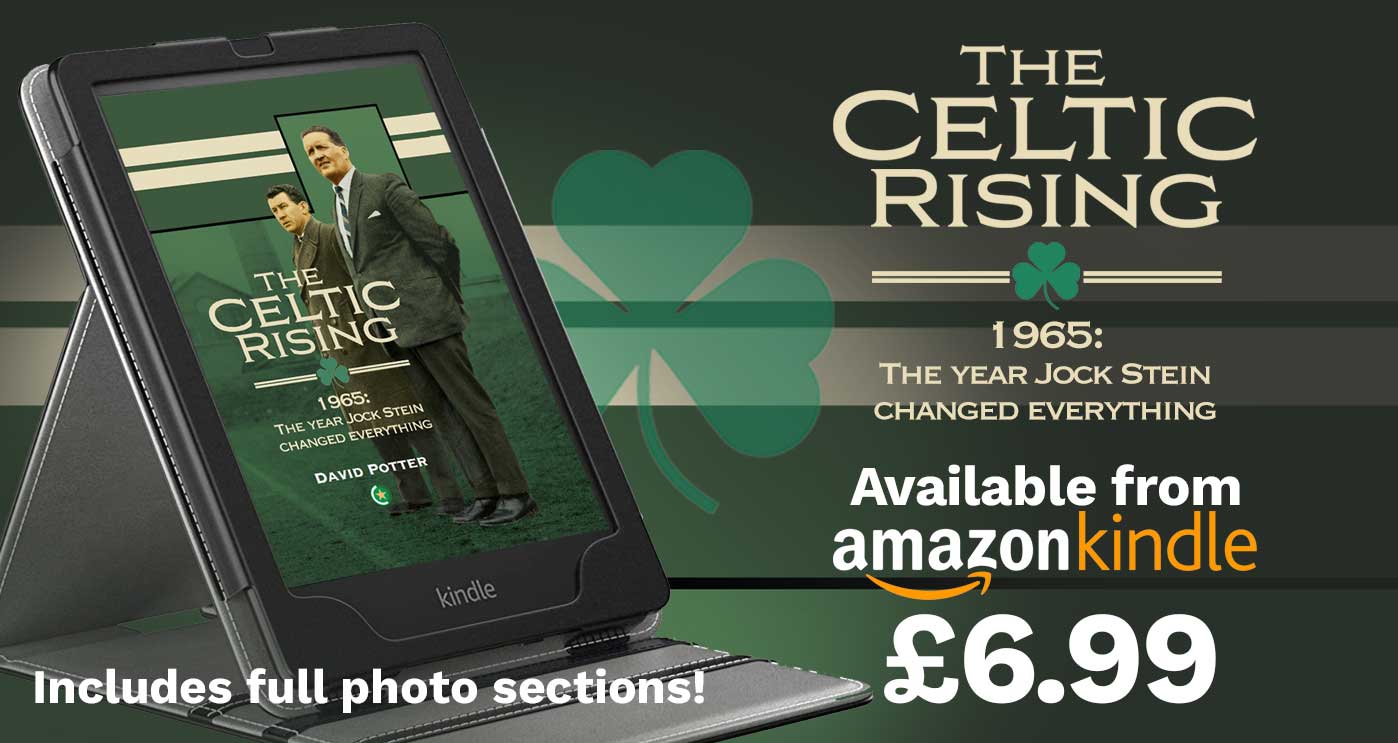 WEDNESDAY 16 MARCH 1910 – Celtic take another step towards their sixth League Championship in a row with a 2-0 win over Third Lanark at Parkhead on a Wednesday afternoon before a poor crowd of 3,000. Jimmy Quinn scores a penalty and the fast developing Peter Johnstone scores the other. It is vital for the club to get back on track today because Saturday's Cup semi-final defeat to Clyde was a bad blow.
SATURDAY 16 MARCH 1963 – Celtic register a good win at Palmerston Park today as they beat Queen of the South 5-2 with a hat-trick from Bobby Craig and one each from John McNamee and Frank Brogan. There are hopes that something may yet be salvaged from this disastrous season.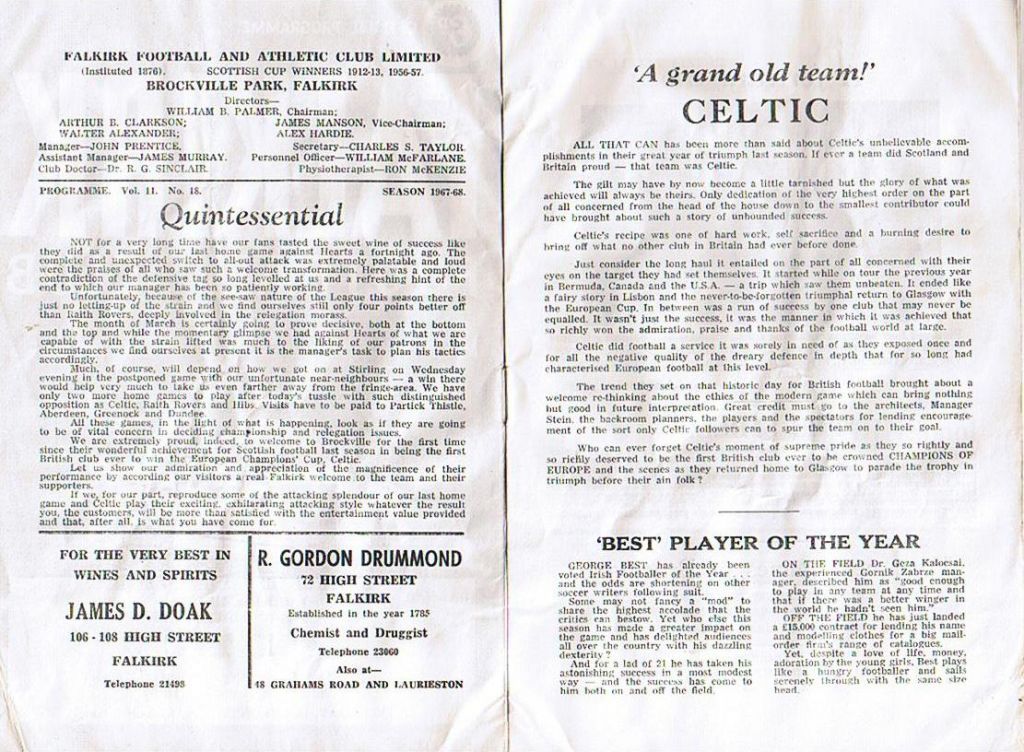 SATURDAY 16 MARCH 1968 – Celtic continue their pursuit of Rangers in the Scottish League with a good 3-0 win over Falkirk at Brockville on a windy and unpleasant day with goals from Willie Wallace, Bobby Lennox and a penalty from Tommy Gemmell. Sadly that are still two points behind Rangers.
16th March 1968, Falkirk 0:3 Celtic.

"Hail, Hail, The Champs Are Here!"

Nice write-up from the Falkirk programme.https://t.co/1RUcTgi3z2 pic.twitter.com/8RVfLfXSQL

— Li'l Ze (@LilZe_7) March 16, 2023
WEDNESDAY 16 MARCH 2005 – In a game postponed form earlier in the season, Celtic beat Inverness 2-0 at Inverness in a performance which is described as "gritty" as Celtic have to work hard to beat the home side. The goals come from Craig Bellamy and Alan Thompson.
16th March 2005, ICT 0:2 Celtic.

Bellamy and Thommo. @Alantommo8 pic.twitter.com/fVR2heiDiW

— Li'l Ze (@LilZe_7) March 16, 2023
WEDNESDAY 16 MARCH 2011 – Inverness has been a bogey team for Celtic in the past, but on this occasion, Celtic get the better of them to earn a place in the Scottish Cup semi-final. The game having been postponed at the weekend, the crowd is reduced to 6064 but there is an agreeably high proportion of Celtic fans. Inverness go ahead with a penalty, but then Joe Ledley scores twice to win the day for Celtic.
16th March 2011, ICT 1:2 Celtic.

Joe Ledley with both goals. @joe16led pic.twitter.com/wVHudbAVIL

— Li'l Ze (@LilZe_7) March 16, 2023
David Potter
16th March 1891, Patsy Gallacher is born.

'The Mighty Atom'

"So long as there is a Celtic the name of Patsy Gallacher will be revered, and his sons and their families can rightly be proud of that." pic.twitter.com/2Cp2vDa2Zi

— Li'l Ze (@LilZe_7) March 16, 2023
30 years ago today, Celtic 2:1 Hibs.

Andy Payton with both goals. @AndyPayton10 pic.twitter.com/zE9Ptz3Nil

— Li'l Ze (@LilZe_7) March 16, 2023
On this day 1996: Lawrence Haggart was inexplicably murdered in a horrific ordeal.

A Celtic youth player signed by Tommy Burns and won a u15 Scotland cap.

RIP 🙏

Biog: https://t.co/HKUOQCyoM5 pic.twitter.com/zpZvLPXdoh

— JoeBloggsCity (@joebloggscity) March 16, 2023
16th March 2002, Celtic 1:0 Dundee Utd.

Petrov with the only goal. @StanPetrov19 pic.twitter.com/XMgdxLfktN

— Li'l Ze (@LilZe_7) March 16, 2023
10 years ago today, Celtic 4:3 Aberdeen.

Commons, Mulgrew, Hooper and Samaras. @charlie_mulgrew @HOOP588

From 3:1 down, Samaras wins it in the final seconds with an overhead kick. pic.twitter.com/VyocdM5X3l

— Li'l Ze (@LilZe_7) March 16, 2023