Celtic Historian David Potter each morning on The Celtic Star looks back at key Celtic events and matches on this day starting on 17th March 1928. David's latest bestseller The Celtic Rising ~ 1965: The Year Jock Stein Changed Everything is available now in print on Celtic Star Books, and also on Amazon kindle, links below…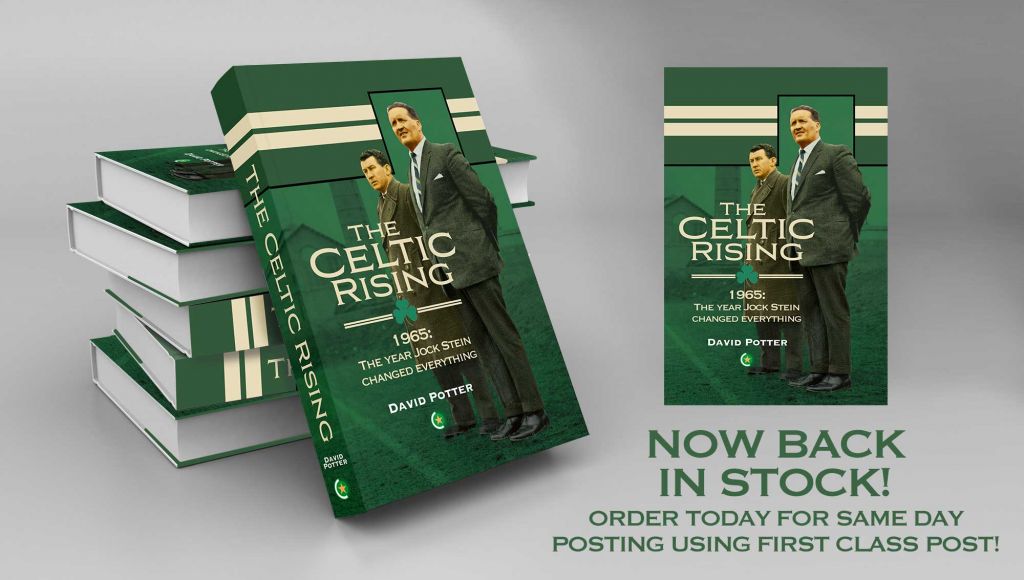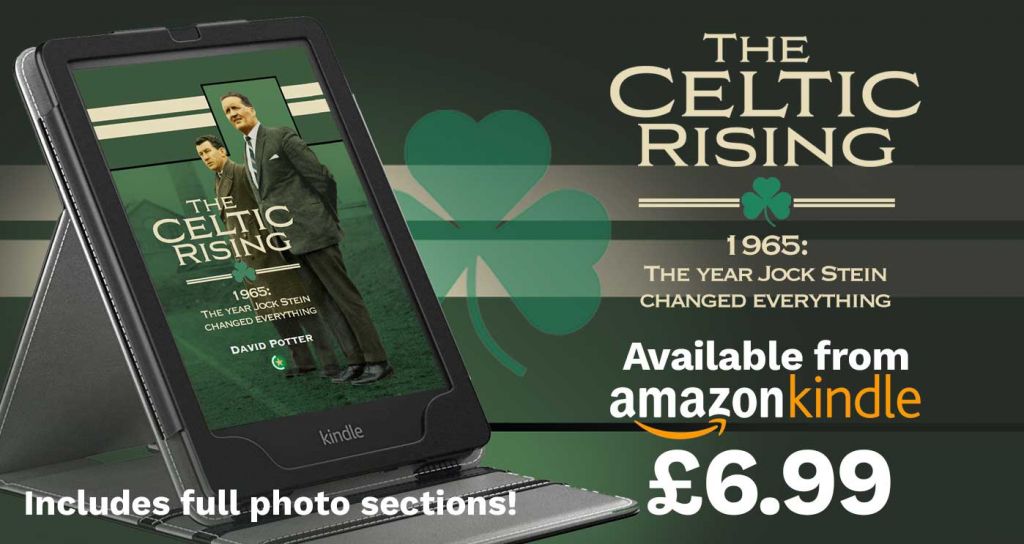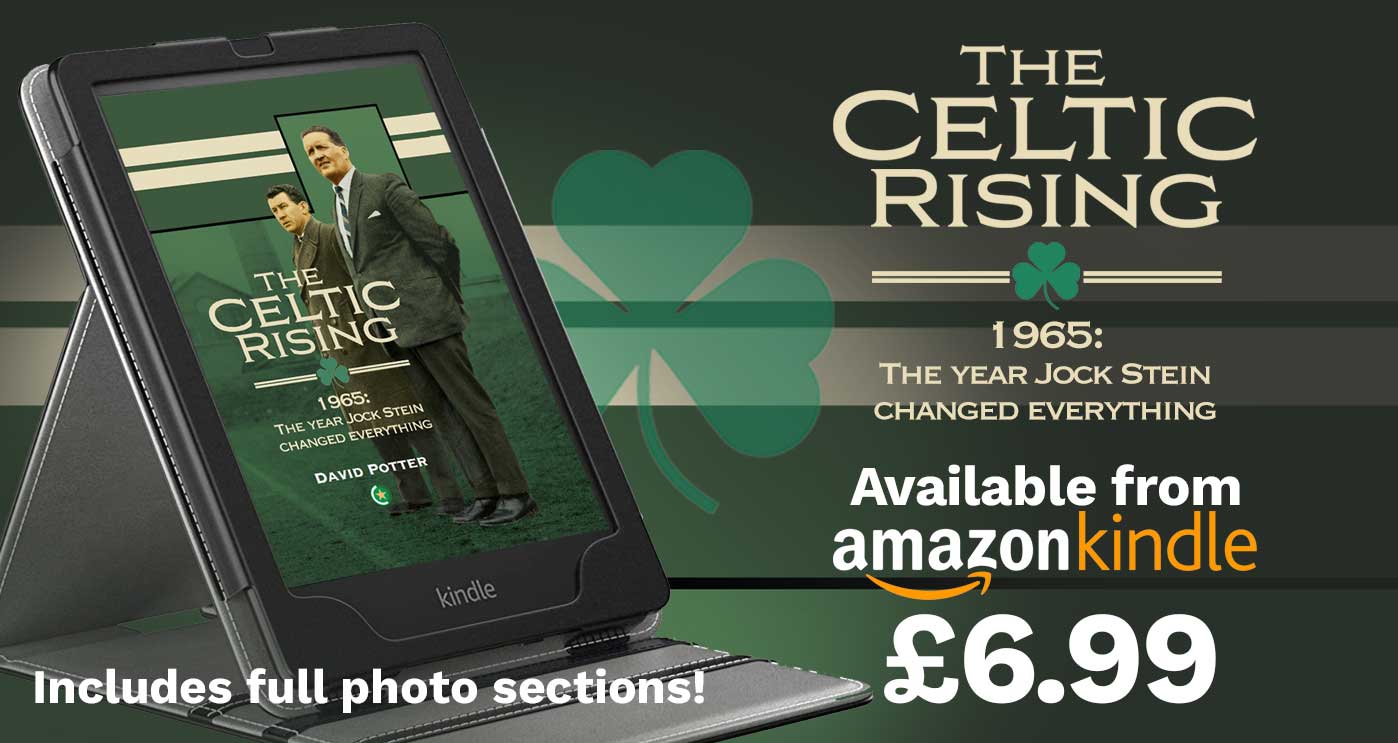 ☘ Lá Fhéile Pádraig sona duit!

Our Irish Celt, Claire O'Riordan wishing you all a very happy St. Patrick's Day! 🇮🇪#CelticFC 🍀 #COYGIG pic.twitter.com/G2ypVspwPf

— Celtic FC Women (@CelticFCWomen) March 17, 2023
SATURDAY 17 MARCH 1928 – With McInally still out of favour, the team continue to do well, winning today 2-1 against Hearts at Parkhead in a game where Celtic were "smooth-moving and harmonious" and should really have scored more goals. As it was, McGrory scored twice and Celtic retain their position at the top of the League.
SATURDAY 17 MARCH 1945 – Optimism is in the air as the German Reich now begins to implode with the Russians driving them back in the East and the British and Americans advancing on the West, but it is still the same dismal war time story from Celtic, as they rely on a Jimmy Delaney penalty to earn a draw against Clyde before 10,000 at Parkhead.
SATURDAY 17 MARCH 1962 – Any outside chance Celtic may have had of winning the League flag disappears today when they go down 0-1 to Airdrie at Broomfield. It is a shame because they have been playing some good football, but it is typical of this season in which they had already lost to small teams like Falkirk and Stirling Albion. Today's game is another story of missed chances by the young forwards, then just the one mistake at the back.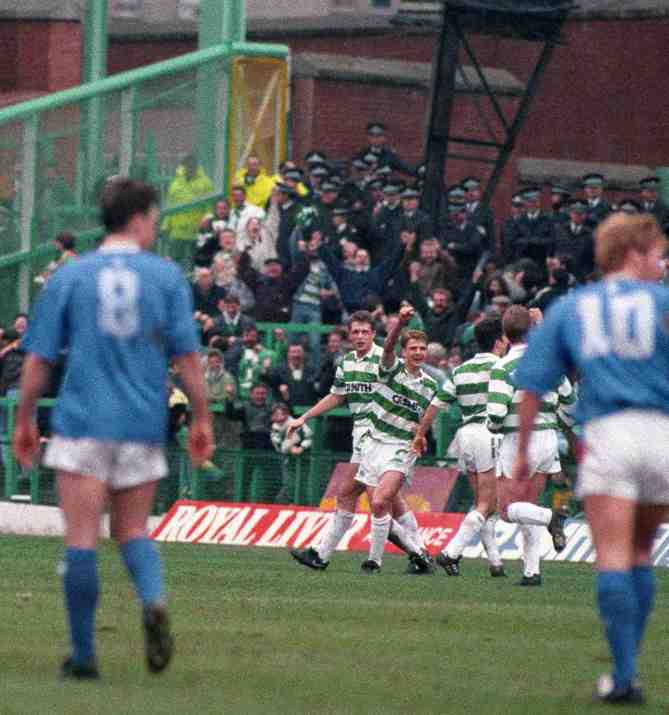 SUNDAY 17 MARCH 1991 – Celtic beat Rangers 2-0 at Celtic Park in the quarter final of the Scottish Cup – but that is only half the story for three Rangers players are sent off – Terry Hurlock, Mark Walters and Mark Hateley as BBC Scotland on live terrestrial television ruthlessly expose the ugly side of Rangers success. Graeme Souness has the grace to apologise at the end. Celtic's goals are scored by Dariusz Wdowczyk and Gerry Creaney. Peter Grant is also sent off, but for the less than totally heinous crime of breaking from a wall too early at a free kick!
St. Patrick's Day Massacre -Celtic Park, 17th March, 1991 🍀

▪️ 2-0 victory of the now liquidated Rang*rs

▪️ Scottish Cup tie 🏆

▪️ Creaney & Wdowczyk the goalscorers ⚽️

▪️ Grant; Walters, Hateley & Hurlock all red carded 🟥

▪️ Celtic fans sang "Happy Birthday St Patrick" 🇮🇪 pic.twitter.com/Af6cnFDozA

— Celtic Curio (@Celticcurio) March 17, 2023
Morning all and a happy St Patrick'd day to our Irish cousins. It was on St Pat's in 1991 that Celtic knocked Rangers out of the cup in a tousy match which saw 3 Rangers players sent off for a variety of offences. pic.twitter.com/gBCGQ6t9hc

— Lisbon Lion (@tirnaog_09) March 17, 2023
WEDNESDAY 17 MARCH 2004 – In a match preceded by a minute's silence for the victims of a bombing in Madrid, Celtic beat Dundee 2-1 at Dens Park more easily than the score line would suggest with goals from Stilian Petrov and Henrik Larsson. Celtic are now almost within touching distance of the League title.
17th March 2004, Dundee 1:2 Celtic.

Petrov and Larsson. @StanPetrov19 pic.twitter.com/MSDJEsNJx0

— Li'l Ze (@LilZe_7) March 17, 2023
David Potter
50 years ago today, Celtic draw 0:0 with Aberdeen in the Scottish Cup.

Jinky goal disallowed and sent off. Red card rescinded at a later date.https://t.co/E1aP5uvvjz pic.twitter.com/BLhhwf4zCP

— Li'l Ze (@LilZe_7) March 17, 2023
Born on this day in 1956, Frank McGarvey.💚 pic.twitter.com/l0kUVLJHGA

— Li'l Ze (@LilZe_7) March 17, 2023
17th March 1984, Motherwell 0:6 Celtic.

Reid, Burns, McClair(2), Murdo and McGarvey. @MarkReid61 @BrianMcClair13 @murdomacleod06 pic.twitter.com/cxjaEYoYj2

— Li'l Ze (@LilZe_7) March 17, 2023
17th March 1996, Rangers 1:1 Celtic.

John Hughes with a late equaliser. pic.twitter.com/ESe1H3XKCR

— Li'l Ze (@LilZe_7) March 17, 2023
17th March 2019, Dundee 0:1 Celtic.

Edouard with the winner 6 minutes into injury-time. @Oedouard22 pic.twitter.com/7oFTRfrD4Q

— Li'l Ze (@LilZe_7) March 17, 2023