Celtic Historian David Potter each morning on The Celtic Star looks back at key Celtic events and matches on this day starting on 24th November 1900. David's latest book The Celtic Rising ~ 1965 The Year Jock Stein Changed Everything is out now, is selling extremely fast and is available at Celtic stores and via Celtic Star Books.
SATURDAY 24 NOVEMBER 1900 – With the walls of Celtic Park covered with posters inviting young men to enlist for the South African War (a war, which, surprisingly, Celtic and the Irish community did not at this stage oppose) Celtic and Morton put on a good game for 6,000 spectators, Celtic winning 4-2 with two goals from Johnny Campbell, one from Sandy McMahon and another from Willie McOustra. All the goals were scored in the first half. Willie Maley was not at this game, for he and his friend William Wilton the Manager of Rangers had both gone on the same train to see East Stirlingshire v Orion of Aberdeen at Bainsford. Maley feigned illness or boredom and left before half time, but a carriage was awaiting to take him to Smithston where he had his eye on another player, a young man called Quinn.
SATURDAY 24 NOVEMBER 1906 – At long last Celtic drop a point this season, and it is to near neighbours Clyde at Parkhead. Clyde are reported by The Scottish Referee as being the better team and indeed they were three times in the lead at 1-0, 2-1 and 3-2, but Celtic pull it back to earn a 3-3 draw. Sunny Jim scores two – one with a penalty and Jimmy Quinn scores the equaliser. 7,000 spectators enjoy this spectacle which is a timely reminder to Celtic not to be complacent.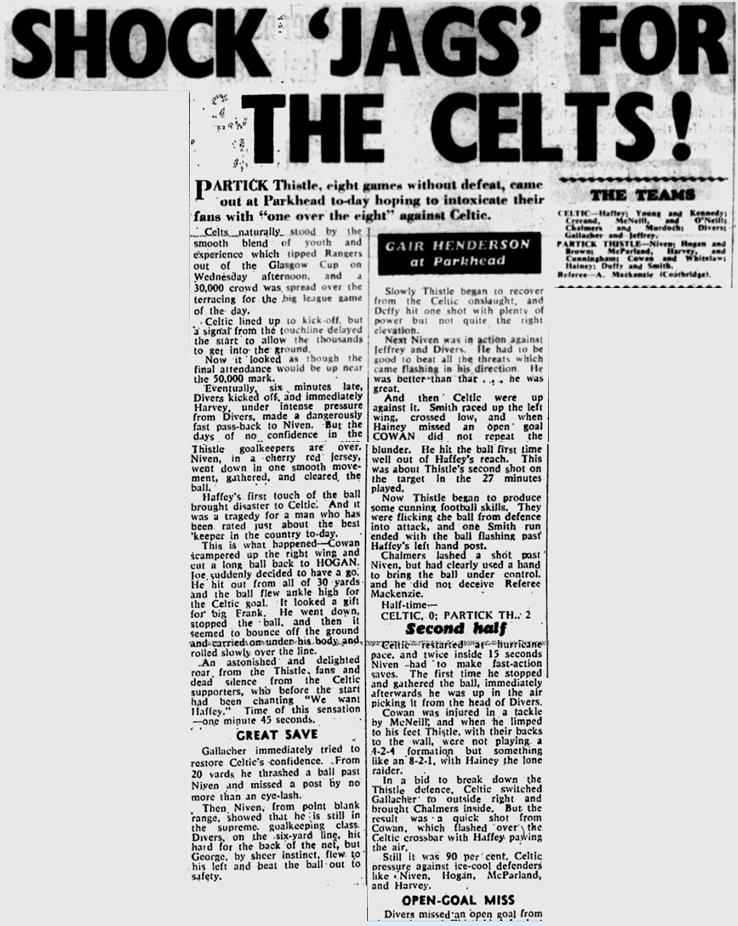 SATURDAY 24 NOVEMBER 1962 – The Celtic fans are here in great numbers today at Parkhead to see their team which just beat Rangers in the Glasgow Cup in midweek. That atmosphere is upbeat and cheerful. Has the corner been turned? Are the great days returning? Nope! Partick Thistle score twice early on and Celtic never get back into the game. The only excuse seems to the "the inconsistency of youth", but that excuse is now wearing a bit thin because we have heard it so often.
SATURDAY 24 NOVEMBER 1973 – "Fatal Boghead" was the nickname given to the home of Dumbarton FC in days of yore, and a draw was often considered to be a reasonable result. Today on a windy day, the Sons of the Rock (with ex-Celts John Cushley and Willie Wallace on board) fight hard, but Celtic are competent enough to win 2-0 with goals from Kenny Dalglish and a penalty from Bobby Lennox. John Cushley does little to enhance his popularity with a dreadful tackle on Dalglish just before half time.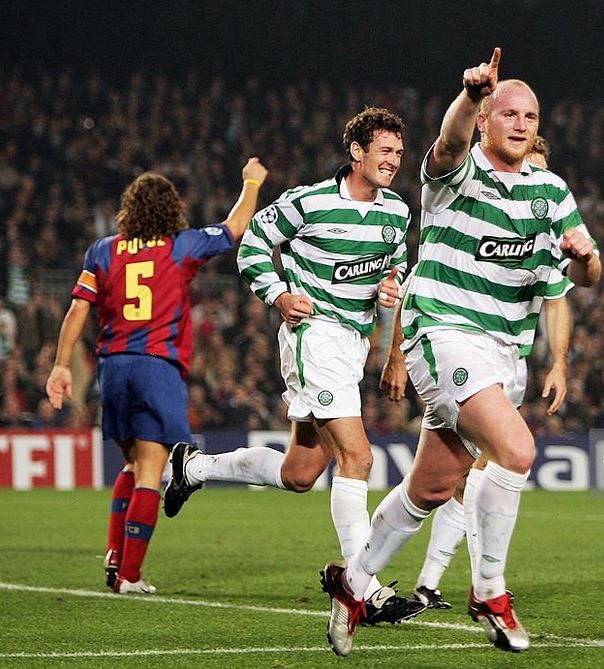 WEDNESDAY 24 NOVEMBER 2004 – Celtic maintain their respectable record at the Nou Camp, Barcelona with a 1-1 draw when John Hartson on the point of half-time equalises Eto'o's strike. Sadly the draw is not enough for Celtic who really needed to win if they were to have a chance of qualifying from the group stage of the Champions' League. 74,119 are present at the Nou Camp.
24th November 2004, Barcelona 1:1 Celtic.

Hartson equaliser. @JohnHartson10 pic.twitter.com/djwvkaAzWz

— Li'l Ze (@LilZe_7) November 24, 2022
David Potter
24th November 1976, Rangers 0:1 Celtic.

Cracking winner from Joe Craig. pic.twitter.com/6lzBQPgufy

— Li'l Ze (@LilZe_7) November 24, 2022
24th November 1993, Celtic 2:0 Motherwell.

Double from Pat McGinlay. pic.twitter.com/WewlQLJNp0

— Li'l Ze (@LilZe_7) November 24, 2022
20 years ago today, Livingston 0:2 Celtic.

Larsson double. pic.twitter.com/dlV7AtXuBX

— Li'l Ze (@LilZe_7) November 24, 2022
15 years ago today, Celtic 3:0 Aberdeen.

Vennegoor of Hesselink, McGeady and McDonald. @JanVofH @ScottyMcD83 pic.twitter.com/HSbdCrmzIn

— Li'l Ze (@LilZe_7) November 24, 2022
24th November 2018, Hamilton 0:3 Celtic.

Christie, Griffiths and an own goal. pic.twitter.com/YV9BDktz54

— Li'l Ze (@LilZe_7) November 24, 2022