Celtic Historian David Potter each morning on The Celtic Star looks back at key Celtic events and matches on this day starting on 25th February 1911. David's latest bestseller The Celtic Rising ~ 1965: The Year Jock Stein Changed Everything is available now in print on Celtic Star Books, and also on Amazon kindle, links below…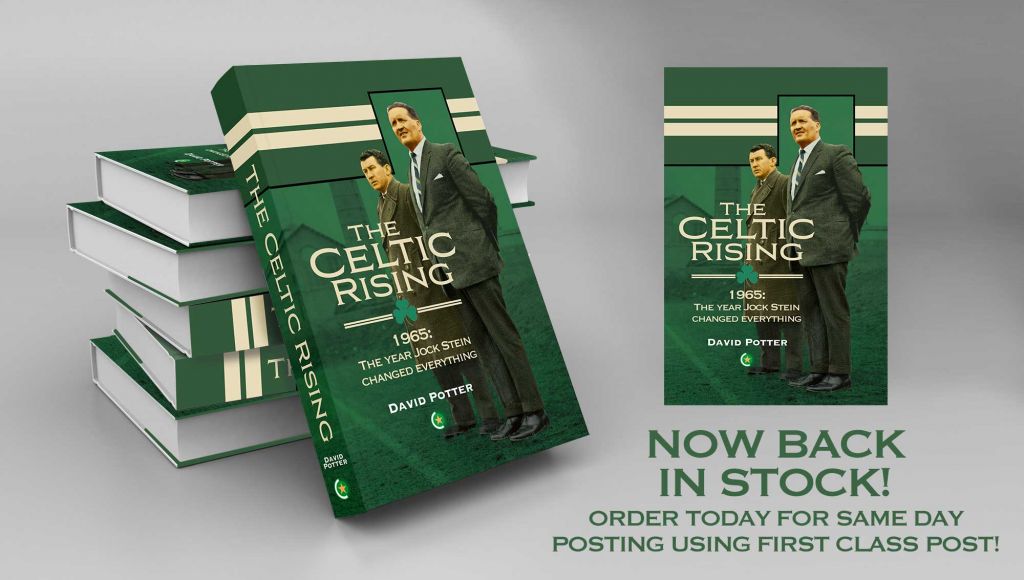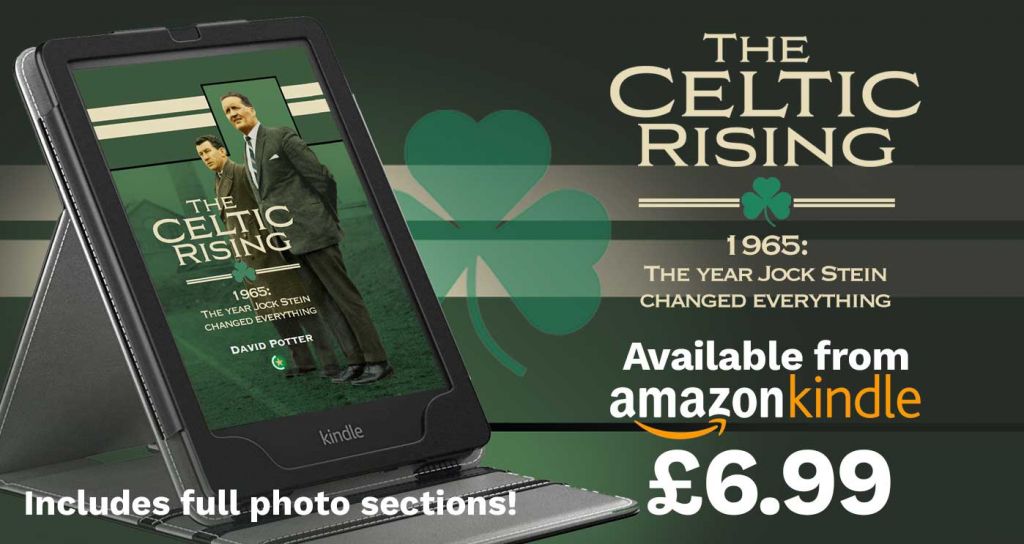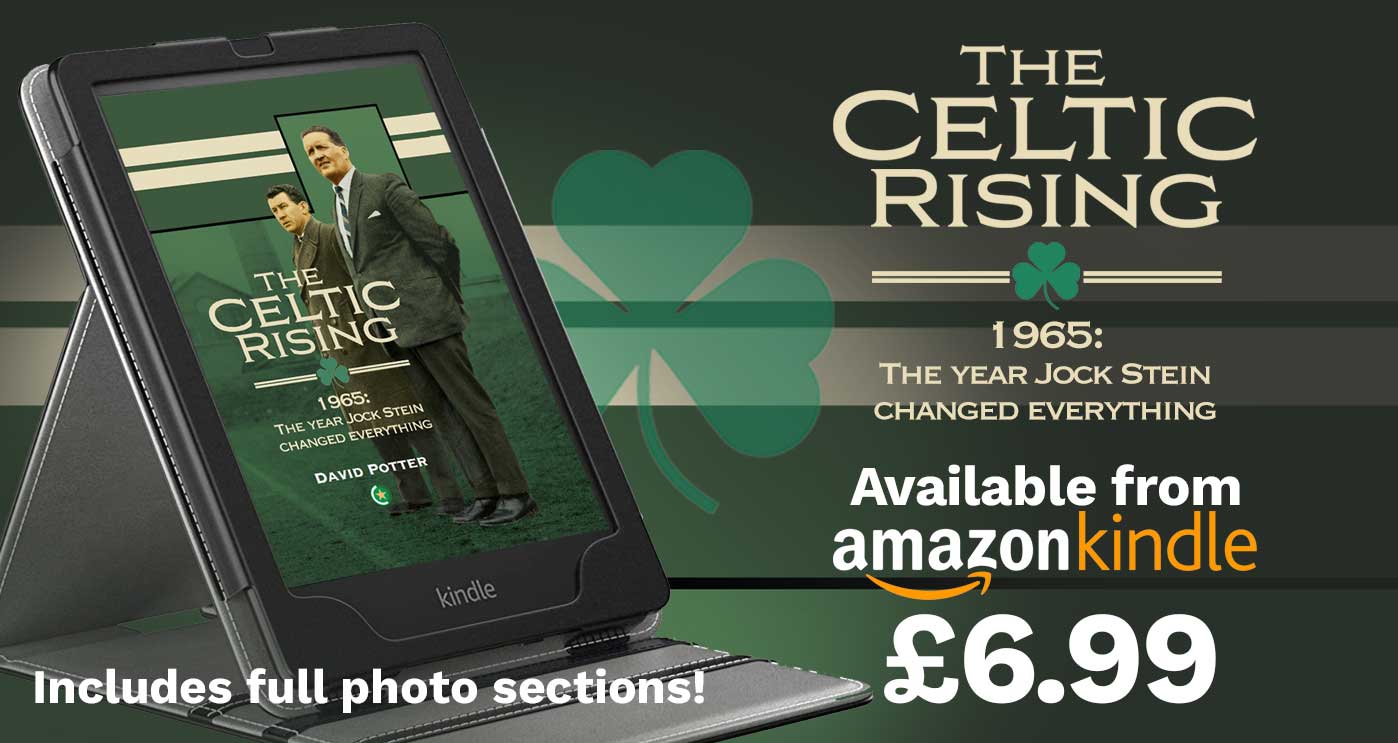 SATURDAY 25 FEBRUARY 1911 – Clyde removed Celtic from the Scottish Cup last year, but not this year as a Jimmy McMenemy goal is enough to remove Clyde before a crowd of over 40,000 at Celtic Park. The ground was heavy after recent rain, but Celtic were the better team.
SATURDAY 25 FEBRUARY 1922 – A major disaster for Celtic today as they go down 1-3 to Hamilton Accies in the Scottish Cup at Parkhead. The only possible excuse was the strong wind, but the finger of criticism is pointed unwaveringly at Tommy McInally for his perpetual clowning, which goes down very well when the team is winning. But Tommy was in one of his "moods" today and hardly anyone is left in the ground when Joe Dodds scored his late, irrelevant penalty kick.
SATURDAY 25 FEBRUARY 1989 – The Scottish League may have looked like a lost cause but Celtic go to Dens Park and beat the home side 3-0 with goals from Andy Walker, Paul McStay and Dugald McCarrison whose only goal for the club this is. The crowd is 14,559, but Celtic fans outnumber the meagre home support by about 3 to 1.
25th February 1989, Dundee 0:3 Celtic.

Walker, McStay and McCarrison.

Beautiful from the Maestro. pic.twitter.com/stJCgWt9cS

— Li'l Ze (@LilZe_7) February 25, 2023
SUNDAY 25 FEBRUARY 1990 – Celtic at last restore some credibility for themselves as a Tommy Coyne goal is enough to beat Rangers at Celtic Park before a huge TV audience this Sunday afternoon. It is not the easiest of games to watch, but Peter Grant and Paul McStay are superb in midfield. Full time brings huge relief, for this has been a dreadful season so far, and most of the venom is directed at Maurice Johnston for obvious reasons.
25th February 1990, Celtic beat Rangers 1:0 in the Scottish Cup.

Tommy Coyne with the winner. Great scenes at the end. @PackieBonner1 and Ferguson plus Butcher booting the door in.😂 pic.twitter.com/TxovHvsGHI

— Li'l Ze (@LilZe_7) February 25, 2023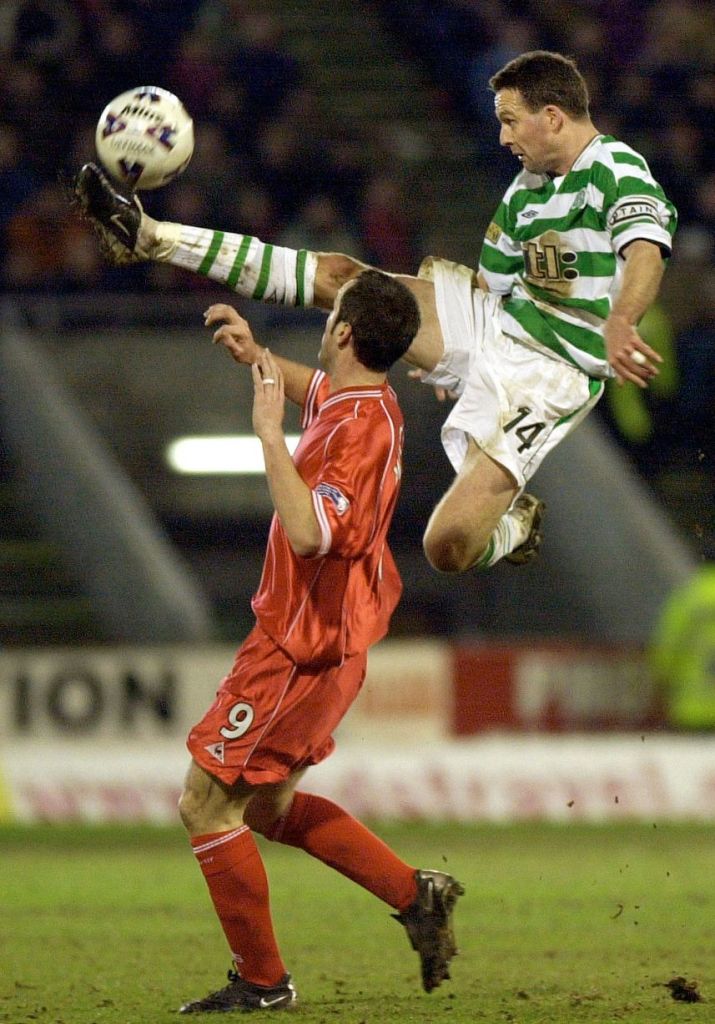 MONDAY 25 FEBRUARY 2002 – Celtic, without the injured Henrik Larsson, are hugely impressive as they defeat Aberdeen 2-0 in the Scottish Cup at Pittodrie before 17,082 fans and a large TV audience with goals from John Hartson and Stilian Petrov. The gloss is taken off the victory slightly however when John Hartson is sent off for retaliation. Rab Douglas saves a penalty kick.
25th February 2002, Aberdeen 0:2 Celtic.

Hartson and Petrov fire Celtic through to the semi-final of the Scottish Cup. @JohnHartson10 @StanPetrov19 pic.twitter.com/v388sm9SIR

— Li'l Ze (@LilZe_7) February 25, 2023
David Potter
25th February 1984, Celtic 4:1 Hearts.

McClair(3) and Colquhoun. @BrianMcClair13 @jckeysport7 pic.twitter.com/w7GEIjNp2z

— Li'l Ze (@LilZe_7) February 25, 2023
25th February 1995, Hearts 1:1 Celtic.

Phil O'Donnell. pic.twitter.com/OUlnkrxhKF

— Li'l Ze (@LilZe_7) February 25, 2023
25 years ago today, Celtic 5:1 Dunfermline.

Larsson, Brattbakk(2), O'Donnell and Wieghorst. pic.twitter.com/qvg6yobNYa

— Li'l Ze (@LilZe_7) February 25, 2023
25th February 2001, Celtic 1:1 Hibs.

Mjallby. pic.twitter.com/UBJ8ZXXhON

— Li'l Ze (@LilZe_7) February 25, 2023
25th February 2007, ICT 1:2 Celtic. pic.twitter.com/qNnYLPT9ig

— Li'l Ze (@LilZe_7) February 25, 2023
25th February 2012, Celtic 1:0 Motherwell.

Hooper with the winner. @HOOP588 pic.twitter.com/KxFHfuzWDc

— Li'l Ze (@LilZe_7) February 25, 2023
25th February 2017, Celtic 2:0 Hamilton.

Moussa Dembélé with both, the first a beauty. @MDembele_10 pic.twitter.com/zjSVPOHLcC

— Li'l Ze (@LilZe_7) February 25, 2023
5 years ago today, Aberdeen 0:2 Celtic.

Dembele and Tierney. @MDembele_10 @kierantierney1

\o/ pic.twitter.com/CYHT0uwYDH

— Li'l Ze (@LilZe_7) February 25, 2023