Celtic Historian David Potter each morning on The Celtic Star looks back at key Celtic events and matches on this day starting on 25th March 1905. David's latest bestseller The Celtic Rising ~ 1965: The Year Jock Stein Changed Everything is available now in print on Celtic Star Books, and also on Amazon kindle, links below…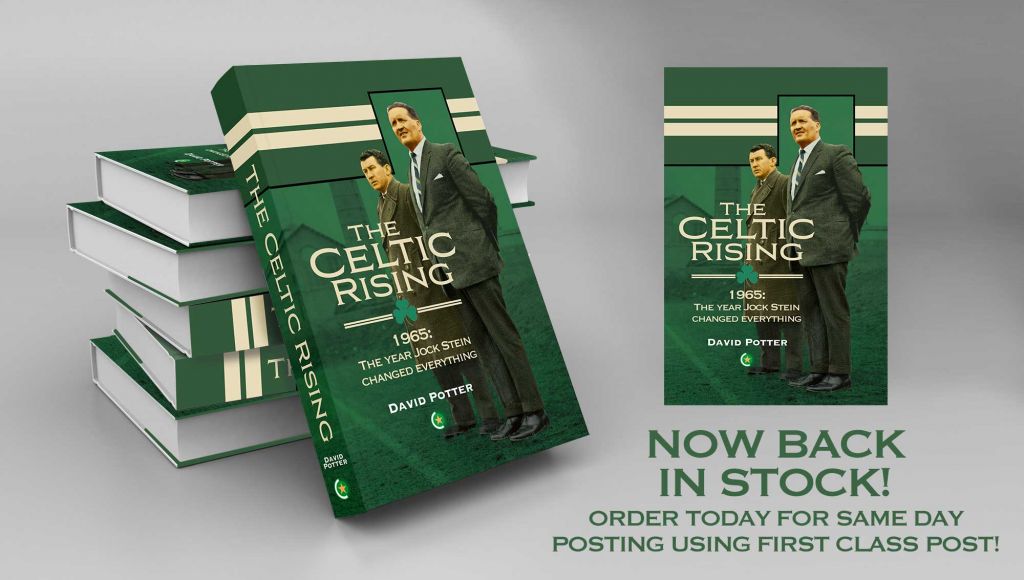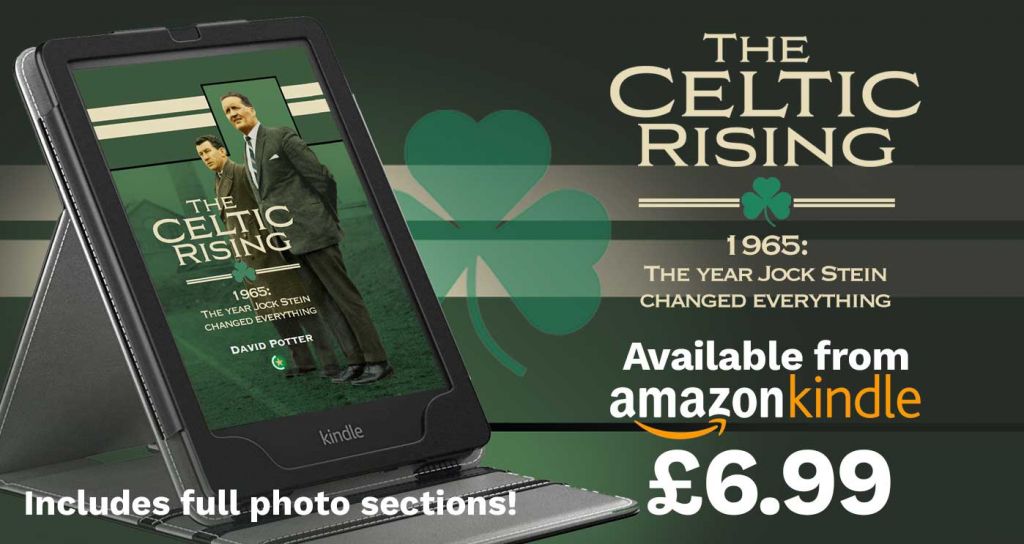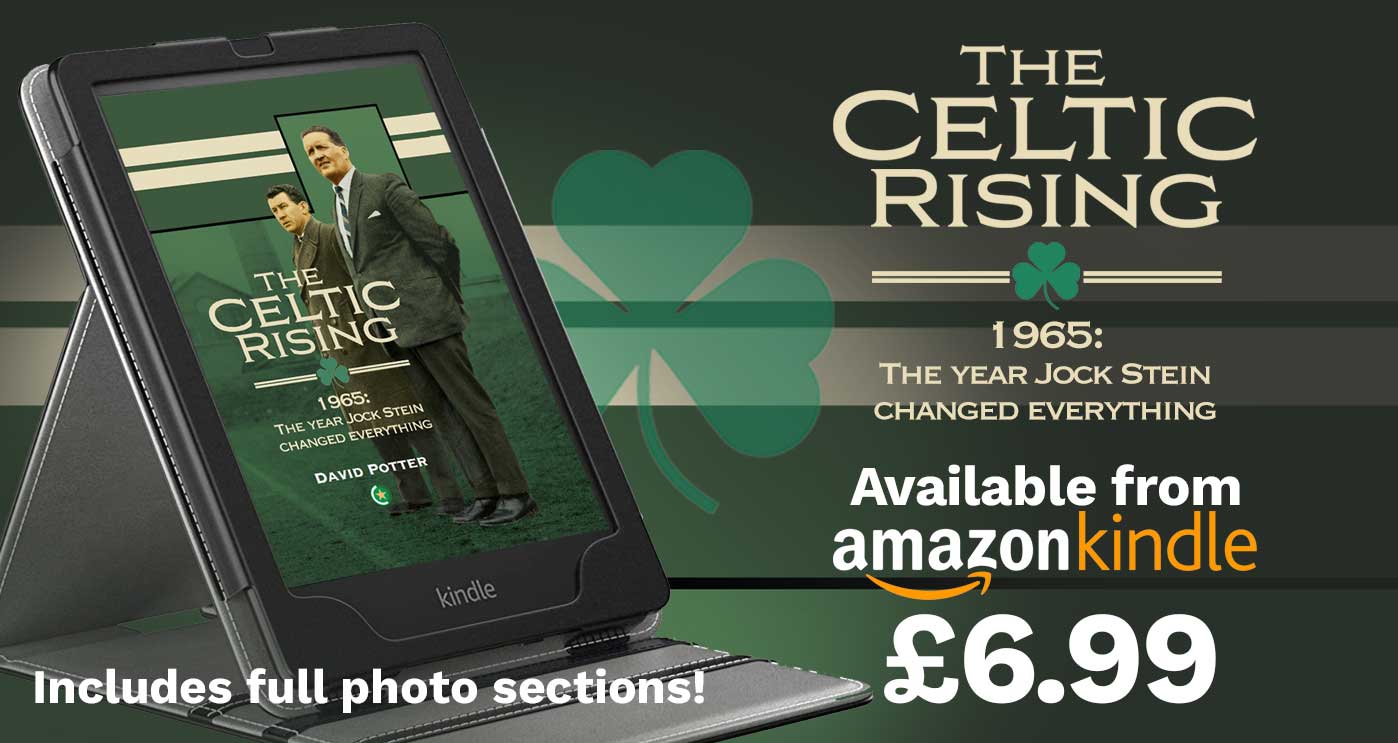 SATURDAY 25 MARCH 1905 – "Disorder at Parkhead" says The Glasgow Herald. That is an understatement, as the game is abandoned in the last ten minutes when the crowd invades the park to protest at the ordering off of Jimmy Quinn by referee Mr. Tom Robertson of Queen's Park. This is near the end of the Scottish Cup semi-final with Rangers winning 2-0. Fortunately neither the referee nor any Rangers players are injured but the game is awarded to Rangers, and Jimmy Quinn, in spite of a letter from Rangers' Alec Craig stating Quinn's innocence, is suspended, thus depriving him of his chance to play for Scotland against England at the Crystal Palace.
MONDAY 25 MARCH 1968 – Celtic turn on a magnificent display of attacking football to beat St Johnstone 6-1 at Muirton Park, Perth before a crowd of 12,000. The irony is that St Johnstone actually play well but are swept away by an irresistible tide of Celtic at their best. Bobby Lennox scores four and Jimmy Johnstone and Willie Wallace one each. The terracing is a sea of acclamation at the end.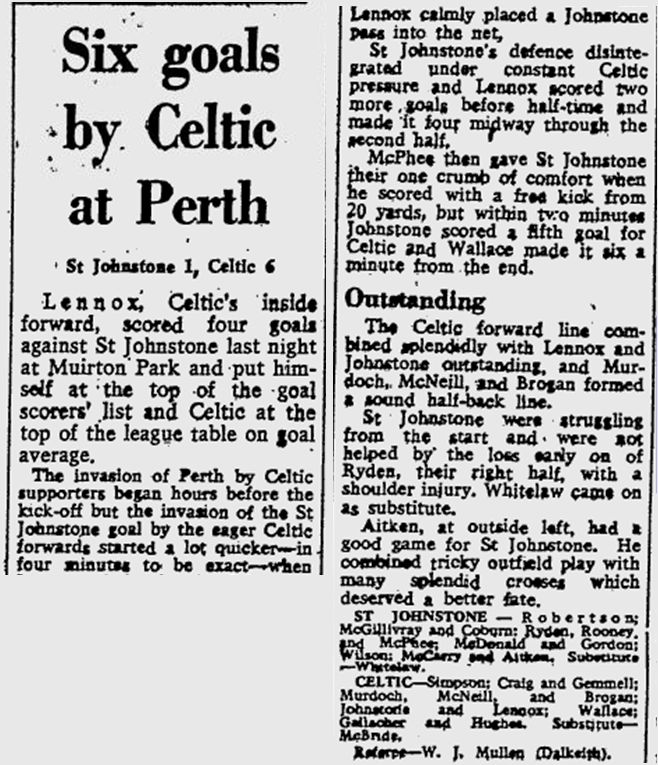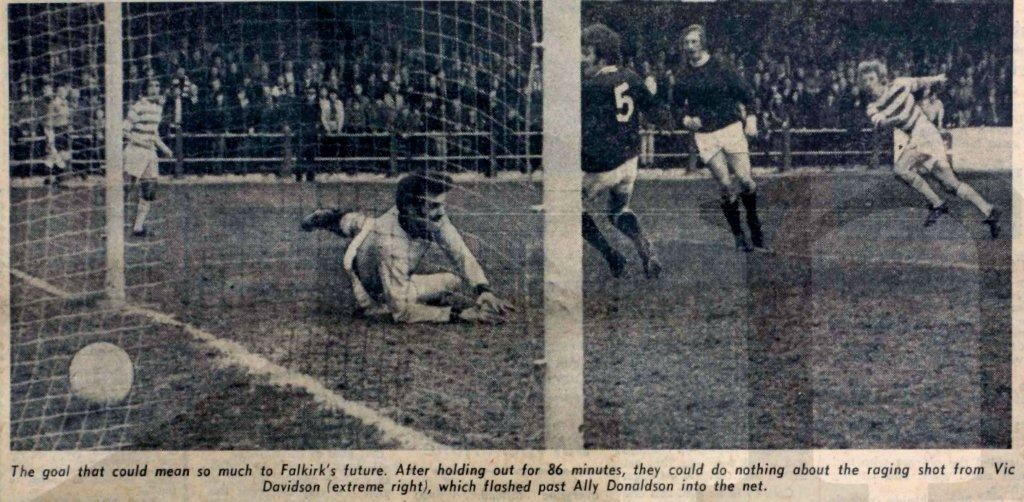 SATURDAY 25 MARCH 1972 – The promising young full-back Danny McGrain is carried off at Brockville with what turns out to be a fractured skull following an accidental collision with Falkirk's Doug Somner. As McGrain will in future years suffer from diabetes and miss a whole season with a mysterious foot injury, he could justifiably be called a very unlucky fooball player. In this game at Brockville a late goal by Vic Davidson wins the game for Celtic.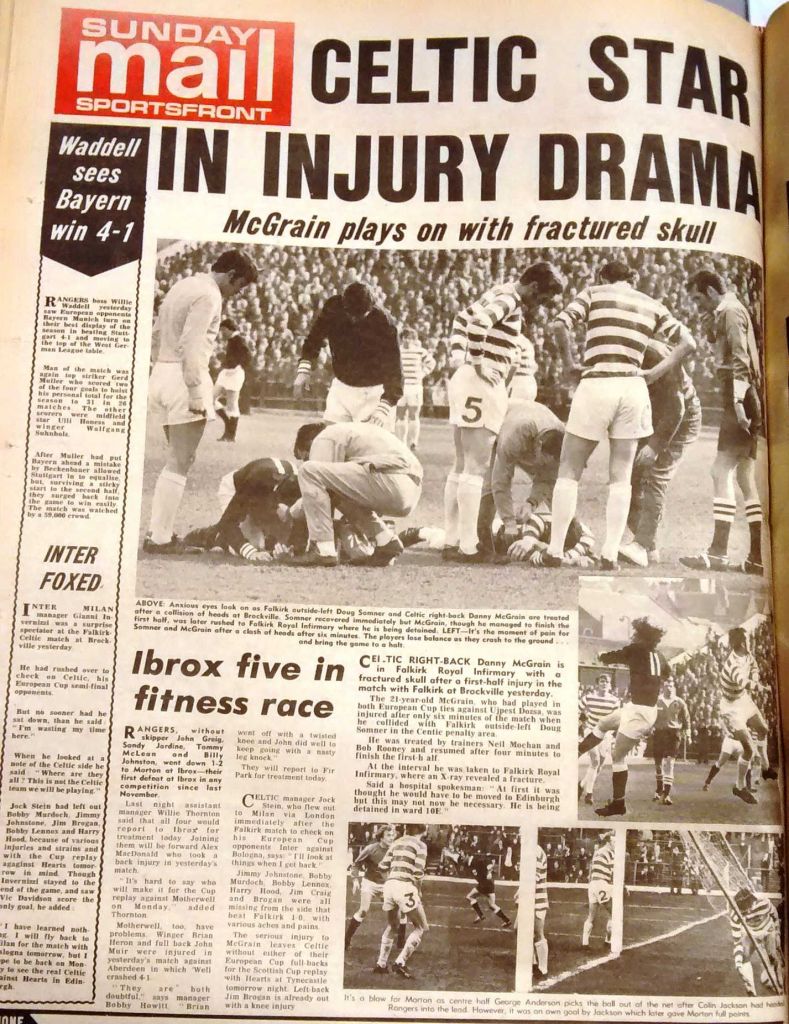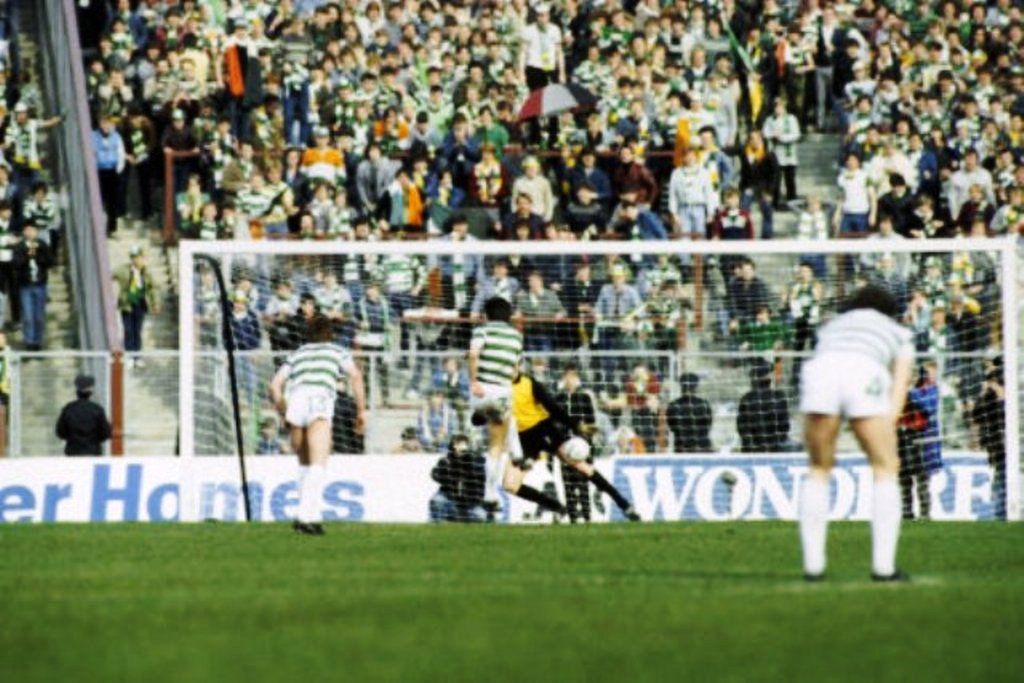 SUNDAY 25 MARCH 1984 – A historic day for Scottish football, but an unlucky one for Celtic. It was the first Scottish League Cup final to be televised live, and the first to be played on a Sunday. Celtic did well to fight back, and it was generally agreed that they deserved more than to lose to a rebound from a penalty in extra-time. Earlier Brian McClair and Mark Reid (with a penalty) had scored for Celtic, but Dave Hay's team had no luck.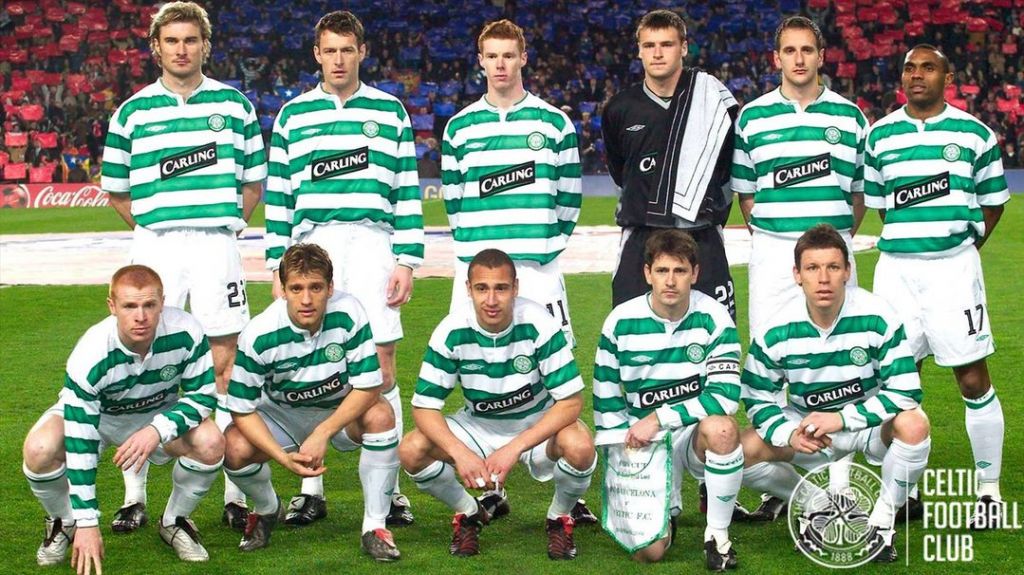 WEDNESDAY 25 MARCH 2004 – One of Celtic's best nights in European football as they defend brilliantly to earn a 0-0 draw in the Nou Camp in Barcelona. The first leg was a 1-0 victory, so they have now defeated Barcelona and are in the semi-final of the UEFA Cup. John Kennedy was magnificent at centre half.
25th March 2004, Barcelona 0:0 Celtic.

Thommos 1st leg goal enough as Celtic hold out in the Nou Camp. pic.twitter.com/0skBBh6aia

— Li'l Ze (@LilZe_7) March 25, 2023
David Potter
25th March 1964, Celtic beat Clyde 2:0 to win the Glasgow Cup.

Chalmers and Divers with the goals. pic.twitter.com/tCDEUvItUy

— Li'l Ze (@LilZe_7) March 25, 2023
💚 Remembering Phil O'Donnell.

Born #OnThisDay 51 years ago 🍀 pic.twitter.com/ZFg8PBgt0u

— Celtic Football Club (@CelticFC) March 25, 2023
Born on this day in 1972, Phil O'Donnell.💚 pic.twitter.com/sDZEGBfTbc

— Li'l Ze (@LilZe_7) March 25, 2023
45 years ago today, Celtic 2:0 Rangers.

Ronnie Glavin and Roddie MacDonald. pic.twitter.com/5uL4vIipS1

— Li'l Ze (@LilZe_7) March 25, 2023
25th March 1987, Celtic beat Manchester United 1:0 in a testimonial for Roy Aitken.https://t.co/D8FbDn2nOF pic.twitter.com/8rGablh6SE

— Li'l Ze (@LilZe_7) March 25, 2023
25th March 1989, Celtic 1:0 Dundee Utd.

Mark McGhee. pic.twitter.com/GebuOhQnR3

— Li'l Ze (@LilZe_7) March 25, 2023