Celtic Historian David Potter each morning on The Celtic Star looks back at key Celtic events and matches on this day starting on 26th December 1925. David's latest bestseller The Celtic Rising ~ 1965: The Year Jock Stein Changed Everything SOLD OUT on Celtic Star Books but the good news is that it is now back in stock! You can place an order here and we'll post your order immediately. The Celtic Rising is also now available on Amazon Kindle, link below.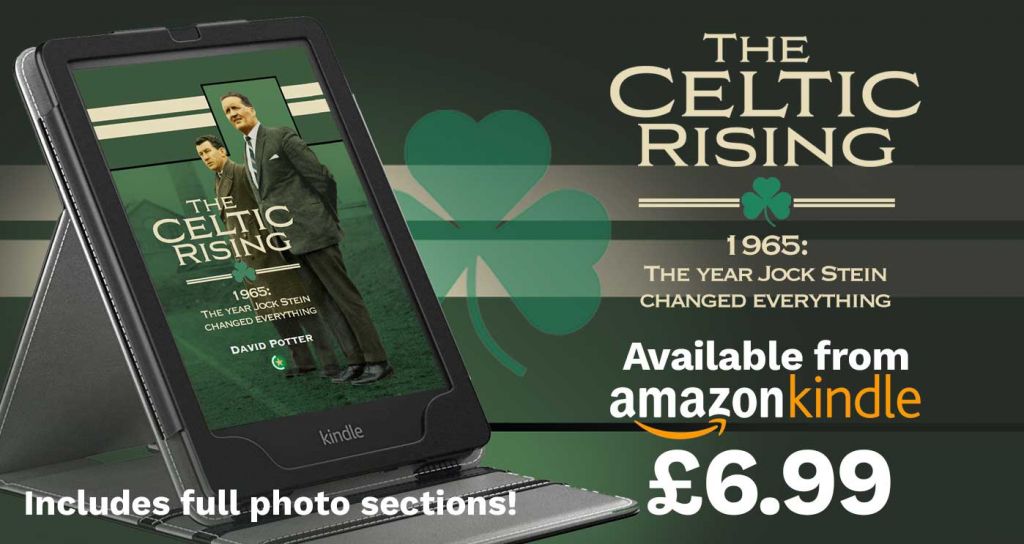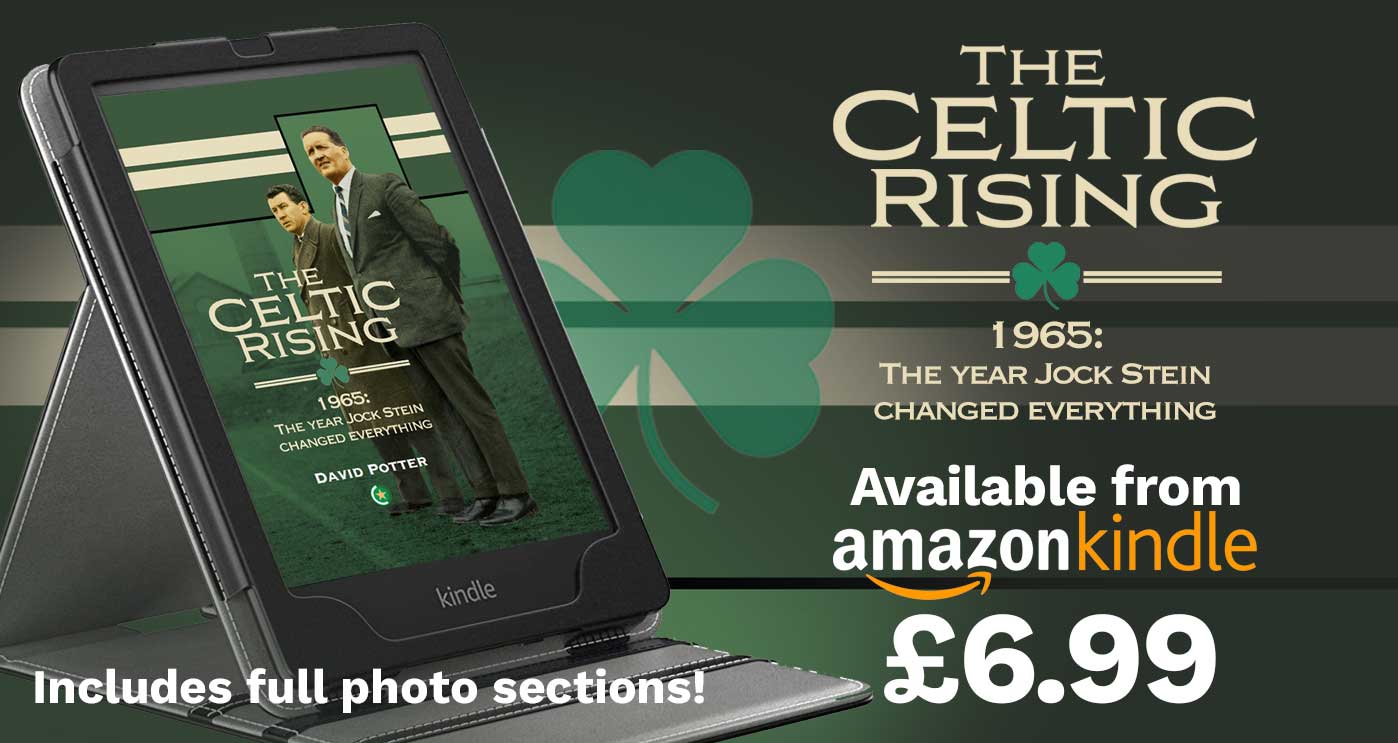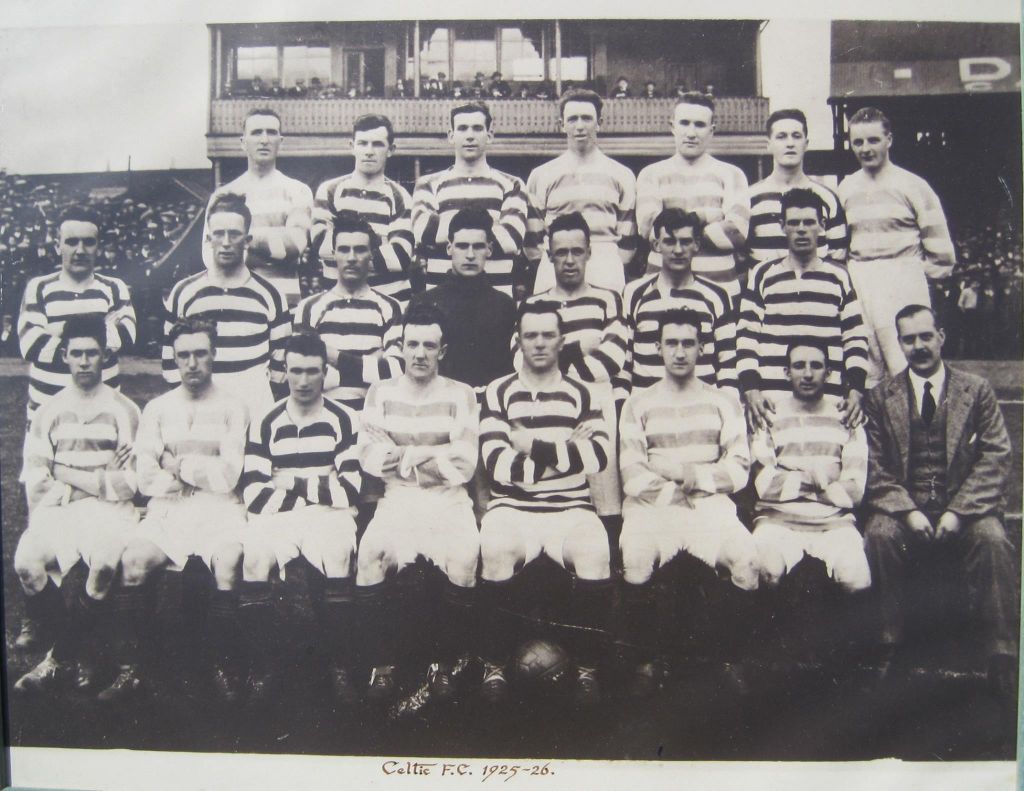 SATURDAY 26 DECEMBER 1925 – Cowdenbeath earn their moment of glory when, at a very wintry Central Park with an inch or two of snow on the pitch, they earn a 1-1 draw against this very good Celtic side. Celtic's goal comes after a fine move involving the left wing pair of Adam McLean and Tommy McInally, but then the "miners" earn a penalty. In spite of this, it is a good day for Celtic because Rangers lose their ninth League game of the season by going down to St Johnstone at Ibrox.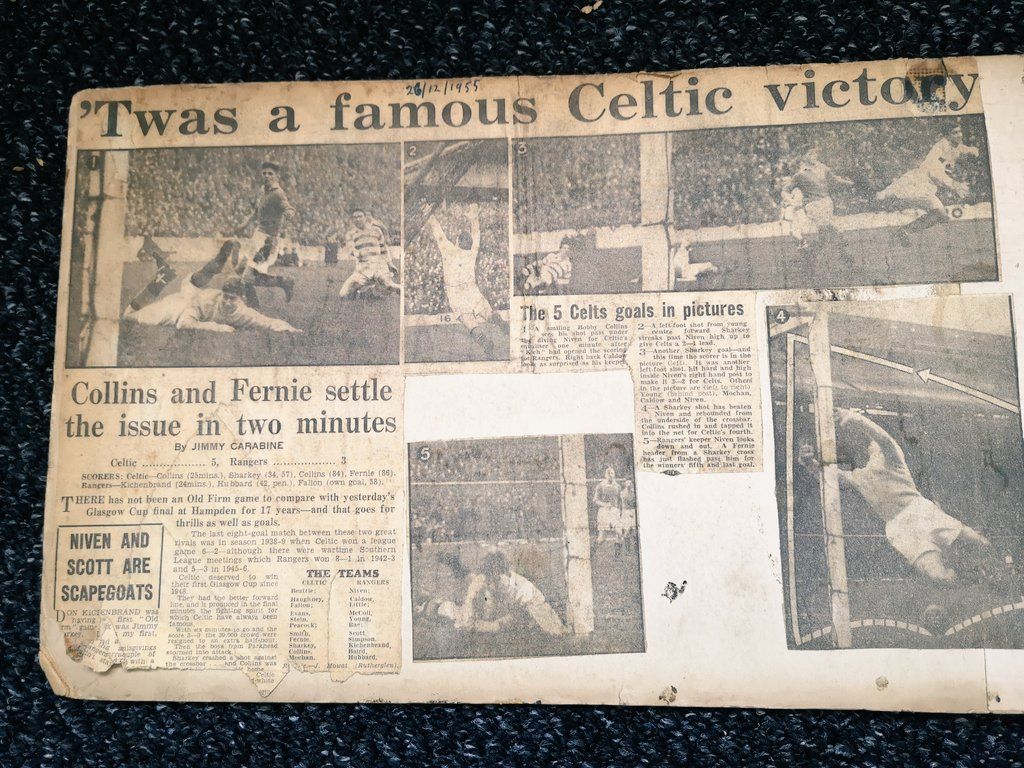 MONDAY 26 DECEMBER 1955 – Boxing Day is an unusual day to have a Glasgow Cup final, but this is a replay following a 1-1 draw in September. 39,000 are at Hampden to see the Old Firm serve up an eight goal thriller which Celtic win 5-3. Bobby Collins scores twice as does Jim Sharkey and Willie Fernie notches the other goal, as Celtic win their 21st Glasgow Cup.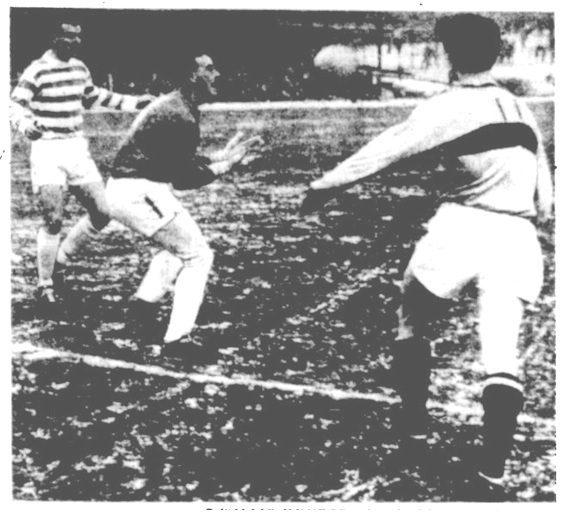 26th December 1955, Celtic beat Rangers 5:3 to win the Glasgow Cup.https://t.co/i72Puwe17D pic.twitter.com/khEAILwn36

— Li'l Ze (@LilZe_7) December 26, 2022
SATURDAY 26 DECEMBER 1964 – At a frozen Parkhead and with the team struggling, only 9,500 fans turn up to see visit of Motherwell. But the fans, some of whom light fires on the terracing to keep warm, were rewarded with an honest 2-0 victory with both goals coming from John Hughes who was wearing trainers or sandshoes as they were then called.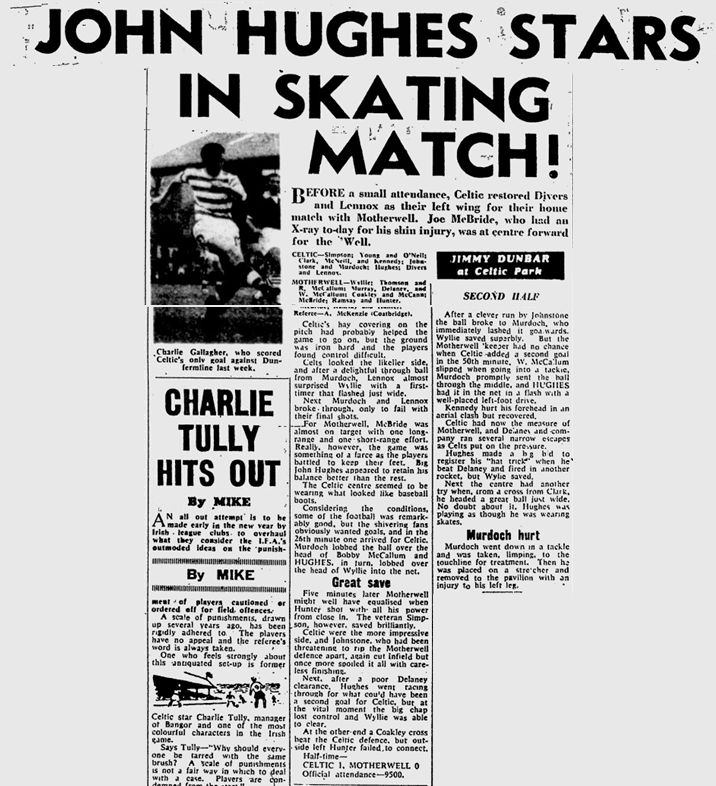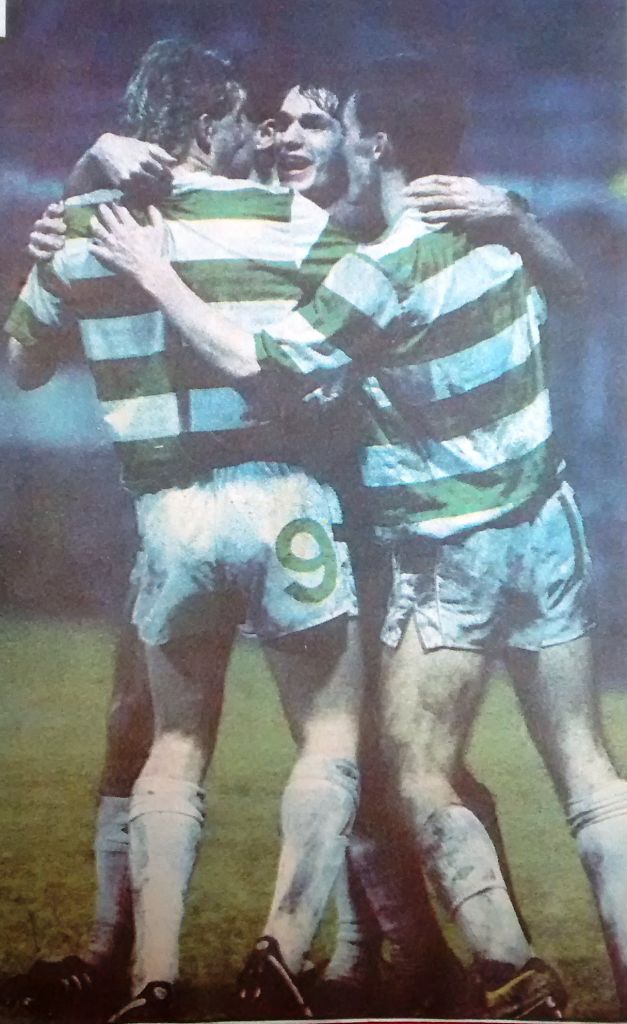 SATURDAY 26 DECEMBER 1987 – A last minute goal by Joe Miller earns Celtic a 2-1 victory at Tannadice in a Boxing Day thriller before 18,458 fans. Earlier Andy Walker had scored a penalty. Much excitement is engendered by the appearance of Murdo MacLeod in the stand. Murdo now plays his football in Germany but is back home on his midwinter break.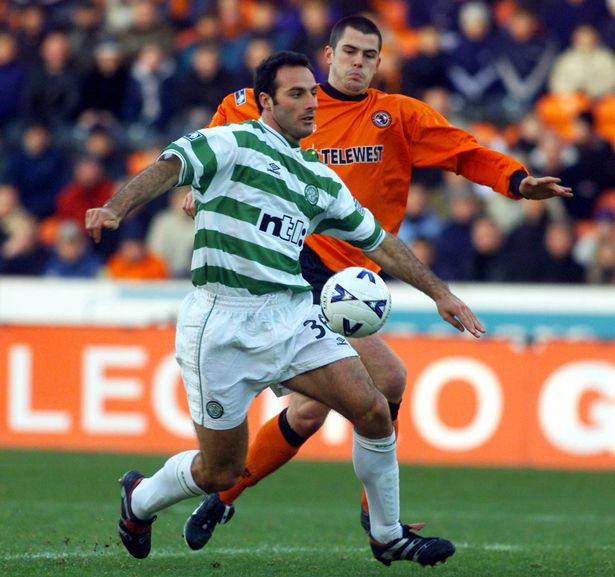 TUESDAY 26 DECEMBER 2000 – The Boxing Day fixture at Tannadice is a very one-sided one with Celtic winning comfortably 4-0 over Dundee United. Two goals come from Chris Sutton, one from Henrik Larsson and the other from Stiliyan Petrov.
David Potter
26th December 1996, Aberdeen 1:2 Celtic.

Jorge Cadete and Paolo Di Canio's famous 'Golden Boots' goal. @JorgeCadete11 pic.twitter.com/RvXdbtYjxv

— Li'l Ze (@LilZe_7) December 26, 2022
26th December 2000, Dundee Utd 0:4 Celtic.

Larsson, Sutton(2) and Petrov. @chris_sutton73 @StanPetrov19 pic.twitter.com/eig3bDQUnl

— Li'l Ze (@LilZe_7) December 26, 2022
26th December 2001, Celtic 3:2 Livingston.

Lubo and Larsson(2).

Last second winner from Henrik. pic.twitter.com/F75Z7pJn7P

— Li'l Ze (@LilZe_7) December 26, 2022
20 years ago today, Celtic 4:2 Hearts.

Hartson hattrick and Larsson. @JohnHartson10 pic.twitter.com/AZJpVciwli

— Li'l Ze (@LilZe_7) December 26, 2022
26th December 2004, Hearts 0:2 Celtic.

McGeady and a belter from Petrov. @StanPetrov19 pic.twitter.com/lUF849w9Mo

— Li'l Ze (@LilZe_7) December 26, 2022
26th December 2005, Celtic 2:1 Livingston.

Maloney then an excellent late winner from Nakamura. pic.twitter.com/cxcU8SNiOV

— Li'l Ze (@LilZe_7) December 26, 2022
26th December 2006, Celtic 2:2 Dundee Utd.

O'Dea and Nakamura. @odea_darren

2 nil down but a sublime chip from Naka rescues a point. pic.twitter.com/KrRX8unc5B

— Li'l Ze (@LilZe_7) December 26, 2022
15 years ago today, Dundee Utd 0:2 Celtic.

Vennegoor of Hesselink and McManus. @JanVofH @StephenMc446

Bobo comes back in for his first start in a year which helps Celtic keep their first clean sheet away from home in 15 months. pic.twitter.com/tByOAtbUDC

— Li'l Ze (@LilZe_7) December 26, 2022
26th December 2009, Celtic 2:0 Hamilton.

Loovens and McGinn. pic.twitter.com/irou3R87KE

— Li'l Ze (@LilZe_7) December 26, 2022
26th December 2010, Celtic 2:0 St Johnstone.

Late goals from Cha and Ki. @robotdr22 pic.twitter.com/hnPsSMQc7S

— Li'l Ze (@LilZe_7) December 26, 2022
10 years ago today, Dundee 0:2 Celtic.

Samaras and Hooper with 2 excellent finishes. @HOOP588

Still recovering from the riot. pic.twitter.com/gHZCabR3kE

— Li'l Ze (@LilZe_7) December 26, 2022
26th December 2013, St Johnstone 0:1 Celtic.

Cracking solo goal from Virgil. @VirgilvDijk pic.twitter.com/YsqzxIoFi5

— Li'l Ze (@LilZe_7) December 26, 2022
5 years ago today, Dundee 0:2 Celtic.

Forrest and Griffiths. pic.twitter.com/40gpYUNf2X

— Li'l Ze (@LilZe_7) December 26, 2022
26th December 2018, Aberdeen 3:4 Celtic.

Sinclair hattrick and Edouard. @Scotty_Sinclair @Oedouard22 pic.twitter.com/5B62h3eFEE

— Li'l Ze (@LilZe_7) December 26, 2022
26th December 2019, St Mirren 1:2 Celtic.

McGregor and Forrest. pic.twitter.com/IEqtEPhdWL

— Li'l Ze (@LilZe_7) December 26, 2022
A year ago today, St Johnstone 1:3 Celtic.

Abada(2) and Bitton. pic.twitter.com/SH426xSX16

— Li'l Ze (@LilZe_7) December 26, 2022