Celtic Historian David Potter each morning on The Celtic Star looks back at key Celtic events and matches on this day starting on 2nd January 1909. David's latest bestseller The Celtic Rising ~ 1965: The Year Jock Stein Changed Everything SOLD OUT on Celtic Star Books but the good news is that it is now back in stock! You can place an order here and we'll post your order immediately. The Celtic Rising is also now available on Amazon Kindle, link below.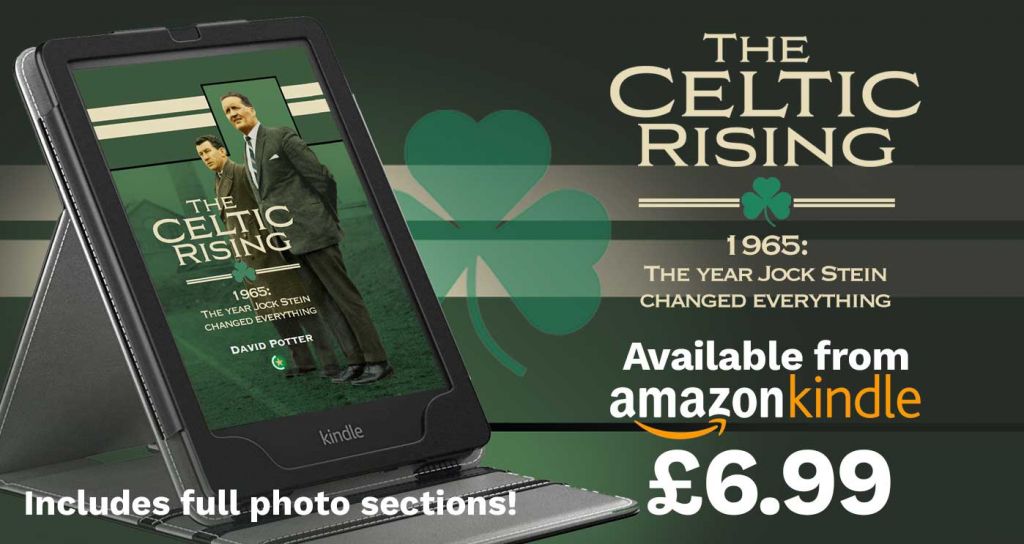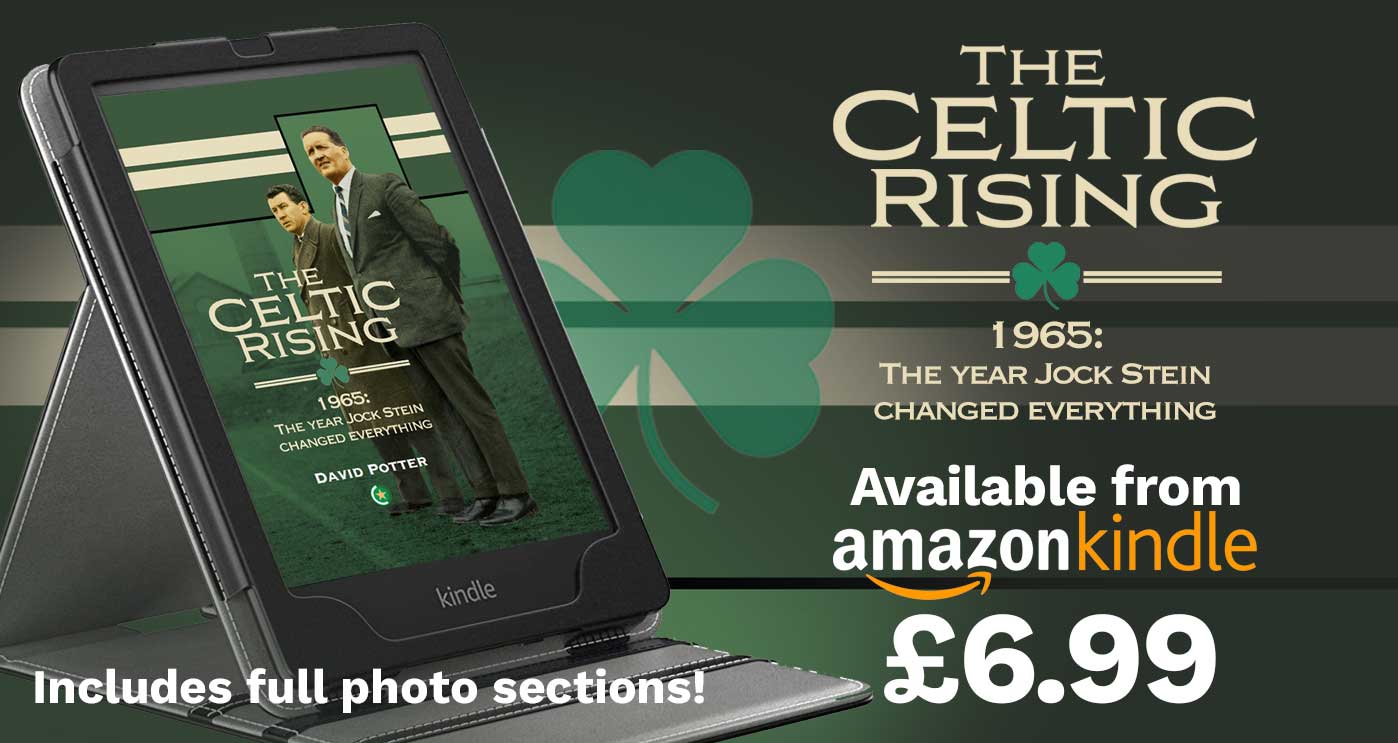 SATURDAY 2nd JANUARY 1909 – Yesterday's 3-1 win over Rangers at Ibrox is welcome but comes at a cost with injuries, not least to goalkeeper Davie Adams. Sunny Jim Young suggests to Maley that rather than try to find a new goalkeeper on New Year's Night, he (Sunny Jim) could take over the mantle of the custodian, for he was unable to play in his normal position of right half because of a leg injury. Rather against his better judgement, Maley agrees to this for today's game at Kilmarnock, and Celtic duly lose 1-3, their only goal coming from Willie Loney. Perhaps the celebrations of yesterday's New Year Day victory were a trifle over zealous.
SATURDAY 2nd JANUARY 1926 – Considered unlucky to merely draw with Rangers yesterday, Celtic today travel to Hampden to defeat Queen's Park 4-1. Jimmy McGrory scores twice, and Alec Thomson once (but some sources give McGrory a hat-trick and Adam McLean the other) as Celtic consolidate their position at the top of the League. But for Jack Harkness in goal for Queen's Park, the score would have been a great deal more.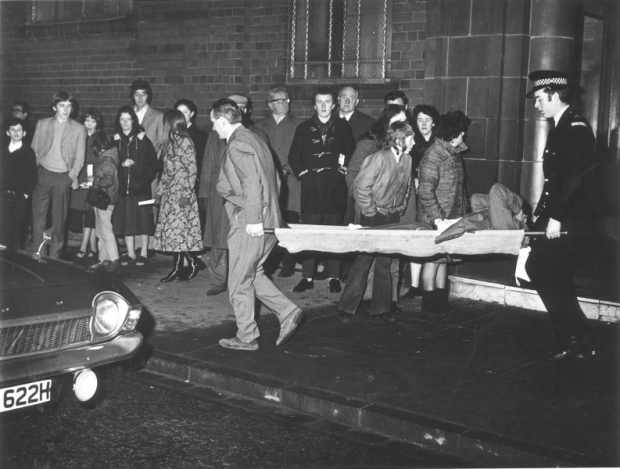 SATURDAY 2nd JANUARY 1971 – This is one of Scottish football's saddest days as 66 Rangers supporters die in the immediate aftermath of the Old Firm game at Ibrox. Celtic and Rangers supporters are united in grief for this terrible tragedy caused by crushing on the infamous Stairway 13 at Ibrox. The game had been a good one with Jimmy Johnstone scoring Celtic's goal in the 1-1 draw.
SATURDAY 2nd JANUARY 1988 – Celtic begin their Centenary Year in style with a fine 2-0 win over Rangers at Parkhead. Frank McAvennie scores the two goals which definitely give Celtic the edge in the race for the Scottish League Championship. 60,800 applaud a stylish Celtic performance.
TUESDAY 2nd JANUARY 2001 – Saturday's game against Motherwell was snowed off, but the thaw arrived with the New Year, and today's game against Kilmarnock at Parkhead went ahead. Celtic opened their New Year with a 6-0 victory. Henrik Larsson scored four times and Chris Sutton twice in a devastating display of attacking football. Ally McCoist comes on for Kilmarnock near the end, but fails to turn the tide.
David Potter
2nd January 1968, Celtic 2:2 Rangers.

Bertie Auld and Bobby Murdoch with the goals.

Great finish from Murdoch. pic.twitter.com/QMwsV8Cq8W

— Li'l Ze (@LilZe_7) January 2, 2023
35 years ago today, Celtic 2:0 Rangers.

Frank McAvennie with 2 excellent goals. @MaccaFrank

Superb from the Maestro for the opener. pic.twitter.com/v2tb1Jsakd

— Li'l Ze (@LilZe_7) January 2, 2023
25 years ago today, Celtic 2:0 Rangers.

Burley and Lambert. @craigburley

Celtic's first league victory over them in 10 attempts. pic.twitter.com/MumU1Jq5jV

— Li'l Ze (@LilZe_7) January 2, 2023
2nd January 2001, Celtic 6:0 Kilmarnock.

Sutton(2) and Larsson(4). @chris_sutton73 pic.twitter.com/yFHD1Mnh2p

— Li'l Ze (@LilZe_7) January 2, 2023
2nd January 2002, Celtic 2:0 Motherwell.

Larsson and Hartson. @JohnHartson10 pic.twitter.com/3WivvSqO80

— Li'l Ze (@LilZe_7) January 2, 2023
20 years ago today, Aberdeen 1:1 Celtic.

Larsson. pic.twitter.com/u6MMAiqX8C

— Li'l Ze (@LilZe_7) January 2, 2023
2nd January 2005, Celtic 2:1 Livingston.

Hartson and Sutton. @JohnHartson10 @chris_sutton73 pic.twitter.com/us3mbiYlag

— Li'l Ze (@LilZe_7) January 2, 2023
2nd January 2007, Celtic 2:0 Kilmarnock.

O'Dea and McGeady. @odea_darren pic.twitter.com/C2NP3c7ApM

— Li'l Ze (@LilZe_7) January 2, 2023
2nd January 2011, Rangers 0:2 Celtic.

Samaras Sunday. pic.twitter.com/PaysWPj2AJ

— Li'l Ze (@LilZe_7) January 2, 2023
2nd January 2012, Dunfermline 0:3 Celtic.

Stokes, Wanyama and Mulgrew. @VictorWanyama @charlie_mulgrew pic.twitter.com/yh6js6JMe1

— Li'l Ze (@LilZe_7) January 2, 2023
2nd January 2016, Celtic 1:0 Partick Thistle.

Griffiths. pic.twitter.com/T0mYLUFD7O

— Li'l Ze (@LilZe_7) January 2, 2023