Celtic Historian David Potter each morning on The Celtic Star looks back at key Celtic events and matches on this day starting on 8th April 1916. David's latest bestseller The Celtic Rising ~ 1965: The Year Jock Stein Changed Everything is available now in print on Celtic Star Books, and also on Amazon kindle, links below…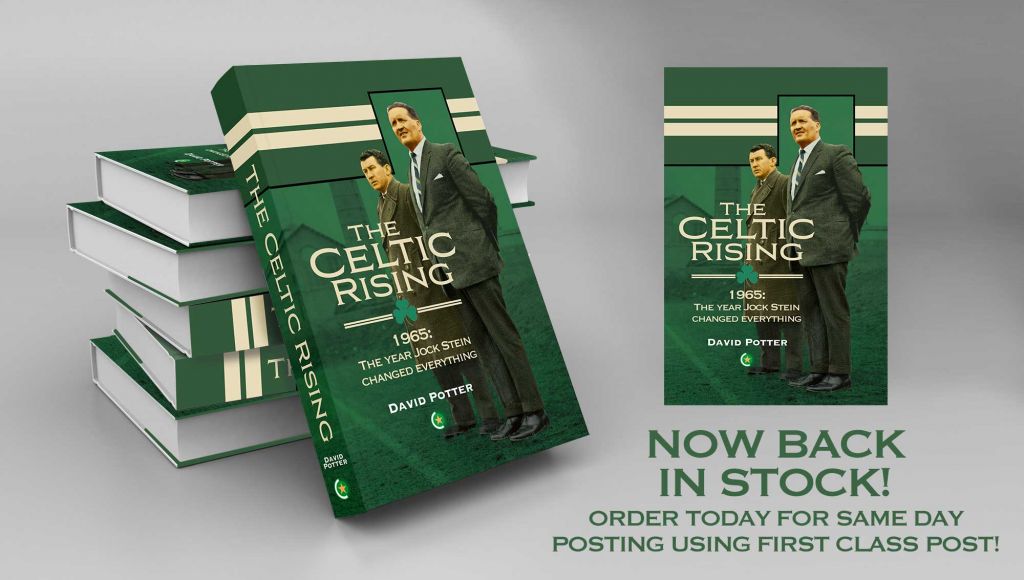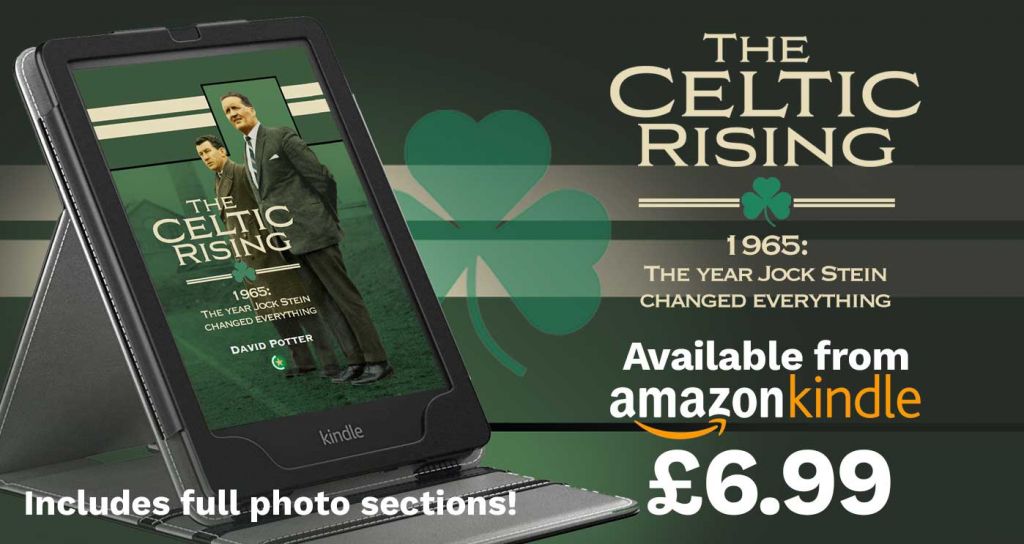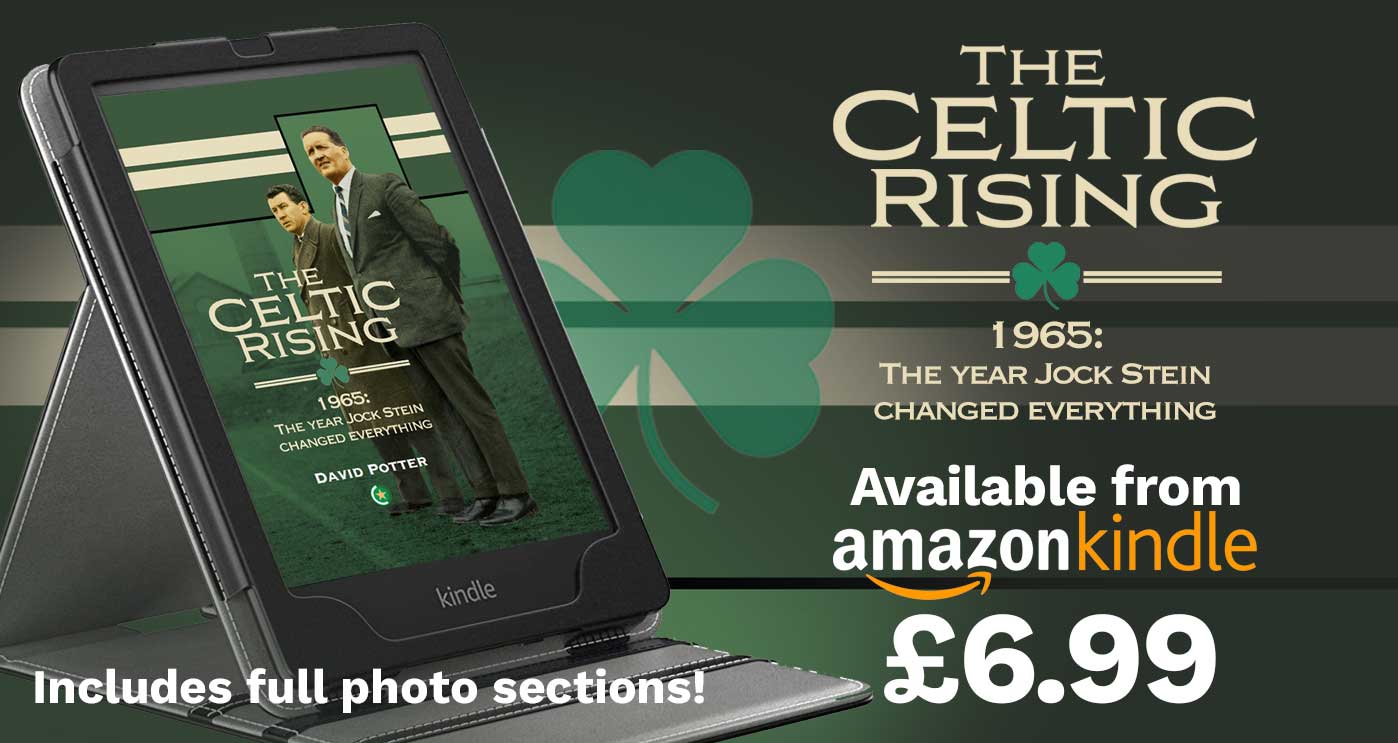 SATURDAY 8th APRIL 1916 – Celtic take another step towards their third successive League flag with a 2-0 win over Falkirk at Brockville in front of a large crowd of about 8,000 (huge by War-time standards).Willie Crone and Joe O'Kane score for Celtic.
MONDAY 8th APRIL 1918 – Although the Great War is now at its decisive point (and the eventual Allied victory is by no means guaranteed) Celtic supporters are more upset about the news of the death of their great favourite of the 1890s, Dan Doyle. Manager Willie Maley is summoned to the Glasgow Cancer Hospital to see Doyle (legend has it) roll back the bedclothes and show him the legs which had "done their bit for the Celtic". Hours later, Doyle died, aged 53.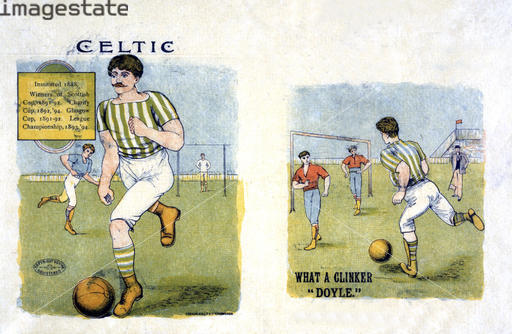 SATURDAY 8th APRIL 1922 – Celtic take another step towards the League title with a very decisive 4-0 win over Dundee at Parkhead. Joe Cassidy scores twice and Patsy Gallacher and Andy McAtee score one each. Jock Gilchrist and Willie Cringan are away playing (with distinction) for Scotland in their 1-0 win over England at Villa Park, Birmingham.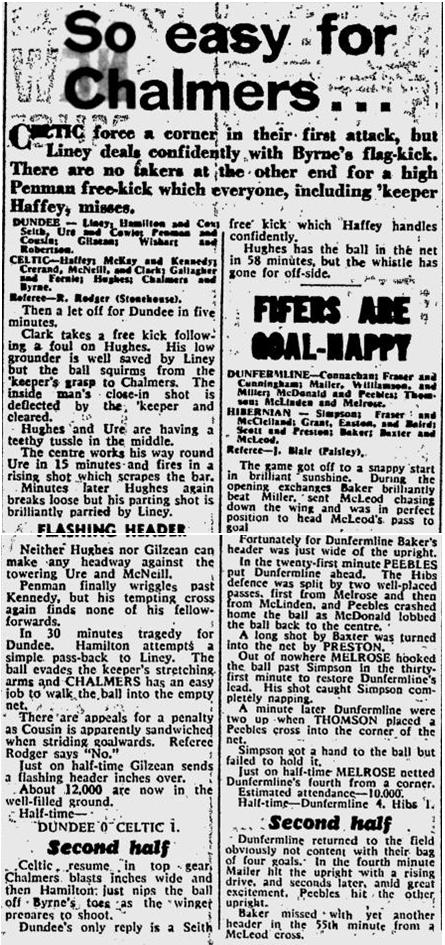 SATURDAY 8th APRIL 1961 – It is like old times again as Celtic supporters roll up in their thousands to Dens Park, Dundee to see Steve Chalmers score the only goal of the game. The team are now in the Scottish Cup final, and the supporters are convinced that glory is not far away for their fine young side with players like Pat Crerand and Billy McNeill. The biggest cheer of the day, however, is when the old half time scoreboard posts Aberdeen 3 Rangers 1.
WEDNESDAY 8th APRIL 2004 – A disappointing night at Parkhead as Celtic draw 1-1 with Villarreal in the first leg of the UEFA Cup quarter-final, but the tie is not over yet. Celtic survive the loss of an early goal and fight back for Henrik Larsson to equalise.
8th April 2004, Celtic draw 1:1 with Villarreal in the 1st leg of the Uefa Cup Quarter-Final tie.

Larsson equaliser. pic.twitter.com/w8iJDE8262

— Li'l Ze (@LilZe_7) April 7, 2023
David Potter
25 years ago today, Kilmarnock 1:2 Celtic.

Larsson and a great goal from Donnelly secure a vital 3 points on the way to the title.@SimonDonnelly13 pic.twitter.com/hYS4LMs8UN

— Li'l Ze (@LilZe_7) April 7, 2023
8th April 2009, Celtic 4:0 Falkirk.

Caldwell, Vennegoor of Hesselink, McGeady and O'Dea. @JanVofH @odea_darren pic.twitter.com/arkM0JIk41

— Li'l Ze (@LilZe_7) April 7, 2023
8th April 2015, Celtic 2:0 Partick Thistle.

Commons and Johansen.@stefanjohansen pic.twitter.com/dwoo7tCJSo

— Li'l Ze (@LilZe_7) April 7, 2023
8th April 2017, Celtic 3:1 Kilmarnock.

Armstrong, Sinclair and Forrest. @Scotty_Sinclair pic.twitter.com/Jirnz6EolH

— Li'l Ze (@LilZe_7) April 7, 2023
5 years ago today, Hamilton 1:2 Celtic.

McGregor and Griffiths. pic.twitter.com/aNUhR37ypt

— Li'l Ze (@LilZe_7) April 7, 2023