Celtic Historian David Potter each morning on The Celtic Star looks back at key Celtic events and matches on this day starting on 9th March 1907. David's latest bestseller The Celtic Rising ~ 1965: The Year Jock Stein Changed Everything is available now in print on Celtic Star Books, and also on Amazon kindle, links below…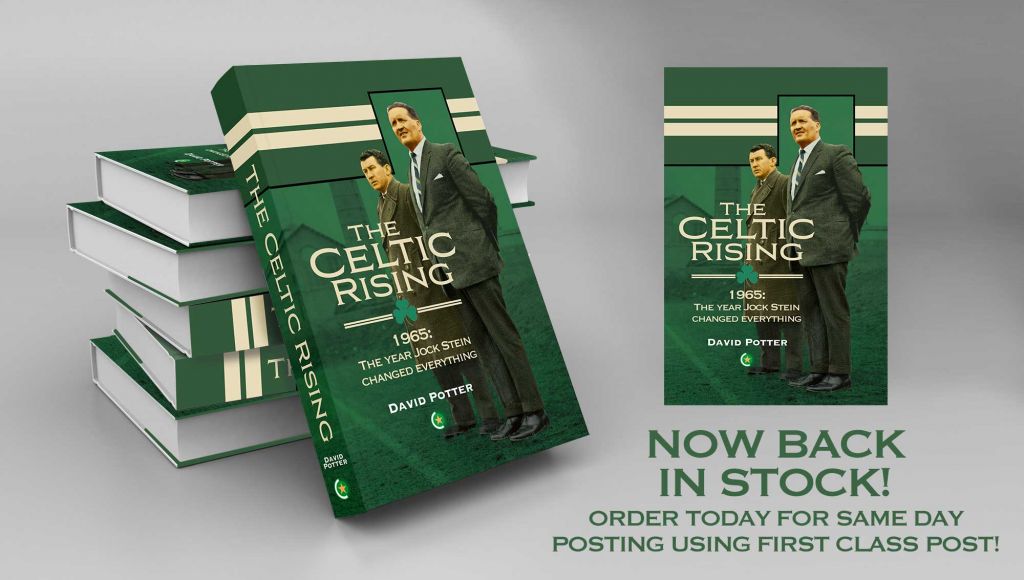 On this day in 1965, Jock Stein became manager of Celtic.

The rest, is history. pic.twitter.com/eriO7AJg7g

— Li'l Ze (@LilZe_7) March 9, 2023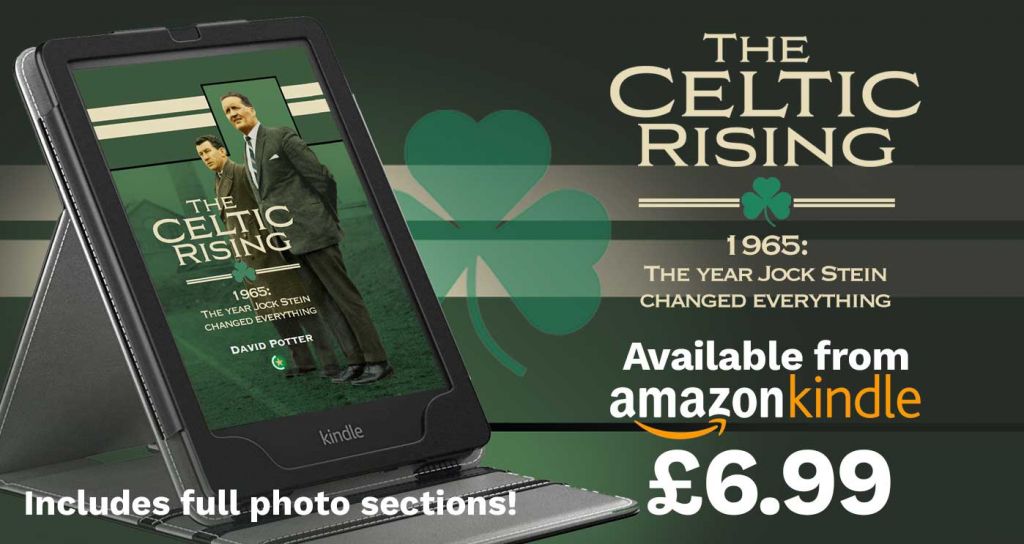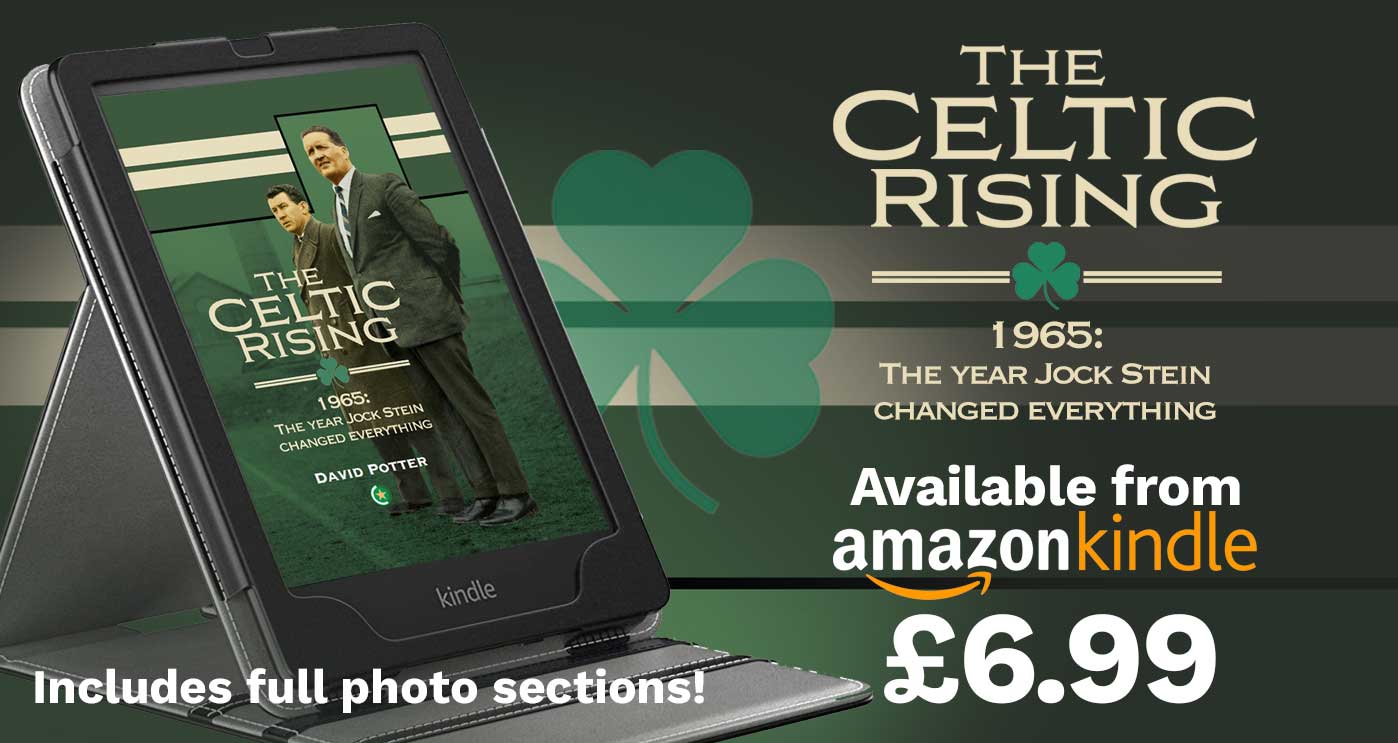 SATURDAY 9 MARCH 1907 – It is Jimmy Quinn's first day back after the unfair suspension imposed upon him at the New Year and it couldn't have been a tougher game. It is Rangers at Ibrox in the Scottish Cup. But Jimmy is up to it, ignoring all provocation and attracting two defenders to him all the time, thus allowing Peter Somers, Jimmy Hay and Davie Hamilton to score the goals in the 3-0 victory. The only threat seems to be the snow which comes on for the last quarter of an hour, encouraging most of the Rangers fans in the 80,000 to take an early departure.
SATURDAY 9 MARCH 1963 – Ex-Celtic goalkeeper Dick Beattie (hero of the 7-1 game) returns to-day to Celtic Park as captain on St Mirren. He is cheered as he runs up to the centre line to shake hands with Dunky MacKay. A dull game follows ending in a 1-1 draw. Bobby Murdoch scores for Celtic.
WEDNESDAY 9 MARCH 1977 – Alfie Conn makes his home debut and scores in a 2-1 defeat of Partick Thistle at Parkhead. As the other goal is scored by Johnny Doyle, newspapers make jokes (Conn and Doyle) about Sherlock Holmes who was of course written by Conan Doyle. Celtic supporters now forgive Conn his Ibrox past. "He used to be a …, but he's all right now, Alfie, Alfie!"
SUNDAY 9 MARCH 1998 – Poor Eric Pedersen, Dundee United's left back! His wife gave birth earlier that day at Ninewells Hospital, Dundee, then Eric concedes the last minute own goal which gives Celtic a 3-2 victory in the Scottish Cup quarter-final at Tannadice. Harald Brattbakk and Morten Weighorst have scored the other goals for Celtic, and Tommy McLean, Dundee United's manager is sent to the stand for arguing with a linesman after his own team had scored!
SUNDAY 9 MARCH 2008 – A last gasp equaliser from Jan Vennegoor of Hesselink saves Celtic from being knocked out of the Scottish Cup at Pittodrie today. Aberdeen themselves score late in the game after some feckless Celtic finishing and seem to have won the game, until in stoppage time Vennegoor of Hesselink gets a toe poke onto a Georgios Samaras cross to take the game to Celtic Park.
15 years ago today, Aberdeen 1:1 Celtic.

Big Jan with an injury-time equaliser. Let's just ignore the replay. pic.twitter.com/ygtvOZUorW

— Li'l Ze (@LilZe_7) March 9, 2023
David Potter
On this day in 1965, Jock Stein became manager of Celtic.

The rest, is history. pic.twitter.com/eriO7AJg7g

— Li'l Ze (@LilZe_7) March 9, 2023
9th March 1966, Celtic 3:1 Hearts.

Jinky, Murdoch and Chalmers. pic.twitter.com/el2BuPVDAD

— Li'l Ze (@LilZe_7) March 9, 2023
9th March 1991, Hibs 0:2 Celtic.

Joe Miller double. pic.twitter.com/tGhFiNv81z

— Li'l Ze (@LilZe_7) March 9, 2023
Matthew Marr's debut Celtic book – 'The BOULD BHOYS – Glory to their name' comes out on to Friday 24 March. Thanks to everyone who has ordered since we announced the book on Monday evening via an interview with the author. Please note that all pre-ordered books will be personally signed by Matthew Marr and you can order below if you'd like a signed copy posted out to you 24 March.