There will be no away supporters at the two forthcoming Glasgow Derby matches in the Scottish Premiership starting with Celtic's home fixture with theRangers on Saturday 8 April. And the post-split match at Ibrox which is likely to take place the weekend after the Scottish Cup semi-final clash at Hampden on Sunday 30 April, will not have any Celtic supporters in attendance.
That of course could be the date when Celtic win the league and it would be rather remarkable for that to happen with no supporters there in a stadium that would pretty much be empty should Celtic win the match to secure the title.
From sources closely involved in this matter, The Celtic Star understands that Celtic refused the away allocation for the forthcoming match at Ibrox on the grounds of supporter safety concerns. The Ibrox club wanted the normal 700/800 ticket allocation to happen as has recently been the case but Celtic have rejected this and have no plans to revert to sending our supporters into that corner in the future.
Celtic have also told the Ibrox club that they want a return to the traditional levels of tickets for away fans at both grounds and that would mean that the Broomloan stand would be once again Free and full of presumably over-celebrating Celtic fans. That though is NOT something that theRangers will agree to so unless there is a compromise posiiton reached there will be NO away supporters at Glasgow Derby matches going forward.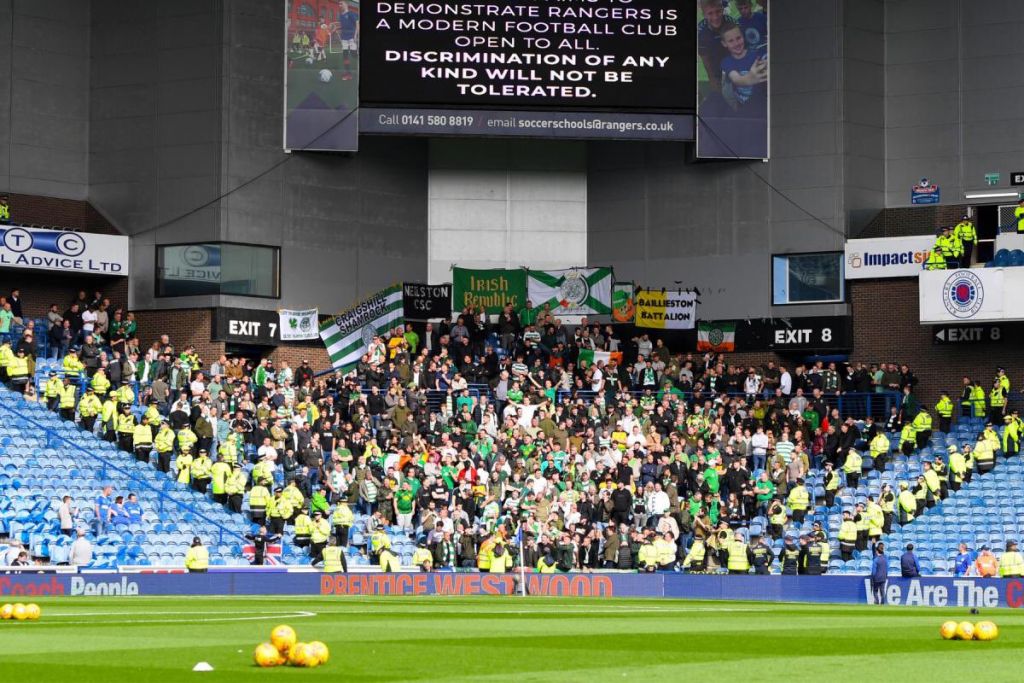 The decision to exclude away fans from these two Glasgow Derbies come after both clubs had talks with Police Scotland amid on-going controversy surrounding these games. Celtic physio Daniel Friel was scarred for life last April after being hit on the head with a glass bottle thrown by theRangers fan Alan Crawford who recently plead guilty to the offence. Crawford is waiting to be sentenced. And in the same match broken glass was thrown onto the pitch during the half-time interval from theRangers fans in the Copeland Road stand with Celtic goalkeeper Joe Hart the obvious target. Play was delayed as a thorough search was made of the penalty area to remove the glass.
In the most recent match at Ibrox on 2 January this year a Celtic supporter in the away corner was hit on the head by a bottle thrown by a supporter of theRangers from the Broomloan Road stand – meaning there has been serious incidents involving their support from the Main Stand, Copeland Road Stand and Broomloan Road stand.
The two sides met at Hampden in the League Cup Final and other than some early morning drama involving rival sets of Ultras there seemed to be little trouble at the national stadium.
While today's news will disappoint the Celtic supporters who would like to attend the match at Ibrox, many other Celtic supporters, ourselves included, welcome the decision not to allow their supporters into Celtic Park (where it is at least reasonably safe for the away support with no serious incidents ever reported) and in particular to stop our supporters going into that death-trap of a corner.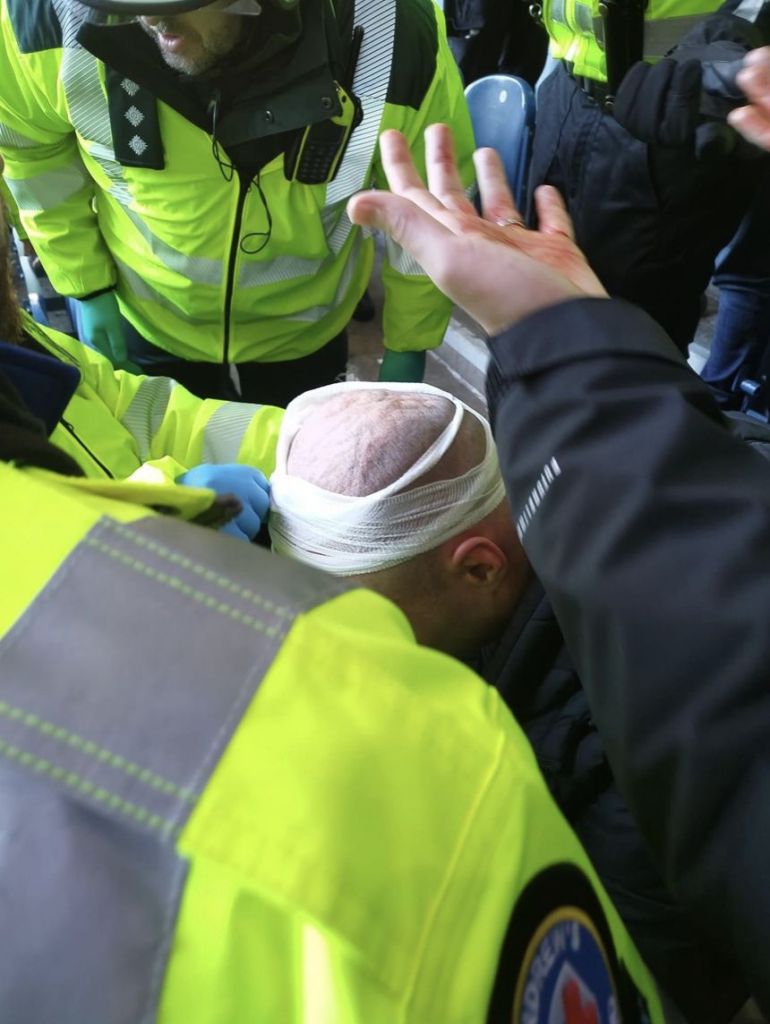 The Herald's 'Senior Rangers Writer' Christopher Jack (these are the same People who bring you that subscription site Celtic Way) reports that the Ibrox board have ruled out a return to handing over the Free Broomloan Road stand to Celtic supporters as had been the long standing tradition, due to most of these seats now being sold to season ticket holders. The Daily Record are also carrying a distorted version of what has happened here and to be clear Celtic FC are the drivers on this development due to refusing to take tickets for that corner of Ibrox as the club do not feel that it is safe.
And that position is understandable, when you watch this video from 2 January. Incidentally the blood soaked hand you see on that photograph above belongs to one of our Celtic Star writers.
Talks are to continue to find a solution, which could mean a larger away allocation perhaps of around a few thousand, but no return of the 800/700 arrangement that is now dead in the water as far as Celtic is concerned and theRangers don't want a return to the full away allocation. So it looks like home fans only and frankly, given their behaviour that is the best solution as things stand for the Celtic support.
Oh and finally watch the attempts to make up stories about their fans being subjected to similar treatment at Celtic Park as the Rangers correspondent at The Herald has already done.  That distorts the true and that is something that all the Celtic Fan Media should be calling out. We're happy to lead the way.
Here's the latest lie this time from Sky Sports which has been immediately called out by James Forrest at The Celtic Blog…
"However, following incidents at recent meetings at both stadia, the two clubs have held meetings and decided to only admit home supporters to the upcoming league matches."
You owe your readers a clarification. What were the incidents at Celtic Park? Your article says "following incidents at recent meetings at both stadia" – you either change that or explain to us what it means. Because, not to put too fine a point on it, you are talking garbage.

— TheCelticBlog (@CelticBlog2018) March 17, 2023
Last time we played then with no away fans we pumped them 3-0 in what was an unforgettable night at Celtic Park.
𝙏𝙝𝙚 𝙢𝙤𝙢𝙚𝙣𝙩 𝙩𝙝𝙖𝙩 𝙨𝙩𝙤𝙥𝙥𝙚𝙙 𝙩𝙝𝙚 𝙖𝙡𝙡𝙤𝙘𝙖𝙩𝙞𝙤𝙣 🇫🇷🍋pic.twitter.com/bajwWtAxpr

— Everything Celtic (@aboutceltic) March 17, 2023
Don't forget this all started because they couldn't handle our dominantion.

They couldn't handle us off the pitch.
They can't handle us on the pitch.
They know they're inferior in every single way. pic.twitter.com/5XLRaNG9Df

— Everything Celtic (@aboutceltic) March 17, 2023
Glad we're not going to Ibrox and they're not at ours. Good.
Our fans were pelted with glass, stones, pish and whatever else last time there. Who needs it? Unless it's a full end then safety must come first. ☘️

— Matt McGlone (@MattMcGlone9) March 17, 2023