Most football chants tend to be about one thing, maybe a single player or victory. The well-known Celtic song Willie Maley is very, very different.
This tune names 19 different players that have graced the Hoops (and non-Hoops, before 1903), as well as two non-Celts, although the specific 19 depends on which version you sing. It also describes numerous key events from Celtic history.
This is the full story of the song, looking at all the players and events named and giving more details about each.
Verse 1
Willie Maley was his name,
He brought some great names to the game,
When he was the boss at Celtic Park.
He taught them how to play football,
He made the greatest of them all,
Gallagher and Quinn have left their mark.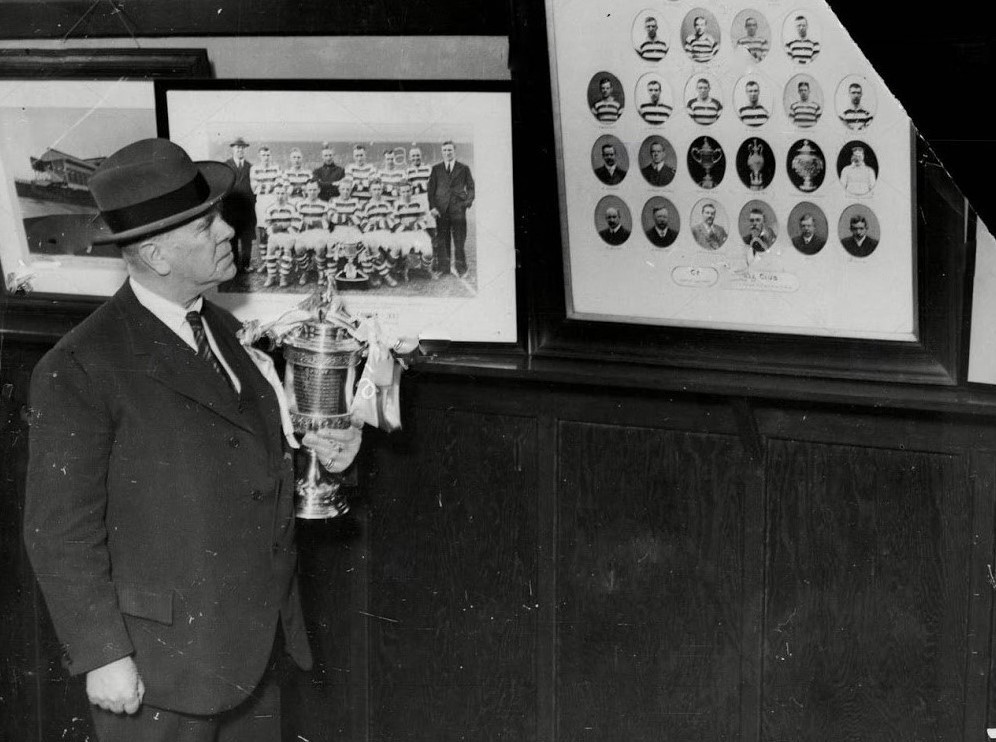 Of course the first person mentioned is the man after whom the ballad is named: Willie Maley. A bona-fide club legend, he played for and managed the Bhoys for more than half a century, including featuring in Celtic's first ever game in May 1888. It was originally his brother Tom who Celtic tried to sign but fortunately Willie was asked to try out for the team too.
The opening verse also names Patsy Gallagher. The Irishman was a very popular player, surprising many at the club. When he first signed his small stature made people underestimate him but he soon became known for his skills and tricks.
Gallagher was at Celtic from 1911-1925. His most famous moment came in the 1925 Scottish Cup Final when he somersaulted the ball into the net as Celtic beat Dundee 2-1.
The final player named in the first verse is Jimmy Quinn. Born in Croy, he was once described by Willie Maley as one of Celtic's greatest ever players. Quinn was a prolific goalscorer; from 1901 to 1915 he played 331 games for Celtic, scoring 216 goals.
Chorus
And they gave us James McGrory and Paul McStay,
They gave us Johnstone, Tully, Murdoch, Auld and Hay,
And most of the football greats,
Have passed through Parkhead's gates,
All to play football the Glasgow Celtic way.
The chorus of the song names seven players, although these are not the same in all versions. The most common one lists James McGrory, Paul McStay, Jimmy Johnstone, Charlie Tully, Bobby Murdoch, Bertie Auld and David Hay. However sometimes the McStay named is not Paul but instead James McStay.
James McGrory is arguably the most important forward in Celtic's history, and one of the most significant men in all senses. A player from 1921-37, he is Celtic's all-time top scorer with a remarkable 472 goals in 445 games.
McGrory was also the manager for two decades, from 1945 to 1965. He oversaw numerous significant wins, including the 7-1 victory over Rangers. As manager he won all three major trophies in Scottish football.
Paul McStay was an iconic midfielder who played during the 1980s and 1990s, including captaining the side. He was on Celtic's books from 1981 until 1997, scoring 78 goals in 678 games.
However some versions of the song instead use the name James McStay. Paul's great uncle, and better known as Jimmy, he was a defender who played for Celtic from 1920 until 1934. Jimmy was later Celtic manager from 1940-45.
Jimmy Johnstone of course really needs no introduction. Once voted 'Greatest ever Celt' he was a winger that was a key part of the club's greatest ever period when they won the European Cup and nine league titles in a row. Between 1963 and 1975 he won 22 trophies.
The chorus also names Charlie Tully. Belfast-born Tully was an entertaining forward and a big fans' favourite. Between 1948 and 1959 he played 319 times for Celtic, scoring 47 goals. Most notably this includes directly from a corner kick in a game versus Falkirk.
The next player named in the chorus is Bobby Murdoch. A battling and talented midfielder, he was described by Inter Milan manager as his "complete footballer". From 1959-73 he played for Celtic 484 times, scoring 105 goals.
The legendary Bertie Auld features in the chorus too. Another outstanding midfielder, he twice played for the Hoops from 1955-61 and 1965-71. He appeared on 279 occasions, scoring 85 goals. In retirement he was a popular figure at numerous Celtic events.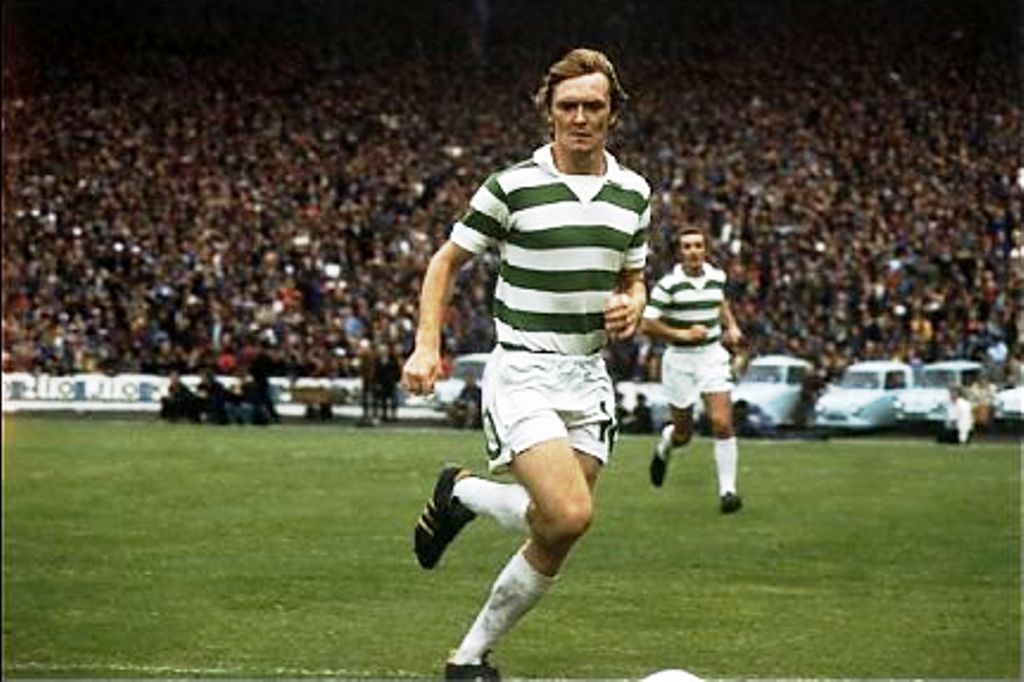 The final player named in the chorus is David Hay. Known as the 'Quiet Assassin', he played 230 times in defence/midfield for Celtic from 1966-74. Hay later managed the club from 1983-87, memorably winning the League at Love Street.
Verse 2
In '38 there was a show,
And Glasgow was the place to go,
A model of The Tower was football's prize.
England sent four of the best,
They didn't meet with much success,
Because the trophy ended up in Paradise.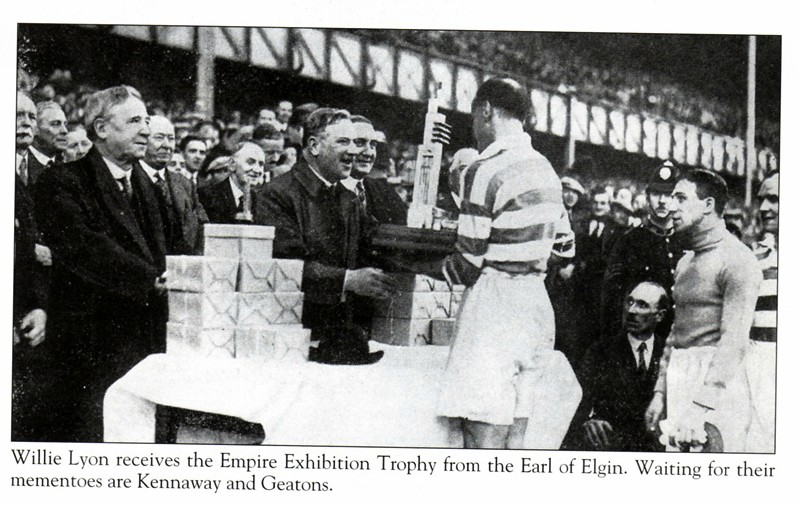 The second verse tells the story of the 1938 Empire Exhibition trophy. This famous event held at Glasgow's Bellahouston Park and to celebrate it a football tournament was held featuring eight Scottish and English teams.
Celtic firstly beat Sunderland 3-1 in the quarter-finals before triumphing 1-0 versus Hearts in the semi-final. In the final, Everton were beaten 1-0, with Johnny Crum getting the decisive goal.
Verse 3
Well Coronation time was here,
Fifty Three, that was the year,
Another four from England met their doom.
They said 'we'll have to try again',
But like before it was in vain,
Because the Cup is in the Parkhead trophy room.
The next verse commemorates another one-off cup victory which is best remembered due to its own song. In 1953 a tournament was held in Glasgow to mark the coronation of Queen Elizabeth. Scottish and English teams participated in this.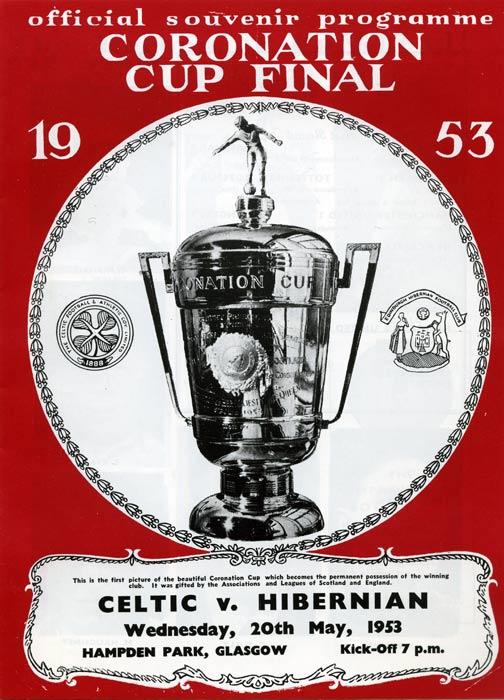 Celtic were not a strong team at the time and mainly invited due to their reputation and in the hope of attracting better crowds. However the Bhoys defied all expectations. They firstly saw off Arsenal (1-0) in the quarter-finals and then did the same to Manchester United in the semi-final, winning 2-1.
Famously the final saw Hampden bedecked in green, white and gold as Celtic played Hibernian, winning 2-0 thanks to Neilly Mochan and Jimmy Walsh goals.
Verse 4
And then in 1957,
We faced a guy called Georgie Niven,
The game is etched on every Celtic fan,
Wilson, Mochan and McPhail,
And Willie Fernie scored as well,
As Celtic beat The Rangers 7-1.
The next verse is about possibly the most famous scoreline in Celtic's history, and also identifies the first non-Celtic player.
In October 1957, Celtic played Rangers in the League Cup Final. George Niven (sometimes wrongly written as Nevin) was Rangers' goalkeeper and he would concede seven goals that day, with the 7-1 scoreline a record for a British final.
Sammy Wilson opened the scoring for Celtic. The midfielder played for the Bhoys from 1957-59, scoring 46 goals in 70 competitive games. Forward Neilly Mochan also scored; he had a Celtic playing career from 1953-1960 and later became the team's kit man.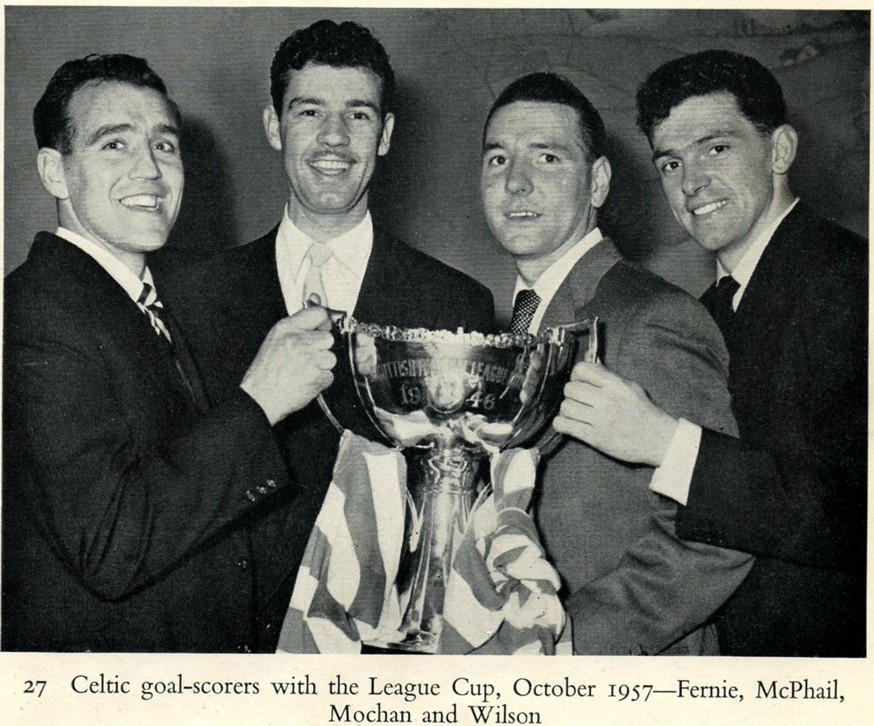 Man-of-the-match was surely Billy McPhail, who scored a hat-trick. The striker played for Celtic from 1956- 1958, scoring 38 times in 57 games. The final goal of the 7-1 game was a penalty from Willie Fernie, a midfielder and forward from 1948-1960, and later a reserve team coach.
Time for a wee exclusive, The Celtic Star will be publishing the official Willie Fernie biography, written by Celtic Historian David Potter and assisted by John McCue in the next few months. The book was completed today and the front cover looks like this…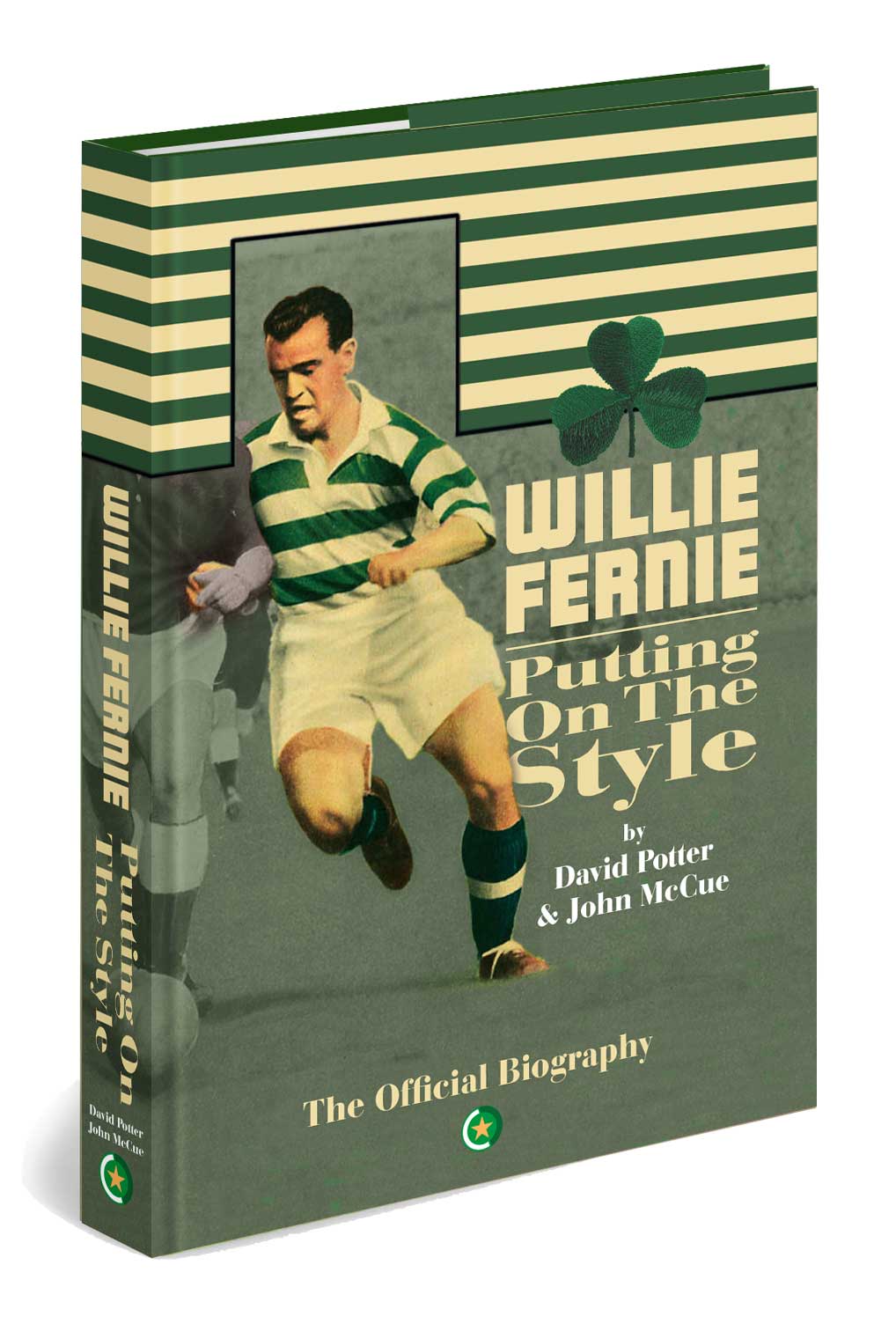 Verse 5
Well ten years had gone and so,
To Portugal we had to go,
To play the team that Italy adored.
Celtic went out to attack,
They won The Big Cup and they brought it back,
It's the first time it had been on British shores.
The fifth verse describes Celtic's greatest day, one that surely needs no introduction.
In 1966-67, a team of players from in and around Glasgow stormed through the European Cup, beating all rivals. In the May 1967 final they faced the highly successful Inter Milan, two times winners in the previous three years.
Celtic destroyed Inter's favourites' tag with a dominating performance. Even after falling behind to a penalty, goals from Tommy Gemmell and Stevie Chalmers helped Celtic win by two goals to one. The Lisbon Lions were born.
Verse 6
Now twenty one years to that day,
With pride, it's our Centenary,
And we're among the honours once again.
Six million pounds the 'Gers did spend,
But Souness found it was in vain,
Because the Celtic are the Champions again.
The sixth verse is about Celtic's centenary season in 1987-88. The club were formed in 1887 and played their first game in 1888. They hoped to mark 100 years with a great season, but the money being spent by new Rangers manager Graeme Souness threatened to stop this.
However in spite of these difficult odds, Celtic overcame newly rich Rangers to win the league and cup double. The Hoops claimed the league title in April before beating Dundee United 2-1 in the Scottish Cup Final.
Verse 7
And now in 1995,
It feels good just to be alive,
And we're about to celebrate again.
The fans cry out for Big Pierre,
He rises up into the air,
And the Scottish Cup comes home to Paradise.
After the centenary success of 1988, Celtic struggled and only won one more trophy before May 1995. Playing at Hampden Park (Celtic Park was being refurbished) the Hoops were a shadow of previous sides.
The seventh verse of the song describes how this barren run ended in the 1995 Scottish Cup Final. In May 1995 a Pierre van Hooijdonk goal gave Celtic a 1-0 win over Airdrie to end the trophyless run. The Dutch striker scored 56 goals between 1995-97.
Verse 8
And then in 1998,
The Celtic fans were feeling great,
And we went out to celebrate again,
Larsson, Brattbakk and Tommy Boyd,
Simon Donnelly and all the Bhoys,
Were singing 'Celtic are the Champions again'.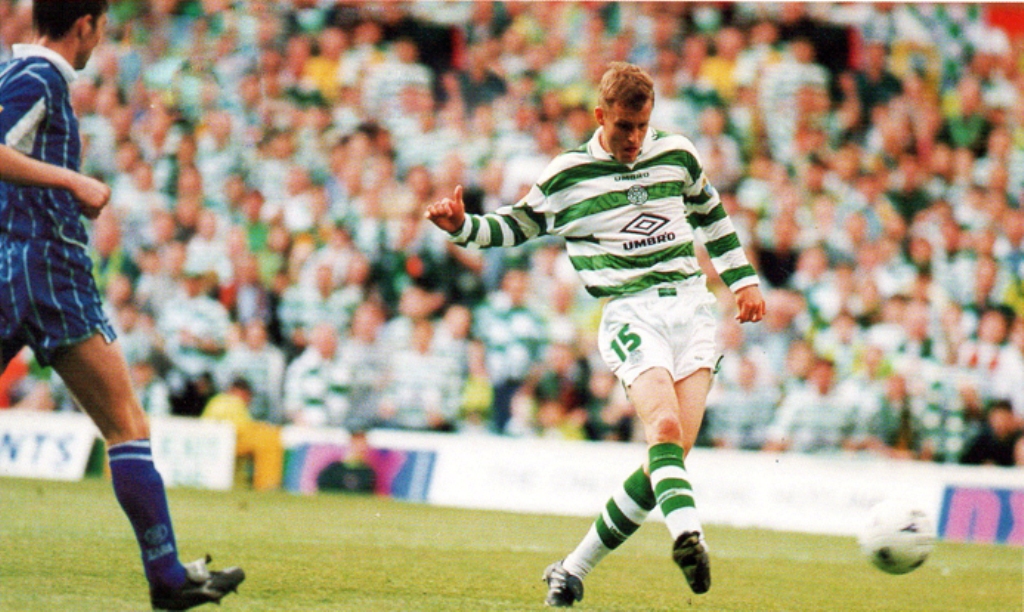 The eighth verse tells the tale of Celtic winning the league and stopping Rangers getting ten-in-a-row. In May 1998 the Hoops ended ten years of hurt and won the title with a last day 2-0 victory over St Johnstone.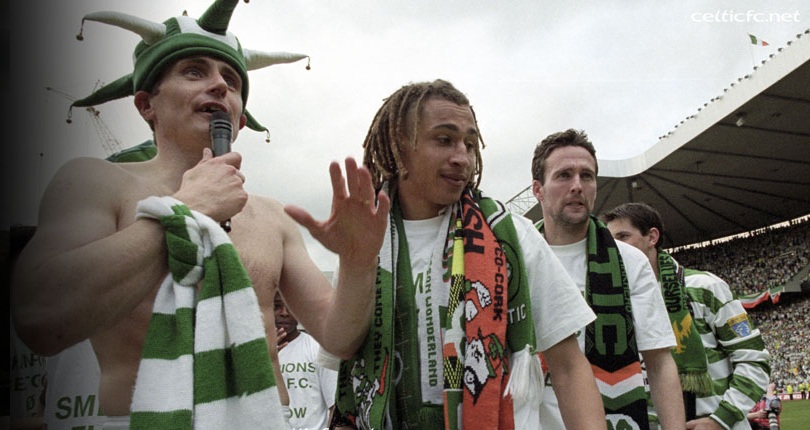 Key players included Larsson, Brattbakk, Boyd and Donnelly. Larsson was of course an iconic forward in his seven years at the club, including scoring the opener in the St Johnstone game. The other goal came from Norwegian striker Harald Brattbakk, a forward from 1997-2000.
Tommy Boyd was a hugely important defender. Signed from Chelsea in a swap deal, Boyd went on to be club captain, winning various trophies from 1992-2003. Simon Donnelly was a forward and product of Celtic's youth system who played for Celtic from 1993-99.
Verse 9
Now in a new millennium,
We have a brand new stadium,
And we're amongst the honours once again,
The Celtic fans did proudly sing,
Larsson is The King of Kings,
As he joined the list of famous Celtic men
The ninth and final verse (so far) looks at Celtic in the 21st century. It notes the new stadium created for the new century. Work began on redevelopment in 1994 and the new ground opened the following year, with further changes bringing It up to the current c.60,000 capacity.
It also names Henrik Larsson, easily Celtic's top player in the last 40 years. An iconic figure, Larsson played for Celtic from 1997-2004. The star Swede scored 242 goals in 313 games, including two in the 2003 UEFA Cup Final.
The song itself is based on the song 'Matchstalk men and matchstalk cats and dogs' by Brian and Michael, which spent three weeks in 1978 at number one in the charts. It is based on the life of famous painter L.S. Lowry.
Article by Hail Hail History – follow now on Twitter
Perhaps it's time that the Quadruple Treble winners get their verse added to the Willie Maley song. Please send in yous suggestions…
Next up, Liam Kelly tells the story of The Celtic Song which might surprise you to know that it's actually two songs, not one.