Clarissa Larisey has been mightily impressive over the past year or so at Celtic FC Women. She's incredibly talented, maybe the quickest player in the SWPL1 and is as brave as you like, maybe a grounding from her days playing ice-hockey back in her native Canada.
This season Fran Alonso gave her the responsibilty of replacing 40-goal Charlie Wellings and after just seven matches, she's already a quarter of the way to matching that total. And while Wellings was an incredible finisher, Larisey offers so much more.
And she's a big-game player, excelling in both cup final triumphs last season, showing her versatility playing as a right winger in the first and a left wing-back in the other.  She was The Celtic Star's  Player of the Match in both cup finals.  Larisey's progress under Fran Alonso has been quite incredible. Previously she had received no international recognition at any age group yet she is now on the verge of making a name for herself for the current Olympic Champions who will fancy their chances at the Women's World Cup in Australia next year.
The Celtic striker came off the bench in Spain for Canada in their 2-0 win over Argentina last week and could even get a start tomorrow against Morocco.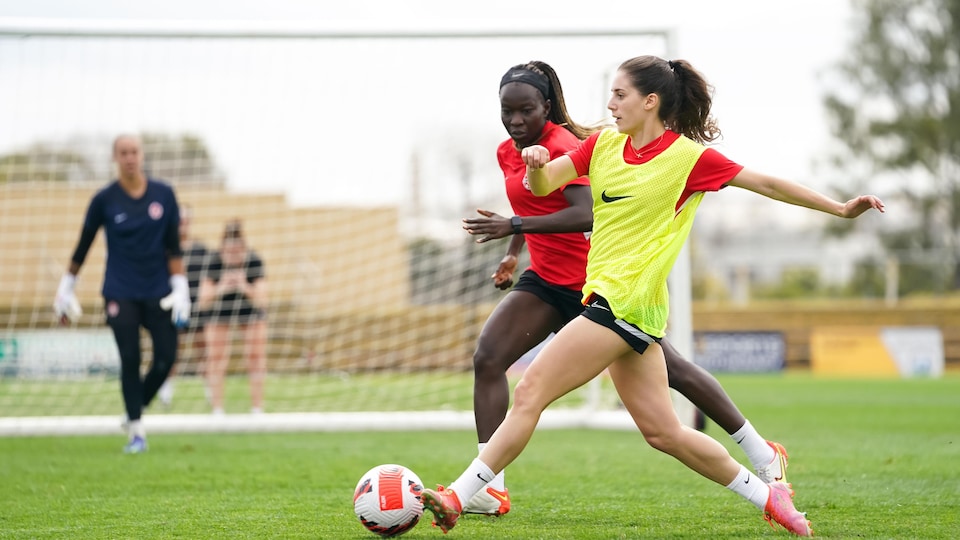 Last week Clarissa Larisey was interviewed by French speaking outlet Radio-Canada Ottawa-Gatineau and we've done our best to get the gist of it for you this evening…
Ottawa footballer Clarissa Larisey wants to seize her chance with Canada's national team. The striker has been enjoying her second camp with coach Bev Priestman's training in Spain. Larisey had the opportunity to put on the red jersey and step onto the pitch last month, in a friendly match against Australia during which she played around 15 minutes. Since then, she has been floating on a cloud.
"I can't explain to you how that makes me smile! It's just an honour. It's a dream come true, it's just wow," exclaims Larisey from Càdiz, where she is rubbing shoulders with her idol Christine Sinclair.
The 23-year-old trained at Goulburn FC before spells at West Ottawa and Ottawa South United. She then went to the University of Memphis where she took went overseas. After a quick experience in Iceland, it was in Glasgow, with Celtic, that she had the most success. She netted no less than 18 goals in just 13 appearances in Scotland to catch the eye of Canada Soccer.
"There are a lot more than goals when you want to play here. It can be a good cross or a good pass that sets you apart," says Larisey. "With Canada, I can play forward or on the wings, so every team is so different. But I can bring good things that I do with Celtic."
Larisey describes herself as a versatile and aggressive player who works both ways but is able to score at the right time. The Celtic striker came off the bench in the second half of Canada's 2-0 win over Arentina and will have high hopes of winning her third cap against Morocco tomorrow. And Larisey is determined to do all that she can to impress coach Bev Priestman and national team decision makers.
"I have to be consistent to show that I can help the team. I have a lot to offer even if it is not easy with such a talented and successful group. I have to show that I can help them in the different facets of the game and during their tournaments," Larisey stated, speaking in excellent French.
Celtic, and indeed football might have missed out on the exceptionally gifted player because she almost become an ice-hockey player. "I wanted to do like my friends, who played hockey," Clarissa said. It was thanks to her sister, Helena, that she chose soccer boots over skates.
"My mother wanted us to do the same sport and my sister was older, so she won," laughed Larisey, who quickly developed her passion for the Beautiful Game. I was very active and always wanted to play outside. From the first day, I wanted to play for my country, I did not dream of being professional," the Celtic striker added.
Larisey attended the Jean-Paul II French school in Stittsville, before continuing in French immersion in high school. Ironically, it was in Memphis that she nurtured her love of the language of Molière. "I tried to speak French, but since few people spoke it, I decided to take French lessons there. I wanted to keep this French side," Larisey, whose paternal family is from (French speaking) Quebec, said.
The Celtic player will be able to practice it within the national team which has several players who can speak French, in particular Bianca St-Georges and Evelyne Viens, without forgetting the Ottawan Vanessa Gilles when she returns from injury. "We played together when we were teenagers, it's funny to see that we'll meet there," said a delighted Larisey.
"I hope we can inspire other young girls to follow our example. If I saw an Ottawa player who went there, I would say to myself that I can do it too!" Clarissa said.
What she really wants now is to secure a place on the national team over the next few months, especially as the squad will be taking part in the World Cup in Australia and New Zealand next summer. Meanwhile the Celtic support should enjoy watching Larisey while she's still here.