CALLUM McGREGOR is in a hurry to get 8IAR sorted then will look forward to the Scottish Cup Final against Hearts on 25 May. But before there can be any serious consideration to winning what would be an unbelievable Treble Treble at Hampden the Celtic players all know what is required of them in the post-split Premiership fixtures that begin this weekend.
If Hearts avoid defeat at home to the Rangers on Saturday a win against Hibs on Easter Sunday will mean that Celtic are the Champions, but even of Hearts lose, McGregor wants Celtic to take care of their own business and get the job done as soon as possible.
And the incentive will still be there to win at Easter Road because it will set out a massive title party at Celtic Park for the following weekend when Kilmarnock are the visitors and Celtic wouldn't need to look at results elsewhere.
So beat Hibs and Kilmarnock and 8IAR is ours. Simple!
"We just want to get it over the line and get it sealed," Calmac told this week's Celtic View.
"To deliver the title again is the big objective for us and whether it takes one game or two games, we'll be really focused on delivering that."
McGregor appreciates the difference in the match dynamic when it's a knock-out cup tie but reckons that the Celtic players have acquired the current mentality to handle the pressure and emerge victorious.
On the search for more silverware in this week's Celtic View, on sale now! ????????????????https://t.co/5viH2iJSpC

— Celtic View (@CelticView) April 17, 2019
After a frustrating recent 0-0 against Aberdeen in the league, there was no such concerns at Hampden on Sunday when Celtic's 3-0 winning margin flattered Derek McInnes' side – big-time!
"In semi-finals, it can go either way and whoever plays well on the day can win the game. You understand that there's a wee bit of nervousness in the crowd, but we just had to stay calm, play our game and focus on what we had been doing all week.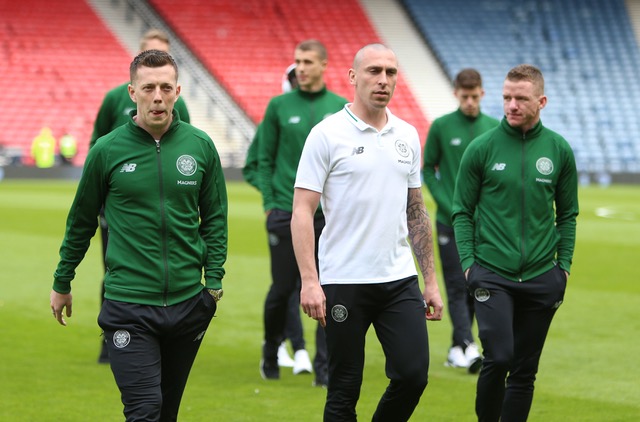 "Then, when the moments arrive, score the goals and that settles everyone down. I think you could see that in the middle period of the game. That's when we got control, and you could hear the relief around the stadium, and then we all started to enjoy it."
The Scottish Cup Final on 25 May against Hearts – the first since 1956 and we're out for revenge as Hearts won 3-1 that day – will then be the major objective, a match the fans will all be looking forward to and a win would produce an amazing Treble Treble for Scottish football's 'Dominant Force'.
"I think it will be another physical game and it's up to us to stand up to the challenge and obviously use the big pitch to try and get them running and chasing the ball.
"We know they can be a handful on their day and obviously finals can go either way again, so we just need to be prepared for it. But that comes up at the end of the season and we've got big games before then to try and wrap the league up."