Rod Stewart said : " I've still got your quiz up in my loft "…
In these unprecedented times of Lockdown, it is important for people to be connected. Robert Harvey is a Football Memories Scotland volunteer. They are in partnership with Alzheimer Scotland. Robert has seen all the great Celtic players since attending his first game in 1965 when Celtic beat Queens Park 1-0 in a Scottish Cup tie at Hampden. Bobby Lennox scored the goal (see below).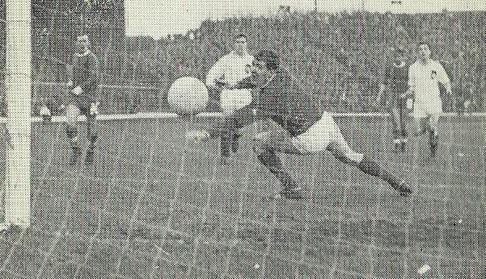 "We meet many amazing people at Football Memories meetings who share their personal memories/stories that will never appear in any football book. But we also have Volunteers who often surprise the groups with their stories.
One of those volunteers is Roddy Stewart. He used to work for the Celtic View. He also worked with British Airways and travelled all over the world.  Roddy has some great football/Celtic stories," said Robert.
"Here are just a few Celtic stories that he has shared with the groups. From Puskas impersonating Jinky, to Rod Stewart doing a Celtic Quiz at 30,000 feet above the Atlantic : to the family of Frank Murphy ,who played in the Empire Exhibition Trophy winning team, coming to Glasgow from America to watch Celtic play ".
On 3 January 1996 I went to the evening match between Celtic and Rangers at Celtic Park and it finishes 0-0.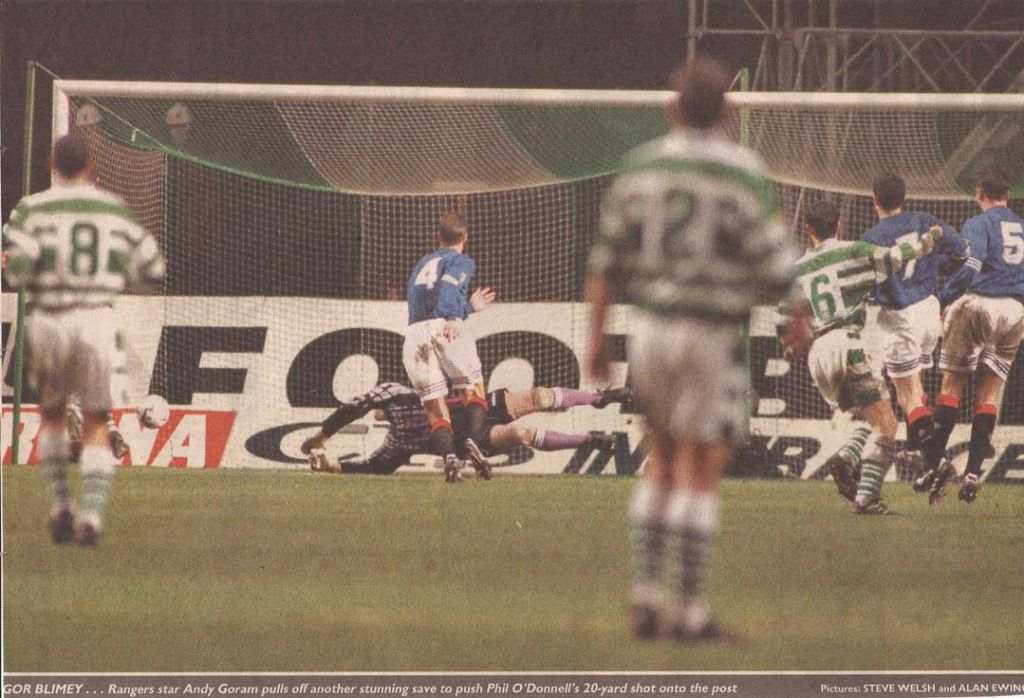 Andy Goram stopped them losing the match with some amazing saves. As we walked up to the match a stretch limo passed us and in it were Rod Stewart and Dean Holdsworth (Wimbledon striker) on their way to the game.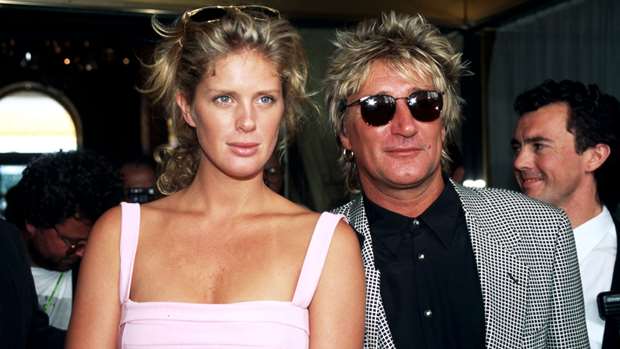 The next day I was operating on an early flight to Miami and was allocated a working position in First Class. Well of course I was astounded when Rod Stewart and Rachel Hunter boarded especially having spotted him the night before at Celtic Park.
My BA name badge said "Rod Stewart" and Rachael Hunter thought this was highly amusing that I was serving them having a similar name as her husband. Rod had a major hangover and really only warmed to me when I told him I had also been at the game and avidly followed Celtic.
At that time the inflight entertainment systems were much more limited than we have today and Rod had watched all fourteen movies that we offered. He came into the galley after the meal service to announce that he was bored.
I told him that I did the Quiz for the Celtic programme and offered to do him 20 question on Celtic to help pass the time. The promise was that if he got over 70% correct that he could have anything from the First Class bar.
I still remember a few of the questions. For example:
1. Who was the first non British player to score for Celtic in a major domestic final domestic final ? (answer : Johannes Edvaldsson 1977/78).
2. Who was the first player that signed for Celtic for over one Million pounds (answer : John Collins 1990).
Rod was like a wee boy with his enthusiasm and worked on the quiz for a couple of hours. He certainly knows his history. He got 75% correct and asked for the bottle of Brandy from the First Class bar. But Rachael Hunter would not allow him to have it !   A few years later, I was operating on a flight to Toronto and he again was a passenger. When I welcomed him on board he said " I've still got your quiz up in my loft ".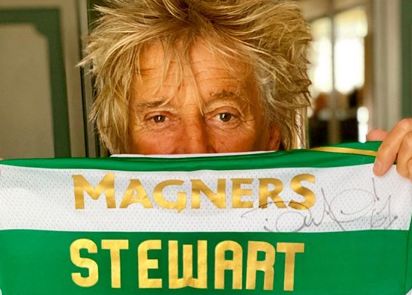 PUSKAS IMPERSONATING JINKY
I was working in Melbourne and went to a training session at South Melbourne FC, where Puskas was the manager. To many older fans, Puskas was the greatest player in the world in his prime.  I wanted to ask him some questions about a football story that I was working on.
Puskas could not have been more pleasant, but unfortunately his English was limited  ( and I do not speak much Hungarian ).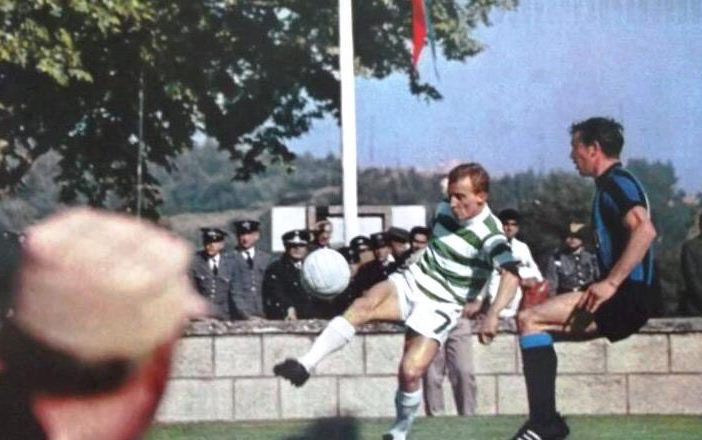 When Puskas found out that I was Scottish he said how much he loved Jimmy Johnstone. Puskas then imitated the twists and turns and movements that Jinky often did.
It was obvious that Puskas was just a very nice guy. I was allowed to take a photo of Puskas in his training gear. It is a pity there was no translator to capture the conversation or a mobile phone camera to capture Puskas, one of the great footballers, imitating Jinky.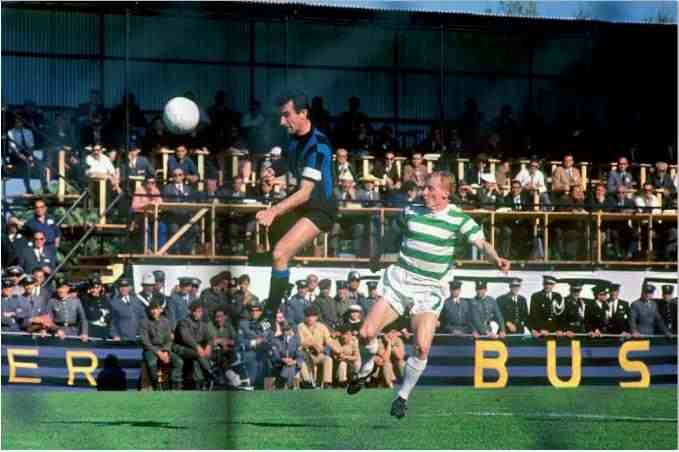 A CELTIC STAR NAMED FRANK MURPHY
At a Football Memories meeting Robert had a photo of a Celtic team from around 1938. It included a player named Frank Murphy. The players seemed to be at a formal dinner. I had not seen the picture before. (The photograph below is from The Celtic Wiki  and shows the Celtic team from 1937/38 season and has players' names added so you can clearly see Frank on the right hand side – that was a very special Celtic side).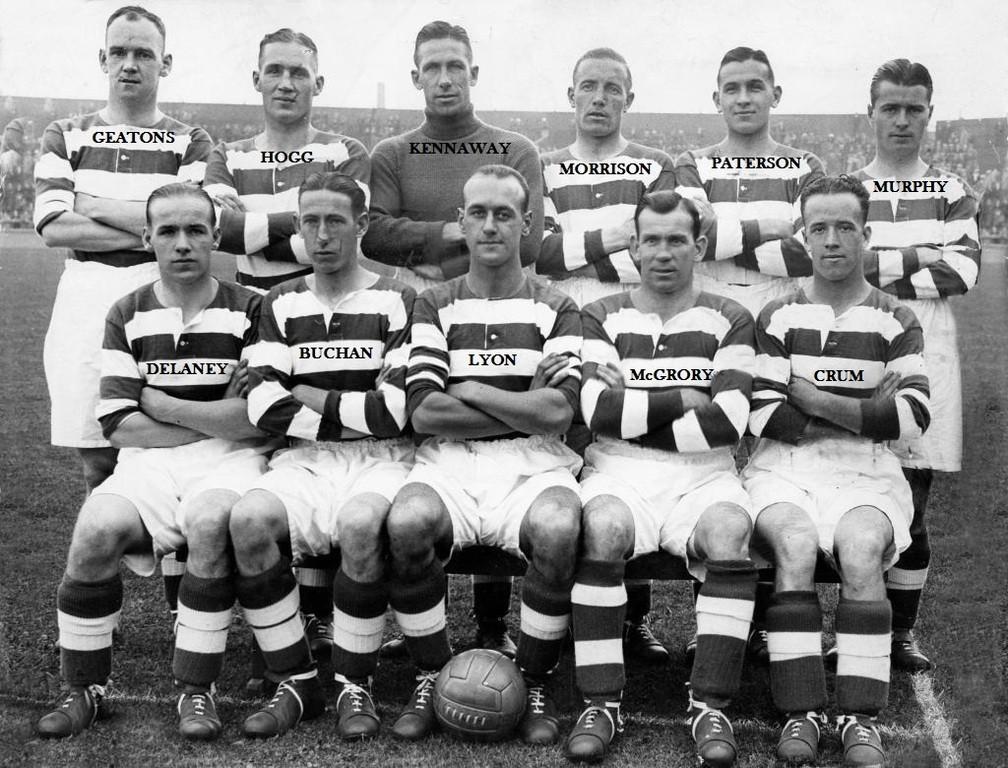 I had worked with the flight crew at British Airways and had become friendly with Frank's nephew John. I emailed the picture to him. He had not seen it before either, and he sent it to Frank's daughter Kathy who lives in Barcelona and her son Mark who loves in Washington.
I thus established contact with Mark and he decided to come to Glasgow and see Celtic play in April 2019. Kathy also flew in from Barcelona and both spent two weeks in Scotland.
Thanks to the influence of Pat Woods, who has also helped at Football Memories Scotland meetings, all the family, which included Franks other daughter Bernadette, were accommodated by Celtic in the Directors box for a game against Livingston.
They were so delighted that Celtic had treated them so well because of their father and also because Pat had put together an amazing Football Memories scrapbook about his time with Celtic. The Celtic View also did a feature on them. And all of this happened because of the photo from a Football Memories meeting six months earlier.
Robert continues: "As part of Football Memories Scotland we get support from so many different people at our meetings. In my local meeting in Rutherglen, Kathleen Murdoch, wife of Lisbon Lion Bobby, has joined us a few times as a guest. She brings along some of her Celtic memorabilia to share with the group. Kathleen also share some of her stories and always takes the time to talk to everyone. It is so appreciated by everyone. You can see the eyes of some of the older gents light up when they see a photo or hear a story about Bobby Murdoch. No matter what team anyone has supported, and we have supporters from many different teams at the meetings, they always agree Bobby Murdoch deserves to be called a great player.
Finally, Robert advised, " Football Memories Scotland have created many free resources and made them available on their website for anyone to download during this period of Lockdown. The link is https://twitter.com/footballmemsco? – Please feel free to share with anyone you know who may appreciate some football nostalgia, including the Souvenir Editions with old football photos. You will recognise many of these players ".
Robert Harvey is a Volunteer and Regional coordinator for Football Memories Scotland in Glasgow.
Football Memories Scotland is a partnership between the Scottish Football Museum & Alzheimer Scotland

A Hymn for the Dawn of the Free – The significance of Jock Stein's second trophy as Celtic manager…https://t.co/mRqa03x1VX

— The Celtic Star Editor – INVINCIBLE (@CelticStarMag) May 28, 2020
VOTE NOW FOR THE CELTIC STAR'S PLAYER OF THE YEAR
 Loading ...