In the 1960s and 1970s, Celtic fans had a song which went along the lines of " C-e-I-t-i-c, C-e-l-t-i-c, I'd walk a million miles for one of your goals, oh C-e-l-t-i-c!" It was a pity that it did not rhyme, unlike its original – an old American slave song addressed to Mammie where goals were replaced by smiles – but it was sung lustily.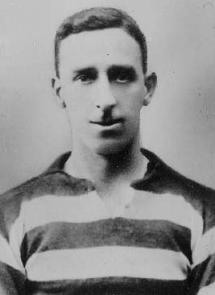 By the time that this song was sung, very few supporters had to walk any distance to see games, but it used to be not unknown for supporters who couldn't afford the rail fare to walk to places like Motherwell and Paisley. In addition, there was the famous walk of supporters from Glasgow to Fife for John Thomson's funeral in 1931, something that was replicated 80 years on in 2011 (and will happen again in September next year for the 90th Anniversary of John's passing).
So walking for Celtic is not unprecedented. But there was an occasion when a player walked from Edinburgh to Glasgow in what turned out to be a vain attempt to play for Celtic in the New Year Day game against Rangers.
It was the crazy winter of 1917/18, and the player was Johnny McMaster. He was in the Army. His deafness had initially allowed him to miss some of the military action, although the desperate circumstances of summer 1918 would see him taken to France where he was almost immediately wounded. Thankfully he recovered, although it was November 1919 before he was back at Celtic Park.
But this was 1917, and he was still based in Edinburgh. He was given four days leave for New Year, but for some bizarre reason, his pass did not allow him to travel by train, something that effectively meant that he would have to stay in Edinburgh. Undeterred, he resolved to go to Glasgow by the only method that he could, namely walking!
There were no buses, very few cars, some horses and carts but even they were difficult to come by in 1917, so McMaster and four companions walked the 50 miles from Edinburgh to Glasgow. They made jokes along the lines of "There are five of us, so it is only 10 miles each!", and one presumes that they broke their journey overnight, so it seems that they set out early on 30 December and arrived in Glasgow late on 31 December.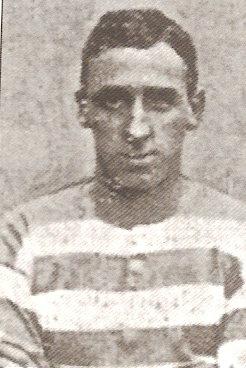 Sometime late on Hogmanay, or early on New Year's morning McMaster arrived at Celtic Park and offered his services. Sadly the team had already been chosen and Hugh Brown was at left half. The game was played and it was a 0-0 draw. How McMaster reacted to this, and how he got back to his base in Edinburgh, history does not record.
What we can say is that McMaster was a very under-rated left half whose career was to a very large extent ruined by the war. He made his debut in the Charity Cup final of 1913 at left half, a position Celtic had struggled with since Jimmy Hay departed to Newcastle in 1911. He impressed everyone so much that he became the left half of the Double winning team in 1913/14, – Young, Johnstone and McMaster – won a Scottish League medal in 1915 and 1916, then effectively lost three years to the war in the Motor Transport Section of the Army before winning another League medal in 1922 as part of Gilchrist, Cringan and McMaster.
Never a handsome man, and frequently described as "McMaster of the melancholy countenance" "the gloomy visage" or "the lantern jaw", Johnny was a great Celt. He was an electrician to trade after he gave up football.
David Potter
* David Potter is co-author of Walfrid & The Bould Bhoys, where he tells the stories of all the early Celtic Stars. His co-authors are Liam Kelly (Celtic's Founding Fathers) and Matt Corr (Celtics First Season).