Sydney City Celtic Supporters Club celebrated their 40th Anniversary last weekend, and the stars came out in style to make it a monumental occasion. It was a celebration which had been anticipated with relish, and the club didn't let us down with a series of events over three days, leaving us exhausted, but exhilarated.
I'll tell it from a personal point of view as it literally took my breath away, reminding me how special clubs such as the SCCSC are in the infrastructure of Celtic FC globally.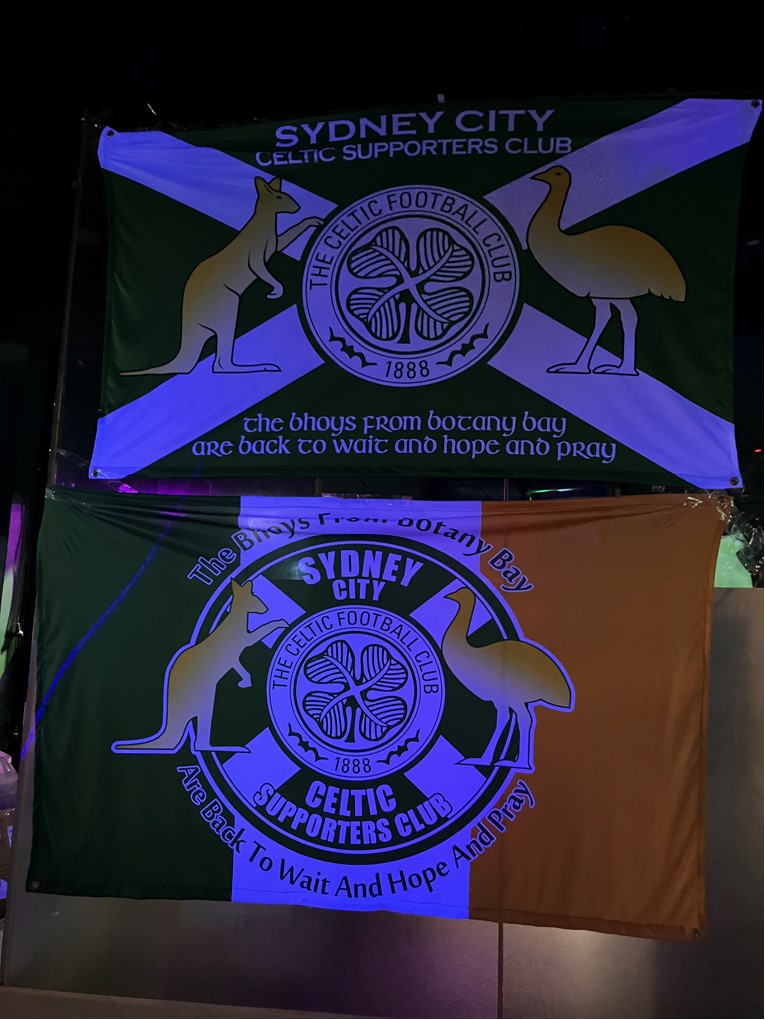 THE STARS COME OUT FOR SYDNEY CELTIC'S 40TH…
Arriving from Brisbane on Friday 21 October, we convened in Scruffy Murphy's Irish Bar, meeting up with Davy Barclay's Perth delegation who had already begun to sample the weekend wares.
Bhoys and Ghirls from Melbourne, Adelaide and the Central Coast were a lively bunch, buzzing at the prospect of a three-day party with old and new comrades. Then, up pops Alan Thompson with his good lady, Hayley to add spice to the mix. The dynamic duo were great craic, and 'got in there' with the troops with anecdotes, stories and plenty of laughs.
Decanting to The Mercantile in the famous Rocks region, we met up with other travelling Celts who had come to pay homage to this fine club. The banter was fierce, and the laughter loud as old friends embraced and threatened carnage over the coming days, Celtic style. They were as good as their word as the upcoming scenes will testify.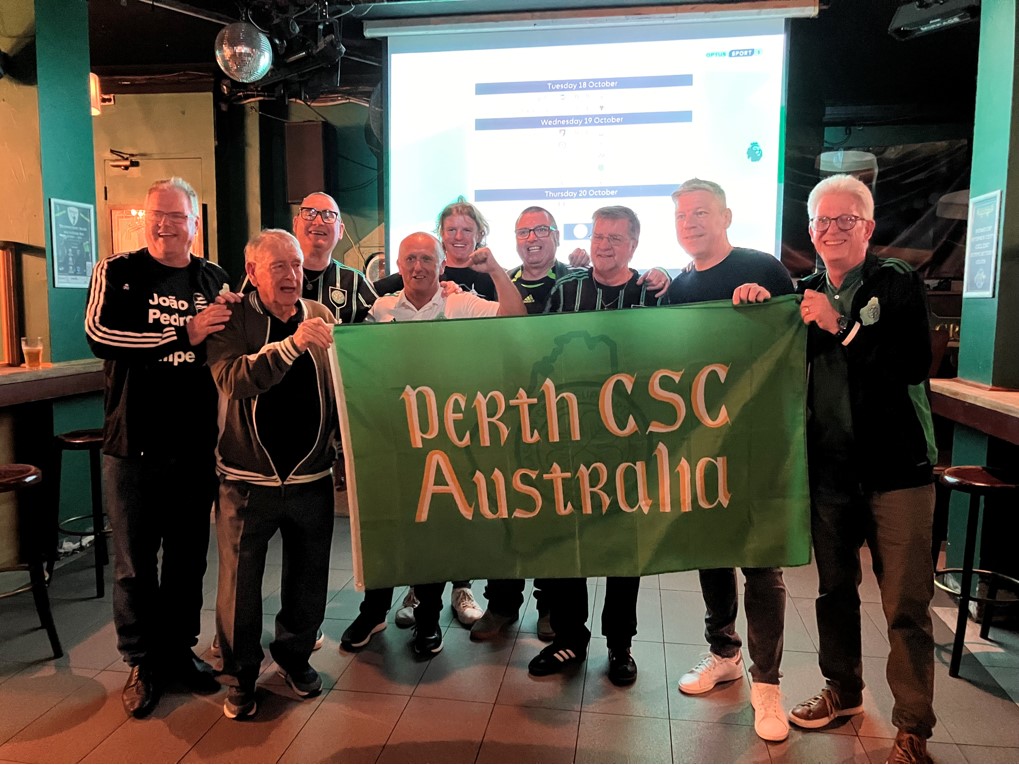 Returning to Scruffys, we had the great pleasure of engaging in a lively Q&A with Thommo and the newly arrived Willie and Olive Wallace. Now, Willie is the Patron of our Brisbane Celtic Club up in Queensland, and both he and the effervescent Olive are regular attendees at our Celtic matches, bringing both awe and experience to our viewings.
I've had the pleasure of interviewing the Lisbon Lion on more than one occasion and he is always great value engaging us with tales of the shenanigans of his team mates back in the 60s and 70s. You can guess who featured mostly!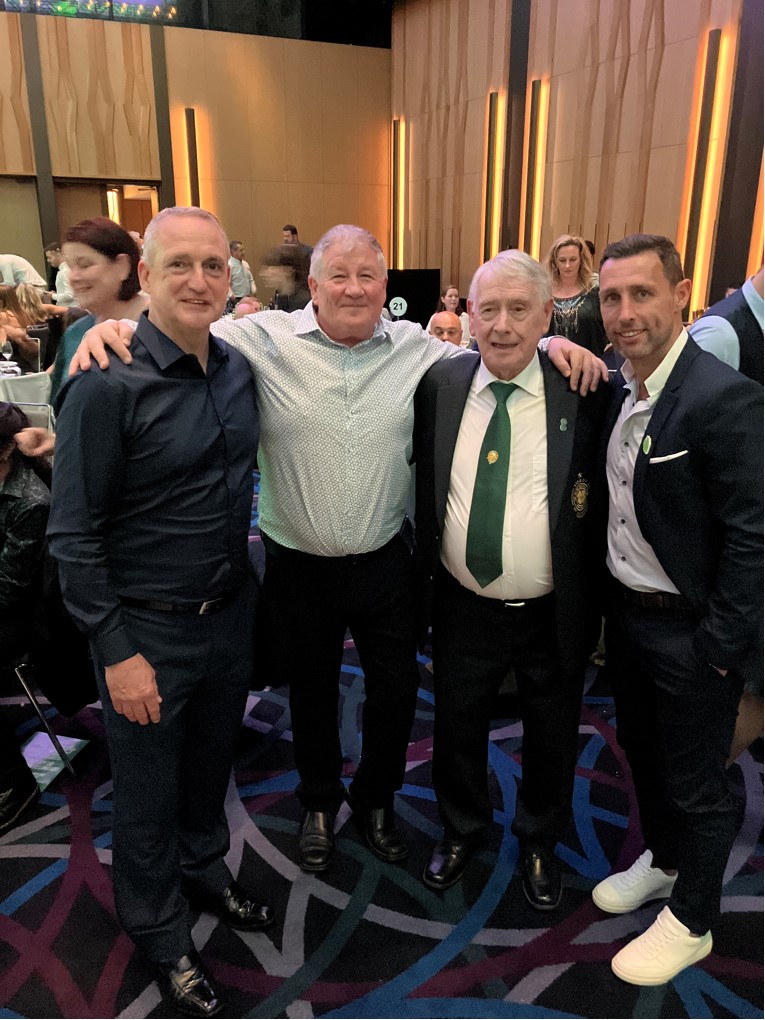 The Q&A was brilliant. Willie telling his tales, (or at least the ones he could get away with), and Thommo jibing him occasionally whilst revealing his true feelings about Seville, and all that, and THAT ref.
Thommo praised Willie and the Lions for achieving something his Sevillians could not, bringing home a European Trophy. I was happy to point out that they were cheated out of that honour, but Thommo was at pains to point out the greatness of Lisbon, and the immense consequences which are in vogue even today, not least in an Irish bar in Sydney!
The Geordie genius was candid and humble in his assessment, and the fans warmly applauded him for his gesture to Willie.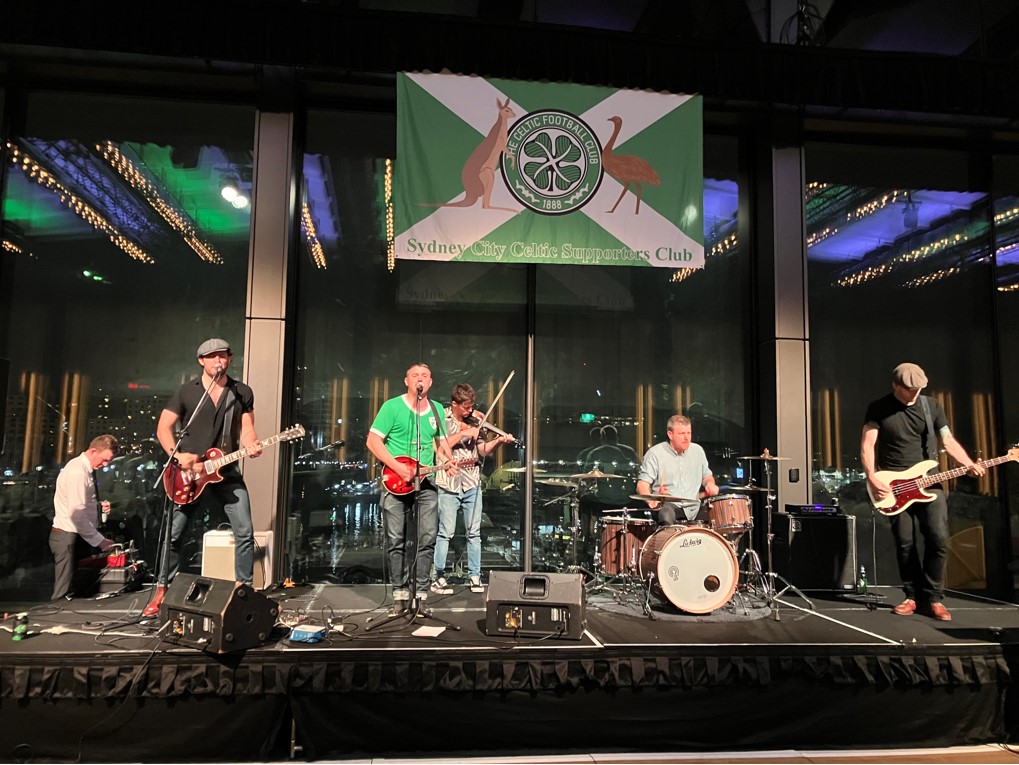 It was a truly enlightening evening which was rounded off at the bar telling our own stories and singing the occasional songs of treason and hope. Tomorrow would provide us with another opportunity to eat, drink and make hay, so it was an early night for me, sort of…
Saturday was a funny one. Having foolishly left my newly acquired suit behind in my Brisbane closet, ex-Sydney President of 8 years, Jim Reilly kindly drove me in his COYBIG-plated car to Bondi for a re-fit. On our in-and-out excursion- did I say costly? – we encountered other bleary-eyed Celts scurrying about looking for last-minute garb to impress at the evening's Dinner/Dance in the Hyatt Hotel in glittering Darling harbour.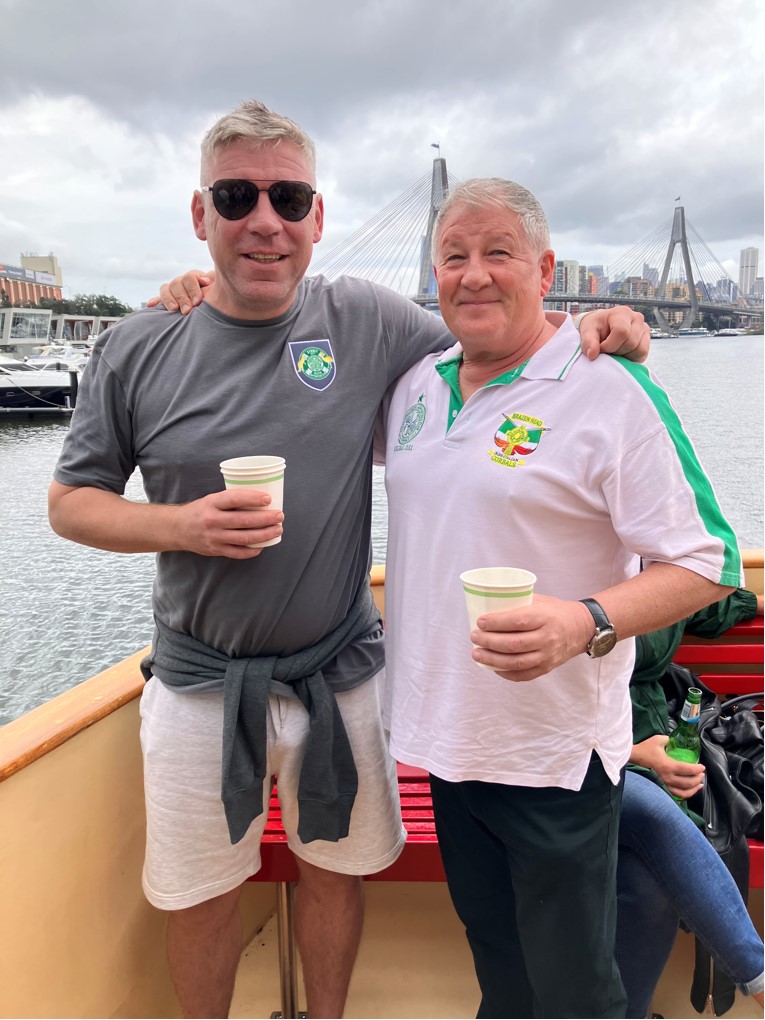 We all had a chuckle about misfortunes of our own making before heading to the Dundee Arms next to the hotel for light refreshments, mostly, before alighting to the Hyatt where we were led to a stunning, beautifully presented ballroom with all the trimmings, bells, smells and whistles of a 5-Star event.
Take a bow committee stalwarts, Albert Murray, Craig Cleland, Nick Cameron, Colin Strachan and other tireless members who had excelled in delivering a sumptuous setting for a grand night out. You've set the bar for other clubs now and that can only be good for all parties in our striving to promote Celtic to all and sundry wherever we reside.
Being met by other Celtic superstar invitees, Paul McStay and Scott 'Skippy' McDonald who had joined 'Wispy' and Thommo, we revelled in our joy as the greats chatted freely among the supporters, making themselves readily available for photo opportunities and autographs. Their inexhaustible charm was fitting of such an occasion and how we fans lapped it up.
I was honoured to be seated next to Willie, Olive and their lovely daughters as the ceremony began with Compere, David Smee introducing Albert Murray as Club President. Albert thanked all and sundry and gave a lovely speech, as did Paul McStay.
At the dinner, Ange Postecoglou himself sent a video message of gratitude, thanks and encouragement to the club before memories of great days past were flashed across the giant screens, mainly featuring our esteemed guests, Wallace, McStay, Thompson and McDonald. Rousing cheers went up as Inter Milan, Liverpool, AC Milan and *Rangers were once again put to the sword, and our appetite had been whetted for what was to come.
The dinner was superb, but not as good as Willie. Wallace who regaled me with line after line regarding glory days and extreme naughtiness with the Lions. As usual with Wispy, I didn't need to ask as he revelled in his task of entertaining everyone and anyone within earshot.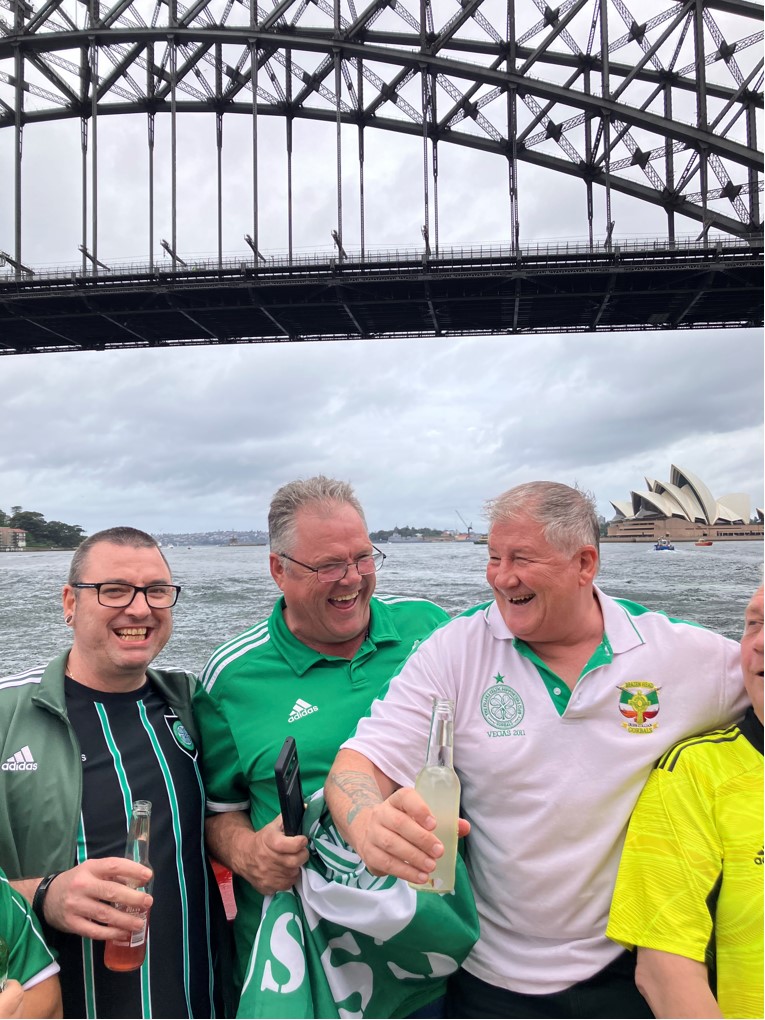 I struggled to finish my main course as I was on the floor most of the time as Jinky, Bertie and Big Tam Gemmell's reputations lay in fitful tatters at my feet. I've laughed before, but the last time I did so frequently, Billy Connolly was on stage!
"Eddie, these guys here are the lifeblood of the club. I never cease to be amazed at how many turn up for these occasions. They ARE the Celtic Family, and with the viewing times for the Celtic games over here, they stop at nothing to see the Bhoys."
Someone whispered to me that Gold Coast residents of many years, Willie and Olive must be sick of the adulation they receive and the constant noise around them with fans shouting and singing.
"Whit? Not a bit of it! We love every minute. We're in our 80s now, but and this is what keeps us going! As you get older you tend to have less to look forward to, but apart from the family, this is the best thing we have here."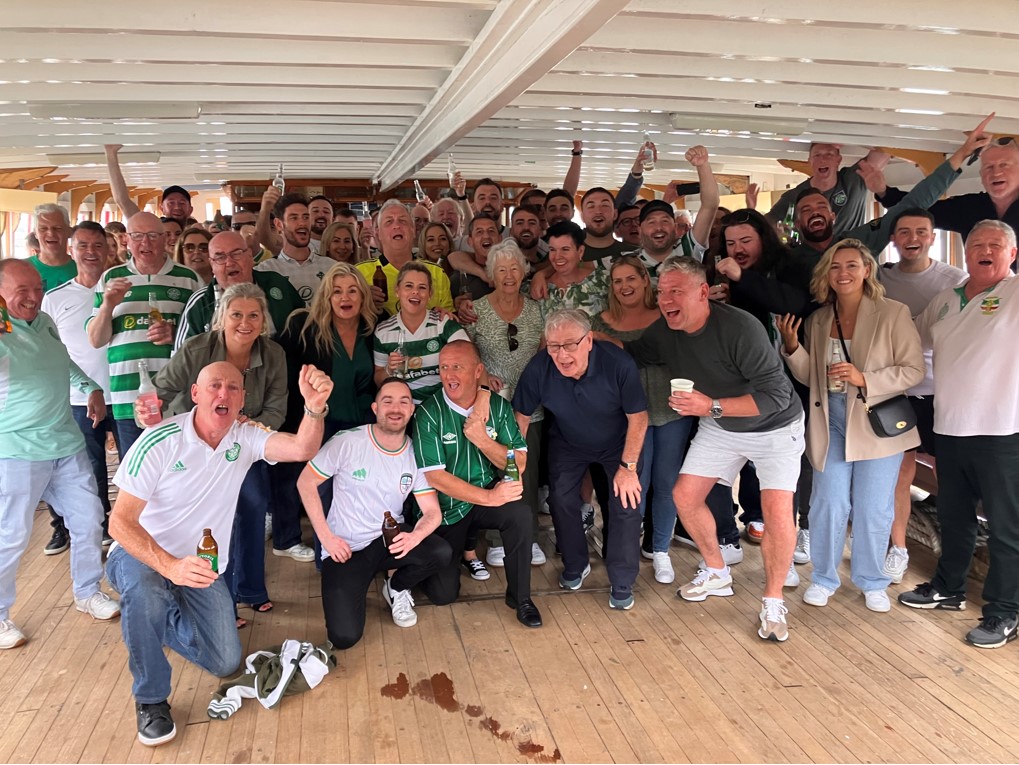 It is always a pleasure to spend time in the company of a great such as Willie, and he has time for everyone, never turning anyone away for a chat or a selfie. He is truly remarkable, and we're honoured to have him as one of our own.
I caught up with Paul McStay, a resident of 'the Shire' in Sydney. We recounted memories of when he was our first guest at the reawakening of the Sydney Club, and I was honoured to be part of the reformation of the ailing club back in 1997, and my relationship and friendship with the members now is just as strong.
On the occasion of the Maestro's birthday, Paul spoke of the evolution of the club.
"If you look at it, my family were integral to the formation and development of Celtic since 1888 and look at this. A Club formed across the other side of the world, and you get a turn-out like this, and Celtic are not even playing! It's remarkable how the fans have, not only kept their passion for Celtic, but taken it to another level.
It's a great honour to be here tonight to honour the Club in it's 40th Anniversary tonight. Not only for the football aspect to it all, but also for the charitable aspect of the members-what they do is amazing! That's what I love most about Celtic as I'm involved in one or two things myself around the club.
The members here in Sydney and elsewhere in Oz have carried the legacy of Brother Walfrid, and that's what it's all about. Also, the members here travel across the globe to European games on a regular basis and the expenses are phenomenal. Even recently I know some of you travelled to Leipzig to see the team and that is truly amazing. I'm a local here and this is my local Club, and I'm proud of that.
I've been to your Huddle Down Under (a bi-annual gathering of Celts from around Australia, and beyond) with Willie Wallace and George McCluskey in the past and we all say the same thing, that's why we sign for Celtic because of the way the fans align and treat us. It's a great honour for us."
As the 'Rolls Royce' who led Celtic to a famous 'double' triumph in our Centenary Year of 1988 left us for another engagement, the bands played whilst the fine wine and spirits flowed freely. When the music and dancing stopped, Hearts versus Celtic was screened into the ballroom and personally, I was starry-eyed watching the Hoops go to war with Willie, Thommo and Skippy, all weighing in with their views of Ange, tactics and VAR!
We were all in agreement regarding all the above, and the party went into overdrive when Greg Taylor put us 4-3 up and won the game. Carnage as promised!
We said goodbye to our hosts and headed back to Scruffy Murphys for what we thought would be a night-cap and a recap of a torrid game. The night-cap turned into a morning breakfast as we revelled into the night with our battle cries and lullabies piercing the humid Sydney air until dawn.
Awakening (sort of) to the thought of a last-day boat cruise perked us up, and we headed down to the Cargo Bar in Darling Harbour. We quenched our morning-after-the-night-before thirsts before boarding, what looked like Para Handy's Vital Spark, but soon became akin to the Titanic as we attempted to drown her in ice-filled glasses of the finest.
The party onboard was worthy of a Coast Guard visit, but we somehow escaped the prying eyes of the ocean police. It went off big time. I spent quality time with Alan Thompson and Hayley as we cruised the Sydney Harbour, bridge and Opera House, recalling a previous escapade with himself (as Celtic Coach) and intrepid Skipper, Scott Brown in Sydney when the Bhoys came out in 2011. However, what happens in Cheers Bar stays there, that's none of your business!
"Yeah, I remember that. Brownie and I had been to the casino and turned up on your doorstep a bit later. Did Brownie beat me at pool? Aye, but only because I was injured! It's so impressive how everyone comes together from all of Australia for these gigs, eh?
"I'd say it's comparable with anywhere else in the world, maybe except the Vegas trips, but the numbers are greater there and the pool party is something else. I enjoy meeting up with other players at these events but this one is a bit special. The Bhoys put on some show."
As the boat docked, the realisation hit us that the weekend was almost over, but there was one last thing to do before departing for our respective states, towns and cities. Back to Scruffys for a last hurrah, and to reminisce about the last 60 or so hours, have a final drink or ten and say goodbye to our soon to be erstwhile friends.
It may have been a bleary-eyed few hours, but we made the most of it, singing dancing and making grand plans for the next time we meet up. Oh, that'll be in three weeks' time, back in Sydney when Celtic come down to play in Ange's Homecoming against Sydney FC and Everton.
It was supposed to be against *Rangers but, something came up and they couldn't make it. Shame. They've probably done a liver assessment and decided it's not worth the risk. Still, we forge on without them. As we've always done.
Thank you, Willie, Alan, Paul, Scotty, Sydney, Melbourne, Perth, Adelaide, Central Coast and the Lone Celt from Whyalla. See you back in the land of opera. It's been emotional. HH
Eddie Murray