THE CELTIC STARS who on Sunday completed the Magnificent7 with that skelping 5-0 win over Rangers at Celtic, have been talking about Beautiful Sunday.
Let's start with Kieran Tierney who enjoyed the match itself and got heavily involved in the post match 7IAR celebrations! KT has been speaking to The Celtic View, which is going to be a cracker this week!
"Winning like we did was a perfect way to clinch the league title.
"We were disappointed with the result last week so to bounce back and win in style like that in front of all your fans in a derby match is brilliant.
"It's another wee bit of history for us as well. That's seven-in-a-row now and it's something we can be very proud of.
"It was a great day all over. I think every Celtic fan visualises doing something like this and I'm just lucky enough to live it for them all. I'm making the most of it and enjoying every second.
"We went out and we were so clinical. Right from the start we just dominated. We don't allow the pressure in games to affect us. We think about what can happen if we win. We always look to play our way and if we turn up and do that, we'll win."
Then there's Callum McGregor – remember when he was a whipping boy for a section of the support, so too was James Forrest when you think about it. That's all long forgotten though and here's what the two of them had to say about the latest Beautiful Sunday.
Let's start with CalMac, who is taking nothing for granted, despite the euphoria of skelping Rangers again to wrap up 7IAR.
"We've done great so far, but if you just think about 10, you can slip up and get complacent. Last week against Hibs was a prime example, everyone thought we'd win the league, but if you turn up and aren't quite at it you see what happens, you lose the game.
"It's about the players staying as hungry as they can, coming back in after the season has finished to go again and try and get that 10.
"We know exactly how hard it is. With the demands the manager is placing on us, we seem to be getting better, but we've got to keep working. For us, we're solely focused on what we're doing. Ultimately, as a Celtic player, you've got to just look after yourself and not listen to any of the noise.
"I think that's the reason why we've been so successful, everyone is focused just on what our job is."
James Forrest meanwhile, was delighted to get his first ever goal against either Rangers – he has been around so long has Jamesy that he played against the old club too! For one thing it ends the slagging he's been getting from his wee brother Alan who has bagged a couple of goals against the most recent Ibrox club and has never been slow at reminding his sibling of his prowess against them!
"He has been on at me about it for a wee while now. He sent me a message and said: 'Give us a goal'.
"I managed to do that. I'm buzzing. It was long overdue. I was absolutely delighted with the performance, the result and with scoring the goal. It was a great day all round."
Forrest was amused too when he heard about Mikael Lustig's fun and games with the Policeman's hat.
"I heard about it afterwards. He gets a wee bit carried away, but you can do that when you start well and put in a good performance. All the boys were at it right from the start.
"I've been delighted with the way the full season has gone. Scoring against Rangers was incredible for me and for the team. We just want to keep the momentum going into the Scottish Cup Final.
"We just focus on ourselves. We give the opposition respect, but we know if we turn up we can do that to any team with the hunger we have. I was delighted for everyone in the squad and for the team.
"It's unbelievable. To win it on Sunday at home in front of all our fans was incredible.
"The atmosphere from kick-off right to the end was fantastic."
5 Star Champion Celts Review: On The One Road Podcast
Kevin Graham, Paul John Dykes & Bryan Haggerty look back at a beautiful title winning Sunday, the French connection that is developing at Celtic, how Sunday, our success is all down to a well run club and how we can improve in the future. We also reclaim the Celtic Da's moniker as a term of endearment. Music is from Guns and Roses & Franki Valli and The Four Seasons.
The Celtic Star Podcast has made the shortlist for Podcast of the year at the Football Blogging Awards. We need your vote.
HOW TO VOTE
We are up against some stiff opposition from south of the border, but The Celtic Star readers can make a huge difference to the outcome of these awards by voting for us online.
There are two ways that you can vote for The Celtic Star Podcast – via Twitter and through the FBA website.
Via Twitter
Just copy, paste and Tweet the following:
I am voting in @theFBAs for @celticstarpod to win the #FBApodcast category #FBAs
Via the FBA website at this link:
Vote for The Celtic Star Podcast
Thank you all for listening to the show, and we truly hope to bring that trophy back up the road in time for a historic double treble.
This is how it feels…to be seven in a row champions, so wear the tee shirt. Click graphic to buy – they are going fast.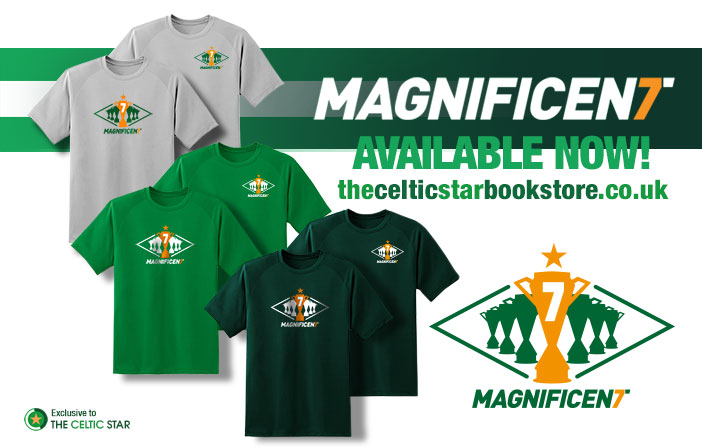 Listen to the podcast on Acast, Itunes, MP3 or below