YESTERDAY David Potter added his thoughts to the discussion we were having on The Celtic Star over the past few days regarding Celtic, the Irish immigrant community and the City of Dundee. It's a fascinating read from the Celtic Historian and you can read it HERE
Today attention moved further up Scotland's east coast to Aberdeen after the Dons released a statement about their dramatically declining financial situation caused entirely by the coronavirus pandemic – and again you can read about this in an earlier article, Irony Bypass Jelly and Ice Cream, SFA Boss says cancelling season not being considered, – on The Celtic Star.
This evening David Potter turns his attention from Dundee and on to Aberdeen in another interesting contribution titled Celtic Supporters and the City of Aberdeen. Over to David Potter…
Celtic Supporters and the City of Aberdeen by David Potter
Dundee may be a complex city to understand, but Aberdeen is less so. It is distant from Central Scotland, and alone of Scotland's four cities, it never had a large Irish influx in the 19th century. It owes its existence to fishing, farming and the sheer fact that it is a "service town" for about 50 or 60 miles in all directions. The area round about is rich, fertile and the 1970s and 1980s were characterised by an oil boom, which sadly has now, for one reason or other, evaporated and seems likely, for global reasons, ever to resume.
Aberdonians are often accused of being mean and insular. In my experience, neither of these accusations is entirely true, but they are not as overtly sociable as Glaswegians for example. There does burn in them a feeling that things ought to be "done richt", and they are very proud of their part of Scotland. Contrary to public opinion, not least among the Dons supporters themselves, very few of them have ever done anything involving sheep. A large amount of their supporters come from the surrounding towns and villages rather than Aberdeen itself.
Aberdeen FC have both benefitted and suffered from having the city to themselves. They have the undivided love of the city, but suffer from not having a natural "derby" fixture. Dundee, Inverness and Perth are hardly next-door. The city is traditionally strong in summer sports like cricket and golf, and it is probably the most truly Scottish city of the four of them.
Their supporters tend to be slightly more middle class than most. They have a high proportion of women, but also a large element of less than totally well educated young men. In about 1965, (pre-segregation) I found myself among a few Aberdeen supporters at Pittodrie. Bobby Lennox (I think it was) was injured and the referee was reluctant to stop play. While cries of "Get aff the park, ye duurty grreen barsarrt" came from some, a matronly lady turned to them with a look of disapproval and said "Can ye nae stoap the game, referee? Can ye nae see the loon's hurt?"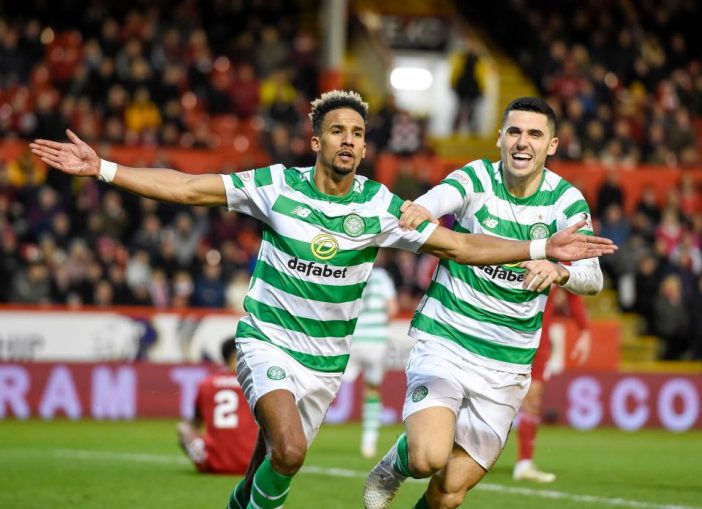 On Boxing Day 2018, my son in law managed to get tickets for the top tier of the Dick Donald Stand. We had to try to look inconspicuous, but there was no need. They were decent, very critical of their team and referee Willie Collum but surprisingly indifferent to Celtic and the fairly obvious body language that said we were Celtic supporters. Celtic won 4-3, but the scoreline was misleading. It was easier than that.
Aberdeen FC were only formed in 1903. There was already a team called Aberdeen playing at Pittodrie (which had already hosted a Scottish International fixture on February 3 1900 when Jack Bell of Celtic scored the first International goal at Parkhead as Scotland beat Wales 5-2) and they were joined by Victoria and Orion.
This new team applied for the Scottish League and were more or less instantly accepted in a laudable attempt to widen the Scottish League. They played in the Second Division in 1904/05 and in spite of not doing all that well (position 7th) they were elected to the First Division from season 1905/06 (no automatic promotion or relegation in those days) and they have remained in the top tier ever since, although they were saved by an "old pals act" in 2000, when they finished bottom and were rescued by the device of making the top tier 12 teams instead of 10!
As a general rule, Celtic and Aberdeen supporters respect each other. There was a bit of trouble as far back as 1908 when a Scottish Cup semi-final was played there, but the troublemakers seemed to be local teuchtars who were riled by Sunny Jim goading them and a few bad decisions by referee Mr Ferguson of Falkirk.
Stones were thrown at the referee's hackney carriage, and the Celtic charabanc, but on the other hand, when the team departed on the 7.00 pm train a great crowd was there to see them off. Celtic normally stayed at the Murtle Hydropathic on the Friday night before a game, and were always very popular, thanks to Maley's insistence that they socialised.
In the years between the wars, Celtic tended to do very badly against the black and golds, but were always popular visitors. A tradition grew up that it would be the brake club's "weekend away", and they would book in to a boarding house. Relationships were usually good, and the two Cup finals with massive attendances in 1937 and 1954 (both won 2-1 by Celtic) tended to strengthen that bond. Tom Campbell tells the story of how when Aberdeen won the League, they appeared at Celtic Park on 16 April as League Champions and were greeted by a loud, respectful cheer. At least they weren't Rangers!
In the late 1950s and early 1960s, Celtic had a large nasty element in their support who misbehaved when the team didn't do too well. Falkirk, Perth, Dundee and few other places were regularly the victims of violent and outrageous behaviour, but there was a tendency to behave in Aberdeen. Maybe this was because of the distance involved or the tradition of "staying the night" , but certainly Aberdeen v Celtic was looked upon as one of the safer fixtures. Aberdeen v Rangers games were a different matter altogether.
Aberdeen were gross under performers until 1970 when they beat Celtic in a Scottish Cup final in which Celtic had taken their eye off the ball, being far more concerned with their European Cup semi-final against Leeds United. They were the beneficiaries of a few dodgy decisions by Bobby Davidson. Jock Stein lambasted the referee's performance but said "I am delighted for Aberdeen" – a questionable statement perhaps, but it did show a distinct lack of hatred.
Things changed in the 1980s to a certain extent when for the first time ever, under the influence of the oil boom and Alex Ferguson, Aberdeen did emerge as a third force to challenge Celtic and Rangers.
The Scottish Cup final of 1984 left a legacy of bitterness after a dodgy goal and the sending off of Roy Aitken, manufactured by Mark McGhee and Gordon Strachan. Ironically, McGhee came to Celtic, Strachan became Celtic's Manager, and Aitken ten years later became an astonishingly unsuccessful Manager of Aberdeen, managing to lose to Stenhousemuir in the Scottish Cup of 1995, Mind you Strachan, as Celtic's Manager, managed to lose to Clyde!
In 2000, the Scottish League Cup final was like "two old men in hospital discovering an old enemy in the next bed". Celtic had just lost to Inverness in the Scottish Cup and Aberdeen were bottom of the Scottish League. Celtic managed to win 2-0 in a game characterised by some dreadful football.
In recent years, some of Celtic's wins against Aberdeen have been astonishingly easy – there was a 9-0, for example, and only very briefly in about 2015 did Aberdeen ever look like offering any sort of challenge. But it was interesting how Aberdeen's League challenge to Celtic evaporated in 2016. Celtic played at Kilmarnock in a lunch time kick off. Without playing well – in fact playing badly – Celtic won only through a late goal from Tom Rogic. Aberdeen heard this sad news just as they were about to take on Motherwell. They went out and lost. It was as if they accepted that they were not allowed to beat Celtic!
They have had hard luck against Celtic on several occasions in Cup ties, and one feels that they have to be lucky some day. Hopefully not anytime soon. Once the Coronavirus disappears, they will play Celtic in the Scottish Cup semi-final. It promises to be interesting.
David Potter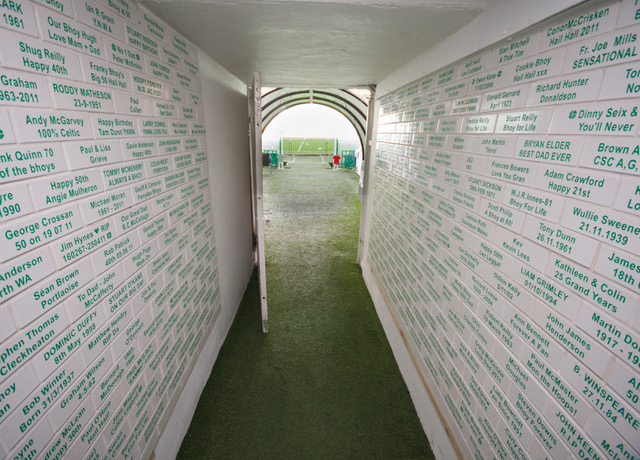 Take The Celtic Star's Photo Tour of Celtic Park and enjoy our stunning photos from inside Paradise RIGHT HERE, RIGHT NOW.
Support Celtic Youth Development
Help raise money for Celtic Youth Development by joining the £1 weekly lottery and you could win up to £25,000 – just click on any one of the photographs below to join. Lots of our readers have already done so and they're now doing their bit to help fund Celtic Youth Development that can deliver the stars of tomorrow and beyond. And you might even win a few bob too! And a special thank you to all The Celtic Star readers who have already signed up and are now supporting youth development to give us the Celtic Stars of the future…