Our good friends and colleagues at Empire of the Kop, the leading Liverpool FC fan media site, have added former Liverpool star Jose Enrique to their team of writers and EOTK have now published his first monthly column on their site.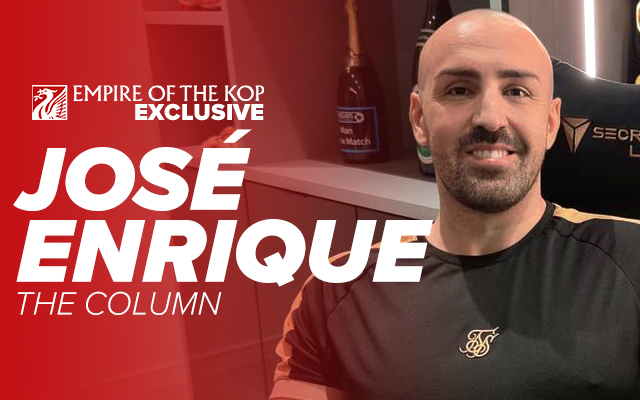 All well and good but what's particularly interesting from a Celtic point of view is what Jose Enrique has had to say about Liverpool's January transfer window activity and in particular his references to Ben Davies, the former Preston defender who Liverpool nipped in at the eleventh hour to pip Celtic at the post.
While that was perhaps an understandable decision for the player to change his plans at the last last minute when the English Champions came calling but it hasn't resulted in him playing any football his new club despite them being in the middle of a horrendous injury crisis. If he can't get a game now in these circumstances then how will he get into their team when the likes of former Celtic Star Virgil Van Dijk returns to fitness?
Here's Empire of the Kop new columnist's view on the signings Liverpool made in the January transfer window and reckons it's been the lack of ambition in that window – signing Championship players like Davies – that has resulted in them dropping out of the race to defend their title. Strong words indeed.
"At the start of January, Liverpool were in a good position to still fight for the title. We got two players, one on loan and one from the Championship on deadline day. But I've never seen Davies play… The best moment for him to play is now – with five centre-backs injured – but he hasn't had a minute!" Enrique stated.
"Perhaps Klopp has seen something in training and doesn't think he's up to it yet…When Phillips still plays ahead of him, you have to ask, 'Why did we sign him?'
"I want to see Davies, but for me, a side like Liverpool shouldn't be signing Championship players when you think about the level the team wants to be fighting at. Still, we need to see him, to see if he's good or not…
When we signed players like this when I was at the club, you understood – as we were always fighting for top four – but this Liverpool should be a team fighting for titles. I don't know what is going on financially, but I really believe we should have spent money on a world-class centre-back in January. Then maybe we could have still been fighting for the title."
So could Celtic get a second opportunity to sign Ben Davies who looks unlikely to say the least to have much chance of getting a game in the Liverpool first team either this season – and when the handful of currently injured defenders return to fitness – next season too.
Davies will be financially richer as a result of Liverpool's apparently ill-considered move at the end of the January window. Celtic may be very well placed to allow them to cut their losses and allow the defender the chance to play regularly at Celtic. Liverpool signed Davies on a deal that with add-ons (which are unlikely to materialise) amounted to £1.6m. The figure paid upfront to Preston is unlikely to have been more than £600k and that is perhaps the price that Celtic could eventually pay to get their man, who was never coming to Celtic until the summer anyway.