The destination of the SWPL1 title this year is going to be decided by the three contenders' performances and results in the crucial head-to-heads but also significantly in avoiding banana skins in the fixtures against the rest of the league.
That's the theory at least and it rang true for Celtic last season when Fran Alonso's side were invincible in cup competitions, beating all the main rivals on the way to lifting both the League Cup last December and the Scottish Cup in May in what was an historic season for the club.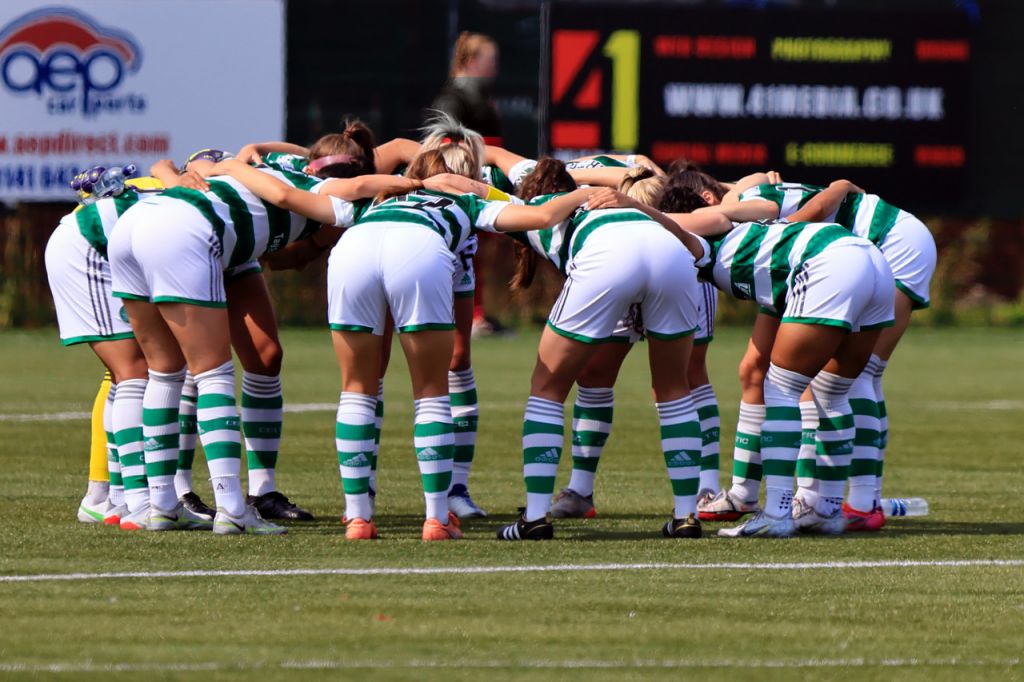 But behind that cup glory was the frustration of throwing away careless points in the SWPL that effectively cost Celtic a Champions League spot this season and allowed theRangers to win their first ever honour in the women's game.
⚽️ ⚽️

📹 Catch the goals from yesterday's 2-0 win over Partick Thistle here!#PARCEL 🍀 #COYGIG pic.twitter.com/2j8rVRsaDn

— Celtic FC Women (@CelticFCWomen) August 15, 2022
Yesterday Celtic won comfortably enough against a dogged Partick Thistle defensive display that negated the eight goal forward line of the visitors but couldn't stop Clifford and Craig doing the necessary to secure the points, that were never seriously in doubt. Meanwhile up in Aberdeen the current SWPL Champions scored eight without reply but the real drama of the day was in the Motherwell v Glasgow City game where it took a 97th minute Tony Ralston type winner from Jenna Clark defender to give City the points.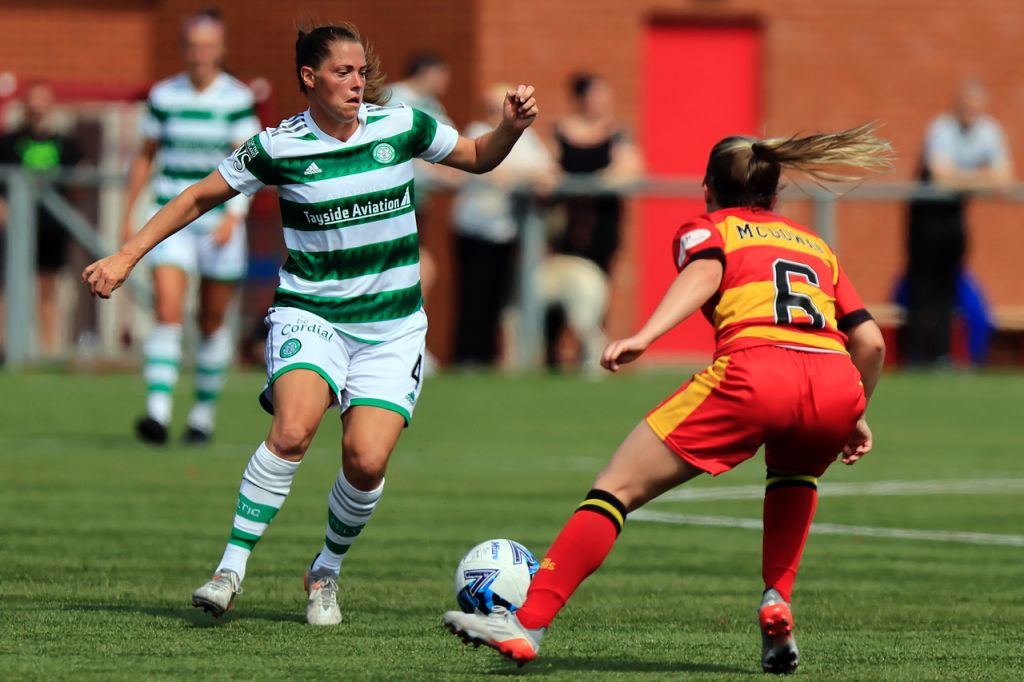 There were no similar scares for Fran Alonso's side on their own first away-day of the season and speaking to Colette Carr from Celtic TV after the 2-0 win over Partick Thistle the Celtic manager was satisfied with the win and the performance on a difficult pitch even if this wasn't up there with the champagne performance of the previous week when Celtic opened in sparkling form with a 9-0 demolition of Hibs.
"Overall, I'm very happy. We knew it would be a tough game, it's a very small pitch and the heat makes the ball travel slowly so it doesn't 100% suit our style, but we knew it would be tough and we'd have to dig in to get something.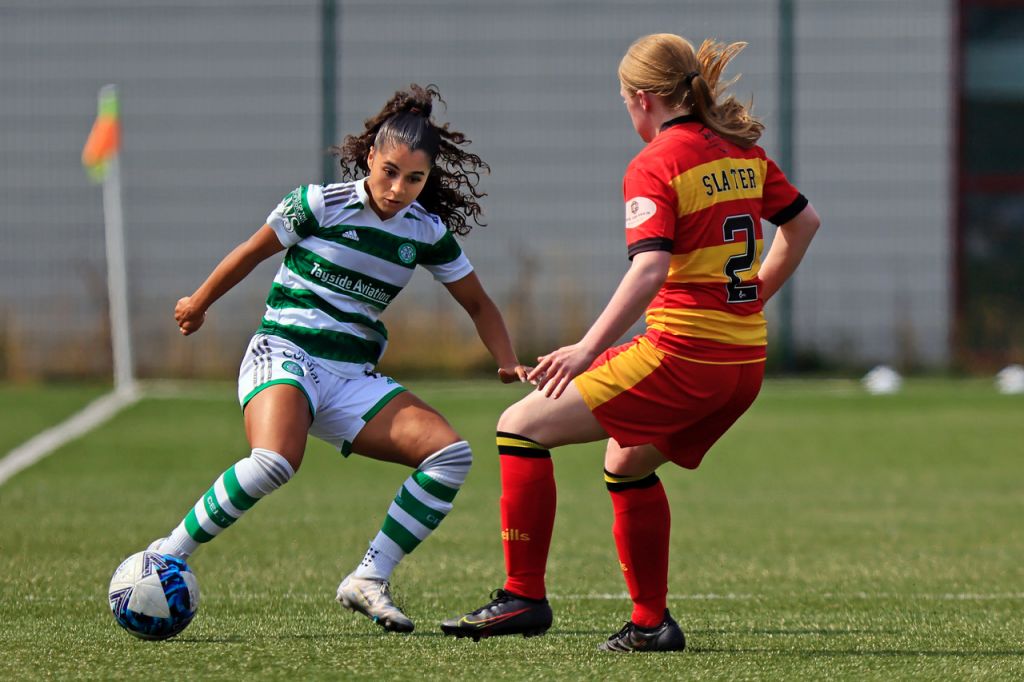 'But they were very well-organised and excellent at defending set plays and were impressive, so I'm happy to win. We addressed things at half-time and changed some things tactically and we created more chances from it.
"We had better fluidity in our play in the second-half, but I'm delighted to score in the first-half and kill the game in the second," Fran Alonso said.
On getting the players feet back on the ground after that stunning season opener last week the Celtic manager reckoned that was done well enough and the team were focused for a game played in intense heat on a pitch that is shorter and narrower than elsewhere.
"It's been our job all week to bring players back to basics and not get too excited about our last performance," Fran said. "That game is gone and today was a different game, against a different opponent, on a different pitch, so we need to take every game as it comes and treat it like a final."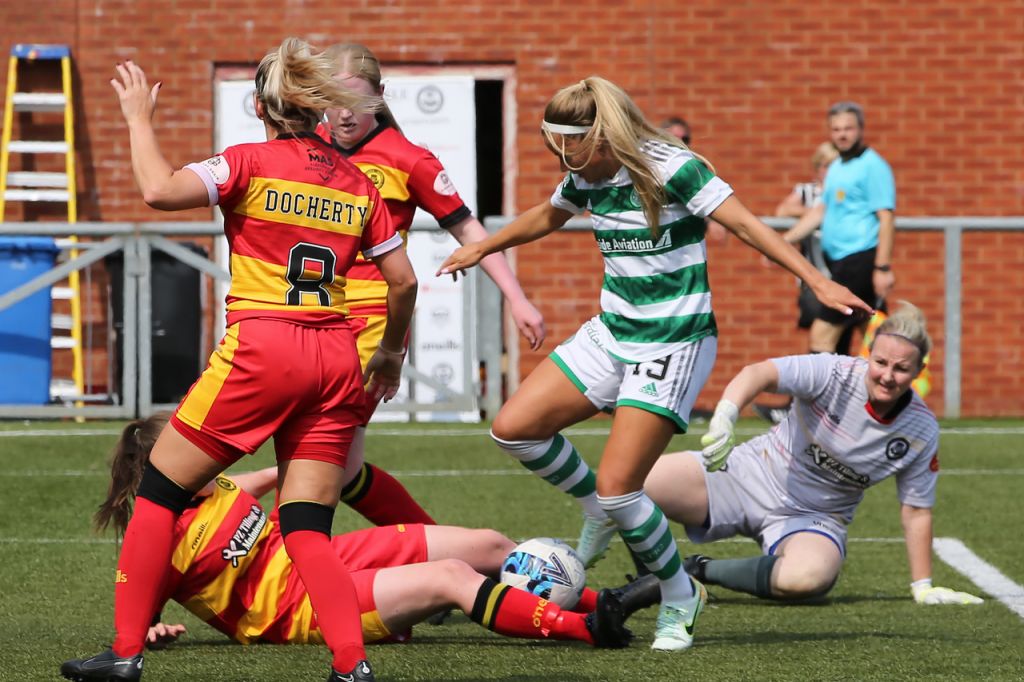 👏 Today saw a Partick Thistle Women's FC home record attendance of 190 at Petershill Park.

Thank you to every adult, child and even animal for their great and noisy support!❤️💛 pic.twitter.com/o4uvl5vvLd

— Partick Thistle Women's FC (@ThistleWFC) August 14, 2022
"We practiced all pre-season with two different formations so we can change. Of course, we want to play our brand of football but at times on narrow pitches or with an opposition who are very disciplined and good defensively we have to look for alternatives and a plan B and we did that quite effectively.
"It means our players are learning and are tactically more aware and last year in games like today we could have dropped points."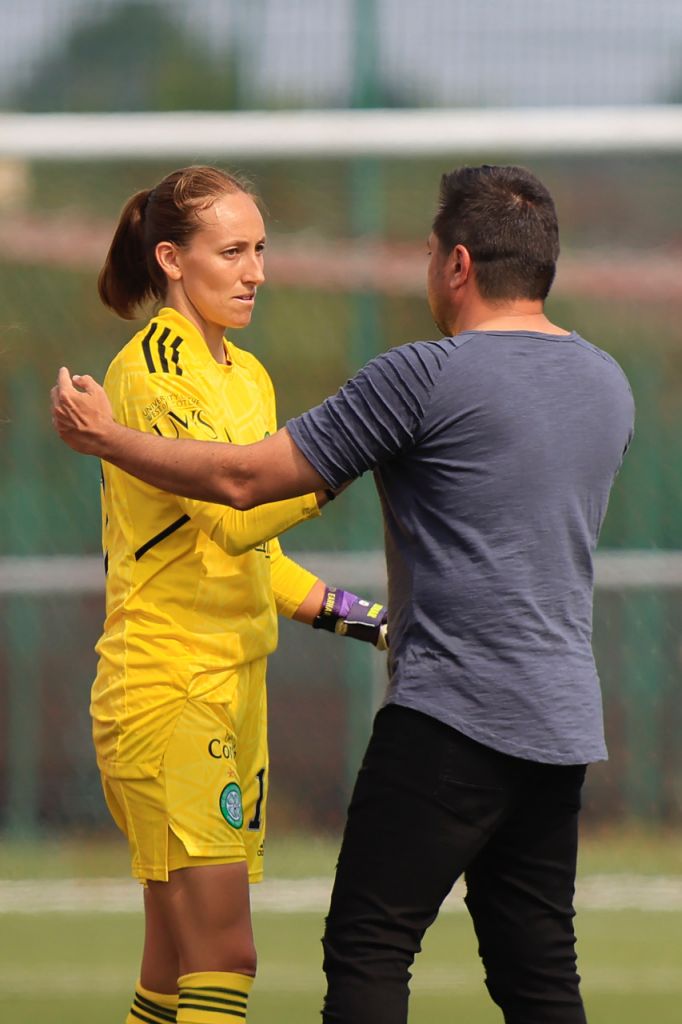 Here's how the SWPL table stands after two rounds of fixtures…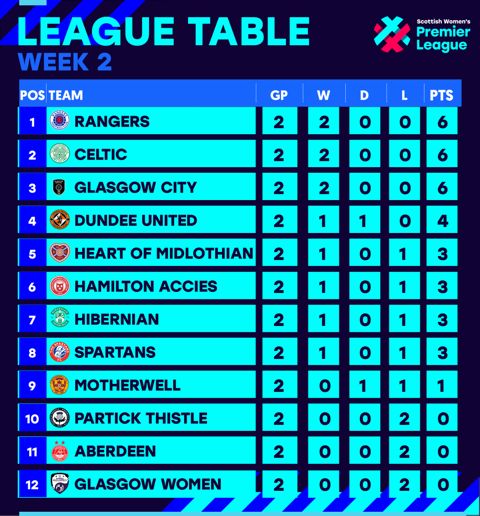 Next weekend Celtic are at home to Spartans (ticket details below), theRangers host Hearts and Glasgow City are also at home, taking on SWPL2 Champions Dundee United who have made a decent start to their top flight campaign and sit clear in fourth place on four points.
🎟 Tickets for our next home fixture against @spartansfcwomen are 𝗼𝗻 𝘀𝗮𝗹𝗲 𝗻𝗼𝘄 ⤵

Share the passion from the stands next Sunday (August 21) and be there to cheer on the Ghirls! 📣🍀#COYGIG | @CelticFC

— Celtic FC Women (@CelticFCWomen) August 13, 2022