IT SEEMS that Brendan Rodgers just can't stop talking about Celtic. The Leicester City boss is currently chasing a Champions League spot in the Behind Closed Doors conclusion to the English Premier League.
Yet ahead of his side's big game against Arsenal, where he will come face to face with the former Celtic full-back Kieran Tierney, Rodgers has been busy talking about….CELTIC as Rodgers has suddenly come to the conclusion that Celtic are a much bigger club than Leicester City.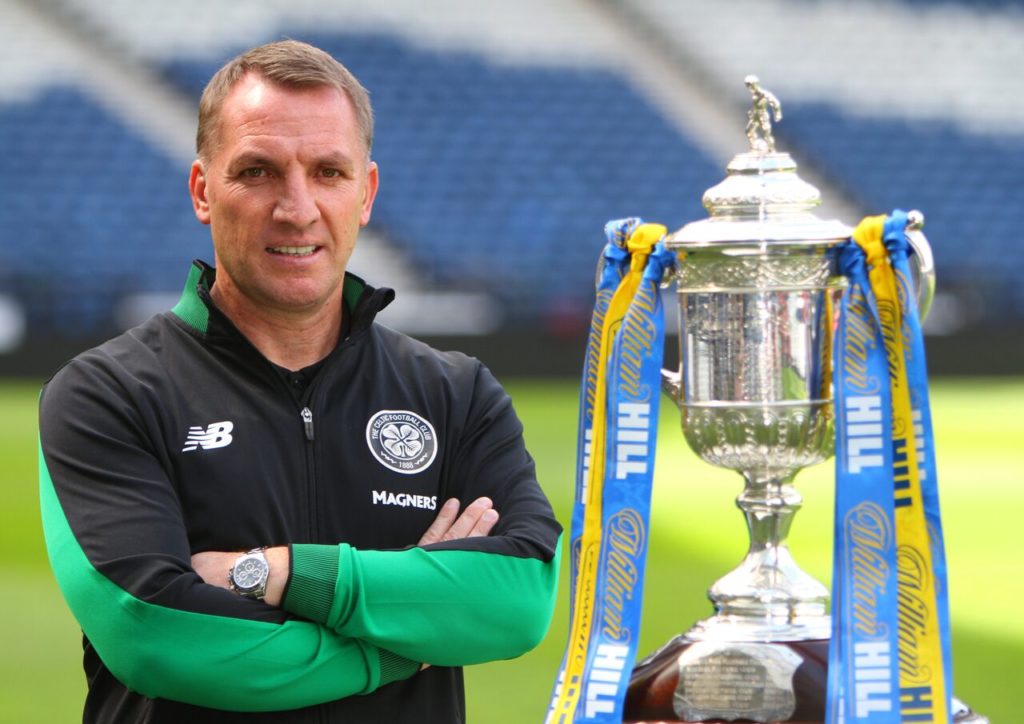 Rodgers walked out on Celtic in a late night flit to the East Midlands in late February 2019, taking as many of the back-room staff with him as he could and leaving Celtic to pick up the pieces ahead of two crucial matches in Edinburgh.
Neil Lennon stepped in, winning at both Tynecastle in the league and Easter Road in the Scottish Cup, and with John Kennedy beside him, has never looked back. Such was the rage at Brendan's Betrayal among the support, it is fair to say that his legacy as an outstanding Celtic manager was at least tarnished and in all probability destroyed.
This seems to weigh heavily on Rodgers and he has certainly attempted to talk his way out of the support's 'bad books' during the past few months. Speaking to The Gaffer Tapes podcast Rodgers admitted that he believes that Celtic are a bigger club than Leicester City.
Returning to his departure from Celtic he had this to say by way of an explanation. "It wasn't just a get up and go. It probably seemed that because of the situation but the club was in a really good situation.
"We had won seven trophies in a row, we'd created a professional mindset within the squad and within the culture.
"The team were able to go and win the league by nine points and go on and win the next two cup competitions and achieve the 'Treble treble'.
"I was then given the opportunity to come to Leicester, which isn't as big a club as Celtic, of course, but the challenge and professional challenge of taking a club into the top six was going to be a huge challenge for us.
"And that is something at every club I have gone into I have always wanted."
ALSO ON THE CELTIC STAR…
Neil Lennon on Handling the Pressure of a 'Monumental' Season as McCoist gets his Excuses in Early | The Celtic Star https://t.co/sR78kYR1Qb

— The Celtic Star Editor – INVINCIBLE (@CelticStarMag) July 7, 2020
Video: President of Albania creates country's first Celtic supporters club | The Celtic Star https://t.co/GYvLKaRrS6

— The Celtic Star Editor – INVINCIBLE (@CelticStarMag) July 7, 2020