The tough financial situation may have left Celtic fans worrying that there wouldn't be any big name signings this summer, but Ryan Fraser could take them to the next level.
He's been outstanding for years with Bournemouth and has been linked with big moves in the past, but he's set to be a free agent and that opens up some interesting options.
All clubs will be looking for free transfers because that saves money on the fee, and it allows them to push the boat out a bit with wages.
This rumour has appeared on Facebook and it suggests that Celtic are certainly exploring the option of signing Fraser when he leaves Bournemouth this summer: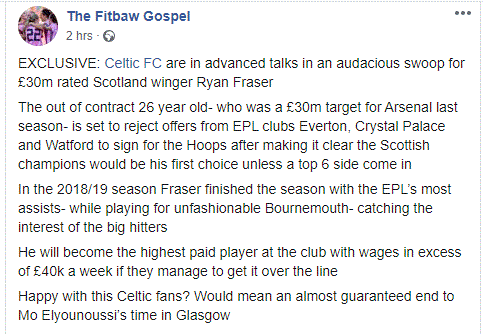 There's no doubt that this would be a huge coup for Celtic if they could pull it off, it's likely that Arsenal will be interested again and they could certainly offer a higher wage, but they are also in a total mess just now.
Fraser has spent his career playing for a team who merely looked to survive relegation, and moving to a mid table side will only be attractive in a financial sense.
Celtic can offer the chance for trophies and European football, and players will want to retire with the knowledge that they actually won something – not just living with the memories of finishing 12th in the league that one year.
Celtic do need someone to replace Mohamed Elyounoussi who looks set to return to Southampton, especially after a report from The Transfer Podcast via Celtsarehere that the Norwegian earns over £3m a year, and he would likely need a big transfer fee to let him go.
It's likely that nothing will happen with Fraser until the Premier League returns and he has a chance to assess his offers, and you have to think that a move to Celtic does seem unlikely.
Despite that he's had a poor season and his stock may have fallen a bit, so it's possible that the bigger sides down south aren't looking at him anymore.
There's so  much doubt surrounding a return for Elyounoussi and his form tailed off after is injury, and Fraser would be free so that has to be attractive to the Celtic board. Either Elyounoussi or Fraser would be warming welcomed by the Celtic support, with the Norwegian much more likely to sign for Celtic than the Scotsman.
ALSO ON THE CELTIC STAR TODAY…
Matt Corr on Willie Wallace, a Lisbon Lion and so much more, Part 1 @CelticStarMag https://t.co/YrB4uU7V8b

— Celtic news now (@Celticnewsnow) June 23, 2020
Lisbon Lion Willie Wallace celebrates his 80th Birthday today – Here's his Celtic Story | The Celtic Star https://t.co/HPakGjVt6U

— The Celtic Star Editor – INVINCIBLE (@CelticStarMag) June 22, 2020