With the arrival of Shane Duffy and Celtic step-in up the pursuit of a left wing back, which also signals the end of the line for bad-Bhoy Boli Bolingoli, it seems pretty clear that Neil Lennon is looking to return to the 3-5-1 formation that worked so well at the start of the year in delivering 9IAR.
Leigh Griffiths' failure to return after the lockdown in good enough shape to play was a key factor in the Celtic manager having to opt for the much criticised 4-2-3-1 formation. The £5m signing of Albian Ajeti will allow Lennon to play with two strikers – the Swiss international striker and Odsonne Edouard with Patryk Klimala in reserve.
Duffy can join two from three from Jullien, Ajer and Bitton – the stand out Celtic player in the Scotland v Israel game on Friday night, to complete the back three and in the closing stages of the win over Motherwell Celtic looked particularly effective with James Forrest moving to the left to allow Jeremie Frimpong to operate as an offensive minded right wing back.
The weekend stories on looking Celtic to left wing-backs options in France and England could result in Lenny securing the final piece of his 3-5-2 jigsaw – too late for the Champions League but in this the most important domestic season ever – in time for the Ten-in-a-Row push.
Below two of the well-known members on Celtic Noise discuss the 3-5-2 option and make some rather interesting observations that we thought we'd share with you this morning….
New formation on the horizon
There's a good reason why so many decent footballers have often made terrible managers/coaches and it can often be found in their lack of tactical nous.
Guys like Jinky just went and played football. He'd get stuck out wide and the only instruction you would have to give him is to just tie your opponent in knots. Many players focus primarily on their own jobs – they have to trust that their team-mates are doing theirs. More often than not (with good players) it works.
Martin O'Neill's Celtic team with Lenny in it could never be regarded as had having a real shape or a strategic game-plan. It cost us in Europe and also cost us two titles which we should and could have won, but for the most part – it was effective and depended upon causing as much chaos and disruption as possible and leaving the genuine (and in one or two notable cases – World class) talent to apply the finishing touches.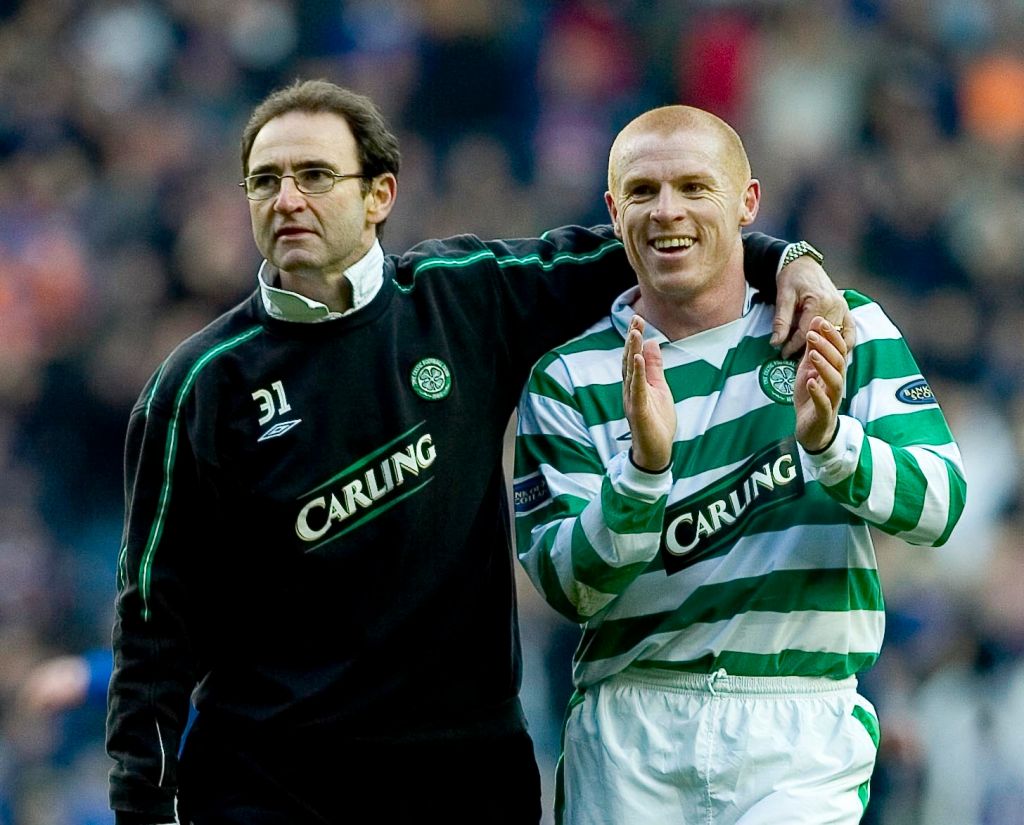 It fell short against really tactically aware teams or those with far better footballers, but MON's teams were rarely battered into oblivion and were competitive against top European competition (particularly at Celtic Park).
One criticism I have of Lenny, is that he tends to play in a style that allows opponents to get plenty of bodies behind the ball. We don't play with the tempo we did under Rodgers and some of our play is reflective of Lenny's own game which was based on breaking play up and laying off the easy ball. That's fine when you have one or two players doing that, not quite so dynamic when six or seven would rather play sideways and then go back. Patience is a good trait in football, but it still requires penetration at the appropriate time and while we see it in flashes, we have players who can be direct and commit opponents, but who tend to turn back inside/outside and play it sideways or backwards.
The key to playing three at the back is that it should, theoretically, allow Scott Brown to play 10-15 yards further up the park, as he shouldn't have to be an insurance policy for a more aggressive defence with Shane Duffy in there. He shouldn't have to be cover when Kris Ajer gets pulled out to the left and he can now properly link up with the rest of the midfield and offer them that third-point in the triangle.
We perhaps put a bit too much emphasis on tactics, but I guess it's important when you have to break down stubborn resistance; however – what really screws opponents up is when you can alter your shape in real time without having to radically alter your personnel. That was one of MON's teams' strengths…what looked a pretty rigid 3-5-2 could very much end up being a very different formation without many obvious changed having been made. It's the beauty of having genuinely talented players like Lubo, Sutton and Larsson.
Anyway – just some thoughts………..I'm no strategist or war general, I'll trust those who are qualified to know better than me.
Spherical Planet
There's a lot of thought been put into all your posts, all great post by the way, but I'm still not convinced by three at the back. Maybe if we sign two ready made wing backs for the left and right side then it could work but at the moment, when Lenny reverts to three at the back, teams start getting the upper hand on us.
Even our first Champions League qualifier against that Iceland mob when Lenny changed the formation in the second half they got a wee bit more joy. SPFL sides aren't world class but they have some decent, quick players and when they see our three at the back formation all they will do is park eight men at the back, leave a fast player on the wing and a big 6 foot something target man to aim their long balls at. We are left exposed as all our players are up the field trying to break down their packed defence.
Frimpong is quality going forward, not sure about his defending though and Taylor isn't quick enough or skilful enough to do the job on the left in my opinion. Tracking back is also a job that the likes of Forrest or Elyounoussi don't seem to enjoy.
Lubos left peg
*Celtic Noise is a superb wee forum where all Celtic supporters are welcome. Please feel free to sign up – it's easy to do, takes 30 seconds and you'll be in and able to join the Celtic chat….