'PEOPLE do not decide to become extraordinary they decide to accomplish extraordinary things' Edmund Hilary
So now we know. If Celtic can win at Hampden against Aberdeen tomorrow it's Craig Levein's Hearts that will face up against the Hoops.
Despite a first half where Inverness managed to do nothing much more than avoid conceding, second half goals from Ikpeazu, John Souttar and a Sean Clare penalty saw Hearts through comfortably.
The opening 45 mins in particular was dire stuff but gave us an insight that we were possibly already all too aware of. Other than Souttar, Mulraney and Lee there aren't many genuine footballers in that side that Celts would have to contend with. But that's hopefully for another day.
Tomorrow Celtic will have to find a way past a better side than Hearts to even have the opportunity to contest the final on 25 May.
Make no mistake, whoever wins the semi-final tomorrow reaches the final as the superior side and will go in as strong favourites.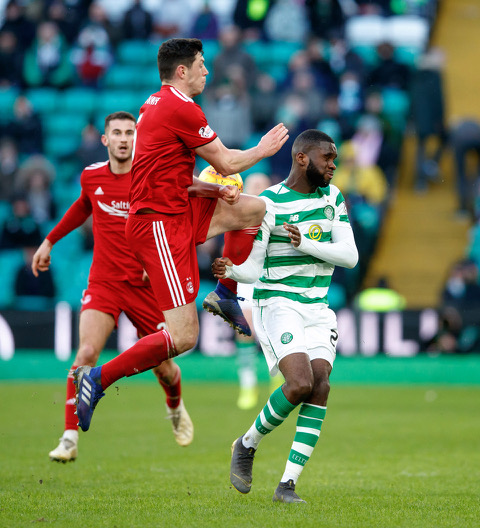 Not only have Aberdeen been Celtic's most consistent challengers over the last 5 years they have already disposed of the 'Rangers' this year in Glasgow in a cup replay, having previously also beaten the new Govan club there in the league.
Their own downfall in the top flight has been their poor home form, in particular since the winter break. Strangely away from Pittodrie they have been far more consistent. They have no fear in going to Glasgow anymore. None whatsoever.
The press coverage and quotes from Aberdeen show they are travelling to Hampden with not only 'no fear' but also with genuine confidence. Belief more than likely garnered by that second half performance at Celtic Park last month alongside still showing they can handle the other side of Glasgow with aplomb.
The tie at Celtic Park ended 0-0 and although they were probably slightly disappointing first half Aberdeen finished the game well and Celts were probably happy enough just to get the draw on the day. A neutral venue will no doubt bolster that belief even further.
Derek McInnes has built a side you can't help but grudgingly admire, they aren't always pretty on the eye but they are a strong and capable side and unlike Hearts they don't lack for a footballer or two.
McInnes has lost players consistently and always found a way to replace them. The Aberdeen boss has built a side who can usually soak up pressure and wait for opportunities. In short this is the sort of side we've struggled to break down all season. Given the budget I can't think of how he could have built not just a side but a squad of any better ability.
They have a very capable goalkeeper in Joe Lewis. A player we know Celtic had (and possibly still have) an eye on as Craig Gordon nears closer to the end than the peak of his career.
In defence, The Dons have an exceptional centre half in Scott McKenna, one of the brightest Scottish centre half prospects in many a year and now an established International. Full back Max Lowe has already caused James Forrest a few problems this season. He has the pace to match Forrest and not many have that.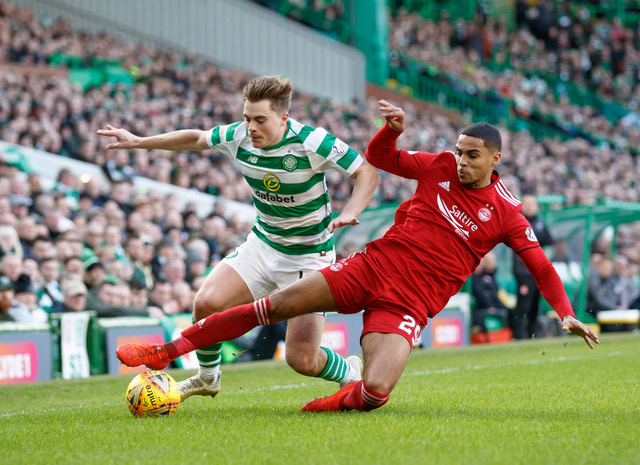 In midfield Lewis Ferguson has 6 goals already this season, combative and comfortable on the ball. He's shown he was ready to move on from Hamilton. He may already be showing he'll soon have outgrown Pittodrie.
For the second time now Greg Stewart seems not to have quite clicked at Pittodrie, but if the Greg Stewart that played number 10 for Killie show up tomorrow they have a player who can link midfield to front and has a goal or two in his locker.
Ex-Celts Gary Mackay-Steven and Niall McGinn will be fondly remembered by Celtic fans and both have genuine ability out wide and cutting inside. They are right good ball players with enough trickery to create opportunities on the break, both are perfectly capable of having the finishing touch if the chances arise.
Up front Sam Cosgrove has now added all that was missing to his game. Goals. A big thing for a striker. We've all seen players like him before who looked like they had the lot but somehow didn't do what the contract required. Hit the onion bag. Now however he can. He brings others into the play as well and seems like his confidence is high. In general he's just a handful and we'll need to be on our toes.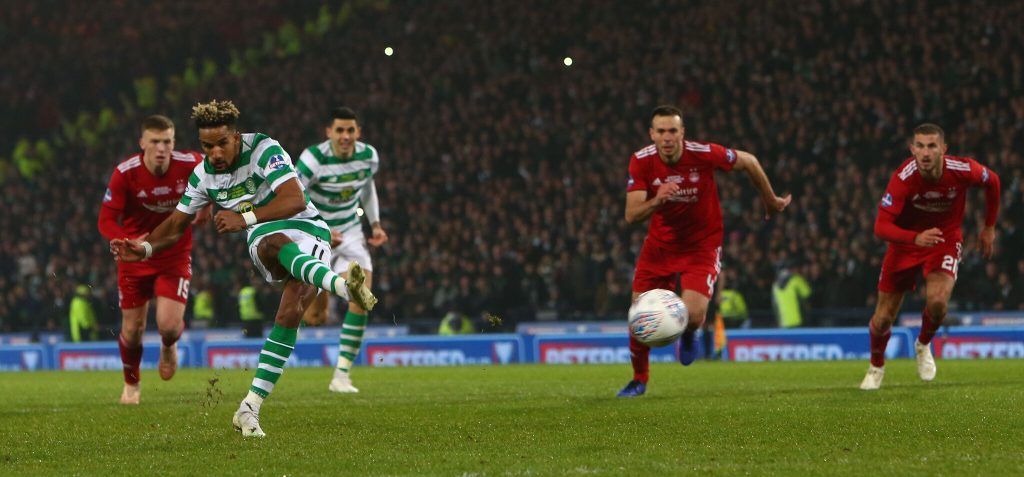 And you know what we will.
Yes Aberdeen have good players, yes in my own opinion we are playing the second best team in Scotland and yes if we are not on it from the off tomorrow they can punish us.
But this is a Celtic side who regularly step up. When the big games come around we are the ones who consistently rise to the occasion. 7 domestic trophies out of 7. An eighth almost over the line.
Get past this and an average long ball team is all that will stop the Treble Treble, and Hearts won't stop us. Unless the SFA agree to play the final at Tynecastle. Hmmm there's a thought for the blazers.
Our central midfield is key. Despite Aberdeen's strength in depth they will miss captain and talisman Graeme Shinnie. Much maligned for his recent international display in Kazakhstan Shinnie is Aberdeen's water carrier in Central midfield. He drives them forward, he gets in oppositions faces. He'll be massively missed and his loss will be the difference.
If Dominic Ball steps in there he's good but is he as effective? I'd doubt it. He doesn't quite have the same weaponry in his armoury. Possibly a better choice at full back than Shinnie but not in the engine room.
Just one message here to Scotland fans. Don't write Shinnie off just yet. Left back he is not and scapegoat for Kazakhstan he shouldn't be either. He's a midfielder. Simple as that. There is room in a Scotland squad for a play of such genuine endeavour especially given the retirement of Scott Brown.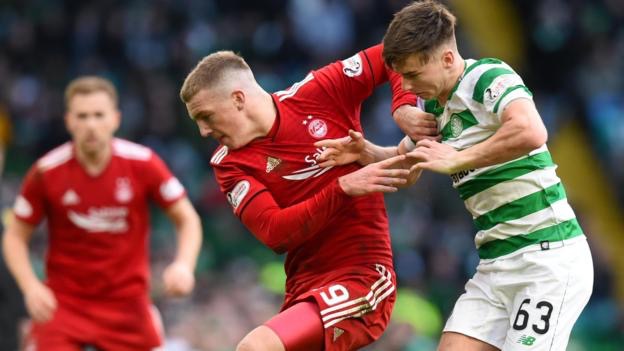 Whoever we play in the holding midfield will have more freedom. Scott Brown and Callum McGregor will only really have to contend with Lewis Ferguson and an out of sorts Greg Stewart. Together they can nullify that and allow us to get the ball forward. If McGregor plays further forward and Ntcham comes in beside Brown again I can only see dominance in central midfield.
Our three forward midfielders behind the striker who I assume will be Edouard is where we can win this game.
Edouard needs to target Considine should he play, and carry the ball when possible. He's a great servant to the Dons but he's their weak link defensively. Avoid that McKenna lad if at all possible. He's a genuine star in the making.
Wide right Forrest can be the game changer. Max Lowe can track runs all day, it shouldn't stop James if he mixes up the game and gets to cut inside it's evident this season in particular his left peg is no longer simply for standing on.
We need support from an overlapping full back and a number 10 willing to link the play by dropping out wide occasionally to support and create. Ideally I'd say this would be Tom Rogic, a player who has hurt Aberdeen to great effect in the past and how!
Given the big man looks a tad rusty returning from injury it may be better that Ryan Christie starts. Not without his own recent injury woes but looking sharper. He knows the Aberdeen side inside out and he's probably been our form player since returning from 2 loan spells in the North East where he arguably came of age.
It's safe to say without Aberdeen we wouldn't have the same Ryan Christie brimming with confidence at Celtic Park. What better way to say thanks than a quick reminder at Hampden of what they helped create.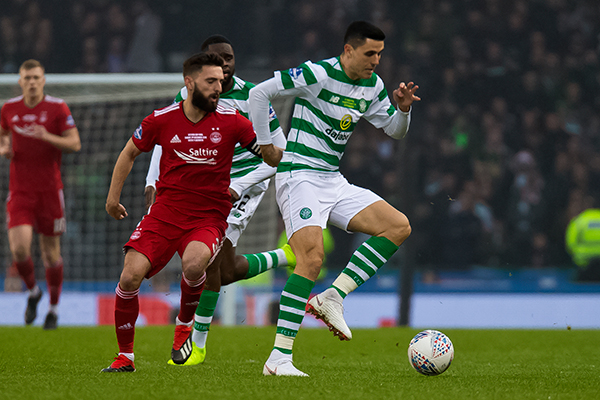 The supporting right full back as Toljan or Lustig is immaterial, we're fairly well served having them both. I'm comfortable with either.
On the opposite flank it's been Sinclair or Hayes of late. Despite his Dons history Hayes should be an option from the bench at best.
For me it's Sinclair or Burke wide left with preference for Sinclair all day long. He simply hurts teams. It's a strange phenomenon in that he rarely looks like he's even trying but is there a better man for the stats that matter out wide than Scott Sinclair?
Put it this way if you were and Aberdeen fan waiting on the team lines and you saw Jonny Hayes ahead of Scott Sinclair, wouldn't you be thinking, I'll take that? If wee shay Logan plays he'd sleep a bit more restlessly up against Sinclair or Burke.
Oli Burke may well be struggling fitness wise anyway so it may be a moot point but if for some reason Sinclair couldn't make it Burke needs to play wide instead. Hayes should remain a bench option for his versatility alone.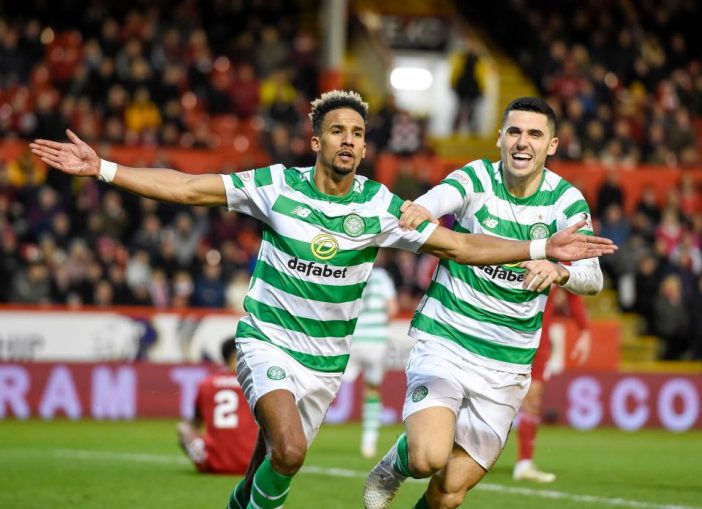 Scott Bain between the sticks owns the shirt at the moment and with a fit Tierney the obvious left back, it's down to the centre half slots. Ajer is currently picking himself and if Benkovic passes fit the other slot is a no brainer for me.
Bain,
Lustig, Ajer, Benkovic and Tierney.
McGregor, Brown.
Forrest Christie, Sinclair,,
Edouard.
Subs Gordon, Simunovic, Toljan, Hayes, Burke, Weah, Ntcham.
No doubt The Celtic Star will break an altogether different side by 9am tomorrow morning but that would be my choice.
This is the big one. This is the last genuine threat we face to 9 out of 9.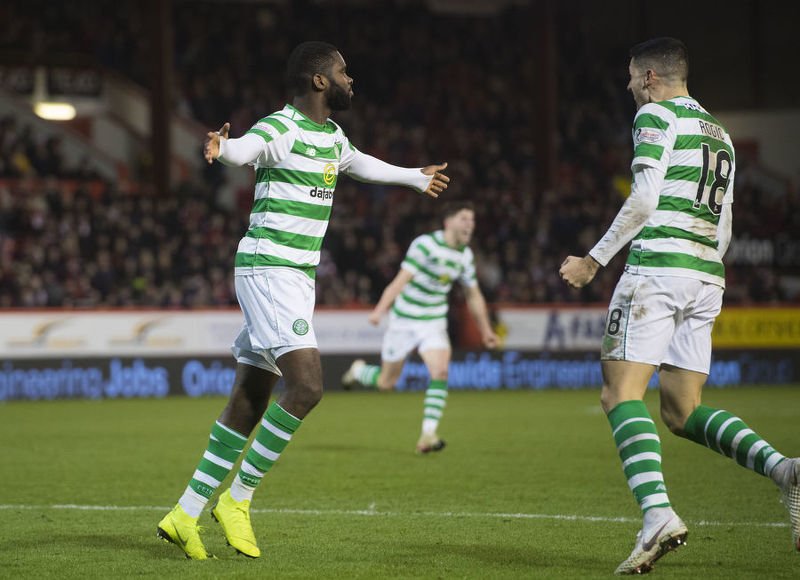 If Celtic step up as they so often do in the big games the final will take care of itself. Aberdeen we thankfully avoid in the final, but it's an almighty challenge we face to reach that day. They'll be ready alright but we will step up.
It's time to 'accomplish extraordinary things'.
9 out of 9 would be the greatest achievement since Lisbon and it would never, ever be repeated.
Ironically the best Aberdeen side since their Gothenburg team stand in our way.
'Vision is not enough. It must be combined with venture it is not enough to stare up the steps we must step up the stairs' Vaclav Havel
Niall J