LATE YESTERDAY afternoon Celtic were drawn to play against Airdrie in the fourth round of the Scottish Cup at Celtic Park. The match will be the first game back after the winter break and will be played on the weekend 19 January.
We asked Celtic historian David Potter to remind us of the story so far when Celtic and Airdrie have met in the Scottish Cup.
Can we mention that we know that Airdrie were liquidated at the hands of David Murray ironically enough and the current operation is the remnants of the old Clydebank. We know that the current Airdrie were only ever allowed to claim the history of the old club after Scottish football's shameful 5 Way Agreement and the actions of the Scottish Football League (including the Rangers supporting Airdrie owner) to allow the new Rangers to claim the honours of the old club.
David Potter tells the story of Airdrie's Scottish Cup win below – but the post liquidation Airdrie was correctly prevented from claiming ownership of that honour for many years after being formed in the wake of the original club's liquidation.
So below David is referring to Celtic's record against the first Airdrie, whose history and honours were transferred to the current club only after such a luxury was provided to the new club at Ibrox by the corrupt Scottish football administrators.
Celtic versus Airdrie in the Scottish Cup, here's the history – David Potter
Historically speaking, Celtic have little to fear from the visit of Airdrie to Celtic Park in the Scottish Cup.
Remarkably, Airdrie have never beaten us in the Scottish Cup – the League Cup, yes, but never the Scottish Cup.
We have played them 14 times in this competition, and we have drawn 3 times and won 11.
Airdrie won the Scottish Cup in 1924, beating Hibs 2-0 in the final.
They were managed by Willie Orr (ex-Celtic, of Adams, McNair and Orr fame and captain of the 1907 League and Cup winning side) and had some great players like Bob McPhail (who became a Rangers legend) and the legendary but self-destructive Hughie Gallagher, arguably as good a centre forward as Jimmy McGrory – and that is saying something!
But times were hard and the good players had to be sold, and Airdrie returned to unremitting mediocrity with their financial problems at the turn of the century well known. One has to give them credit for their continued existence* in a town where most people support Rangers. (My apologies to any of my readers who lives in Airdrie – there are exceptions!)
We have faced them twice in the final in 1975 and 1995.
The 1975 was a remarkable day for the late Paul Wilson who scored two great headed goals, and this was after his mother had died earlier in the week but Jock Stein decided to play him believing that it would be therapeutic for his sense of loss.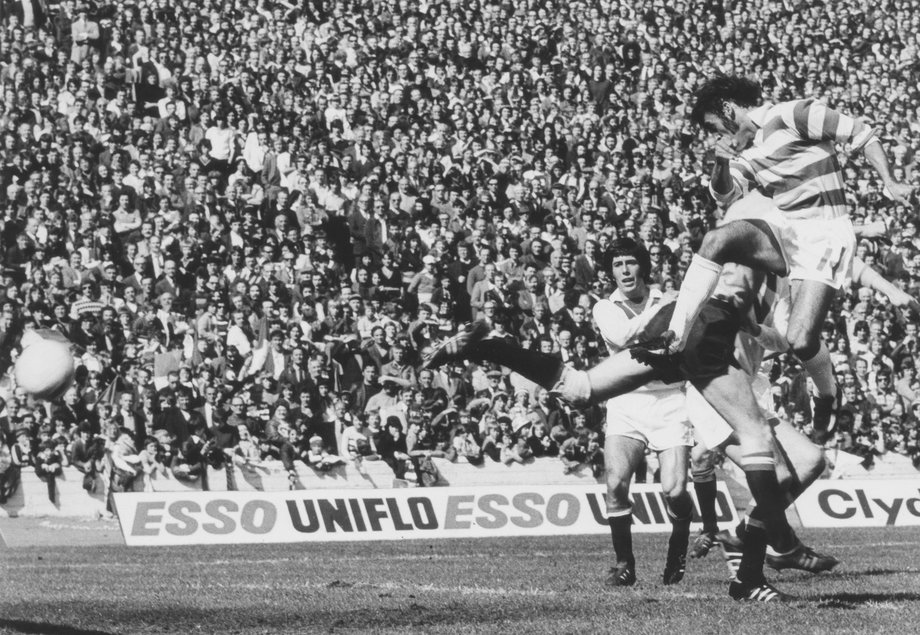 "MY mother passed away the week before the Scottish Cup Final in 1975. I skipped training for a couple of days and then attended her funeral. Big Jock and a few of the players came along and I was very touched they made the effort for me," Paul said.
"But I still went back in to training on the Friday. I said to Jock: "I would like to play tomorrow." I had played well that season and felt I could contribute.
"Often, it is the best thing to keep yourself occupied after a bereavement like that. Anyway, I was duly selected and managed to score two goals in a 3-1 victory over Airdrie.
"I joined the lads to have a celebration drink that night for just five minutes and then made my excuses and left them to it.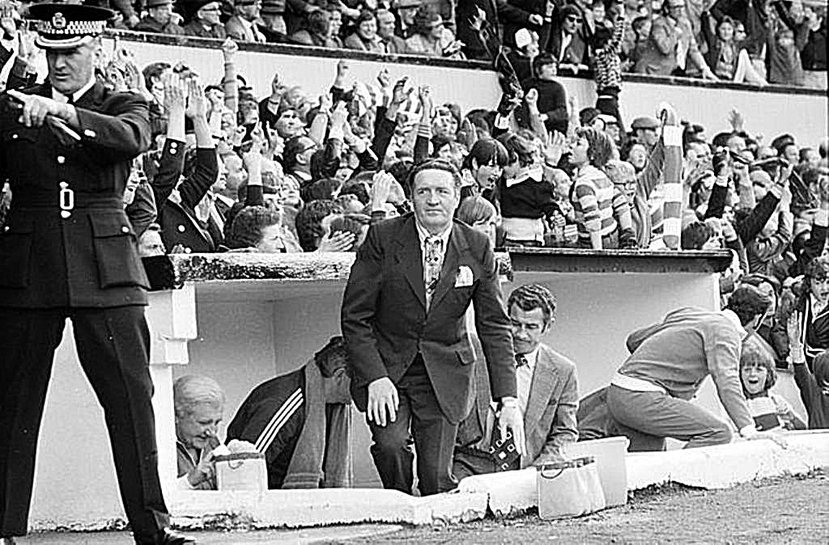 "It was after that game that Billy McNeill decided to call it a day and hung his boots up. There were a few guys waiting to step into his shoes and Roddy McDonald took over from him in defence.
"The week after that final, I scored two goals against Rangers at Hampden in, I think I am right in saying, the final of the Glasgow Cup."
Paul did not have too many great days for Celtic, but that final against Airdrie was certainly one of them. And then 20 years later, we had one of the worst Scottish Cup finals of them all, but it was also one of the best, for oh, how we needed that win!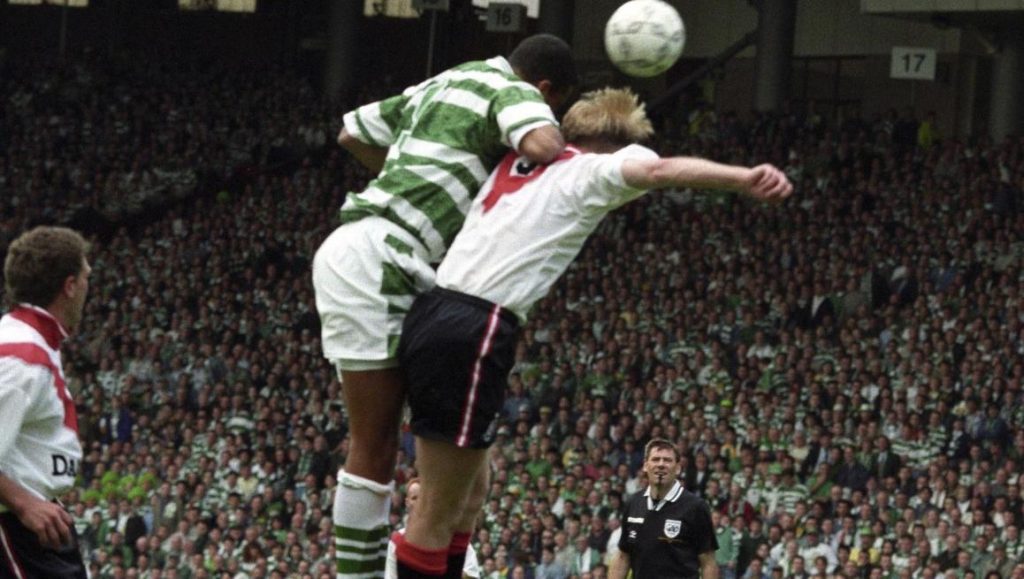 It was our first trophy since 1989 and we had been through the horrors of hell in the intervening years, a time which even now causes shivers of horror to run down one's spine at the thought of it all!
But Pierre Van Hooijdonk, that controversial and not always loveable man, scored the only goal of the game from a Tosh McKinlay cross, and the Celtic team, which was far from the best we have ever seen, was able to hold out against the desperate First Division Airdrie.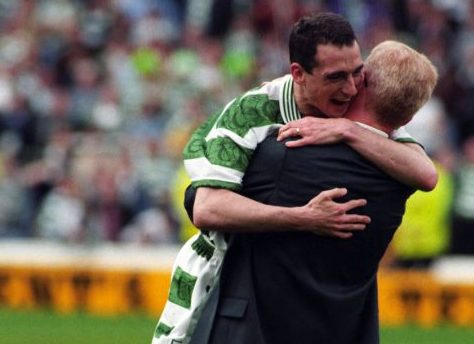 The first time we ever met in the Scottish Cup was 1909 when Jimmy McMenemy scored twice and Davie Hamilton once to beat Airdrie 3-1 before 26,000 at Celtic Park.
We then avoided them for 46 years until the semi-final of 1955 when John McPhail scored twice in the replay after we had been a shade lucky to get a draw in the first game.
1961 saw a fine but deceptive Celtic performance in the semi-final as John Hughes scored twice and Willie Fernie and Steve Chalmers once each to win 4-0. It was deceptive however in that it perhaps encouraged a degree of complacency which led to disaster against Dunfermline in the final.
Airdrie's best Scottish Cup performance against us was in the semi-final of 1971 when they came back from being 1-3 down to earn a replay – to the fury of Jock Stein – but in the replay everyone wondered what the fuss was about as Celtic won easily with goals from Harry Hood and Jimmy Johnstone.
And how close Celtic came to blowing it all in 1958! 4-0 up at Broomfield and playing brilliantly, then carelessness set it and Airdrie came back to make it 4-3 and but for a great save by Dick Beattie near the end, it would have been a replay.
The last encounter between the two was 1999 at Celtic Park in a dull, ordinary sort of game won 3-1 by Celtic thanks to goals from Henrik Larsson, the late Phil O'Donnell and an own goal.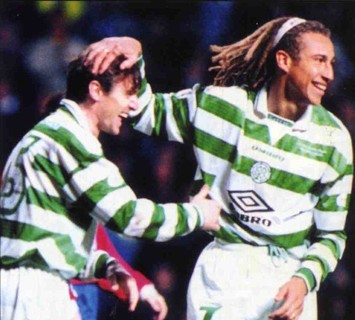 Here's the full record…(against the old Airdrie)
20 February 1909 Celtic Park, Celtic 3 Airdrie 1
26 March 1955 Hampden, semi-final, Celtic 2 Airdrie 2
4 April 1955 Hampden semi-final replay, Celtic 2 Airdrie 0
3 March 1956 Celtic Park, Celtic 2 Airdrie 1
1 February 1958 Broomfield, Celtic 4 Airdrie 3
1 April 1961 Hampden semi-final, Celtic 4 Airdrie 0
15 February 1964 Celtic Park, Celtic 4 Airdrie 1
3 April 1971 Hampden semi-final, Celtic 3 Airdrie 3
7 April 1971 Hampden semi-final replay, Celtic 2 Airdrie 0
3 May 1975 Hampden final, Celtic 3 Airdrie 1
29 January 1977 Broomfield, Airdrie 1 Celtic 1
2 February 1977 Celtic Park replay Celtic 5 Airdrie 0
27 May 1995 Hampden final, Celtic 1 Airdrie 0
23 January 1999 Celtic Park, Celtic 3 Airdrie 1
*The Airdrie that visit Celtic Park is a new club.
David Potter