In September 1988 Celtic began their European Cup campaign with a first-ever meeting with Hungarian champions, Honved. The Budapest-based 'army team' had enjoyed their golden era in the early fifties, legendary players such as Puskas, Kocsis, Czibor and Bozsik providing the spine of the Mighty Magyars national side, famously inflicting 6-3 and 7-1 defeats on England prior to the World Cup Finals of 1954 before hammering West Germany 8-3 in the group stages in Switzerland.
The two sides would meet again weeks later in the Berne final, the Germans recovering from two goals down to clinch the trophy 3-2, thus leaving Hungary vying with Cruyff's '74 Netherlands as perhaps the greatest team never to win the World Cup.
The Great man in Glasgow 1960. pic.twitter.com/P0XHFI48Ix

— jamief (@jamiebhoy2009) October 18, 2021
The Hungarian Uprising of 1956 had led to the break-up of that wonderful side, their best-known player, Ferenc Puskas, becoming a superstar at Real Madrid, where he set a record which will surely never be broken, with seven goals in two successive European Cup Final appearances. Whilst Honved would subsequently struggle to recreate such an impact in a global sense, they were enjoying domestic dominance once again in Hungary, having won four of the last five national titles.
Although Celtic had never been drawn against Honved, they were certainly no strangers to Budapest. They had toured there back in the close-season of 1911, beating MTK 2-0 before drawing 1-1 with Ferencvaros. Indeed, a few months earlier, there had been a reminder of a famous visit in May 1914.
Willie Maley's Hoops had just completed a hugely-successful season, winning the first of what would be four successive League titles, beating Hibernian 4-1 in the replayed final at Ibrox to win a ninth Scottish Cup (a fifth in just seven seasons) then mauling Third Lanark 6-0 at Hampden to claim the Glasgow Charity Cup, thus avenging the 1-0 victory by the same side the previous October at Cathkin, in the Glasgow Cup semi-final, a defeat which prevented a first-ever clean sweep of available trophies.
Immediately, after the Hampden win, the Celtic party commenced a tour of Hungary, Austria and Germany, the first game a 2-2 draw with Ferencvaros in Budapest, on Sunday, 17 May 1914. Four days later, a match had been organised between the Scottish champions and Burnley, who had defeated Liverpool 1-0 at Crystal Palace to win their first FA Cup the previous month.
This fixture appears to have been sprung on Celtic with little or no notice, then billed as a 'Battle of Britain' and, as if any additional spice were needed to rouse the 10,000-strong capacity crowd, the Bhoys would be wearing the green-and-white of hosts, Ferencvaros, whilst Burnley forsook their normal claret to play in the blue of their bitter local rivals, MTK Budapest. By all accounts, the game lived up to its billing, each side scoring a penalty apiece as the closing stages descended into a series of on-field vendettas.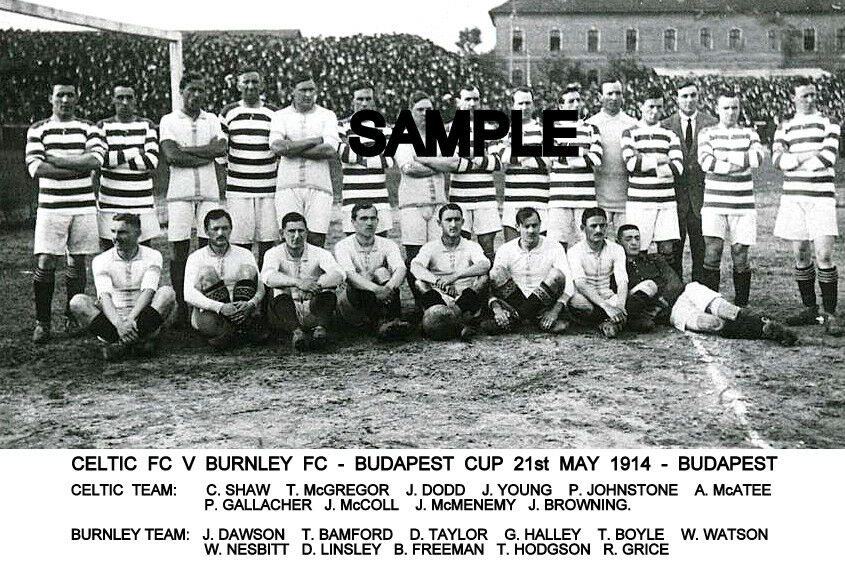 With extra-time not an attractive proposition in those circumstances, it was agreed that the clubs would face-off back in the UK in the autumn, with Burnley winning the toss for choice of venue. The Budapest Cup, reflecting a beautiful jewelled lighthouse, was then withheld, pending the outcome of that game.
Although Celtic won the Turf Moor replay 2-1, on 1 September 1914, with goals from Sniper McColl and Patsy Gallacher, sadly, the trophy would never be presented. It had apparently been sold to raise funds for the war effort, after the breakout of that horrendous conflict, triggered by the assassination of Archduke Franz Ferdinand and his wife Sophie in Sarajevo, the following month.
Don't mind this picture, it's just 2 of footballs biggest legends pic.twitter.com/AX6K1cLQVl

— Aidan (@AidanCeItic) October 18, 2021
In his 1960 book, The Celtic Story, James Handley claims that the cup went 'to a professional Middle-European wrestler, who won it in a raffle run on behalf of the Austrian Red Cross Fund during the war.'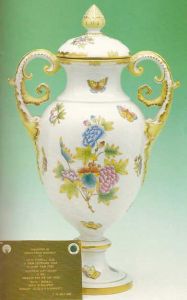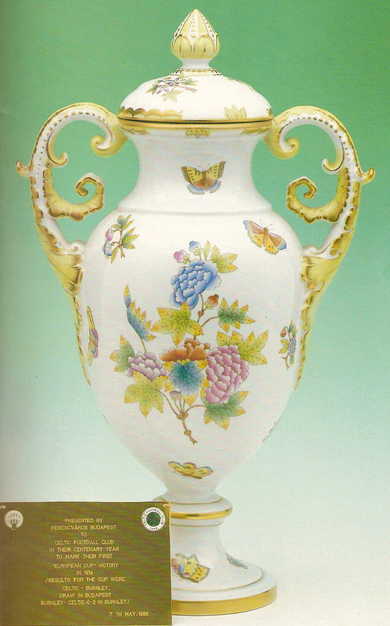 There would finally be a happy ending to this episode, albeit almost 74 years later, when a delegation from Ferencvaros arrived at Celtic Park on Saturday, 7 May 1988, as Celtic received their Centenary League championship trophy, the wonderfully-named chairman, Zoltan Magyar, handing over the Budapest Vase to Jack McGinn, in belated recognition of the Bhoys' first 'European Cup' win, all those years ago.
On Wednesday, 29 April 1964, nearly fifty years after that Burnley match, Celtic would return to the Hungarian capital on competitive business, defending a 3-0 lead in the semi-final of the European Cup-Winners' Cup against MTK. In their second competitive, continental campaign, the Bhoys had bounced back from the previous season's Inter-Cities Fairs Cup first-round exit by Valencia, to reach the last-four, overcoming Basel, Dinamo Zagreb and Slovan Bratislava in the process. A fortnight earlier, a first-half goal from Jimmy Johnstone and a double from Steve Chalmers after the interval took Jimmy McGrory's young Celts to within 90 minutes of a first European final, in front of 51,000 at Parkhead.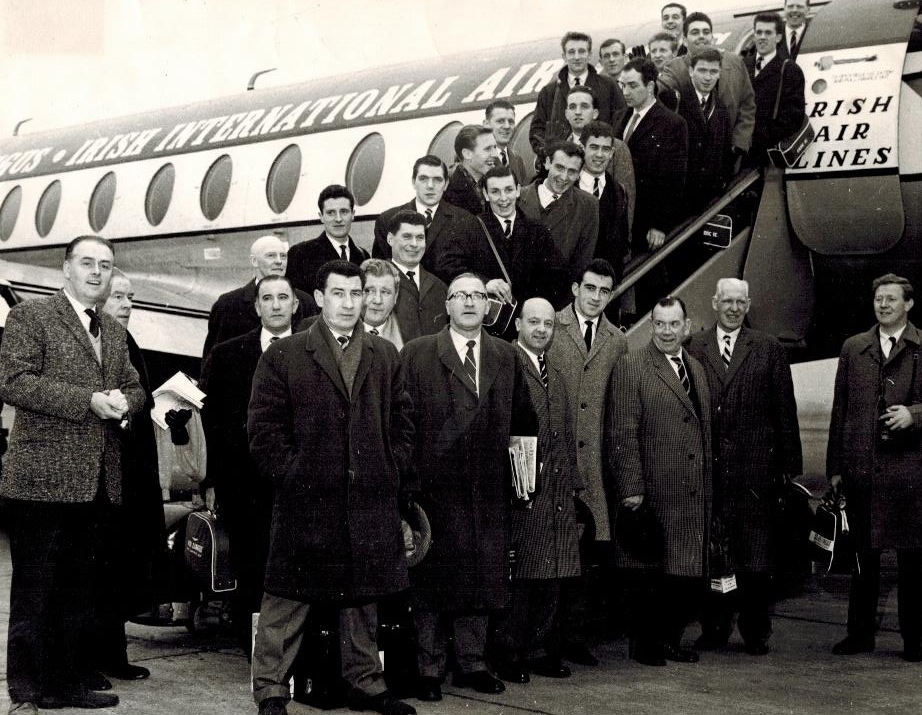 I wrote about that painful night in the Nepstadion (now renamed the Puskas Ferenc Stadion, in honour of the great man) in Part 2 of my Valencia File series for The Celtic Star back in January and I have no desire to go through that story in any great detail again. Suffice to say that everyone believed the tie to be over, including perhaps the management team, and as the song says, 'Celtic went out to attack', despite a three-goal lead.
That naivety was punished in the cruellest possible way, as MTK, led by their returning skipper, Karoly Sandor, a Mighty Magyar colleague of Puskas, destroyed the Hoops in Budapest. The 35-year-old winger set up two goals and scored one himself, the tie levelled by the hour and the 3-0 lead overturned completely with twenty minutes still to play. 4-0. Over and out.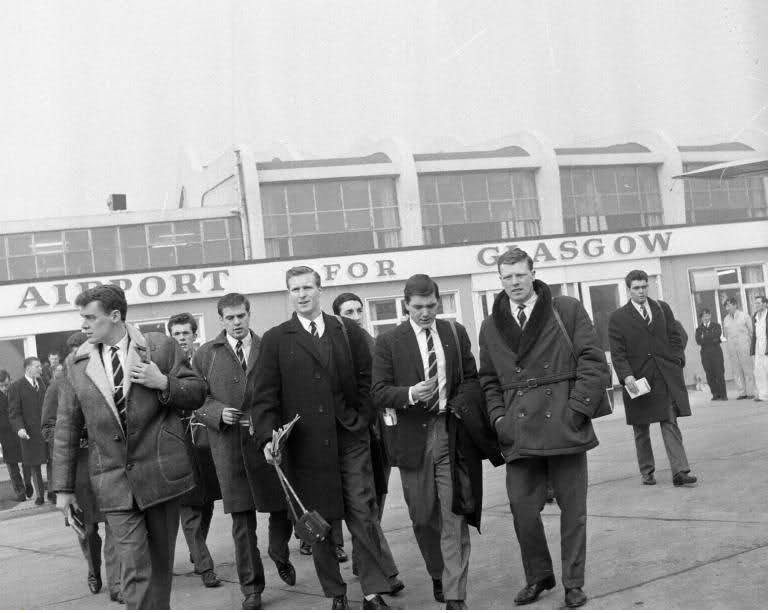 Just to twist the knife, the trophy would be won just a fortnight later by a side wearing green-and-white hoops, Sporting Lisbon beating MTK 1-0 in the Antwerp replay. Morais' goal directly from a corner is, to the best of my knowledge, the only time a European final has been won in this way. Two days earlier, the teams had shared six goals in a near-empty Heysel Stadium, Sandor scoring twice.
Celtic didn't enjoy much luck with Brussels finals. A decade later, I recall my dad and his Cairn CSC colleagues booking a minibus for the 1974 European Cup Final there, prior to the last-four tie with Atletico Madrid. The rest, as they say, is history, the Spaniards eliminating Celtic following a disgraceful exhibition in Glasgow and just seconds away from beating Bayern Munich in the Heysel to claim the prestigious crown of European champions, before the Germans levelled then struck a blow for football by cruising the replay 4-0.
Incredibly, Atletico would suffer exactly the same fate forty years later, ironically in Lisbon, this time Sergio Ramos' 93rd minute equaliser crushing their hopes of a first-ever success in the competition which means most in European football, city neighbours Real scoring three more in extra-time to clinch an unprecedented 'La Decima'. I guess Karma really is a bitch sometimes.
Between those two campaigns of 63/64 and 73/74, there had almost been a first competitive meeting of Celtic and Ferencvaros, the clubs drawn together in the first round of the 1968/69 European Cup. Then Warsaw Pact forces, including soldiers from Hungary, invaded Czechoslovakia on the night of 20 August 1968, Celtic chairman, Bob Kelly, subsequently sending the following telegram to UEFA;
'In view of the illegal and treacherous invasion of Czechoslovakia by Russian, Polish and Hungarian forces, and in support of the Czech nation, we, the Celtic Football Club, do not think that any Western European football club should be forced to fulfil any football commitment in any of these countries.'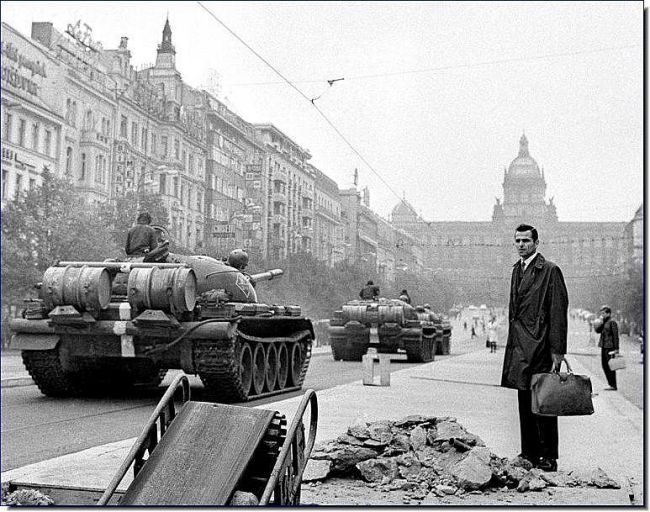 Despite UEFA's reluctance to get involved in the delicate political situation, many other western clubs and nations lent their support to Celtic's stance, the governing body eventually forced to come up with a compromise solution which involved a redrawing of the first-round ties only, to ensure that all of the Eastern Bloc countries were paired together, thereby buying some time.
Most of the sides from beyond the Iron Curtain subsequently withdrew, with Celtic matched up against French champions, St Etienne, in the revised draw. Ironically, having disposed of Les Verts on a magical night at Parkhead, the Bhoys then came out of the second-round hat with one of the only two remaining clubs from the Eastern Bloc, Yugoslav champions, Red Star Belgrade. Celtic would beat them before losing to eventual cup-winners, AC Milan, in March 1969, by which time the Parkhead chairman had been knighted.
It was a widely-held belief that Kelly's moral stance on this issue was a major factor in that recognition.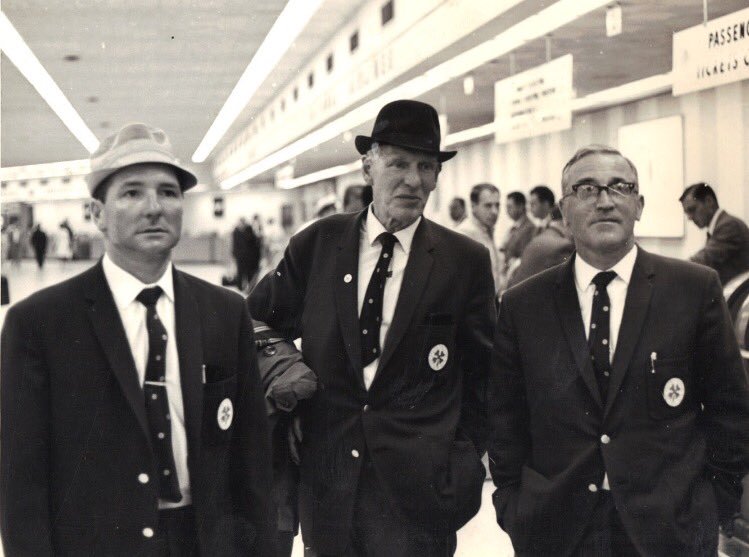 Celts were Budapest-bound again in the spring of 1972, this time the purple-shirted Ujpest Dozsa were the champions of Hungary and our quarter-final opponents in the European Cup.
They were a decent side, having beaten Spanish title-holders, Valencia, both home and away in the previous round. I well remember rushing home from school in Sighthill to catch the first leg, a rare televised match on STV, a defender called Horvath memorably scoring at both ends before Lou Macari snatched a late winner.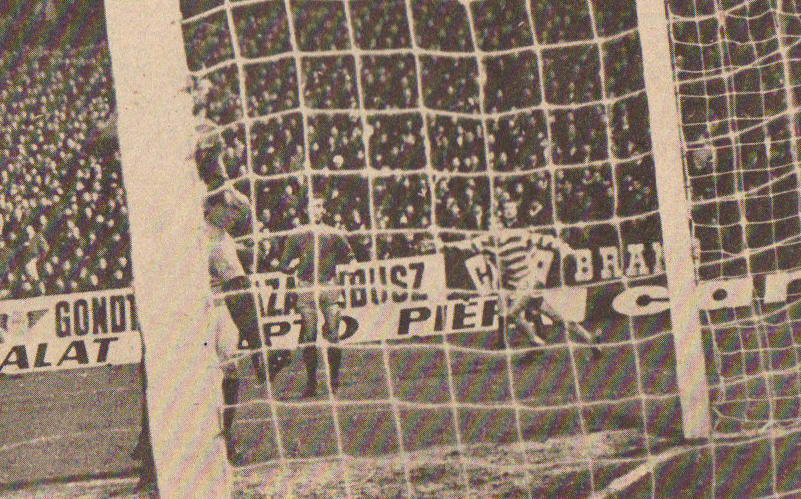 The trip is best remembered for the after-match party involving Hollywood royalty, Richard Burton and Elizabeth Taylor, the Welsh actor filming in the city following a lavish 40th birthday celebration for his wife and sharing a hotel with the travelling Celtic support.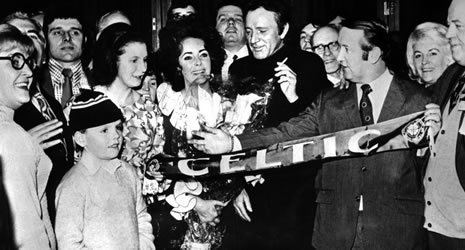 Having had to decline an offer to attend the match due to his work commitments, Burton then put a £5k drinks tab on the bar for the Hoops fans, the celebrity couple later turning up for perhaps the most bizarre Celtic photoshoot ever.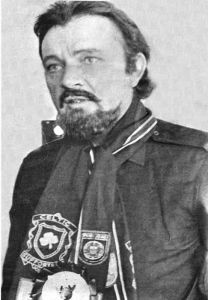 For yours truly, however, the return game was much more memorable, falling as it did on my eleventh birthday. Dad surprised me with a Main Stand ticket in my card and so on we went to the recently-refurbished structure that night, quite a sight in its day, particularly under the floodlights with 75,000 packed into the old ground.
The dangerous Hungarian striking duo of Ferenc Bene and Anton Dunai combined well for the latter to level the tie within five minutes and it would be a further hour before Macari settled Celtic nerves with a beautifully-lobbed equaliser from a George Connelly through ball, the 3-2 aggregate win setting up a last-four rematch with Inter Milan, five years after the joy of Lisbon. That tie would produce two goalless draws before a penalty shoot-out catastrophe for my hero, Dixie Deans, as Celts missed out on a chance to avenge the quarter-final defeat by Ajax the previous season, on the ground of Feyenoord, the side who had beaten them in Milan in the 1970 European Cup Final.
Celtic, Ferencvaros And The First European Cup Victory In 1914 | The Celtic Star https://t.co/BKHg9eAB2w

— The Celtic Star Editor (@CelticStarMag) October 18, 2021
Just seven months after that initial Celtic v Ujpest clash, they were drawn together again, this time in the second round of the 1972/73 European Cup. Celts had enjoyed home and away victories over Rosenborg Trondheim, in the first of what would prove to be a regular and ongoing relationship with the Norwegians, whilst the Hungarians had edged out another club who feature multiple times in our European history, Switzerland's Basel, when they met in Glasgow on Wednesday, 25 October 1972.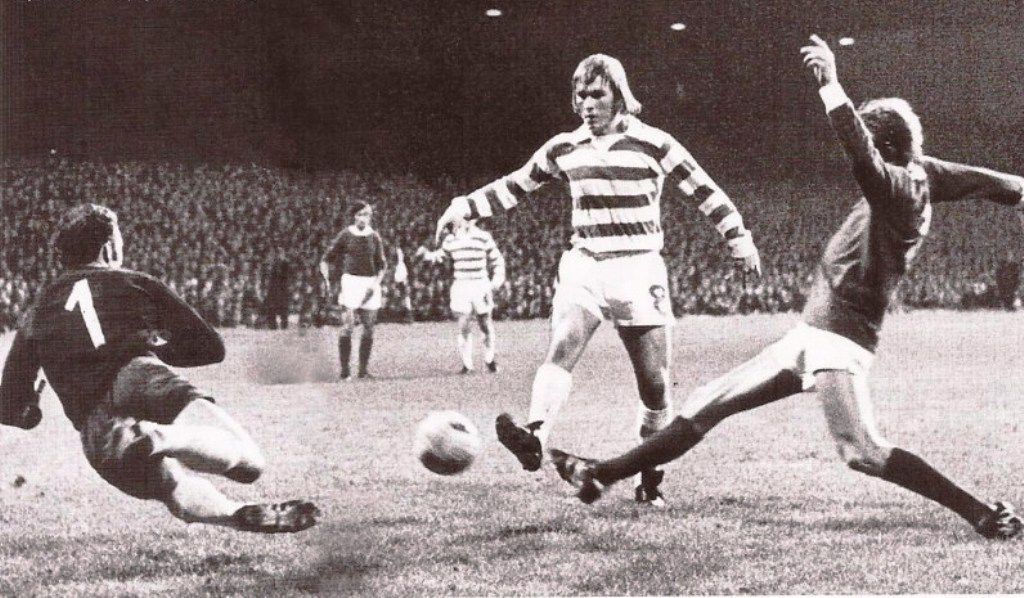 The 51,000 crowd was stunned as once again the visitors took the lead, through Bene on twenty minutes. The second half brought wave after wave of Celtic pressure against one of the best sides to play in Glasgow for many years. Kenny Dalglish came to the rescue with a double, his first a neat side-foot finish from a George Connelly cross within five minutes of the restart before getting his head to a cross from substitute Bobby Lennox, to give the Hoops a priceless lead with fifteen minutes to play.
Sadly, that lead lasted less than ten minutes in the return leg in Budapest, on Wednesday, 8 November 1972. I guess the writing was on the wall when the repeat run home from school was met by a blank screen, the STV pictures this time failing to reach Scotland.
Perhaps it was just as well. Within twenty minutes, Celtic were three goals down and heading out of Europe at the earliest stage I could recall. Bene scored either side of a Fazekas penalty, as the Hungarians tore the Celtic defence to shreds.
Both Kenny Dalglish and Billy McNeill struck woodwork, a case of 'if only' late on. However, in truth, we had been outclassed by a superb team on the night. Ujpest would then draw twice with Italian champions, Juventus, in the quarter-final, exiting on away goals after a 2-2 draw in Budapest, despite having again taken an early two-goal lead. The Turin club would then eliminate English champions, Derby County, in the last four, before succumbing to a Johnny Rep header in Belgrade, as Ajax won a third successive European Cup, thus awarded permanently, the trophy lifted for the first time by Billy McNeill in Lisbon.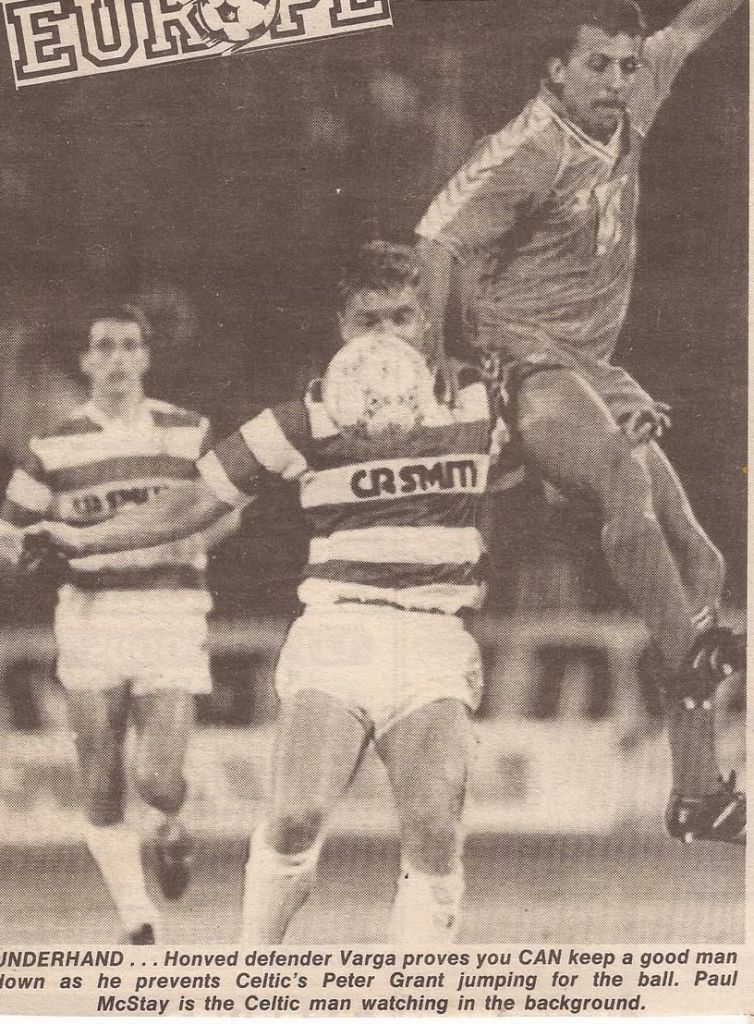 Cesar was the Celtic manager for the next Hoops visit to Budapest, on Wednesday, 7 September 1988, choosing to make one change from the weekend victory over Hamilton Academical – Derek Whyte for Joe Miller – as he sought to plug the recent defensive gaps by playing Roy Aitken in front of his back four for the first-leg tie against Honved.
There were around 9,000 fans in the Bozsik Jozsef Stadion, named after another of the legendary Magyar squad, a best friend and neighbour of the young Ferenc Puskas. It may well have been a different decade, however, the defensive frailties of a Celtic side were yet again exposed in the opening minutes, as first striker Gregor dallied when faced with a wonderful chance to score then Fodor beat Andrews with a free-kick from the touchline from all of thirty yards out, another dreadful blunder by the new Celtic keeper. All this within eight minutes. The only saving grace from a dire Hoops performance is that there would be no further scoring on the night, leaving Celts with a decent chance of turning things around in Glasgow, a fortnight later.
That disappointment would be put into some perspective the next night, when Celtic's young midfield star, Steve Murray, suffered a horrendous knee injury following a challenge by Motherwell's Jamie Dolan, in a reserve fixture at Fir Park.
The 20-year-old had been signed for £50,000 from Nottingham Forest the previous summer and was tipped to go all the way by those who usually knew these things. He would never play again, undergoing five years of painful surgery before finally receiving a six-figure sum in compensation from Dolan in November 1993.
It brought back memories to me of the incident at Celtic Park on Saturday, 8 September 1973, incredibly fifteen years to the day of Murray's injury. As Jock Stein's Celtic celebrated the unfurling of their eighth successive League flag by beating Clyde 5-0 in the opening home fixture of the new campaign, all eleven Celts wearing the number 8 on their shorts, young Brian McLaughlin was stretchered off following a brutal challenge by Shawfield defender Willie McVie.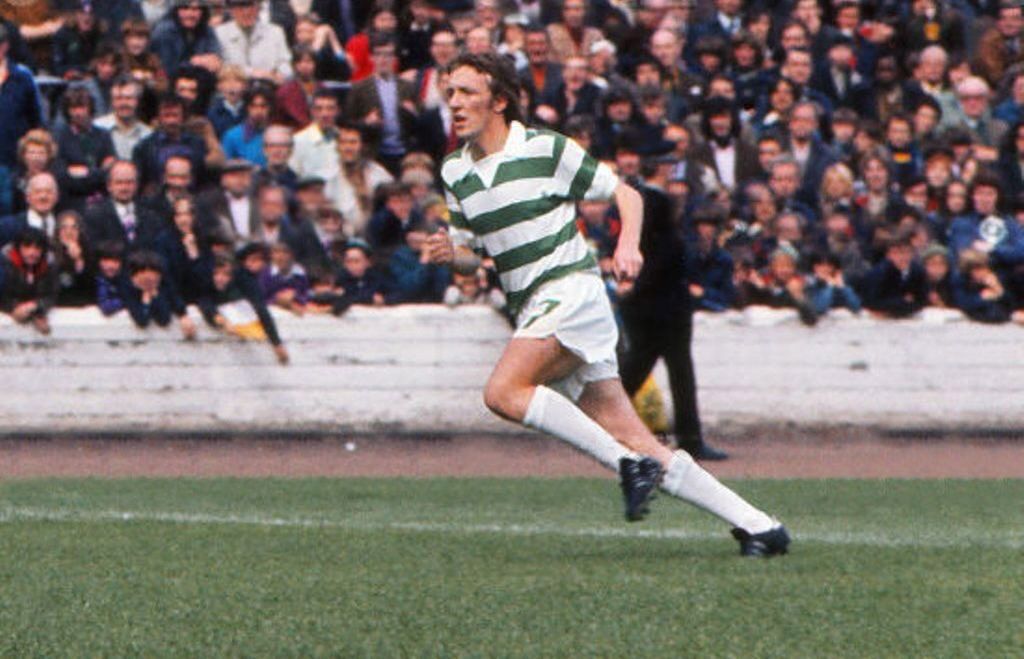 I remember the excitement of two years earlier, when Jock Stein, using one of his famous marketing ploys, had tempted me and thousands of others along to Celtic Park to watch a League Cup tie with Clydebank with the promise that we would be watching his latest wonderkid, the 16-year-old Brian McLaughlin.
By early 1973 he had fought his way into the first team, viewed as the 'new Dalglish' before fate and McVie took a hand. Although, he returned briefly to the first team more than a year later, he would never be the same player, eventually leaving for Ayr United after just twelve starts and two goals in six years in November 1977, a deal which ironically brought Joe Filippi to Parkhead to replace Danny McGrain, after the Celtic skipper had suffered his own horrendous injury.
Genuinely read this and expected the second part of it to be something about 'ordinary clothes' and as long as Puskas was there, Ange was there.

Brendan, thank you for ruining every sincere manager story possible. https://t.co/sUKr2FZlK9

— Glasgow is Green Podcast🟢⚪️ (@gigpod) October 18, 2021
In later years, Brian was a storekeeper at ScottishPower in Falkirk, thus a work colleague of mine, although sadly our paths never crossed. He should have been celebrating his 65th birthday this week. Instead, tragically, he was found dead in a nearby canal in August 2009, aged just 54, his Celtic dream long since crushed. Only McVie will know what was on his mind when he lunged at Brian that day. I know that, rightly or wrongly, I have never forgiven him for it. Rest in peace, Brian. You lived your dream, however briefly.
Matt Corr
1914-05-17: Ferencváros TC 2-2 Celtic, Tour of Hungary, Austria, Germany

One of the Hungarian players was István Tóth who would in later life lead anti-fascist resistance fighters against the Nazis until he was captured & executed.

Match: https://t.co/dgPI25VEn1
@CelticMatches pic.twitter.com/OIpsyVNzs1

— JoeBloggsCity (@joebloggscity) October 18, 2021
Matt Corr