Scottish Cup Final, April 20 1907 Hampden Park Celtic 3 Hearts 0
Until this year, no team had achieved the League and Cup Double in Scotland.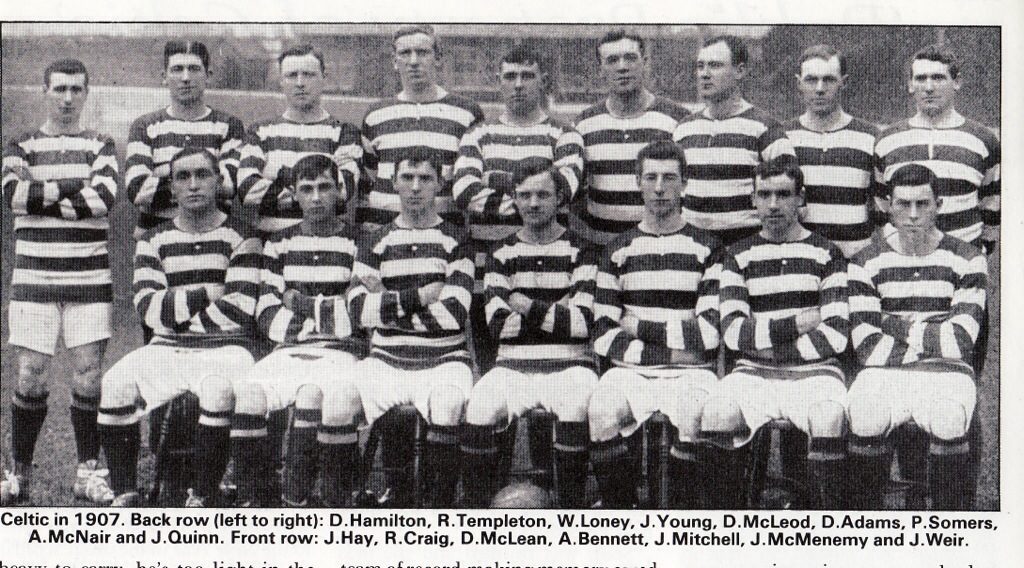 Preston North End and Aston Villa had done it in England, but as yet no-one in Scotland. But this was a superb Celtic side who were far ahead of anyone in the League (they would win it in the midweek following the Cup Final) and today they were up against the team who had won the Scottish Cup last year, Heart of Midlothian.
The weather was blustery and unpredictable, but still 50,000 turned up at Hampden. The kick-off had to be delayed by 15 minutes because Hearts goalkeeper Tom Allan had been caught in traffic. (Horses and trams were even slower than modern cars and buses!)
Hearts had suffered another blow in the absence of Charlie Thomson, their best player, so Bobby Walker was the captain.
Celtic started well with the wind behind them but couldn't score, and Hearts fought back. Both teams had chances, but half-time came with the game still locked at 0-0. It was at the start of the second half with Celtic now playing against the wind (but it was an unpredictable and capricious swirl) that Celtic took control.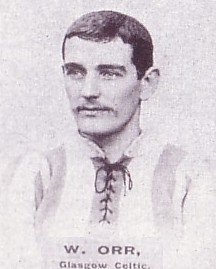 It started with a penalty kick much complained about by the Edinburgh press in particular. It was awarded by Mr Philp of Dunfermline when Jimmy Quinn was impeded going for the ball by a Hearts defender. The job of taking the penalty fell to captain Willie Orr, now in the veteran stage. It cannot have been an easy job in the wind and rain but Willie duly beat Tom Allan.
It was the perceived wisdom in 1907 that no-one came back against this fine Celtic team. So it turned out, as Alec McNair, playing at centre half in place of the injured Willie Loney, dominated the centre of the park, while Hearts star man Bobby Walker was well policed by James "Dun" Hay.
Celtic then gradually took control of the game and two goals by the grossly underestimated Peter Somers, won the game for Celtic. Celtic finished the game well on top, and left the field to the cheers of their supporters.
Celtic: Adams, McLeod and Orr; Young, McNair and Hay; Bennett, McMenemy, Quinn, Somers and Templeton
Hearts: Allan, Reid and Collins; Philip, McLaren and Henderson; Bauchope, Walker, Axford, Yates and Wombwell
Referee: Mr D Philp, Dunfermline
David Potter