Playing a national team during the Liam Brady era should have been a chance for Celtic to promote itself Down Under and help a fledging side in its preparation for the 1994 world cup qualifiers. But the old Celtic Board just didn't give a dag…
Celtic agreed to a friendly against a touring New Zealand side but the game was shunted to a Tuesday afternoon on 4 February 1992 and the board tried to get it played behind closed doors. But when fans demanded to see it they relented … on the condition it was free entry. There must have been a lot of sick notes flying about that day as the 2pm weekday kick-off failed to deter about 7,300 from attending.
What else could the blazers do to annoy their well-travelled guests? Force them pay for their own transport costs from Glasgow Airport in a classic display of the biscuit tin mentality!
With the Kiwis also losing out on gate receipts they were left massively out of pocket. If the game had been played, as the New Zealand Football Association wanted in the evening with a reduced entry fee, it could have raked in the region of £70,000. With the tradition of friendlies of takings being cut halfway after expenses were paid out, the Kiwis could well have earned £25,000. They got exactly zero. The New Zealand Soccer Express called Celtic skinflints.
"Celtic's bizarre behaviour over the friendly with the All Whites hardly smacked of traditional Scottish hospitality," it complained.
There was a sense of justice having prevailed when the Kiwis beat the weakened Celts by a single goal.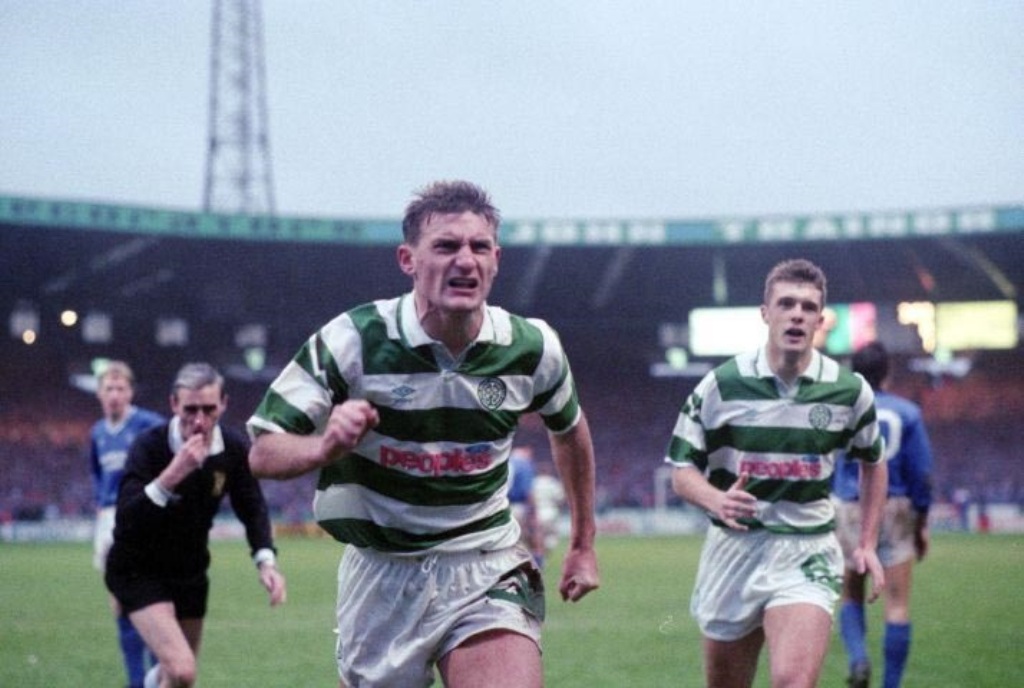 Celtic used the friendly as a chance to bring Tony Mowbray back into the fold after the big Englishman recovered from injury, while Charlie Nicholas was also getting game time following his return from an injury that only he could get. Liam Brady blooded two promising youngsters. Midfielder Mark Donaghy, who ironically had played league football in New Zealand prior to signing professionally for Celtic, had adorned the hoops in friendlies and testimonials. Defender Billy Dolan was a stalwart at reserve level and this was his first – and only – involvement with the first team.
Neither made their mark and Donaghy moved to Morton in March 1993, and Dolan to St Mirren a year later.
Centre-half Barry Smith had made his debut in October 1991 in a humiliating 4-3 defeat to Falkirk to cover for a defensive crisis (yes, they existed even then) and at least made some contribution to the first team, making 20 appearances before moving on in 1995.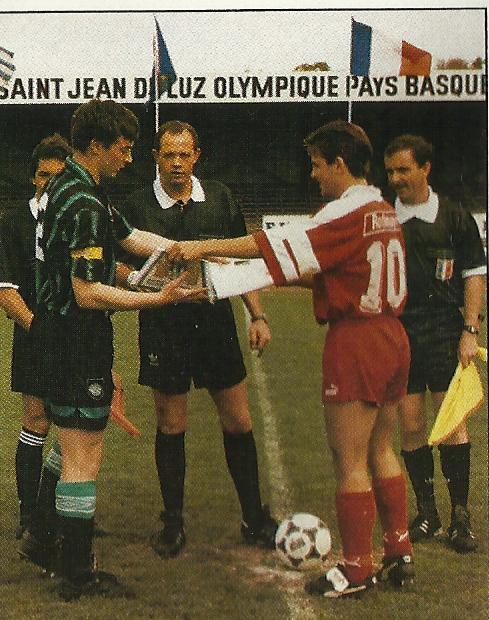 The rest of the team had a familiar look about it – Packy Bonner, Mike Galloway, Peter Grant, Martin Hayes, Tony Cascarino and Stevie Fulton.
They faced a side that included Oceania Footballer of the Century, Wynton Rufer of Werder Bremen, who had played against Scotland in the 1982 World Cup finals, as well as Chris Zoricich of Leyton Orient, Fred de Jong of Fortuna Sittard, and Rotherham's Michael Ridenton. The others toiled away in Australia and New Zealand.
Coach Ian Marshall was a Glaswegian making a rare return to his home city.
Celtic's motivation for the match was beginningless as they allowed the All Whites some early chances with Bonner having to be in top form to prevent Vaughn Coveny from scoring twice. Other than hitting the woodwork Champagne Charlie was largely anonymous and hooked at half time with Gerry Britton coming on.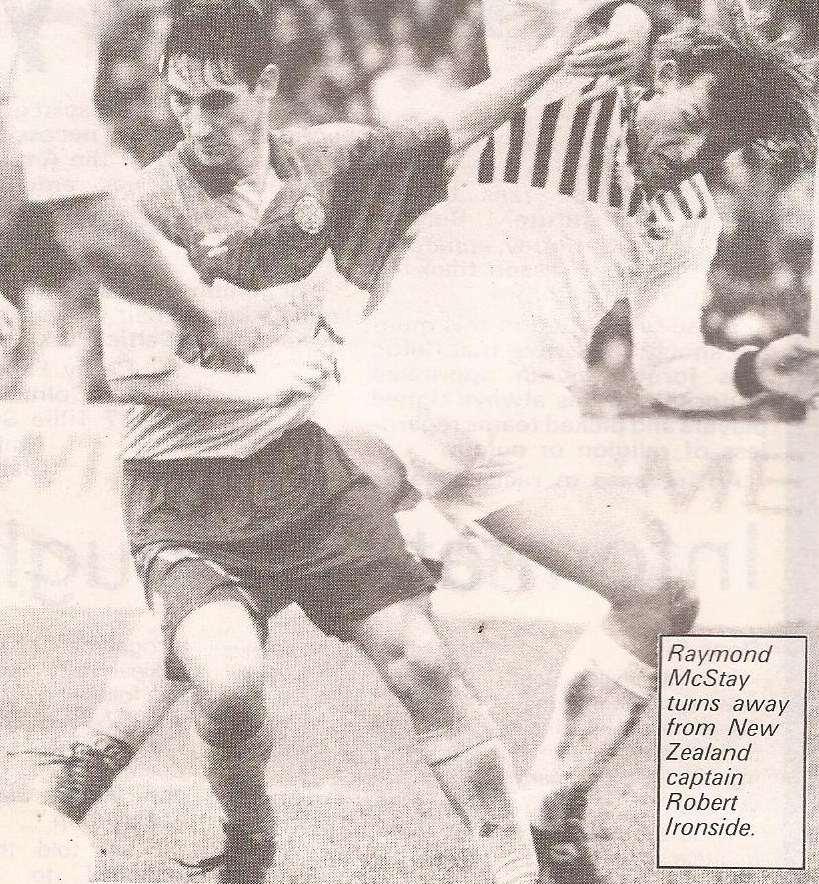 Dolan also came off at the same time and Raymond McStay came on for his only senior action – a sad return for the brother of Paul and Willie. With less than a quarter of an hour of the second half gone, Rufer tore down the left, skipped past a couple of defenders and tested Bonner with a low shot which the Irishman got a hand to. But only as far as Chris Zoricich who volleyed home what would turn out to be the winner.
After that Celtic decided they might as well give it a go, and Pointy did score, only for ref Brian McGinlay to rule it offside. Late on Bonner lost the heid when he ran out of his box and smashed into Coveny. A clear professional foul, but this was a 'friendly' so Bonner stayed on. But only for another five minutes as he trooped off injured after the collision, with young Stewart Kerr coming on.
Celtic forced a couple of late corners but the All Whites held on for a famous victory. The following night they would lose to Southend United.
The only positives for the Hoops was Mowbray lasting the full 90 minutes …. and it would turn out to be Cascarino's last-ever game for the club.
As an aside Celtic were primed to visit New Zealand in 1968. The New Zealand Football Association's fixture fixer, former Glaswegian Charlie Dempsey, was desperate for the European champions to make the wee trek Down Under. Discussions took place in Glasgow and it all depended on Celtic being mince in Europe that season. They completed that part of the bargain by losing to Dynamo Kiev in the first round. But for reasons unknown it never did happen.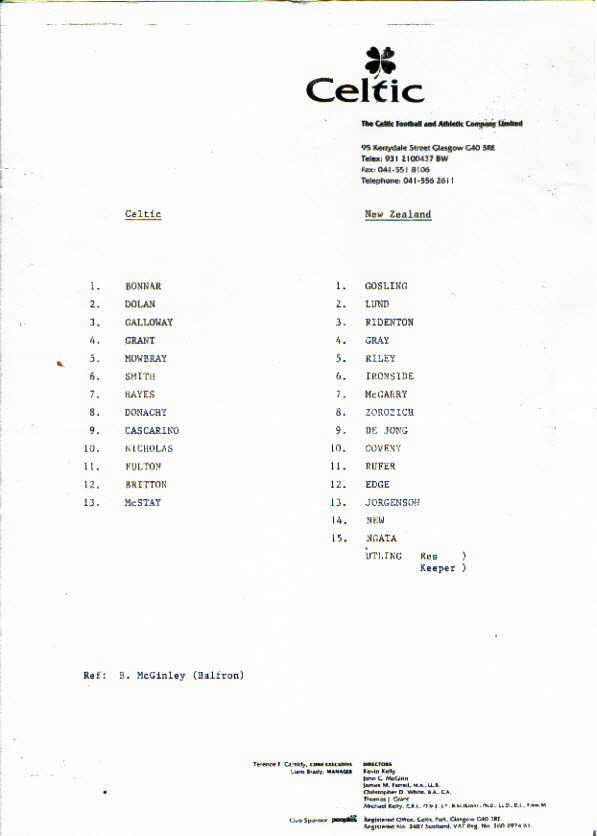 Celtic v New Zealand,  February, attendance 7300

Celtic: Pat Bonner (Stewart Kerr 78′), Billy Dolan (Raymond McStay 46′), Mike Galloway, Peter Grant, Tony Mowbray, Barry Smith, Martin Hayes, Mark Donaghy, Tony Cascarino, Charlie Nicholas [c], (Gerry Britton 46′), Steve Fulton.

New Zealand: Clint Gosling, Robert Ironside [c], Garry Lund, Rodger Gray, Chris Zoricich, Michael McGarry, Chris Riley (Carl Jorgensen 74′), Michael Ridenton, Wynton Rufer, Vaughan Coveny, Fred de Jong.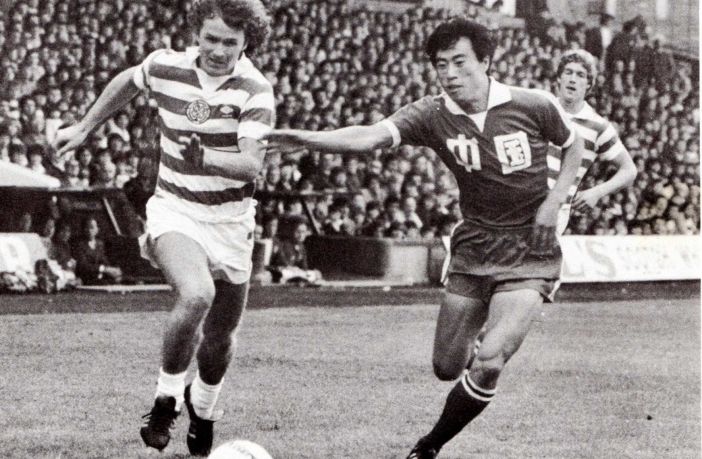 NB: Celtic's previous game against a national side was China on 8 August 1979 at Parkhead. Celtic's scorers were Provan, McCluskey x2, and MacLeod x3. 18,000 watched that game which finished Celtic 6 China 1.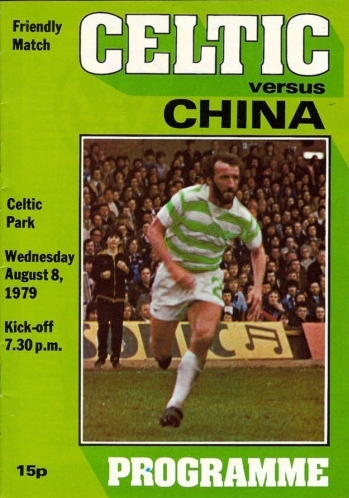 Celtic: Latchford, Sneddon, McGrain, Aitken, MacDonald, MacLeod, Provan, Conroy, McCluskey, Burns, Davidson. Subs: Bonner, Edvaldsson, Doyle, Lennox.  Scorers: Provan (16), McCluskey 2 (21, 82), MacLeod 3 (70, 73, pen 87)

China: Xe Jainping, Wang Feng, Zhi Cailing, Lin Luofeng, Liu Zhirai, Huang Xiandong, Yang Yumin, Zuo Shusheng, Xu Yonglai, Li Fubao, Chen Xirong. Scorer: Xu Yonglai (69)

Referee: B McGinlay (Balfron) Attendance: 18,000
If anyone was at this game against New Zealand or the earlier one against China we'd love to hear from you re your thoughts and memories of the match you attended. Maybe someone was actually at both!   Please comment below or drop us an email.
Craig Stephen