WHEN we came out against Partick Thistle in the draw, quite a few of us would have said "Not again!", but in fact Celtic and Partick Thistle have only met each other eight times (two of them went to replays) in the Scottish Cup, and they have never beaten us in the competition.
While being aware of the undeniable truth that there is a first time for everything, I suspect that very few of us will view this games with any sort of qualms. It is however the first game back after that silly mid-winter break (and there wasn't course, be a winter break for Thistle who play in a League where the administrators have more sense) and anything can happen. Under-estimate them at your peril!
We have of course met them a great deal oftener in the Scottish LEAGUE Cup, including very recently, but our results against them in the Scottish Cup are as follows;
1905 – Celtic 3 Partick Thistle 0
Celtic Park – McMenemy, Orr (penalty), Bennett
1920 – Celtic 2 Partick Thistle 0
Celtic Park – McInally, W McStay
1933 – Celtic 2 Partick Thistle 1
Celtic Park – McGrory, R Thomson
1935 – Celtic 1 Partick Thistle 1
Celtic Park – H O'Donnell
Replay Partick Thistle 1 Celtic 3
Firhill – H O'Donnell 2, McGrory
1960 – Celtic 2 Partick Thistle 0
Celtic Park – Smith, Colrain
1969 – Partick Thistle 3 Celtic 3
Firhill – Hughes, Wallace, Murdoch
Replay Celtic 8 Partick Thistle 1
Celtic Park – Callaghan 2, Hughes, Lennox, Gemmell, Johnstone, McNeill, Wallace
1988 – Partick Thistle 0 Celtic 3
Firhill – Walker, Burns, Stark
2018 – Celtic 3 Partick Thistle 2
Celtic Park – Forrest 3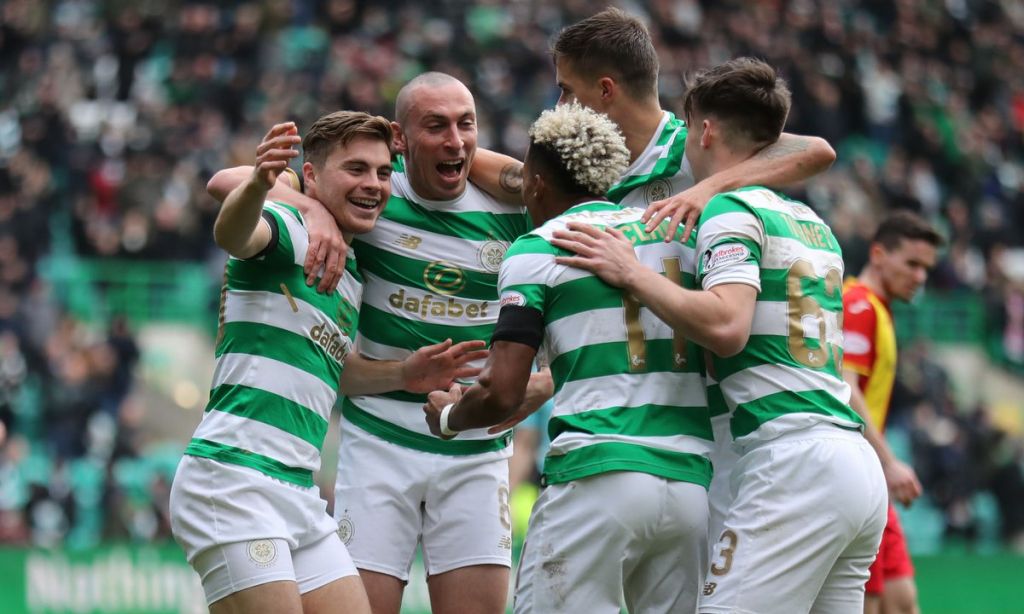 Most of us will recall the 2018 game where Jamesie scored a hat-trick, but then Thistle scored a late second goal and came close enough to forcing a replay.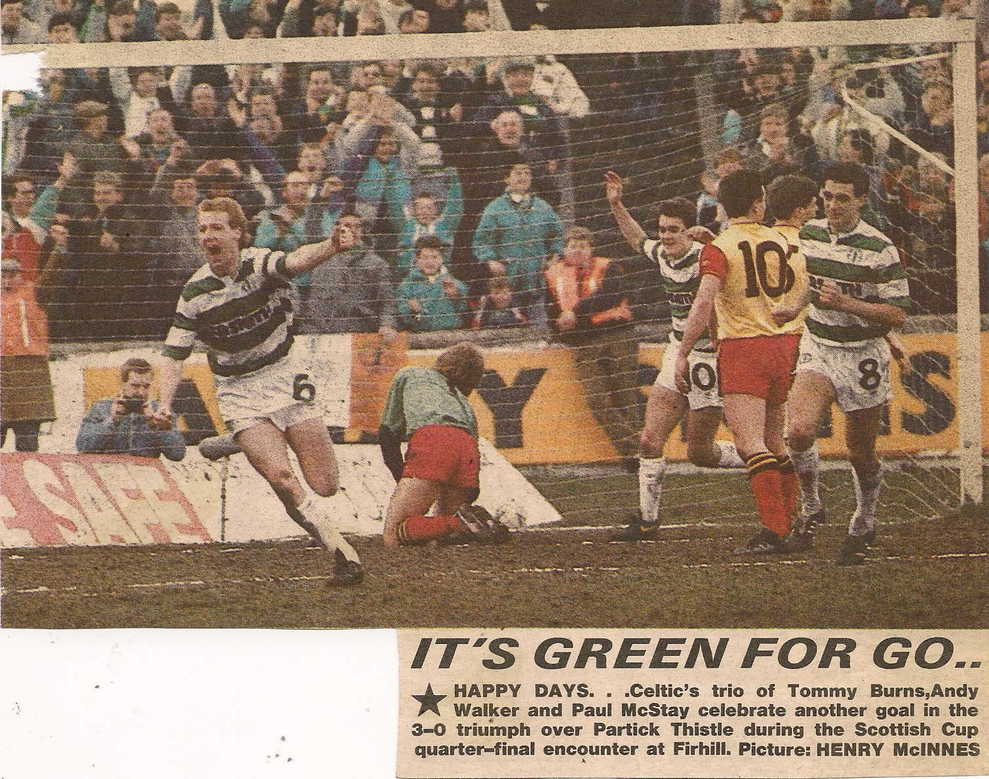 The 1988 game was easy once we got the first goal, although Thistle never gave up, but the best game of the lot was the first game in 1969 when Celtic were 1-0 and then 3-1 ahead but Thistle, with that grand old character Jimmy Bone well to the forefront, fought back.
Celtic had a bad patch in the middle of the 1968/69 season, and this game was a symbol of it, with a certain amount of carelessness and complacency in evidence in the defence.

The replay at Celtic Park on the Wednesday night however was a devastating display of Celtic at their best. Billy McNeill, who had been on the wrong end of Stein's tongue lashing for Saturday, led the way, scored early on, and frankly Thistle were lucky to get off with eight! 1935 was the closest Thistle have come to beating Celtic.
The first half at Parkhead was drab, and so was most of the second half, but then Thistle scored with less than 15 minutes to go, and a crowd of 50,000 now watched in fear of a Cup exit. McGrory was off form today but fortunately Hugh O'Donnell manged to hook one into the roof of the net well within the last five minutes. The replay on the Wednesday afternoon at Firhill saw a better Celtic performance, and they won 3-1.
Partick Thistle are no great Scottish Cup side, but they did have their one moment and it was an occasion that Celtic supporters could be happy about. It was at Celtic Park in April 1921, the opponents were Rangers whom they beat 1-0, and Thistle's star men was no less a person than Jimmy "Napoleon" McMenemy who thus picked up his seventh Scottish Cup medal to add to the six that he had won with Celtic. "Just pit it in the drawer wi' the rest o' them" he said.
David Potter
ALSO ON THE CELTIC STAR…
TGIO – 'Trophies are not won in newspaper offices, nor TV studios,' David Potter…see HERE.
Soro Snags Sorted – Ismaila on his way as Celtic's net spend hits £4million…see HERE.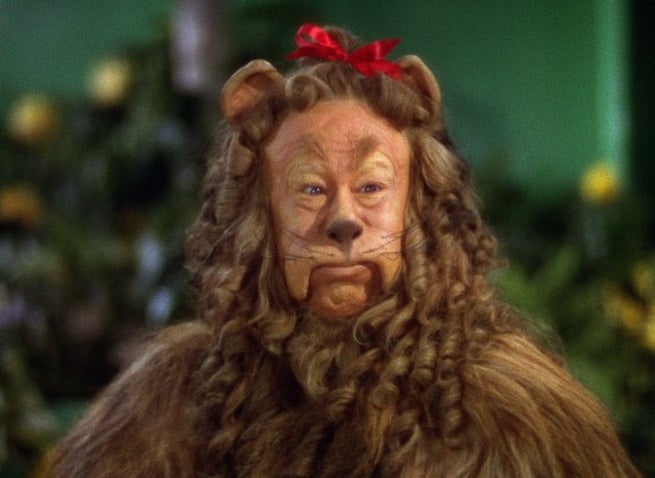 Three Yellows – The SFA are laughing at Celtic's Cowardly Lion…see HERE.
Video – 'Lazio TV commentary from when we beat them in Rome'…see HERE.
Alfredo Morelos' Third Yellowgate – Clarity, Honesty and Courage needed…see HERE.
A third card takes us into Mickey Mouse territory,' Caught Offside Editor…see HERE.
SUPPORT CELTIC, SUPPORT CELTIC POOLS
Help raise money for Celtic Youth Development by joining the £1 weekly lottery and you could win up to £25,000 – just click on the photograph below to join.