CELTIC v RAITH ROVERS IN THE SCOTTISH CUP…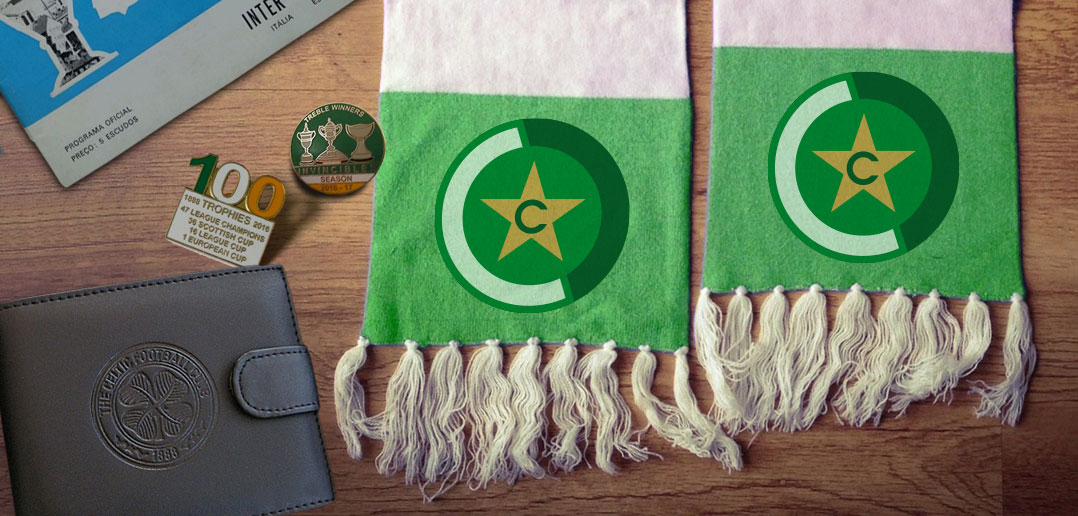 Celtic and Raith Rovers do not meet all that often in the Scottish Cup. There have been eight such occurrences, and Celtic have won them all, three times at Stark's Park, three times at Celtic Park, once at Hampden in a semi-final, and once at Ibrox in a semi-final.
It is if course a different story in the League Cup, but Raith Rovers have never beaten Celtic in the Scottish Cup. It is a tournament that they have never won, their best year being 1913 when they lost to Falkirk in the final at Celtic Park.
Between 1951 and 1963 they reached four semi-finals, but made no further progress. Their record in the Cup is not a happy one and they don't take kindly to being told that East Fife have won the trophy in 1938 and that Dunfermline Athletic have won in twice in 1961 and 1968.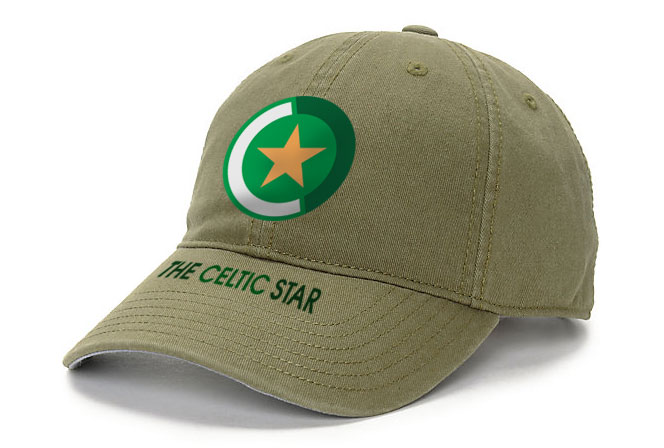 The 1908 Match – 22 February, Stark's Park. Raith Rovers 0 Celtic 3
A day of wind and rain somewhat ruined this game, and certainly reduced the attendance. And this was after Raith had spent money improving their rather primitive ground, and engaging the local Trades Band to play "Songs of Ireland " to make Celtic feel at home.
All this was to impress Celtic and persuade the influential Willie Maley to vote to elect them to the First Division of the Scottish League. It all worked, and they were duly elected in 1910, but today Celtic were always in command with Napoleon showing Kirkcaldy just why he was looked upon as the best player in the world.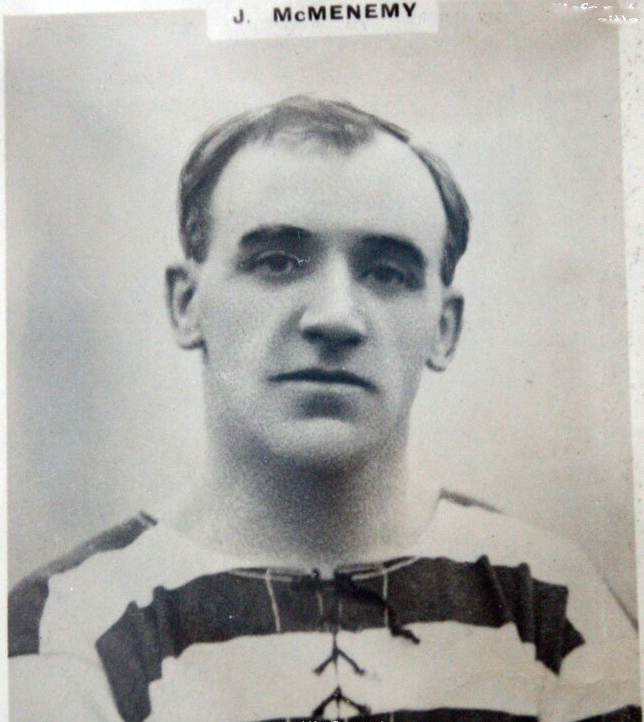 Raith Rovers: Dowie, Inglis and Cumming; Wilkie, Chapman and Mitchell; Bannerman, Gourlay, Axford, Devine and McAinsh

Celtic: Adams, McNair and Weir; Young, Loney and Mitchell; Bennett, McMenemy, Kivlichan, Somers and Hamilton Scorers: Kivlichan 15, McMenemy 40,43

Referee: Mr Ferguson, Falkirk

Attendance: 14,000
The 1951 Match – 31 March, Hampden Semi-Final. Celtic 3 Raith Rovers 2
Most people agree that Raith Rovers were worth a replay in this game. They protested that the winning goal was a foul on the goalkeeper, but the referee would have none of it. Star of the match by some distance was the one and only Charlie Tully. This game is the largest crowd that Raith Rovers have ever played in front of.
Celtic: Hunter; Fallon, Rollo; Evans, Boden, Baillie; J Weir, Collins, McPhail, Peacock, Tully Scorers: J Weir (7), McPhail (40), Tully (81)

Raith Rovers: Johnstone; McLure, McNaught; McLaughlin, Colville, leigh; Maule, Young, Penman, Murray, Brander. Scorers: Boden og (35), Penman (80)

Referee: Mr Mitchell, Falkirk

Attendance: 84,237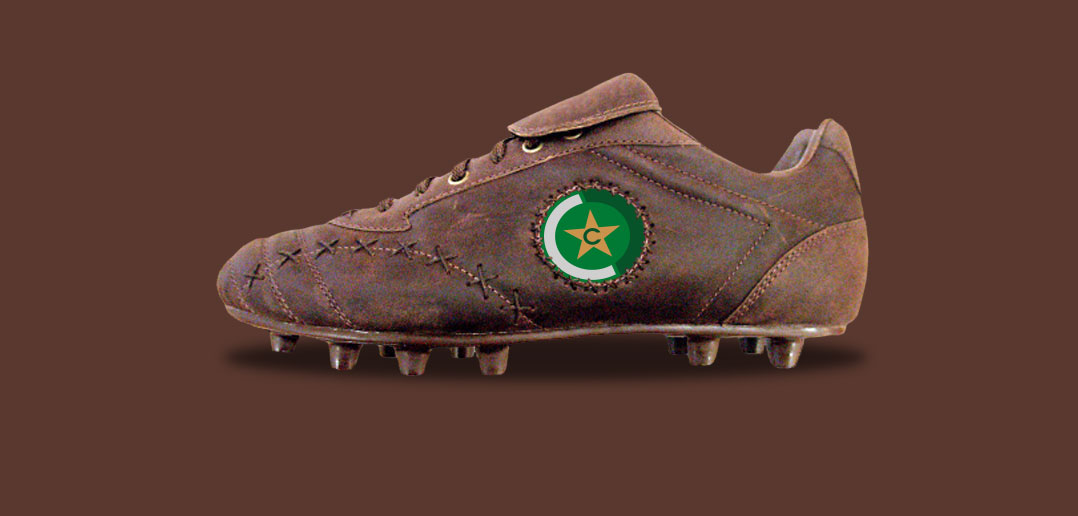 The 1961 Match – 25 February, Stark's Park. Raith Rovers 1 Celtic 4
Willie Wallace scored for Raith Rovers, but Celtic were well on top throughout with Willie Fernie superb, and the impression beginning to grow that this was Celtic's year. Here's how The Celtic Wiki review this match:
Raith had two early escapes and looked to be on the ropes from the kick off. Chalmers got the first goal with a low shot into the corner of the net from a Hughes pass. A mix up between Mcneill and MacKay let Wallace in for Raith and he beat Haffey from 12 yards out. A minute later Leigh contrived to put the ball past his own keeper. fernie made it 3-1 with a great shot from 20 yards. Celtic had further chances but they went in at haldf time with the score 3-1 to Celtic.
Celtic were content to hold their lead in the second half and Raith presented little challenge to Haffey. Just before the final whistle Hughes headed a fourth.
Raith Rovers: Thorburn; McDonald, McNaught; Leigh, Polland, Duffy; Peebles, Esson, Wallace, Malcolm, Matthew. Scorer: Wallace (13)

Celtic: Haffey; MacKay, Kennedy; Crerand, McNeill, Peacock; Gallacher, Fernie, Hughes, Chalmers, Byrne. Scorers: Chalmers (7), Leigh og (14), Fernie (26), Hughes (90)

Referee: Mr A Crossman (Edinburgh)

Attendance: 19,359

The 1963 Match -13 April, Ibrox. Semi-Final Celtic 5 Raith Rovers 2
A cold, windy but dry day at Ibrox after a hard winter. Generally agreed that this was no great game of football with Raith Rovers heading for relegation, and Celtic heading for disgrace in the final.
Rare match day highlights below The Celtic Wiki's report on this semi-final win:
A game said to have been devoid of excitement. This was a far more finely balanced game than the scoreline shows. For 50 minutes the score was even at 1-1. The two penalties from MacKay put the tie however beyond Raith. Divers got an opening goal for Celtic after 10 minutes but six minutes later McDonald levelled it for Raith after a poor clearance from Haffey.
The first penalty came when Divers was knocked down in the box and the second for a hand ball by Bolton. Gilfillan puled one back but goals from Chalmers and Brogan won the game. Celtic should have won this by the end of the first half but again were profligate in front of goal and without any artistry to beat a workmanlike Raith Rovers by the considerable margin of skill there was between the two teams.
Even so the result came out in the end and it was off to hampden to play in the final against the auld foe.

Celtic: Haffey; MacKay, O'Neill; McNamee, McNeill, Price; Chalmers, Murdoch, Divers, Gallacher, Brogan. Scorers: Divers (10), MacKay 2 (pen 51, pen 57), Chalmers (70), Brogan (84)

Raith Rovers: Thorburn; Stevenson, Clinton; Wilson, Bolton, Burrows; Lourie, McDonald, Gilfillan, Smith, Adamson. Scorers: McDonald (16), Gilfillan (64)

Referee: Mr R H Davidson (Airdrie)

Attendance: 35,681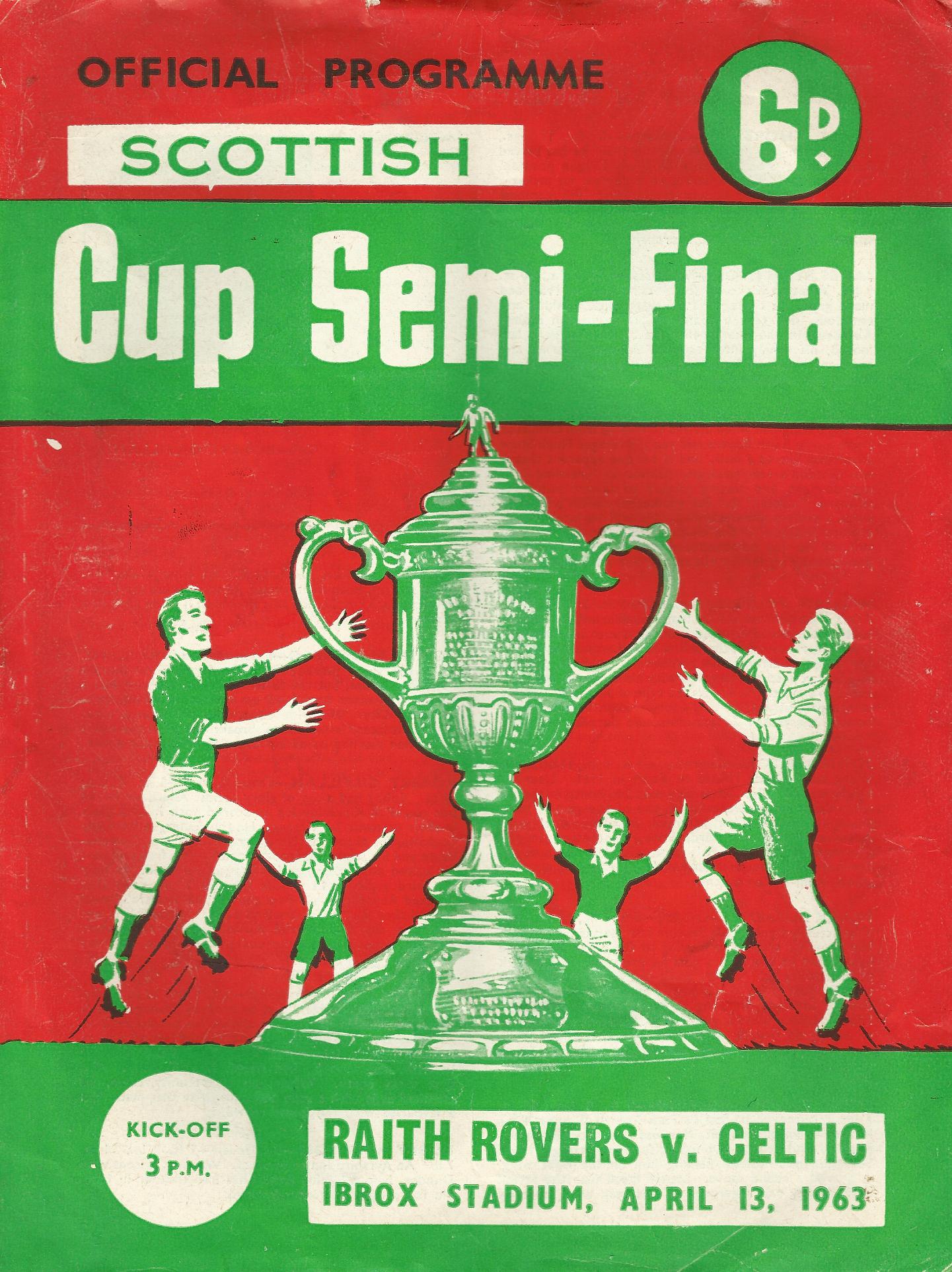 The 1971 Match – 6 March, Celtic Park. Celtic 7 Raith Rovers 1
A game made infamous by the "falling out" of Jock Stein and John Hughes after John discovered he wasn't playing. Things had not been good between them for some time, and they never improved after this! Celtic played in yellow, and the standard of football was superb against a Raith Rovers team now in the Second Division where they would stay for some time.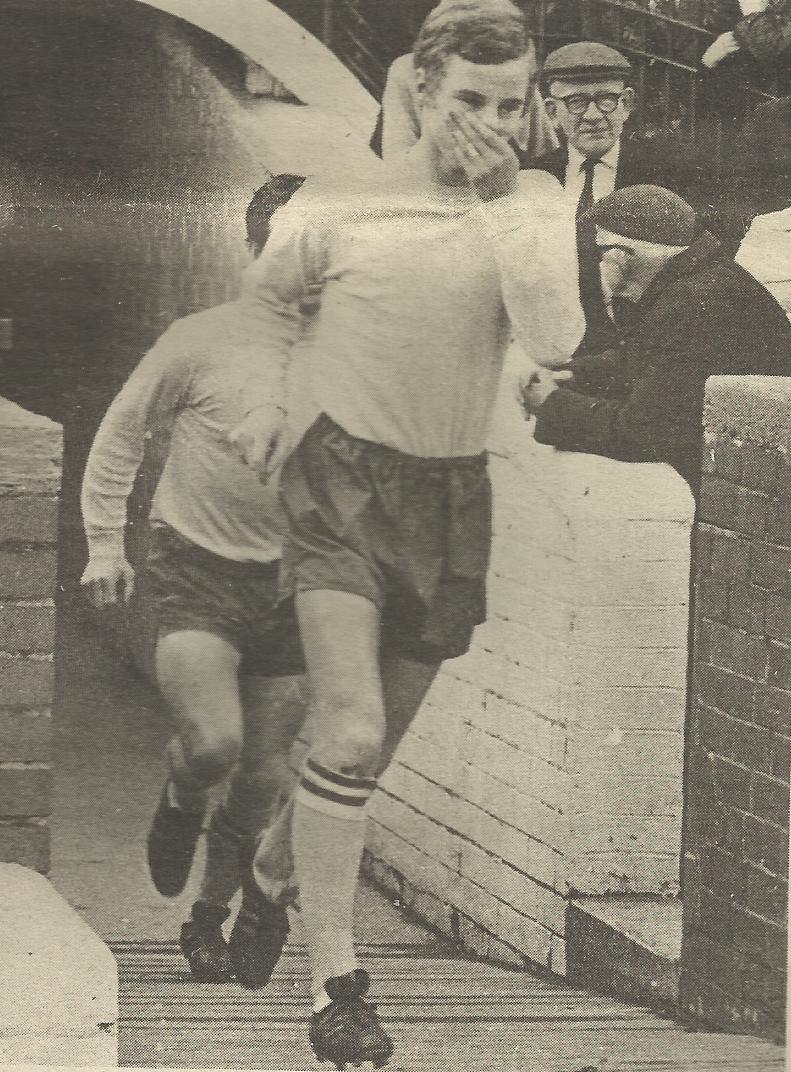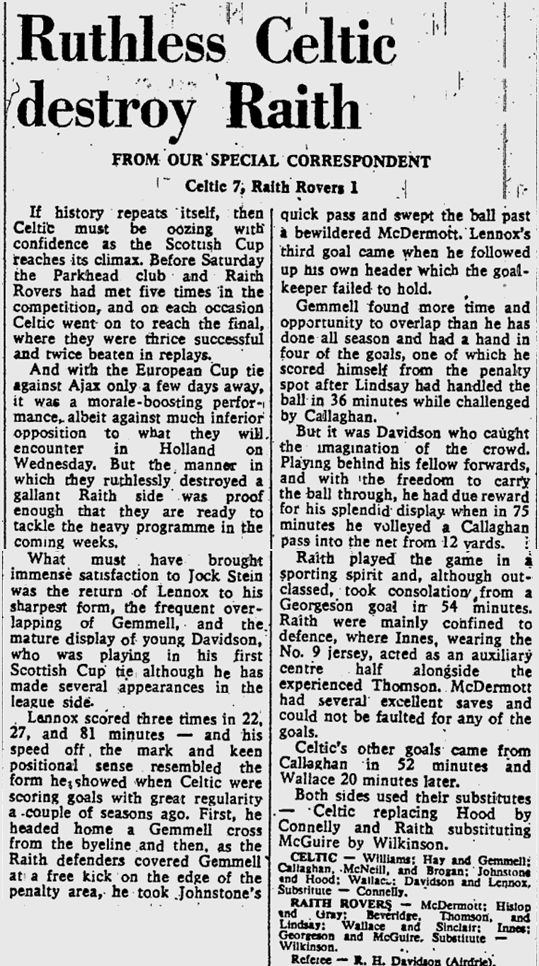 Celtic: Williams, Hay, Gemmell, Callaghan, McNeill, Brogan, Johnstone, Hood (Connelly), Wallace, Davidson, Lennox, Scorers: Lennox 3 (22, 27, 81), Gemmell (36 pen), Callaghan (52), Wallace (72), Davidson (74)

Raith Rovers: McDermott Hislop Gray Beveridge (Wilkinson) Thomson ,Lindsay, Wallace, Sinclair,Innes, Georgeson McGuire. Scorers: Georgeson 64

Referee: Mr R H Davidson (Airdrie)

Attendance: 32,000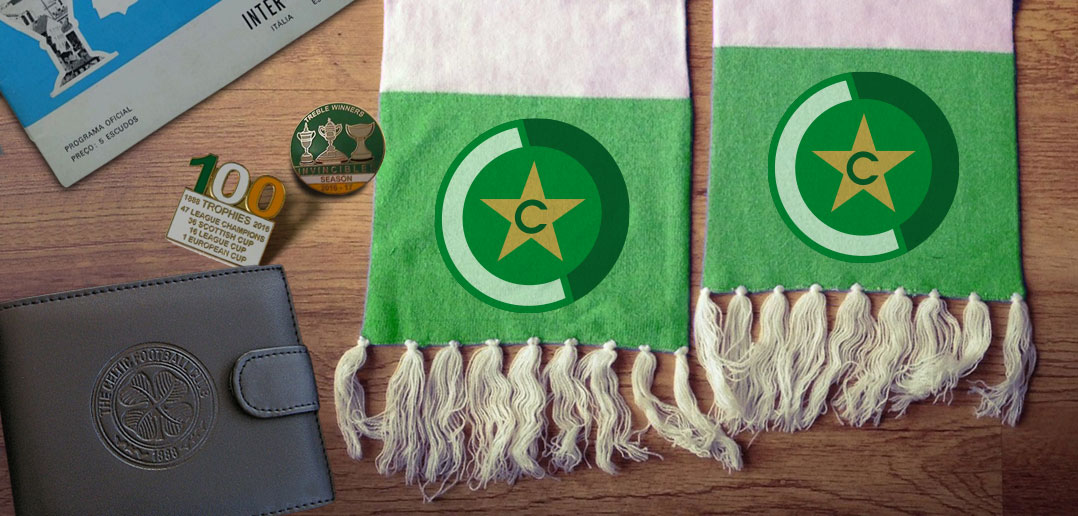 The 1980 Match – 26January Celtic Park. Celtic 2 Raith Rovers 1
A poor game on a dull day. Crowd far from happy at such a dismal performance.
The Celtic Wiki Report:  Sloppy finishing from Celtic marred a game in which they were never really going to get beaten and the result flattered Raith. Celtic scored twice and hit the woodwork four times but with the game at 2-1 Raith Duncan missed a great chance to force a replay when he flunked his shot in front of goal.  It was becoming more and more apparent that the team lacked an out-and-out front man scoring machine.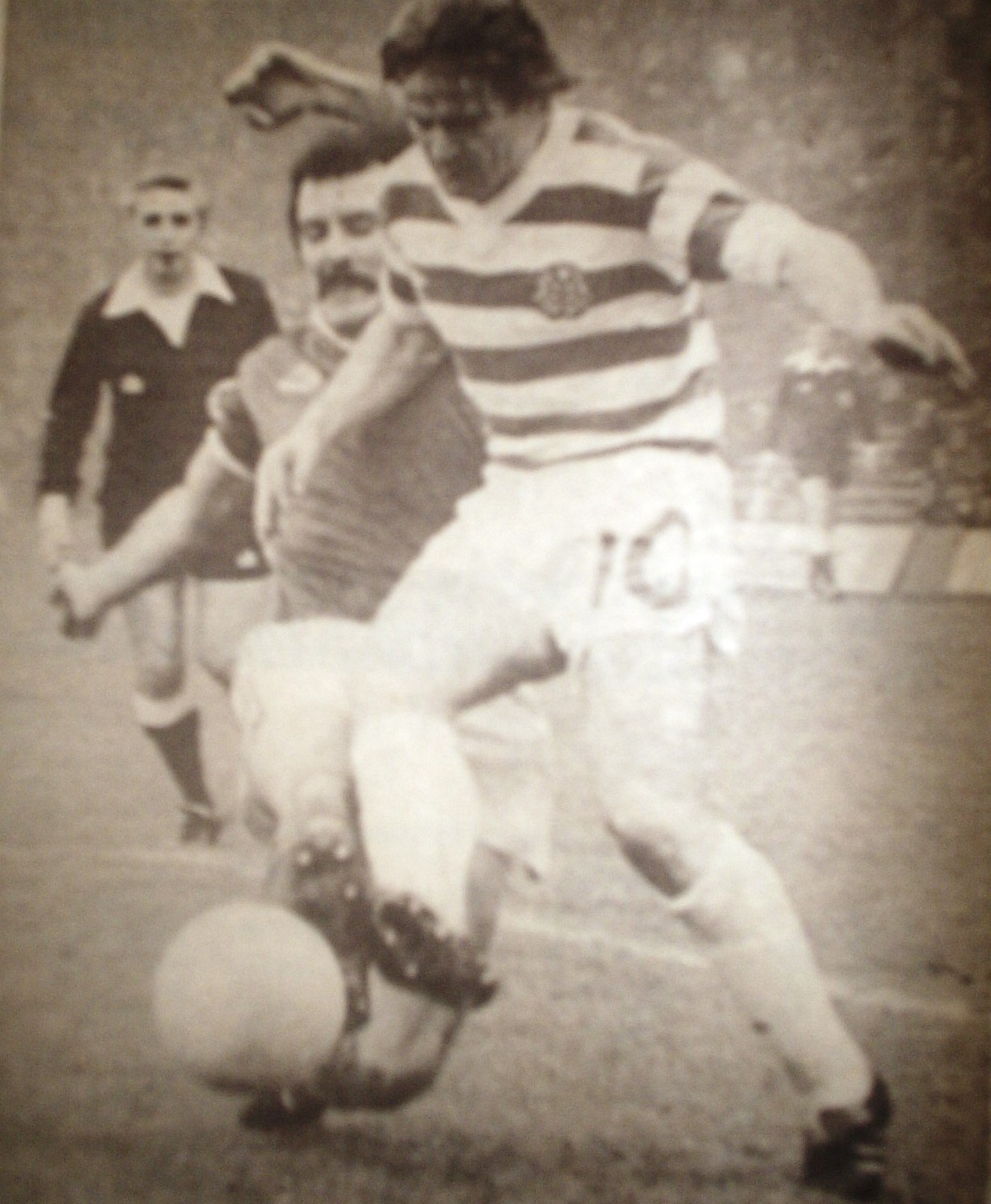 Celtic: Latchford, Sneddon, McGrain, Aitken, MacDonald, McAdam, Provan, Edvaldsson (Conroy), Lennox, MacLeod, Doyle. Goals : Lennox (15), Doyle (34)

Raith Rovers: McDermott, Houston, Candlish, Ford, Forsyth, D. Thomson, McFarlane, Urquhart, Ballantyne, R. Thomson, Miller. Goals: Ballantyne (57)

Referee: Mr D.S. Downie (Edinburgh)

Attendance: 18,000
The 1996 Match – 17 February, Celtic Park. Celtic 2 Raith Rovers 0
A competent performance against a tight Rovers defence with the new stadium slowly beginning to take shape. A bright but cold day…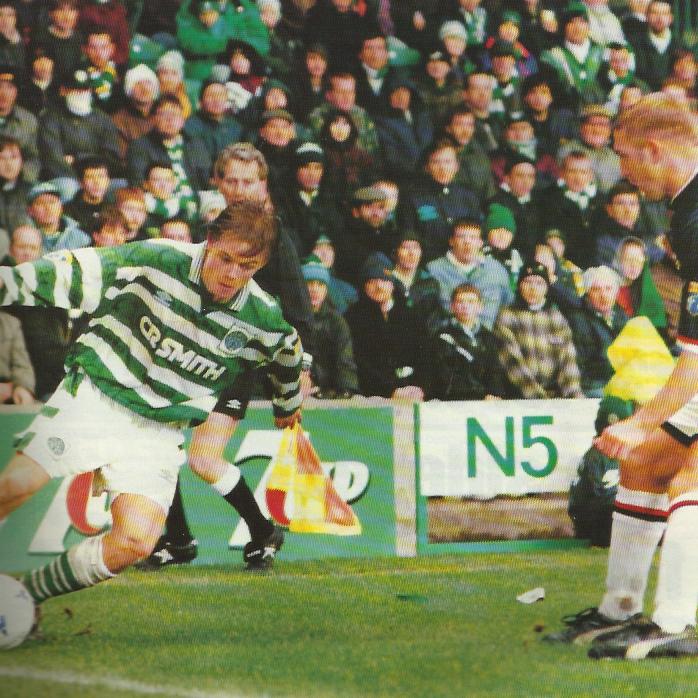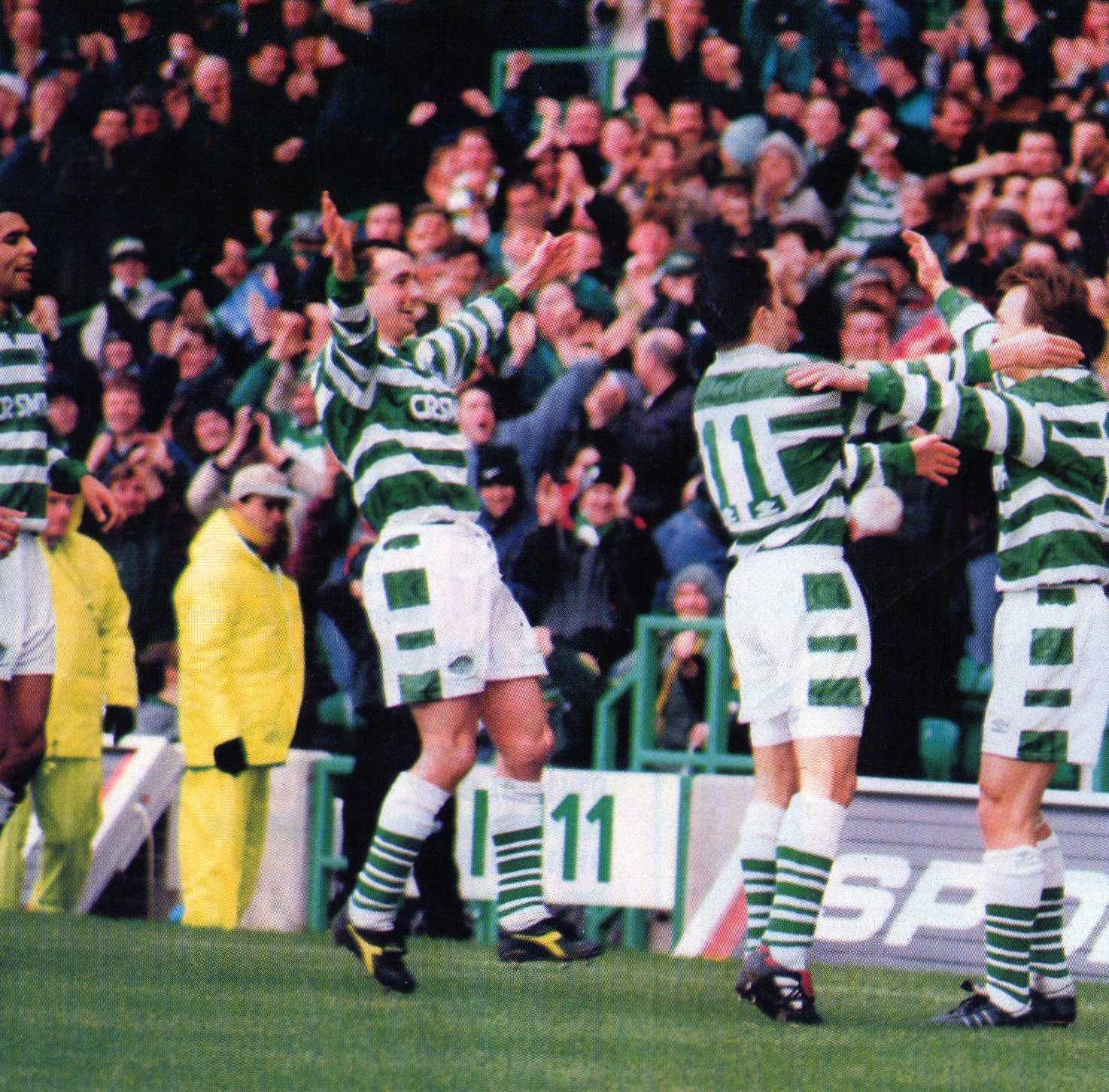 Match Highlights below…
Celtic: Marshall, Boyd, McKinlay, McNamara, O'Neil, Grant, Donnelly (McLaughlin), McStay, Van Hooijdonk, Thom (Hay), Collins. Goals: Donnelly, Thom

Raith Rovers: Geddes, Kirkwood, Broddle, Coyle, Dennis, Sinclair, Rougier, Cameron, Crawford (Graham), Lennon (Dair), McInally

Referee: Mr R Tait, East Kilbride

Attendance: 30,870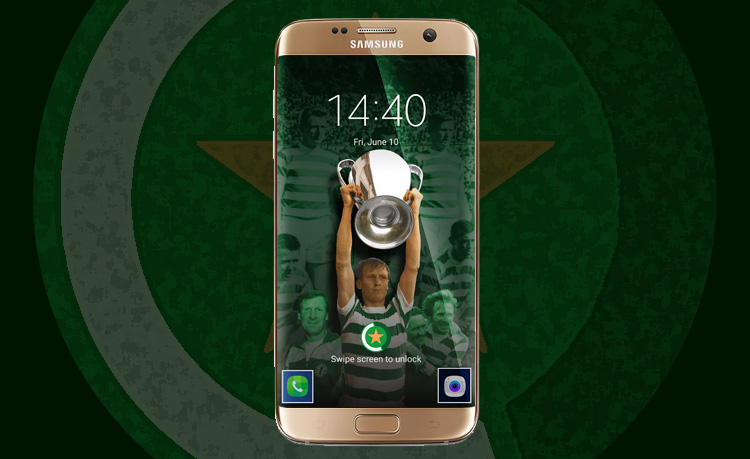 The 2013 Match – 3 February, Stark's Park . Raith Rovers 0 Celtic 3
A hard fought game but Celtic always on top and Raith never looking likely to score.
Raith Rovers: McGurn Thomson, Malowne, Mensing, Ellis, Anderson (Spence), Smith (Anderson) Walker, Hamill (Callachan),Graham, Clarke

Celtic: Zaluska, Matthews, Wilson, Mulgrew, Lustig, Commons (Stokes),Ledley, Kayal (Brown ) Wanyama, Watt (Forrest ),Hooper.  Goals Commons 56′ (pen) Forrest 83′ Mulgrew 86′

Referee Mr S Mclean

Attendance 7,144
David Potter