THE FIRST TIME…
Celtic's first capture of the Scottish League took place in 1893. This was not the season-defining event that it would become in later years, for the Scottish League was a very new concept in 1893. The Scottish League was in only its third year of existence – it had been shared by Dumbarton and Rangers in 1891, and won outright by Dumbarton in 1892 – and it was struggling to gain any sort of prestige, lagging way behind the Scottish Cup which had of course started in 1874, and which Celtic had won so gloriously in 1892.
The idea of teams playing each other for points was a new one. The idea had started in England in 1889 (largely through the influence of some dynamic Scotsmen) and it had been deemed so revolutionary when it came to Scotland that Queen's Park, the oldest and most influential of Scottish clubs stayed well away from it, their lofty disdain of the idea stemming from their not entirely unjustified fear that a "League" was another step along the road to professionalism, something that caused frissons of horror among the Glasgow middle classes.
But it was a losing battle in any case, as far as Queen's Park were concerned. Professionalism was legalised in England in 1885 and widely practised in Scotland (pound notes or coins in the players shoes at the end of the game being the normal method of handing over the money!), and it was no accident that professionalism was officially recognised in Scotland more or less exactly at the time that Celtic won their first Scottish League! That John H McLaughlin of Celtic proposed the motion legalising professionalism, added to the fact that Celtic now had a new massive stadium built to house Scotland v England matches was a clear indication that the days of the amateur Queen's Park running Scottish football were passing.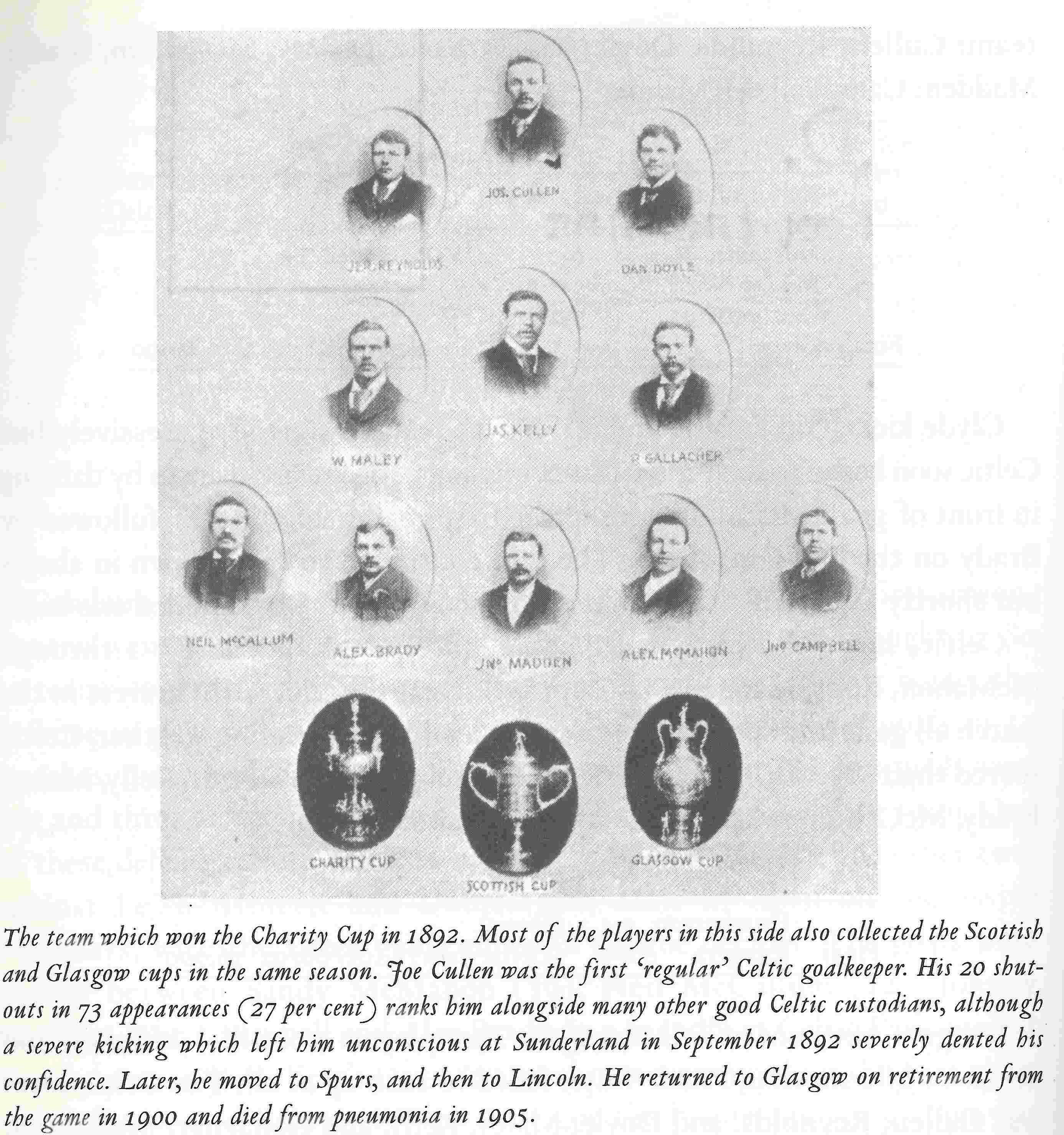 On the field, the Scottish Cup finals of 1892 and 1893 had been contested by Celtic and Queen's Park. Celtic had won in 1892, but had lost narrowly in 1893 on March 11 complaining bitterly about rough tactics from Queen's Park and also a disputed goal which Queen's Park players had convinced the referee, a Mr Harrison from Kilmarnock, was legal, whereas Celtic said the ball had gone past the post. (This was the catalyst for the introduction of goal nets).
So there was no Scottish Cup for Celtic that year, and they had also lost the Glasgow Cup final to Rangers but there was the Scottish League. The Scottish League in 1893 contained only 10 teams – four from Glasgow (Celtic, Rangers, Clyde and Third Lanark), two from Edinburgh (Hearts and Leith Athletic), two from Paisley (St Mirren and Abercorn), Dumbarton and Renton. They played each other home and away but their fixtures tended to come "low down the pecking order" as it were, being played only on Saturdays when there were no Scottish Cup game, Glasgow Cup games or Internationals.
This was Celtic's first season at the new Celtic Park, the envy of all Scotland, so much so that Celtic compelled both Rangers and Queen's Park to try to outdo them in future years. They reached the New Year unbeaten at Celtic Park in the Scottish League, and indeed apart from a bad defeat at Tynecastle on 27 August and a draw at Ibrox in September, the form was really quite good. Hearts, for example, were hammered 5-0 at Celtic Park with Johnny Campbell scoring twice – it was revenge for the Tynecastle reverse – before a crowd of 10,000, a huge crowd for a domestic game at the time.
There were some superb players on show at Celtic Park. There was, for example, left back Dan Doyle a wild character and an unashamed professional (even before it had been legalised) and a marvellous half back line of Maley, Kelly and Dunbar (all three of whom would play their part – in the case of Maley, a massive part – in the future development of the club) before we come to the forwards and recognise the mighty Sandy McMahon, the prince of goal scorers, dribblers and any other football attribute, a man who was well versed in the literature of Burns and Shakespeare in his spare time.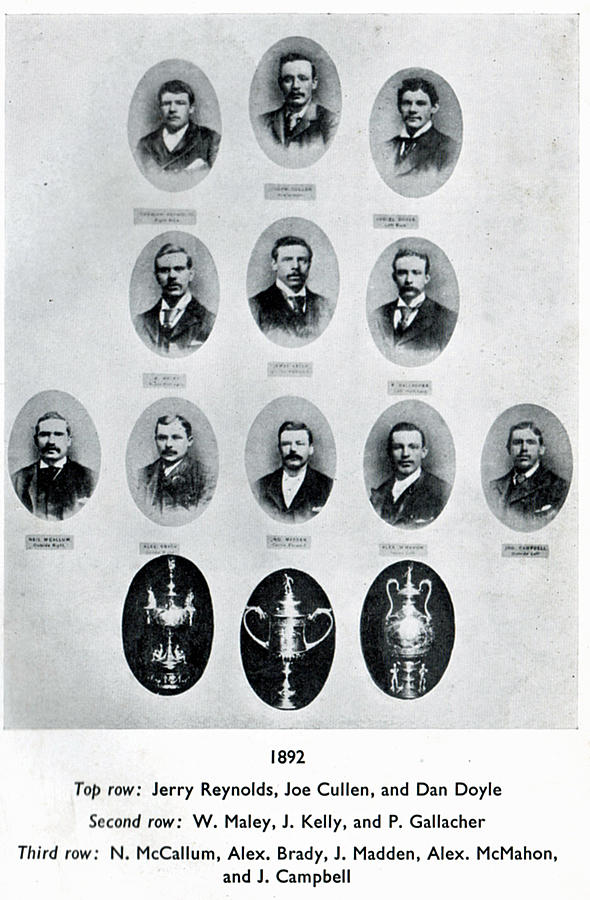 In 1893, Gladstone was Prime Minister, and as long as he was around, there was always some kind of a hope that there might one day be Home Rule for Ireland. The obstacle was of course the House of Lords, and they would block it again as they had done in 1886. It was however a potent issue for Celtic and their followers in the Irish community of the west of Scotland whose numbers seemed to increase every year. Scotland was industrialised and offered jobs. Ireland was agricultural with the constant fear of another famine, so Scotland, even with its obvious problems of poor housing, had attractions for the Irish who continued to flood in. They found their rallying and focal point in their football team.
The League had gone into a sort of hibernation over the winter months with all the Cup commitments, not to mention a few games postponed because of bad weather, but things resumed on 18 March with a 5-1 win over Dumbarton at Celtic Park. There followed away victories over Renton and Third Lanark (McMahon scoring a hat-trick in the 6-0 defeat of the Cathkin side) and then came the decisive victory over Rangers on 29 April.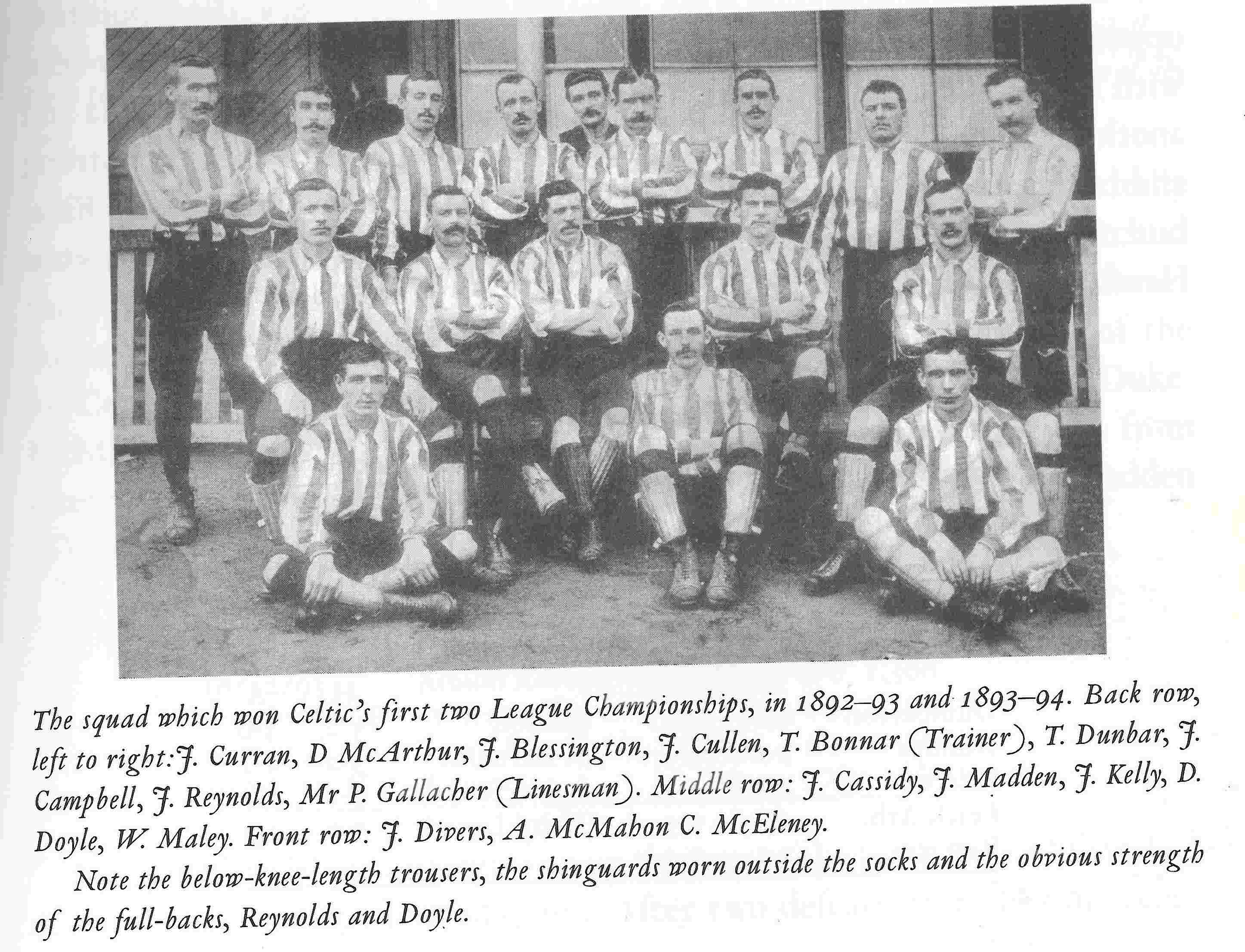 It was a nice, bright but breezy day at Celtic Park with about 14,000 present. Rangers had a big support with them but it is important to realise that the great rivalry had not yet developed. Rangers represented the west of Glasgow and attracted men from the shipyards, but there was as yet nothing sectarian about them. Football was far more important than religion! Yet, even at this early stage we find Celtic frequently referred to in newspapers as "the Irishmen" and it was perhaps only natural that the supporters of the only team big enough to challenge them would begin to look on themselves as "the Scotsmen".
Celtic won the toss and played with the westerly wind behind them. They were two goals up at half time, their goals coming from fierce shots from a distance from James Kelly and Johnny Campbell. Rangers supporters might have expected a revival in the second half when they had the benefit of the wind, but Celtic played the ball around sensibly and scored a third point near the end through Sandy McMahon.
This result left the Rangers "downcast", according to the Press and more or less won the Scottish League for Celtic. They were still however behind for they had 25 points from 14 games whereas Rangers who had played 17 games had 26 points. (18 games to be played and 2 points for a win). But three of Celtic's remaining games were at home against St Mirren, Leith Athletic and Third Lanark, and the other game was at Clyde.
On Tuesday 2 May 1893, Celtic on a heavy ground after much rain beat St Mirren (who would finish third) 4-1 with two goals each for Sandy McMahon and Johnny Campbell. It was on that very night at the meeting of the SFA that professionalism was legalised, and then in far better conditions at Barrowfield Park on Saturday May 6, Celtic beat Clyde 2-1 with another goal from McMahon and one from the fast improving Jimmy Blessington. Clyde had in fact scored first and were 1-0 up at half-time, but the green and white vertical stripes took control in the second half particularly after McMahon's header. Rumours spread that Celtic had in fact won the League because Rangers had lost to Hearts at Ibrox, but such rumours proved unfounded.
Celebrations were only delayed however until Tuesday night at Parkhead, if "celebrations" are the right word. The crowd was poor, given as 5,000 and both The Scotsman and The Glasgow Herald fail to mention that Celtic had now won the Scottish League! However, they certainly had with two goals from Jimmy Davidson (playing against his old club) and one from Johnny Madden beating Leith Athletic 3-1.
Celtic would then go on to add the Glasgow Charity Cup to their collection, and although the disappointment of losing the Scottish Cup would stay around for some considerable time, the Scottish League was some sort of a recompense. It was the first, and the first time is always important.
David Potter