The Celtic Captain has rallied the troops ahead of the start of the incredibly busy run of matches that starts this afternoon with the visit from Aberdeen to Celtic Park and ends with the Glasgow Derby on 2 January against theRangers.
Today is also the first time that the Celtic Fan media will be in attendance at the post match media conference at Celtic Park and The Celtic Star will be there today to ask Ange Postecoglou and the players put forward to speak to the media a few questions. This will now be a regular feature with the Celtic fan media rotating the duties to attend both the pre-match conferences and indeed the post match ones.
Maximum points in these two matches against Aberdeen today theRangers on 2 January plus the games in between will see Celtic in an excellent position going into the Winter Break to really push on and win the title. And a cup final result just before Christmas can add significantly to the festive cheer among the Celtic Family.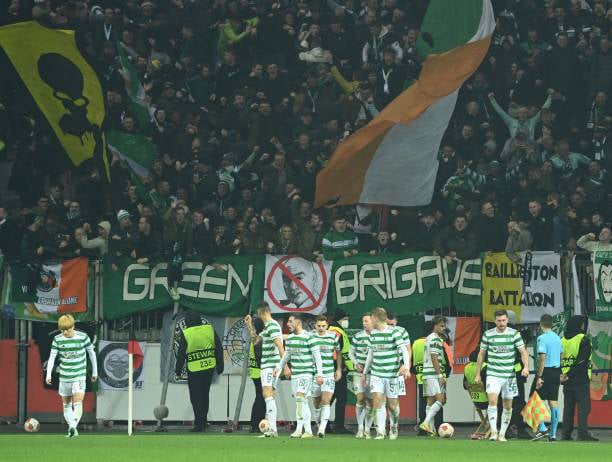 Callum McGregor, speaking to the media, as reported by Scottish Sun, after the frustrating result against Leverkusen on Thursday night, started by heaping praise on the Celtic goalkeeper Joe Hart who made some unbelievable saves against the Bundesliga side and certainly didn't deserve to be on the wrong side of a 3-2 scoreline. McGregor has been mightily impressed by the the former England No.1 since his arrival in the summer. Clearly £1m well spent by Ange Postecoglou.
"Joe is massive for us and again he made two huge saves in the Leverkusen game. Celtic has a history of having brilliant keepers. It is something which is pretty synonymous with the club," McGregor said. Obviously he's not been watching Celtic goalkeeping performances as long as some of us!
"If we mention Fraser Forster, I would say Joe is of a similar stature. He is a really experienced player, so we didn't really worry about him in terms of settling into the team. Joe is a good age and a good personality, as well. It is great to see him doing so well here," Calmac added.
"I am sure he will always be pushing to get better, but that is one for all the players. You are always pushing to improve and I am sure Joe will be exactly the same."
The defeat in Leverkusen means that Celtic will play in the Conference League and while Ange Postecoglou has ambitions to compete with the very best in European football that he accepts is going to take time. In the meantime though Celtic have a realistic opportunity to reach the Conference Final which is being held in Tirana, Albania – so hosted by Mr President – on that very special date in the Celtic calendar, 25 May.
"The Conference League will be another big challenge when it comes around and we have a big cup final to look forward to. That will be another exciting challenge for the players and for the manager as well. Everyone is looking forward to it,' McGregor said but made sure to note that this is a one-off situation and that Celtic's European ambitions lie elsewhere. "But we are at Celtic and you want to be playing in the big games."
The run of games starting today will go a  long way to determining whether Celtic will reclaim the two of the three trophies lost last season after four magnificent seasons when all three ended up in  Paradise.
"Of course this is a really important period. You get into the end of November, December and there are so many games. You're getting them coming at you every three or four days," McGregor said. "This is always a part of the season we look at and say if we can go really strong between now and the break, then hopefully we will be in a good position come the turn of the year.
"So we try to build momentum, both in terms of our performances in games and results. It is just because there are so many fixtures coming at us through that December period. You are in a cycle of play, recovery for the next game and then play again. If you can get into that pattern and the team are feeling good, and you are getting results, then it can quite quickly snowball into a real bit of good momentum.
"That is something we have always tried to do and I am pretty sure we will be trying to do again this time around."
While Celtic face Aberdeen, theRangers are at Livingston although they seem to be able to get results there while Celtic struggle on that plastic pitch. The wintery conditions today might make that trickier than usual for them but the focus among the Celtic players, according to the skipper, will be 100% on the action at Paradise.
"We just have to look at what we are doing — our games, our performances and our results. We are a relatively new team, with a lot of new players and a lot of young players. So we have to try to focus on what we are doing and trying to improve every time we are on the training pitch. Do that well and then when the games come around we will try to make sure we take maximum points.
"There are a lot of big games coming up and we just want to maximise the number of wins so we can get as many points as possible."