Celtic head into tonight's SWPL1 clash with Hibernian brimming with Confidence. Sunday's last-minute penalty that secured a Derby day victory over theRangers – despite the best efforts of the match officials – was a third straight win for Celtic as well as their third consecutive clean sheet. Not bad for a team that pride themselves more on their possession-based attacking approach to the game.
This will be Celtic's fourth away tie of the season and to be sitting second in the league at this stage, considering all bar their 1-0 win against Spartans have taken place on the road, is highly impressive. Probably all the more so when you consider an opening day defeat to Glasgow City could have knocked the wind from their sails.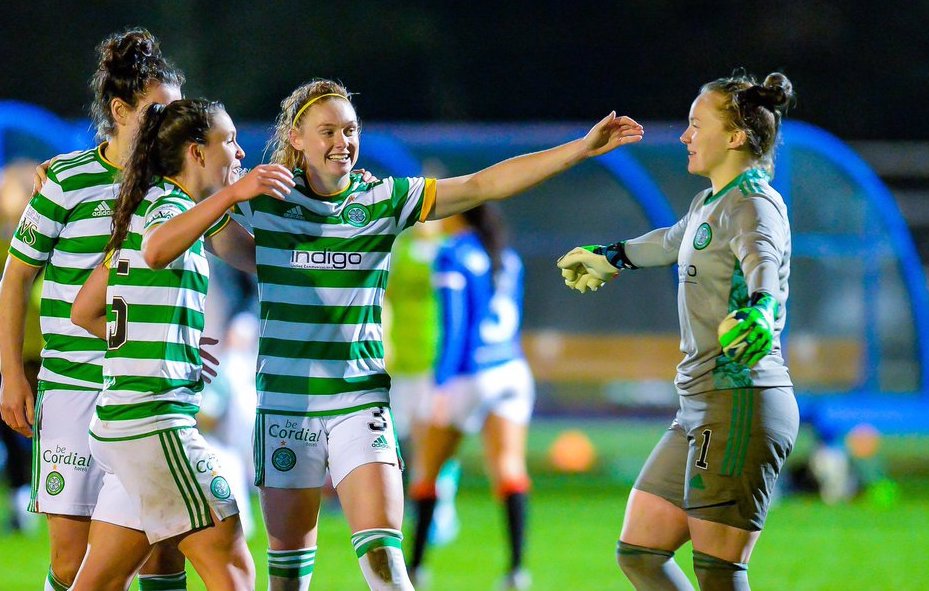 By SWPL1 standards tonight's game live on BBC Alba is a quick turnaround for the players, but Head Coach Fran Alonso appears confident he has the matter in hand.
Speaking to Celtic FC.net Fran was sounding as meticulous as he has been all season when it comes to planning for this game. Although clearly happy with the Derby victory he's also keen to put theRangers result down to just another match and push the team's focus onto the job in hand ahead of tonight's game.


"It changes things slightly – we go straight into matchday -3, instead of matchday +2 or +3, but it's great to have a game on a Friday, live on TV and we're very excited about that. We are in a very good state physically and in terms of morale because of the good result at the weekend.

"We're playing a very tough opposition but we are going into it very excited. It's a game we can't wait to play."

"It was an even game even though we had more chances and I think we were more clinical in both areas, but it could have gone either way because they are a top side.

"When we play a top four side, it is the little details that will decide the balance for one team or the other. For me, it isn't really a statement – before lockdown when we beat City, we knew we were the better team on the day and we just beat (the)Rangers, but that doesn't mean we are the better team, it just means we were on the day. We have to keep focussed to make sure we are better than them on the day again when we next play them."
Alonso is of course right to consign theRangers results to the memory banks and focus on a very good Hibs side, and one who despite their recent results have shown they are a match for any team in the league.
In their last two matches the Edinburgh side have lost narrowly to theRangers 1-0 and put up a very impressive showing going down by the odd goal in five to Glasgow City. Tonight's game is not one to risk taking the foot off the pedal.
"You could say their self-esteem may not be that high as they are coming off the back of back-to-back defeats which is not normal for a team like Hibs, but on the other hand I'm struggling to think if they have ever lost three games in a row, so they will want to put things right as soon as possible.

"They are at home and are a very good team so obviously we will try to make it difficult, but we know if we aren't fully focused and don't play at our best, it will be very difficult to take something from the game because they are a very good side.

"But our job is to make sure we take something from it and concentrate for 90 minutes and work hard."

You can watch Celtic in action against Hibs tonight at Ainslie Park and the match is live on BBC Alba. It's a 7.35 Kick Off for a game the Celts will be hoping they can build on last Sunday's brilliant Derby win and cement their place as genuine title challengers this season.

Niall J