Neither Celtic nor Hearts played on Saturday  10 April 1954, but Rangers did in the Scottish Cup semi-final and managed to lose 0-6 to Aberdeen, in what seemed like a protest by the players at the aged and increasingly tyrannical Bill Struth.
However much Celtic fans may have enjoyed that, they themselves had not won anything yet, and on Wednesday 14 April Celtic went to the extremely dangerous ground of Brockville, Falkirk.
This was an assured Celtic performance, and they won 3-0 to put themselves within touching distance of the flag.  A crowd of 22,000 saw a goal from Fallon, and then two from Neil Mochan as the half back line of Evans, Stein and Peacock kept a stranglehold on the game to the delight of the Celtic fans.
Brockville in the 1950s was almost a byword for poor Celtic performances, overcrowding and bad behaviour, but this was one of the happier occasions. Celtic now only had to win at either Easter Road on the Saturday or Hamilton at home to assure themselves of the Championship.
Easter Road was heaving with well over 45,000 inside as Neil Mochan scored in 90 seconds to set Celtic on their way. To their credit a depleted Hibs side without Gordon Smith and Laurie Reilly fought back, but although they enjoyed a fair amount of territorial possession, Celtic remained in control, Neil Mochan scored again and then with only minutes remaining, Johnny Higgins headed home a Willie Fernie cross to guarantee the flag as Celtic won 3-0.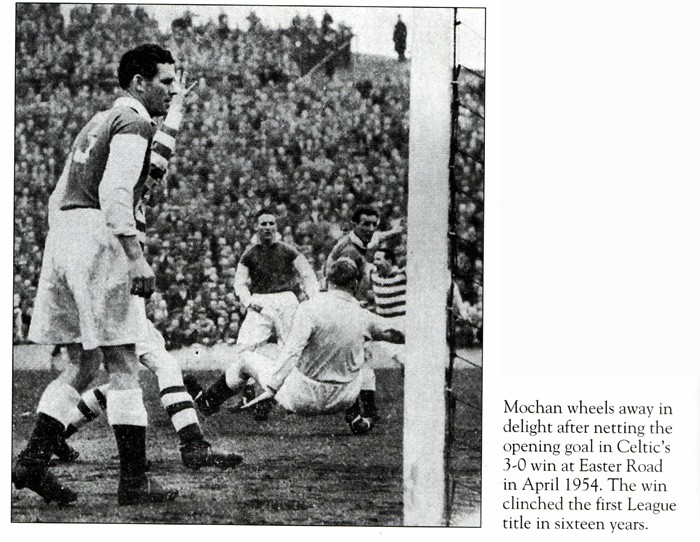 Edinburgh belonged to Celtic that night, as they celebrated long and hard. The following week they won the Scottish Cup as well, beating Aberdeen 2-1.
1954 was a great year for Celtic and their long suffering supporters.
David Potter
Extract from Celtic How the League was Won 49 Times by David Potter. More will follow this evening on The Celtic Star…