The vital game was at Morton on 30 April 1966 only a few days after the depressing Scottish Cup final defeat.
Celtic found themselves up against a team battling relegation and containing old Celtic warhorse Jim Kennedy in their ranks. In the first half, Morton missed a penalty kick which would have made all the difference, but then the "likely lads" of Jimmy Johnstone and Bobby Lennox scored to allow Celtic to edge home and relegate Morton.
Rangers meanwhile kept the Championship alive by beating Dunfermline at East End Park.
Effectively it was Wednesday 4 May which decided matters. It was tense at Celtic Park. While Rangers were beating Clyde comprehensively 4-0, Alex Ferguson scored for Dunfermline with a curious half-hit trundler, and that was how it stood at half time. But once again the "likely lads" turned up trumps to win the game 2-1.
All this meant that Celtic were more or less there – as long as they didn't lose 4-1 to Motherwell at Fir Park on Saturday.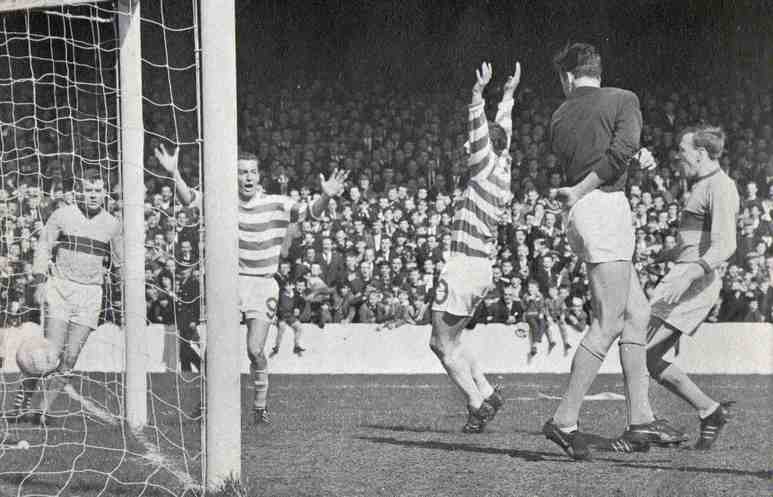 Jock Stein refused to celebrate, although The Evening Times reported that "there wasn't a dry eye in the house".
The sun shone both literally and metaphorically at Fir Park on Saturday 7 May. Rangers had conceded and congratulated on the Thursday morning, for Celtic were not really likely to concede four goals to a Motherwell team which had given up for the season.
In the event it was really rather a dull game enlivened only by Bobby Lennox scoring in the last minute. After 12 long years, Celtic were once again the champions of Scotland.
David Potter
Extract from Celtic How the League was Won 49 Times by David Potter. More Celtic Title joy tomorrow…