CELTIC have now won the Scottish League – fair and square – on 50 occasions, beginning in 1893. We have won 9-in-a-row, 6-in-a-row and in May this year achieved for the second time 8-in-a-row and who is to say where this run will end? The Celtic support certainly have our focus on achieving 10-in-row!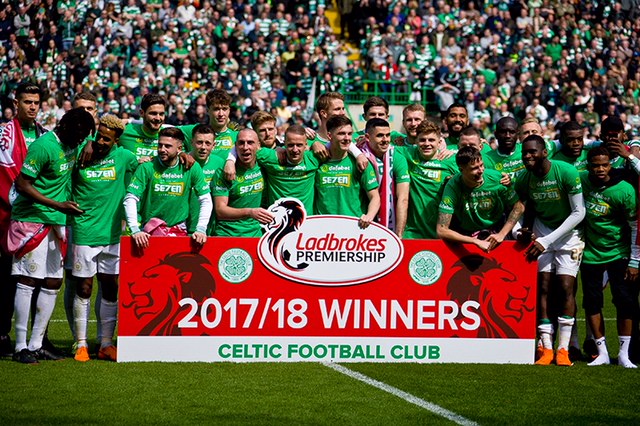 David Potter, the Celtic historian and author and valuable contributor to The Celtic Star, in anticipation of Celtic hitting the Big 5-0 in league flags, last year wrote a book about the first 49 titles wins. The book – 'Celtic – How the League was Won 49 Times' – is packed with stories about Celtic greats from Dan Doyle to Sandy McMahon, Jimmy McMenemy, Jimmy Quinn, Patsy Gallacher, Jimmy McGrory, Billy McNeill, Jimmy Johnstone, Roy Aitken, Henrik Larsson, Shunsuke Nakamura and right up to Broony.
The circumstances in which the League was won were sometimes quite remarkable – Celtic have won it with ten men in the final game, they once played TWO games in the same day to win the League and the club even played 8 games in 12 days to win it.
We very occasionally got a little help from our friends in the shape of guys  like Barney Battles and Albert Kidd. We did a quick interview with David just before the book was published and we thought we'd have a look back at this today as we prefer for Trophy Day Number 50 on Sunday.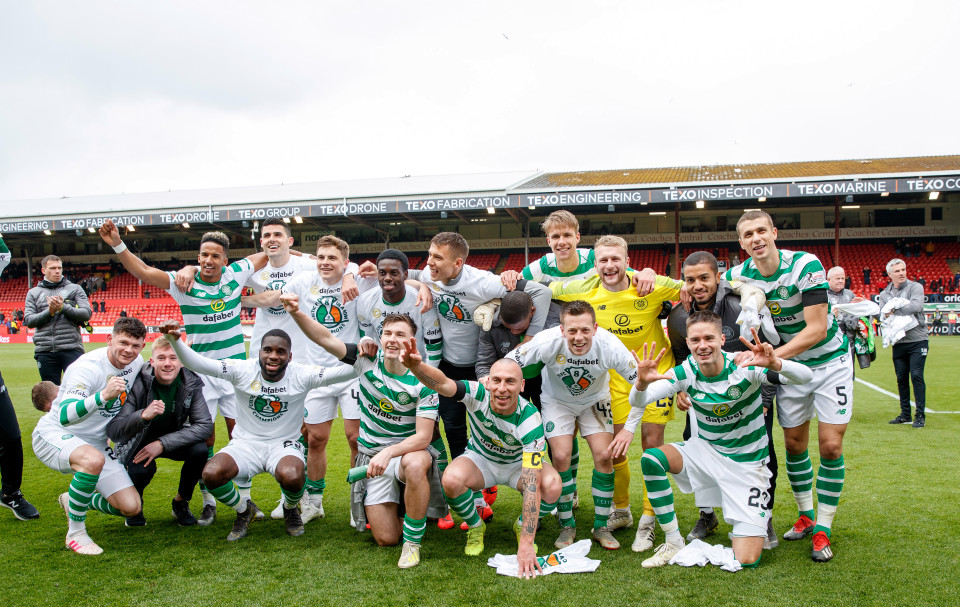 David, why 49? Why not wait for 50?
Well. I hope I am wrong about this, but there is no guarantee that 50 will be achieved next year or indeed for a few years yet! The important thing is to retain our "appetite" for "10 in a row" or even further. The biggest enemy is complacency, as perhaps we have already discovered this season.
 How many of these 49 have you yourself seen?
I vaguely remember 1954, but when you are five year old "Celtic have won the League" doesn't necessarily mean very much! I have vivid recollections of them all from 1966 onwards.
Which one is your favourite title win?
1968, actually. And this is mainly because everyone said "We can't do it" because after New Year we had played all our games against Rangers, and were behind them. But we kept winning, and Rangers cracked under the psychological pressure of us doing so well. The power of propaganda is tremendous and we must always be aware of this happening in reverse to us. I suspect there was an element of this in 2009 and 2011. Another great favourite is Albert Kidd in 1986, again because we didn't seem to have an earthly!
Was there anything that surprised you in your researches?
Several things actually – how little regarded the Scottish League was in the early days – far below the Scottish Cup and even the Glasgow Cup in importance! And how badly teams other than Celtic and Rangers do in the Scottish League e.g. Aberdeen, Hearts and Hibs have each won it 4 times each, which is not really very often since 1890! And another thing was just how badly Celtic did in some years – the immediate post-Second World War years, for example, and the inability to put up a meaningful challenge in the early 1990s when our club was in the hands of feckless nobodies. (This must not be allowed to happen again!)
 What are the most remarkable winnings of the League by Celtic?
Two stand out. In 1909 Celtic had to play 8 games in 12 days to win the League, and in 1916 (because of war-time circumstances) we had to play two games on the one day to win the League! Can't imagine that happening today! There was also, of course, the tragic/comic circumstances of 1959 when Celtic actually won the League – for Rangers! On the last day Rangers were booed off the field for throwing away the League and losing to Aberdeen at Ibrox, while at Celtic Park, Celtic beat Hearts thereby giving the League back to Rangers! No-one knew whether to laugh or cry!
You have now done books on all three domestic trophies, but you are a bit shy of doing anything on Europe. Why?
Isn't the answer obvious? Apart from 1967 and a few years after that, and a few years in the early part of the 21st century, our record is a disgrace and really should be condemned to oblivion (give or take the odd isolated success) for a club with our support. A major tactical error was made in 1977 with the selling of Kenny Dalglish, and this effectively crippled us in Europe until Martin O'Neill led us to a partial recovery.
Now for some highlights…
"There in the midst o' a' his glory, goal a minute, James McGrory"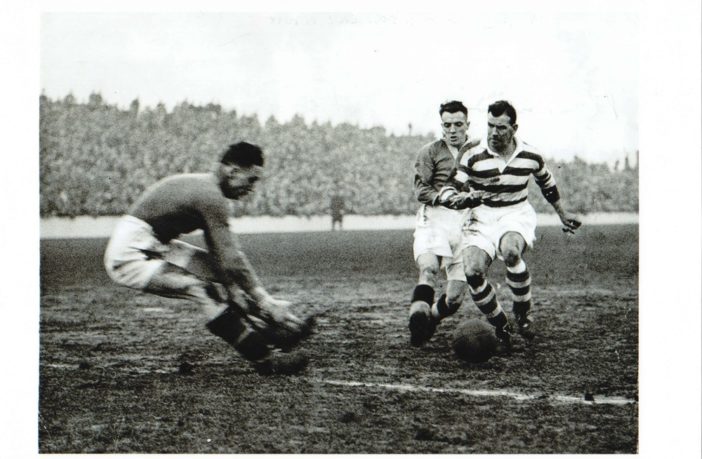 It's the climax to the 1935-36 season and David Potter picks up the story as Celtic strive for their first title win since 1926…
Celtic did indeed win all their remaining games, some of them with a bit of bother – narrow 3-2 wins at Queen's Park and Airdrie for example – but others gloriously, none more so than on 14 March when in a game against Motherwell at Parkhead, McGrory scored a hat-trick in less than three minutes!
"Wait a bit, don't be so fast
We've left the star turn to the last
There in the midst o' a' his glory
Goal a minute, James McGrory"
A week after that, Celtic got over a difficult hurdle at Dens Park, with Delaney and McGrory taking full advantage of two defensive errors, then Hibs were dispatched 4-1 with McGrory scoring again (incredibly, he was not chosen to play for Scotland against England at Wembley!) and then came the holiday weekend in which Celtic won both their games.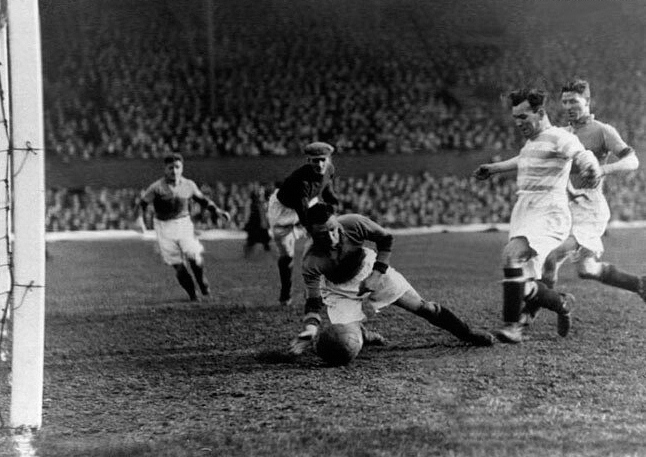 The first one was away at Arbroath and was characterised by a diving header by McGrory amidst a ruck of legs to bullet home, and then at Celtic Park on the Monday, Celtic beat Clyde 2-1 not altogether convincingly, it has to be said, but goals by Frank Murphy and (inevitably) Jimmy McGrory saw them through.
James Edward McGrory
The League was effectively won on the Saturday when Ayr United were beaten 6-0 at Celtic Park. Jimmy McGrory scored a hat trick.
"Tell me the old, old story
A hat-trick for McGrory!"
And even missed a penalty kick! Willie Lyon, Frank Murphy and Willie Buchan scored the others and this result meant that Celtic needed to lose their last game and Rangers to win their remaining three games by astronomical scores for the Championship to be lost.
In the event, Rangers (who had won the Scottish Cup on the same day that Celtic beat Ayr United 6-0) drew in midweek, and by the time that Celtic went to Firhill on 25 April, they were the champions of Scotland for the first time since 1926.
It had been a hard fought championship much cherished and celebrated by the faithful who now began to see the sunny uplands of hope after a decade of dreadful under-achievement.
Maley revelled in the glory once more while the more modest architects of the League winning – the three Jimmies, McMenemy, McGrory and Delaney – smiled happily, but typical of the men, stressed that it was a team performance.
Extract from Celtic How the League was Won 49 Times by David Potter. More will follow this evening on The Celtic Star…