Yesterday was the afternoon it was supposed to start, the monkey off the back of that away form and the foundations laid for tough upcoming games on the road against Aberdeen, Motherwell and Hibs.
With all due respect to Livingston, Celtic will face better players and tougher environments when they head to Pittodrie, Fir Park and Easter Road than they did with basically a home crowd behind them at the Tony Macaroni. And that was probably why yesterday was so frustrating indeed exasperating, it was a huge opportunity lost to get into our stride as an away team.
The open expanses of Celtic Park have seen the team able to impose its brand of football on the opposition and although there have been glimpses on the road it simply hasn't clicked as of yet. Jablonec away remains the solitary away win and even in other games there have been reasons and not excuses for defeats, but yesterday that simply wasn't the case.
Against FC Midtjylland it was mid transfer window, bare bones stuff and even then, Celtic did take the two-legged tie to extra time as well as having that sliding door James Forrest moment, there was something to cling to.
Against Hearts we had Kyogo come off the bench and Starfelt start but both were asked to come in too soon due to circumstances rather than design, and on top of that Celtic should have been playing ten men, had a perfectly legitimate goal chalked off and the late winner we did conceded came from a free kick that wasn't one. It was unlucky and slightly disjointed but there were reasons for that 2-1 defeat.
Then came the away leg against AZ Alkmaar, at times the Hoops were run of their feet but despite this both goals conceded were individual calamities. Kyogo had scored early and some intervention from the manager ensured we got a late foothold in the game and qualified. There were plenty of positives to take not least the qualifying for the Group Stages of the Europa League, something that had looked a forlorn hope even a couple of weeks prior.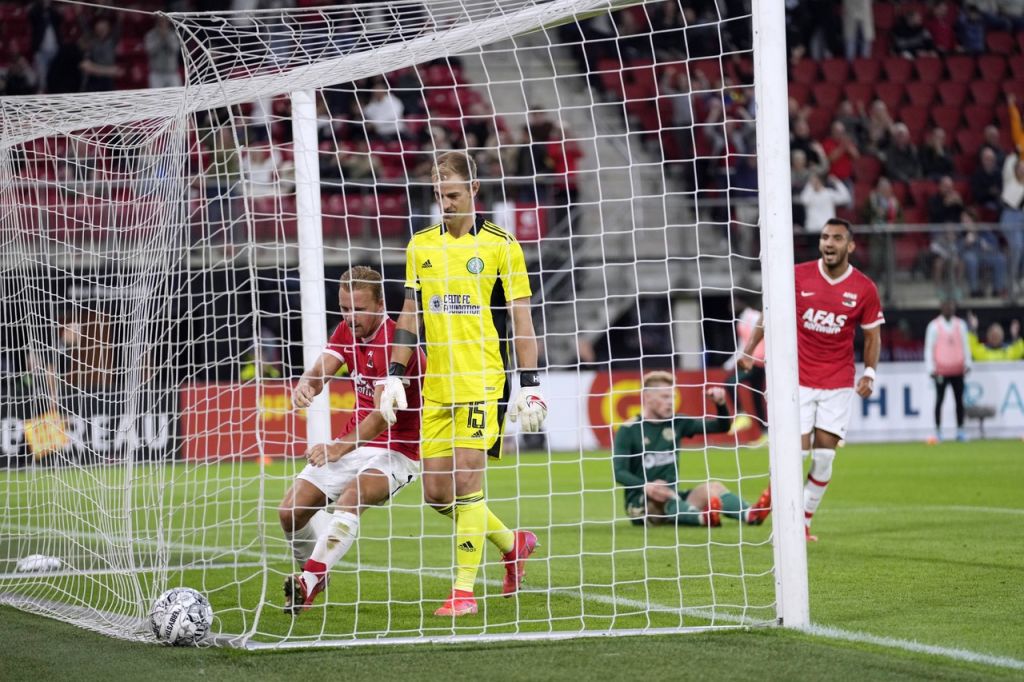 Three days later Celtic lost at Ibrox but again it still felt like a step in the right direction. We lost to a set piece but from open play for large periods we were the better side, and when Kyogo went through the middle we started creating chances. There was also that miss from Odsonne Edouard but in truth it simply felt like we'd be unfortunate in what was a 50/50 encounter. There was still a performance there and that gave us all hope.
And then came last Thursday and Betis, a rip-roaring start to go two goals to the good before a series of blows left us rocking on the ropes, but still we came back. We got a goal to get back into it and there was pride in that performance, in what were hot conditions and against a good attacking team we'd almost rolled with the punches. With a defence barely on nodding terms and minus our captain again we had hope that when Betis return to Glasgow in December revenge will be served.
And it was all those improvements that led to the false dawn of the Tony Macaroni. There were excuses yesterday, not reasons, and that was the worrying thing. Celtic had 79% possession and yet both the statistics of Expected Goals and goals themselves landed on the side of Livi, in a game where they managed only four shots on target and where Joe Hart was probably Celtic's man of the match.
There is an argument to say players were tired from Thursday's exertions and there is some merit there but little of it. Meanwhile others, like the pitch and apparent bogey teams hold no water. This was a team bottom on the league with a solitary point to their name and in truth a side lacking in the quality they had themselves in previous seasons.
Celtic meanwhile had a squad the manager had stated he was now happy with to get him to January, unlike some of the earlier away performances. Carl Starfelt succumbed to illness and Stephen Welsh came in and looked laboured, so dependent is he on his right foot and his attempts at dissuading Andrew Shinnie from shooting were reminiscent of too many times where striker's role him and know they can, Jermaine Defoe at Ibrox came to mind.
In came James McCarthy to replace Callum McGregor and illness and injury may have played a part in his performance but if he wasn't fit Ismaila Soro could have started or certainly been introduced earlier when it was clear McCarthy was struggling, though it must be said as attacking options ahead of McCarthy both Tom Rogic and David Turnbull offered no defensive cover to assist the new Bhoy.
Jota was ineffective and seemed fearful of the opposition and Abada was nigh on anonymous despite not having the excuse of a tough away game in Seville. Ajeti was simply starved of service and not the type unfortunately to go looking for it, though in fairness he chose to do so much later in the game.
There remains an element of mitigating circumstances to yesterday's performance but a Celtic team having played on Thursday or not should be able to muster more than five shots on target from 79% of the ball and they should have been able to consider high balls and drilled passing without a lifting of the head to pick out a teammate was simply not subtle enough and take some on field responsibility themselves.
There is a rule of thumb that when your defence is exposed and your attack is feeding off scraps that you don't seek to tinker with either, you focus on your midfield. After all they protect at one end and supply the ammunition at the other, yet Celtic persisted with McCarthy struggling for too long and Rogic and Turnbull, though both at times an attacking threat were far too quiet given the standard of opponent, and of absolutely no use as defensive cover when Livingston countered.
As such if Postecoglou is happy with the squad, where are the alternatives? Can Ewen Henderson not be trusted to play 30 minutes at Livingston? Why if we're short is Liam Shaw not able to handle such an environment? And if not why on earth not?
And if they can't, why is Scott Robertson at loan at Crewe and Luca Connell at Queens Park again? Are neither not better adding energy and competition to an area of the team reliant on Turnbull, Rogic and McCarthy to have to play despite struggling to play two games in a week, or in the case of McCarthy to last past a single 45 minutes of football. If Postecoglou wasn't happy, then why say he was? Why not play the alternatives? And if you aren't satisfied with their standard of play why were the attacking midfield options in particular not addressed in the transfer window, particularly is a playing system so reliant on two number eights?
All season there have been reasons for Celtic's away form, this time around there are simply excuses. It is no time to be asking for managerial change that's for sure, that would be ludicrous, but the away form needs to be addressed and quickly. A way has to be found to transfer our style of play to away grounds and we need to stop asking the same players to go to the well when we have a squad with alternatives the manager hasn't deemed to entrust with competitive football all season. On the pitch the players must take on-field responsibility but when players are tired the manager has to at least use those he has at his disposal to counter the impact on tired performers.
An opportunity was lost at Livingston yesterday but there is plenty of time to rectify it, however we are all out of reasons and now down to excuses. And excuses soon wear thin.
Niall J