There have been quite a few painful seasons in Celtic's history where trophies have been thrown away because of folly and stupidity, but few can rival 1928. This year, it was all about one player called Tommy McInally, and the gross mistake of Willie Maley whose misjudgement of the situation handed the initiative of the season (and the next few seasons) to Rangers.
Most people know about how Rangers won the Scottish Cup in 1928 and how Meiklejohn had taken the crucial penalty before the Ibrox men went on to win 4-0. But Celtic had already been softened up, as it were. They already blown the League the weekend before, and they knew it. Technically they were still in the League race, but in fact Rangers now had the momentum, and it was gone. And it was all because of a monumentally foolish call made by Willie Maley.
Celtic had won the Scottish League in 1926 and Rangers had done so in 1927. It was neck and neck. But it was a different story in the Scottish Cup, a competition which Rangers had not won since 1903, a full quarter of a century ago. Admittedly, a few years had been lost to the Great War but Rangers would not have the Scottish Cup in these years either, for these were the days in which Celtic with McMenemy and Gallacher on song, were absolutely superb. In the 1920s, Celtic had won the Cup in 1923, 1925 and 1927, and lost in the final in 1926.
Season 1927/28 had started well for Celtic. They had won the Glasgow Cup in October beating Rangers 2-1, and when they beat Rangers 1-0 at Parkhead on 2. January, it looked as if a quadruple was possible, as they had done in 1908. Jimmy McGrory was banging in the goals (8 against Dunfermline, for example, on 14 January) and he was being well supplied by the truly great football artist called Tommy McInally, often felt to be better even than Patsy Gallacher or Jimmy McMenemy.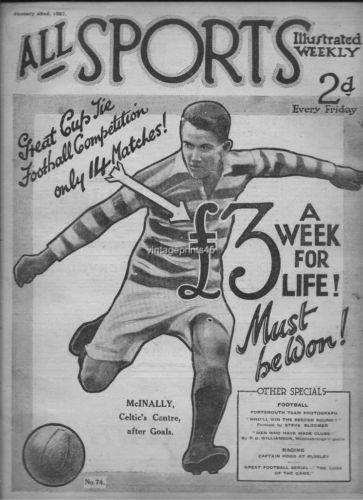 Tommy had it all – trickery, speed, ball control, a cannonball shot and everything else, and he was a personality and a crowd pleaser as well.
People came to the ground just to see Tommy McInally, and his cult hero status was deserved. The trouble was that after an excellent season in 1925/26 and a tolerably good one in 1926/27, Tommy was beginning to show signs of the personality problems and inability to resist showing off that got him into trouble with referees, alienated him from his team mates and infuriated Maley.
He had already been in trouble with referees and with Celtic themselves before the New Year, then he disappeared into the Highlands in the aftermath of a Scottish Cup tie at Keith in February and the team had to return to Glasgow without him! But then he was allowed back until he walked out of the team headquarters at the Seamill Hydro a few weeks later after his team mates had played an innocent prank on him by phoning him and pretending to be a newspaper reporter. His sulky tantrum was rewarded with a suspension.
The team then did well without him for the whole of March, reaching the final of the Scottish Cup and their League victory against Bo'ness on 31 March saw them at the top of the League, two points clear of Rangers and with only five games to go. Frank Doyle had proved to be an adequate substitute for McInally, and McGrory was still banging in the goals. That day 31 March, (incidentally the same day as the famous Wembley Wizards 5-1 win over England) saw Celtic leave the field, confidently thinking of a League and Cup double.
Two Lanarkshire teams came before the Scottish Cup final, Motherwell on the Saturday at Fir Park, and then Airdrie at Celtic Park on the Monday. These were two not inconsiderable challenges – Motherwell, a fast improving side under John "Sailor" Hunter whose big moments were only a few years away and Airdrie, Scottish Cup winners in 1924 under ex-Celt Willie Orr, but sadly compelled by grim economic circumstances to sell players. They did however have enough good players left to land the occasional punch.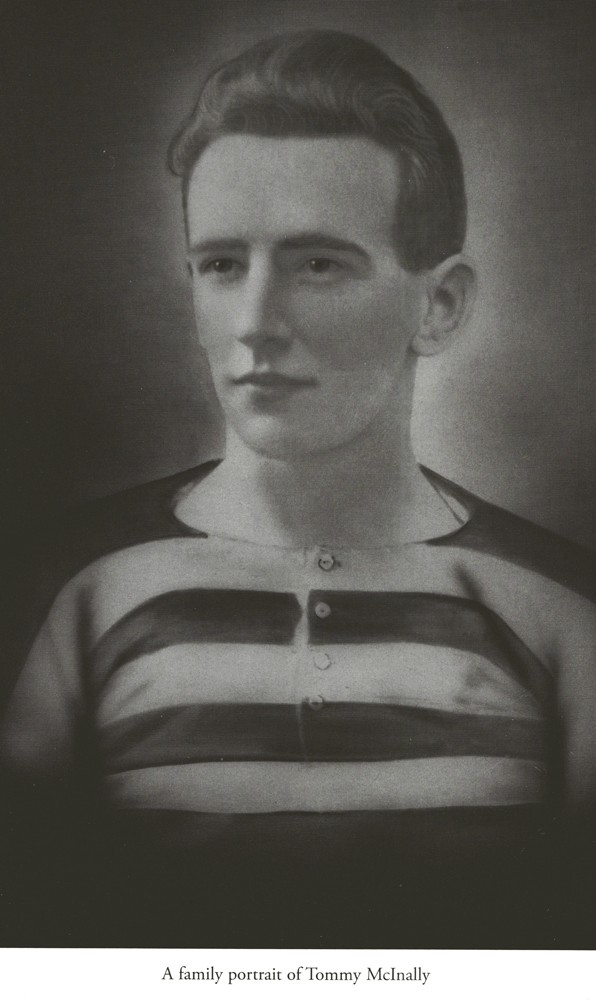 It was some time in that week between 31 March 31 and 7 April that Maley made the fatal mistake of bringing back Tommy McInally. McInally had indeed served his time for his previous indiscretions and walk outs, and turned up contrite, cheerful, enthusiastic and full of promises to toe the line. Maley would always confess to having "a soft spot for the boy" and had never been able to hide his admiration for McInally as a player. He agreed to bring him back for the three games that would in fact decide Celtic's season.
There may even have been another dynamic at work here, and if there was, it reflects little credit on Maley and shows scant regard for those who loved the club. It was no secret that the Grant Stand (which kept losing bits on windy days) was falling apart and would have to be replaced. For this, Celtic needed money.
Maley, who would in the summer, try (in vain, thankfully) to sell Jimmy McGrory and John Thomson to Arsenal, may well have decided to try to get money for McInally. But who would want to buy him, if he were in disgrace, a known trouble maker, and permanently in the reserve side? If this was Maley's thought process in bringing him back, then it was successful, for Sunderland did in fact buy Tommy in the summer, something that brought money to the club but untold misery to the support.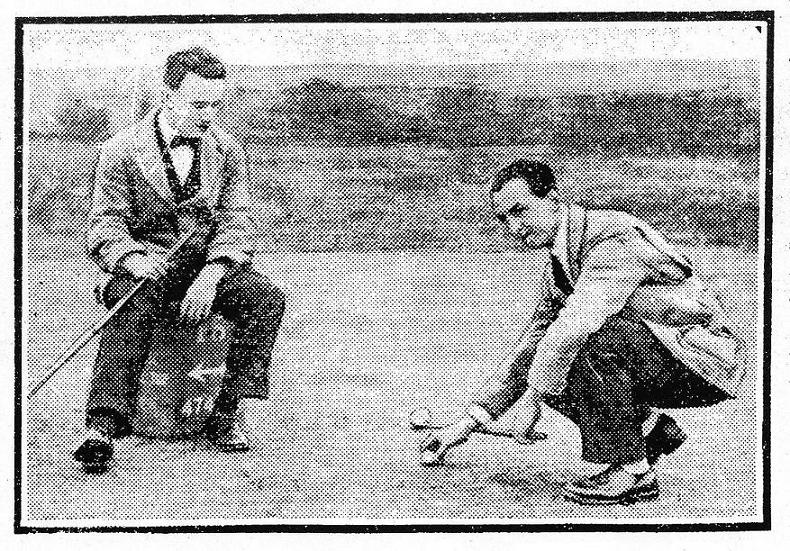 McInally, although adored by the support, was not always popular with his team mates – the McStays, McGonagle and McFarlane in particular, and McGrory was often a little unsettled in his presence – and McInally had done little to earn their favour after his psychiatric and self-destructive behaviour of late.
And it was not that Celtic did not have other options – Frank Doyle had played adequately and against Bo'ness when Doyle was injured, Peter Wilson had played at inside left while John Donoghue filled the right half slot, and there was always John McMenemy, son of Napoleon and a Scottish Cup winner of last year, waiting in the wings as well.
But in spite of all this, McInally was brought back for the game at Fir Park on 7 April. On the Tuesday an announcement had been made by "The Directors" that McInally wasn't playing. On Thursday they changed their mind, and this may well have been the influence of Maley. In theory, Maley had no say in the picking of the team; but in practice, everyone knew that his decisions were usually backed up by the Directors.
The game at Fir Park was a disaster. Celtic lost 3-1 and William "Peter" McGonagle, one of the better players in the team, was taken off injured and out for the rest of the season. But "Captain Bob" of The Sunday Post is in no doubt where the blame lies.
"McInally's come back was evidently made under an unlucky star" is his quote. "He was good enough for half an hour" "In the second half, he was not conspicuous" – these quotes seem to be saying that Tommy McInally, simply wasn't fit after his enforced but self-inflicted absence. The forward line did not function, and it was only a late goal from Adam McLean which made the score line anything like respectable.
For the first time in seven games, Jimmy McGrory did not score. To a certain extent we can say that Motherwell had a fine side – but a month previously Celtic, without McInally, at the same venue had defeated them comfortably in the Scottish Cup.
Although this defeat was by no means fatal for the Championship challenge, the weekend was spent in deep depression, and from then on, Celtic went downhill with the speed of an express train. A paltry crowd of 7,000 turned up to see Celtic take on Airdrie at Parkhead. Once again, to the bewilderment of the more sensible supporters, McInally was persisted with. John Donoghue was brought in for McGonagle, and Denis McCallum was given a game on the left wing in place of Adam McLean who had picked up a knock at Motherwell.
The absence of McGonagle and McLean was unfortunate but it was another poor performance. Airdrie scored first, early in the second half, from a goal that looked offside, then Alec Thomson pulled one back before Airdrie scored a couple late in the game. McGrory once again failed to score, and McInally is seldom mentioned other than that "he tried often from long range but his elevation was always too high".
Full time came with a silent, shaken Celtic Park rapidly emptying with that awful feeling in the hearts of the supporters that the Scottish League had been thrown away.
"Thrown away" means they had been in a winning position but had failed to cross the line. They were not necessarily beaten by the better team, but had thrown it all away by folly at a late stage of the season. Those who were around in 1980 and 1983 will understand that feeling.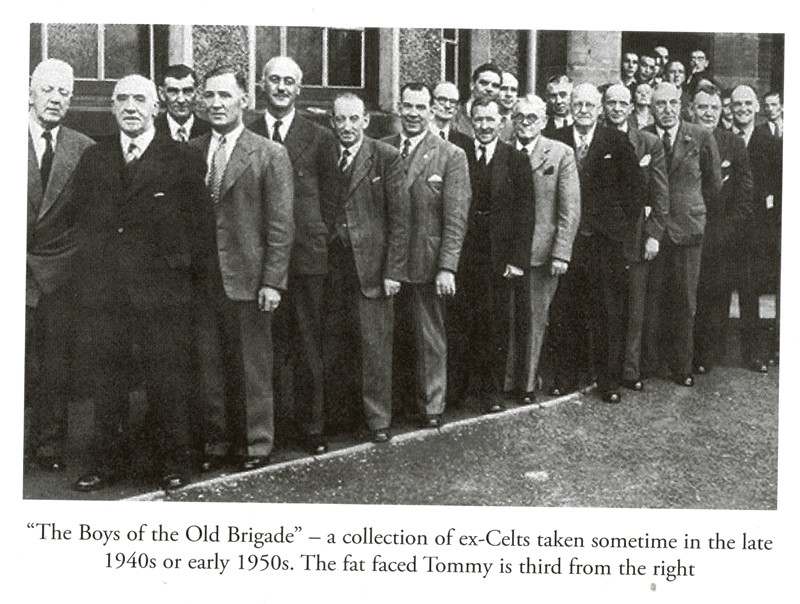 Incredibly, even then, Maley did not see the problem and retained McInally for the Scottish Cup final against Rangers on Saturday. In fairness, it has to be pointed out that the vast mass of Celtic followers would have supported McInally's retention, believing that the errant Tommy would yet turn good and bring home the bacon.
The other players did not agree, and disaster followed, for the team took the field beaten before they started in the same way that the 1963 Scottish Cup final replay was thrown away simply because the key players had no faith in the team selection.
And yet, in the first half with Celtic playing with the wind, things might have been different. McInally himself had hard luck when a fine shot was saved by Rangers' Tom Hamilton, and the teams left at half time on level terms. But the key factor was the wind, and Rangers, playing towards the King's Park end took command, and won 4-0. The Sunday Post sums Celtic's performance as "lacking pep", something that seems to say a great deal of a team who had now lost three important games in a row, and had allowed Rangers to win their first League and Cup double.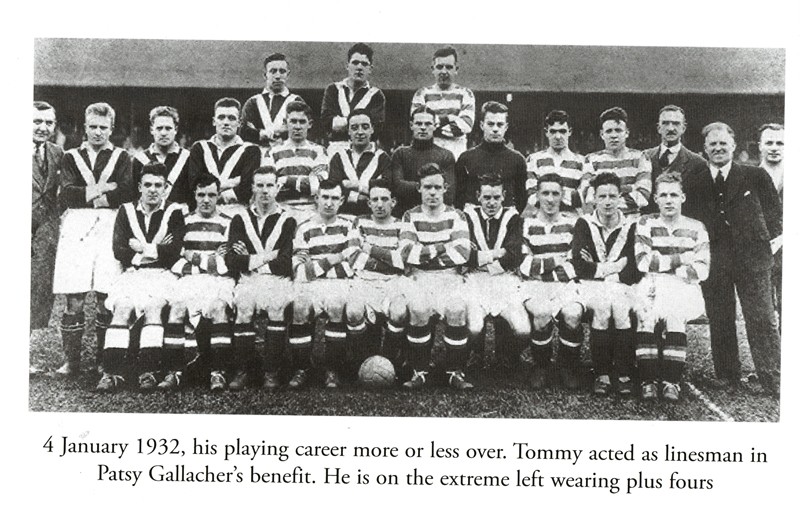 McInally's contribution in the second half was minimal. At full time he and referee Willie Bell indulged in an undignified struggle to grab the ball to keep as a souvenir. That went down particularly badly with his team mates and, more importantly, the 60,000 betrayed Celtic fans who had looked to him to save the day.
The year of 1928 was an awful one for Celtic supporters, and McInally's departure to Sunderland was little lamented at the club, although he did retain his cult following at the club. He was no great success on Wearside, and after little more than a year he was back in Glasgow, claiming to be the greatest Celt of them all and the greatest Celtic supporter of them all!
"The greatest Celt of them all"? There is actually a certain irony here in the story told of the journalist who visited the ageing and ailing Willie Maley sometime before his death in 1958. Maley reminisced about his true greats – Quinn, Gallacher, McGrory, Young, Thomson and McMenemy – sometimes confusing them, and often with tears in his eyes as he talked about "our genius Thomson", and then he was asked who was the best of them all.
Maley looked at the journalist, turned and poked the coal fire, before turning and saying "The best? Why, that was Tom McInally!"
What a tragedy that man was! Like Charlie Nicholas, he could have been the best of them all, but "thoughtless follies laid him low". Self-destruction is a strong and repeated motif among Scottish football players, and not just Celtic ones. Think of Hughie Gallacher, Hughie Ferguson, Dan Doyle and the Scottish World Cup squad in Argentina in 1978. But for Celtic fans alive in 1928, the pain was intense.
David Potter