The first four parts of this series have covered the historical events between Celtic and Hibernian at committee/boardroom level. Our clubs have been on different trajectories at different points in the last 130 plus years or so. Part 5 is about some of the fallout associated with those differing directions.
It goes without saying that Celtic are now a much bigger and much more successful club than Hibernian. Consequently, many Hibs fans have slapped a 'glory hunter' tag on Celtic supporters outside of Glasgow. However, Celtic attracted the support of the worldwide Irish diaspora for a variety of reasons.
The first factor to consider is that the Glasgow Irish community was far larger than the Edinburgh Irish population. As such, Celtic quickly became a bigger supported club. Furthermore, lots of towns in the West of Scotland, such as Greenock, Port Glasgow, Coatbridge and Dumbarton, had (and still have) large multi-generational Irish communities. These people added to Celtic's organic support in Glasgow as they were particularly drawn to this big (reasonably local) Irish club, whose sizable fanbase was combined with exciting players like James Kelly, who performed in a fantastic stadium.
Certainly, the club's natural support gave it a great platform from which to build, but the ambition of the founding committee took it to the next level. To lease land for a stadium from a private landowner within a week of the club being formed spoke volumes. Then, to construct that stadium (by a volunteer workforce) of the highest standard within six months was astounding. The original Celtic Park boasted a pitch measuring 110 yards x 66 yards, terracing around three sides of the stadium and an open air stand, capable of accommodating 1,000 spectators, with a pavilion, a referee's room, an office, dressing rooms and toilet facilities inside.
Celtic's significant support from inception, its first class stadium, and the enticement of entertaining star players had immediately differentiated the club from parochial sides such as Whifflet Shamrock and many like them. It is unsurprising that people of Irish birth or origin in the West of Scotland flocked to Parkhead over their parish church teams. What Celtic had created was the modern day equivalent of someone supporting a nearby professional club rather than an amateur village team. The fact that the club also gave the Irish community something to be proud of, a place to express their culture and faith, and raised funds for their needy children only strengthened the feelings of adoration.
While continuing to capture the interest of ethnic Irish people in Scotland, Celtic began to secure support in Ireland by visiting the Emerald Isle for a short tour of Belfast in 1889 (within a year of playing their first ever match). The Bhoys' trips to Eire soon inspired the creation of Belfast Celtic Football Club, which further publicised Celtic's name across the 32 counties.
The above factors meant that Celtic simply became a bigger club than Hibernian, and thus they were soon seen as the main beacon of Irishness in football. Irish immigrants in the USA (where Celtic first toured in 1931), Canada, and Australia etc. began to support them. They did so because the club was a symbol of their heritage, culture and identity. It is unlikely that many within the Irish diaspora decided that they'd choose Celtic over other clubs with Irish connections (such as Hibs) just because they win more trophies. Instead, and I mean this with no disrespect, Celtic were the main sporting symbol of the Irish diaspora and Hibs were not viewed with as much significance. The enduring support in Ireland and among the global Irish communities continues in this way, though is now more commonly passed down the generations rather than choice being involved. Similarly, as Celtic were quickly viewed as the main Irish club in Scotland, many Scots born Irish descendants also identified with the club more than any other, subsequently bequeathing following generations with support for the team.
Studies into the ethnoreligious make up of the Scottish based Celtic support tend to suggest a very high percentage have ancestral roots matching the club's own history. Although that fact would indicate that the majority of Celtic fans have a genuine connection to the club, there is a suggestion among Hibs fans that Celtic supporters, when drawing on their Irish roots, are glory hunting – or that they select the Hoops over the Hibees due to the different fortunes of the clubs. This is further assumed to be the crime of Celtic supporters in Edinburgh. However, generally speaking, few Celtic fans, particularly those with an Irish heritage, tend to decide to support the club. Most are born into it; a gift (or curse as some may see it) handed down the generations. Furthermore, there are other factors beyond glory to consider when distinguishing the clubs (which will be covered in Part 6).
Despite what I have written thus far, I am not naïve enough to think that there were originally no Celtic supporters who latched on to the club because it was the most successful team with which they could identify in Scotland, or that Hibs wouldn't enjoy a bigger support from the Irish community if they had won more trophies. Being a bigger supported club and becoming that main sporting representation of Irishness went hand in hand with success, but it is not as straightforward as fans picking winners, as the previous (and latter) paragraphs hopefully explain.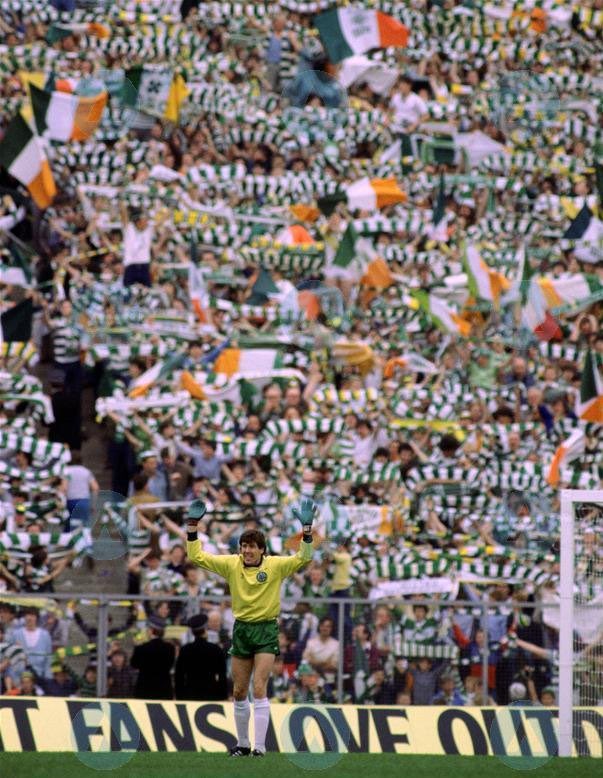 There is another contentious part to the particular suggestion that those outside of Glasgow, who back the Hoops rather than Hibs, are glory hunters. It should be noted that Hibernian haven't always been less successful than Celtic. Indeed, Celtic endured an abysmal period beginning at the outbreak of WWII and were almost relegated in 1948. The club then went through a difficult time in the 1950s (minus some memorably unexpected cup triumphs like the Coronation Cup and iconic 1957 League Cup final) and early 60s, before Jock Stein's arrival heralded a new era of unparalleled success. In those same periods, Hibs were enjoying their golden years.
Hibernian had the likes of Matt Busby and Jimmy Caskie playing for them in the War and then went on to win three championships, 1948, 1951 and 1952, in four seasons. The Hibees also reached the semi final of the European Cup in 1956. That incredible record was largely attributed to the heroics of the Edinburgh club's iconic forward line of Gordon Smith, Bobby Johnstone, Lawrie Reilly, Eddie Turnbull and Willie Ormond – nicknamed the Famous Five. Excitement continued into the early 1960s as Hibernian regularly enjoyed European football at Easter Road, defeating Barcelona and Real Madrid under the floodlights in the capital. The Hibees' victory over Barcelona (3-2) at Easter Road in 1961, after recording a 4-4 draw in the Camp Nou, subsequently saw them reach the semi final of the Fairs Cup, before losing to AS Roma in a third match decider at Rome's Olympic Stadium.
If Celtic fans are mostly glory hunters, then why didn't they, their ensuing generations, and those from Irish communities swap Parkhead for Easter Road when the Bhoys went through the bleakest periods in their history (40s, 50s and early 60s), while Hibs were at their imperious best in that era? Given that the overall Celtic fanbase remained bigger during that extended time (average match attendances were also similar between the clubs), and also stayed large throughout the miserable 1990s, it leads one to deduce that support for many Celtic fans must be based on more than glory.
On the other hand, Hibernian were almost able to fill half of Hampden for the Premier Sports Cup final this season, yet they only attracted a fraction of that support for the semi final and league games. Therefore, Celtic fans could flip the script and assert that perhaps this could be an argument for glory hunting. For those who indulge in this needless bickering, it certainly highlights difficulties for supporters to pin the tag on others.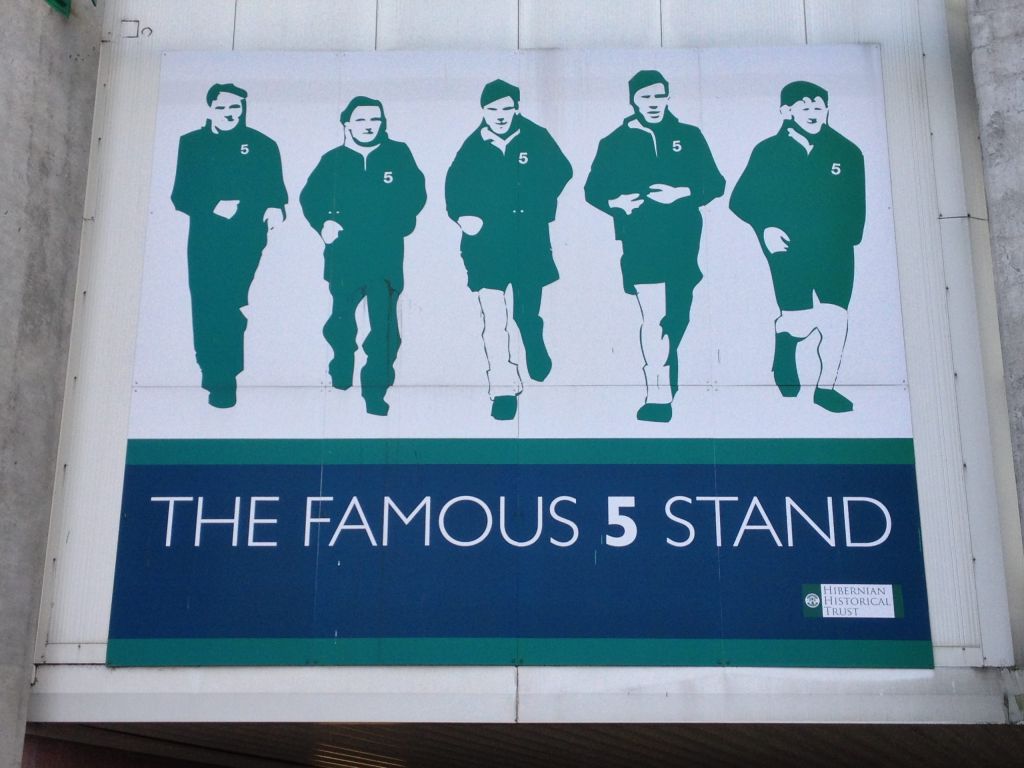 Outside of the Irish domain, there are numerous Celtic supporters from various walks of life. As stated, many are born supporting the team. However, some make a choice as they are attracted by political factors, some for football reasons, some find a connection to Celtic through their faith, some take inspiration from Celtic's long held inclusive signing policy, some live in Glasgow and prefer the club to any other in the city, some were introduced to Celtic by their friends or family, some grew up in close proximity to Celtic Park. Like most football clubs, the list is endless. To label them glory supporters would be quite presumptuous as well.
Contentions that the faithful are glory merchants is one aspect of the digs between fans of each club. Sometimes this is banter, but at other times it can become quite vitriolic. Regardless, it is far from the only jibe heard.
One of the common wind ups thrown Celtic's way is the remark: 'if it wasn't for the Hibees you'd be current buns'. This comment is probably not something with much serious thought behind it, but it is not rooted in any historical reality either. The song refers to the huge helping hand that Hibernian had in Celtic's formation (covered in Part 1), assuming that if the Hibees didn't help Celtic to come into existence then our fans would have supported the other big club in Glasgow – Rangers. Ignoring the fact that Queen's Park were actually the biggest Glasgow club at the time, there was little chance of the city's Irish community supporting Rangers. A Catholic was not signed at Ibrox for almost two decades, and a prominent Conservative/Unionist and freemason who made a public stand against Irish Home Rule (John Ure Primrose) was named Rangers Patron in 1888; dispelling the myth that the influx of Loyalist workers to Govan's Harland & Wolff shipyards was the catalyst for Rangers adopting a sectarian signing policy. In that sense, the truth is probably a better wind up. Before Celtic arrived, the Irish community in Glasgow supported Hibernian from afar. Reports of the time suggest that they were delighted at the Edinburgh Irishmen's Scottish Cup victory in 1887. So, in reality, if it wasn't for the Hibees we would be Hibees ourselves!
Another bit of banter aimed at Celtic fans is the fact that Hibernian wore the hoops first. That statement is absolutely true, not that many Celts are concerned by it. But the claim, which sometimes accompanies this statement, that Celtic stole Hibs' kit, is not accurate. Celtic did not become the Hoops until 1903, some 15 years after the club played it's first match. The Bhoys' first kit saw the players don a white shirt, adorned with a Celtic cross set against a red circle on the breast. It also had green on the collar (as mentioned in Part 3, this was something Hibs' Secretary John McFadden slammed Celtic for as the kit was not Irish enough). In 1899 the kit was changed to vertical green and white stripes, a harp being emblazoned on the breast, before the hoops finally emerged. Alongside these kit changes at Parkhead, Hibs ceased to wear hooped jerseys as of 1879 – before Celtic were even formed.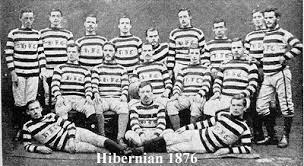 Look out for Part 6 tomorrow morning, when we look at the different identities of the Celtic and Hibernian supporters. As ever, there are further fallouts and remarks aimed from either side on that topic too.
*For the Hibs fans who have commented about the proprietorship of public houses, which John Glass and the Celtic committee were known to entice players with at times; my use of the term 'financial inducements' in Part 3 was intended to cover all forms of enticement from monetary offerings to ownership of pubs. To be more specific, this practise of gifting pub ownership did happen for certain star players. If memory serves me correct, this was the case for the likes of James Kelly and Dan Doyle among others.
In regard to the six Hibs players who joined Celtic, Willie Groves was set up with a public house by the club after he had signed and he is listed as applying for license of that premises (29 Taylor St, Townhead) in August 1890. However, Groves would depart for the wages offered by West Bromwich Albion, in England's professional league, two months later! Michael Dunbar owned multiple pubs, but his licenses appear to have been secured in 1913 when he was a Celtic Director rather than during his playing days. The others – Tom Maley, Johnny Coleman, Michael McKeown, James McLaren – did not own pubs to my knowledge.
Liam Kelly