The assault on Jeremie Frimpong at Fir Park yesterday brought back memories of a horrific thigh-high challenge on Kieran Tierney, which left the youngster bleeding and hurt on the touchline. This took place in Celtic's Invincible season of 2016/17, on Saturday, 18 February 2017, to be exact, at Celtic Park. Again, the opposition involved was Motherwell and once again the challenge was deemed only worthy of a yellow card, which seems incredible.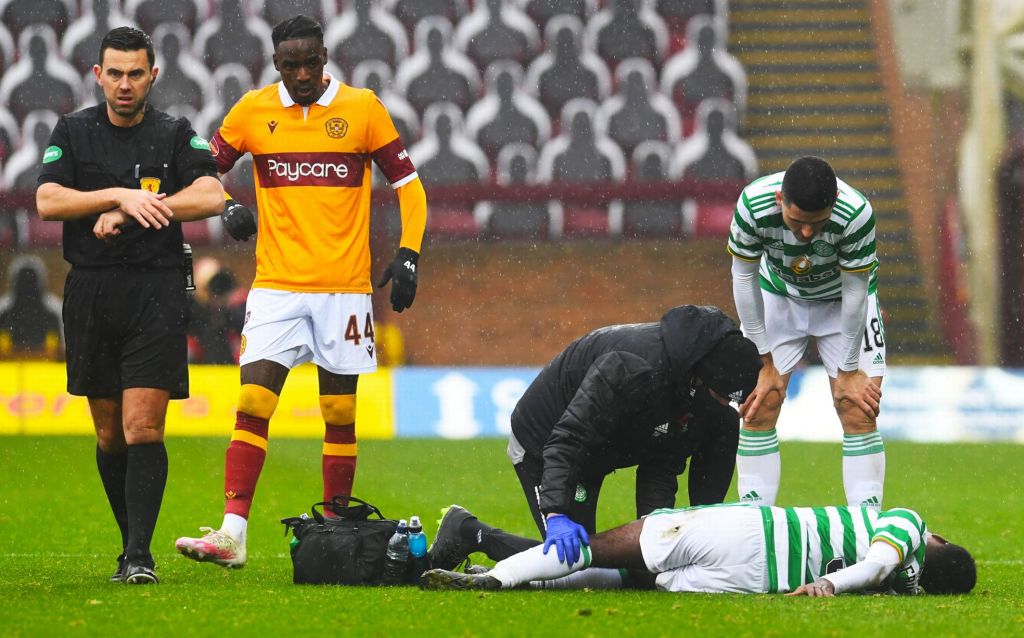 Yellow 🤷‍♂️ pic.twitter.com/ehr3hZRcmv

— Snudge (@10inarow10nro) November 8, 2020
After today's horror challenge on Frimpong, here's a similar challenge on Tierney from a few seasons back.

These challenges are unwarranted and could potentially kill off a player's career. Dallas has no excuses for his mishandling.

Celtic must take this as far as possible. pic.twitter.com/LZp9sOHuAG

— JoeBloggsCity (@joebloggscity) November 8, 2020
Here is how Matt Corr described that afternoon in his debut Celtic book, Invincible.
Seven days after the six-goal demolition of Inverness Caledonian Thistle in the Scottish Cup, Mark McGhee's Motherwell would be the latest visitors to try to halt the Celtic juggernaut. Having watched his side ship seven goals in midweek at Pittodrie, the Well boss would understandably be apprehensive about his return to the ground where he had previously been on the wrong end of 7-0 and 9-0 hidings. He was not the only former Celt in town that chilly day. In addition to four of his own team – Stephen McManus, Joe Chalmers, Stephen Pearson and Scott McDonald – the man who 'brought the King and stopped the 10' was in the house, Wim Jansen and his grey but still-iconic perm watching proceedings from his vantage point in the main stand.
And McGhee's afternoon began badly, first losing Steven Hammell to an injury sustained during the warm-up – allowing former Parkhead academy prospect Chalmers to start – then former Celtic skipper, McManus within five minutes of the kick-off, Reading loanee Zak Jules his early replacement. Another central defender, Jozo Simunovic, was the only change to the Celtic side following the 6-0 win in the Highlands, with Erik Sviatchenko dropping to the bench.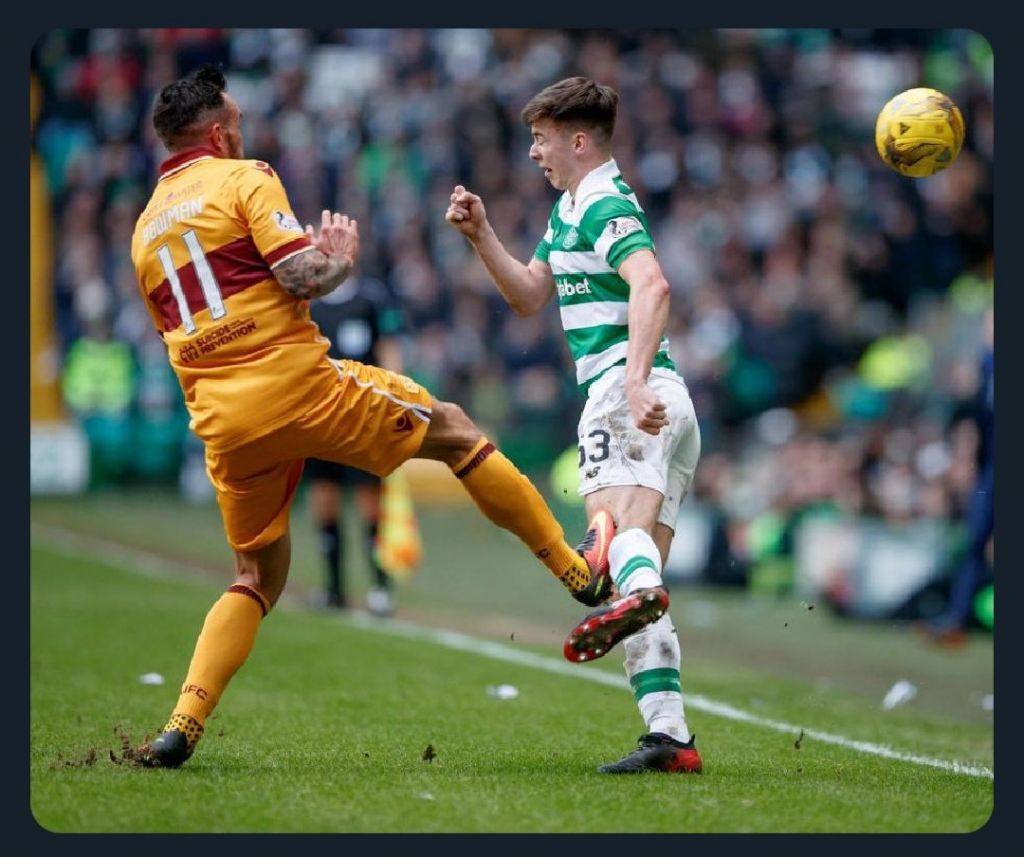 The unfortunate Jules would play a key role in the game's opening goal, his rash challenge on Moussa Dembele just after the half-hour bringing a penalty award from referee Don Robertson, the young Frenchman coolly beating Craig Samson to commence the quest for his own 'Treble Treble', following back-to-back hat-tricks on the road against St Johnstone and Inverness Caledonian Thistle. Five minutes before the break, James Forrest waltzed in from the right to beat his former club-mate Chalmers before curling a delightful second into the far corner, Celts cruising towards a 20th successive domestic victory, now only five wins short of the record set by Martin O'Neill's Double-winners in 2004.
The second period was fairly low-key, Stuart Armstrong making a welcome return from the bench after a four-week injury lay-off, replacing the impressive Liam Henderson. Both Dembele and Scott Sinclair went close, however, with no further scoring, the major talking point was the shocking studs-up challenge by Motherwell's combative midfielder, Ryan Bowman, which left Kieran Tierney writhing in agony on the touchline, blood streaming from two cuts high on his left leg. Incredibly, Robertson deemed the assault worthy only of a booking for the Australian substitute, a decision as dreadful as the foul itself. It was a straight red card every day of the week, a potential career-ending leg-breaker.
Tierney was certainly in no doubt afterwards.
"It was a horrible challenge. I thought straight away it was a red card."
As was his manager, Brendan Rodgers highlighting the dangers of these things going unpunished.
"My only worry at this moment in time is protection for my players. I have seen two tackles in the last two games that weren't good tackles at all. And we are a team that can play any type of game. We have come through physical games and footballing games, tight games. My players never complain or moan, they get up and get on with the game. We respect referees but I would like them to have a wee bit of protection for players."

"I've seen a tackle on Kieran Tierney, which I didn't see right after the game but I watched a replay afterwards, and it was an horrendous challenge. This is a kid who is 19, one of the great prospects of Scottish football. I have a boy who is a brilliant coach on my staff, John Kennedy, who was also a brilliant prospect, who in one challenge lost his career. I don't really want that to happen to any of my players or any player for that matter, whether they are from Celtic, Rangers, Hearts, Hibs or wherever. We need to ensure they are protected."

"I understand there is a maybe a dimension of "you have to get tight to Scott Sinclair, got to put in a challenge to Kieran Tierney or James Forrest, or whoever" but it is the responsibility of the referee to protect the game and the players because, as I said, it was an horrendous challenge. And the week before, against Inverness, Scott Sinclair had an awful challenge on him. If we are trying to get the best players playing here in Scotland, they need a little bit of protection."

"We are a team of men. We have young guys in the team, but we are playing a man's game, so we have no problem with the aggression, and we have coped with that at places like Aberdeen, in a really tough physical game, tough challenges, fair challenges. The concern for me is the challenges that are late. That was a straight-leg challenge which could have really damaged him. If Kieran's foot was planted, you could be talking a different story about one of the great talents in Scotland. Now that is the duty of the referee, to protect them and protect the game."