The latest rumour to fill the gaps when Celtic say nothing at all has surfaced tonight. As we all wait on tenterhooks for the Celtic board's promised January Review – one a third party source told The Sun we'd already had and Celtic's SLO advised Twitter we were still to hear – Football Insider is breaking the news, Head of football Operations Nick Hammond – hands up if you know what his voice sounds like, nope me neither – is being linked to be leaving his post, amid apparent frustration at the standard of recruits currently hanging there designer jackets on a Celtic dressing room peg.
As with any rumour, especially one in the midst of a club crisis, it is probably best taken with a pinch of salt, much like the Ross Desmond (Dermot's wee laddie, pictured below) to the role of Celtic trouble shooter or the pre-AGM rumours that Peter Lawwell's young 'un Mark, was due to be the new CEO.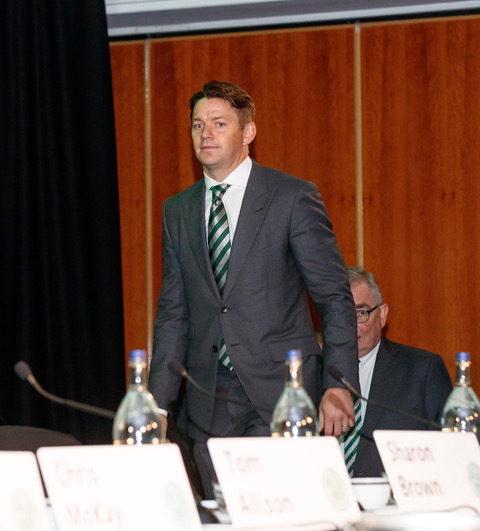 What an uninspiring, ambitionless dream team that would be. Perhaps they can crowd round Gavin Strachan's laptop and watch the new Netflix drama 'Nepotism' together – don't google that I made it up.
Meanwhile Hammond may be thinking back to 80's afternoon TV dramas, Colt Severs and 'The Fall Guy'. Because if Nick Hammond is going to be sacrificed in the hope Celtic fans think 'it was him' when it comes to the mess Celtic find themselves in, then they have another think coming.
There is far too much at stake for Nick Hammond to play the part of the patsy in this drama, he is not the problem, at least not solely. Celtic's decline has been set in play long before Hammond took over from predecessor Lee Congerton. Indeed, we have little idea if Hammond is any good at his job or what his vision is, as to date it's fair to say Celtic's head of recruitment has been non-verbal when it comes to communication with the Celtic support.
What we do know is when Celtic wanted a replacement for the Leicester City bound Congerton the fans wanted Peter Lawwell to step away from football operations – sound familiar?
The dream then was a Director of football, a head coach and a football department that could continue seamlessly if a head coach vacated his post. A structure – yes really – with footballing personnel under the stewardship of a DOF and employed by such, rather than a group of assistants, coaches and analysts employed by the manager and likely to head for new horizons as and when offered something more financially beneficial.
We wanted to learn lessons from the Rodgers inspired exodus from Celtic. What we got instead was a hall of mirrors, and someone – after a 'summer job' period on trial remember – to take a bit of work, and flak, from Lawwell as he busied himself in UEFA's corridors of power, but with enough control remaining in the CEO's tight grip to ensure the new man reported directly to him rather than the board itself. And a man at the same time to plan for the projects and youth signings that Neil Lennon couldn't be bothered with, as his self-proclaimed vision didn't stretch beyond two or three years given, he believed he may not remain at the club that long.
ANOTHER FINE MESS
Given this odd remit and the fact Neil Lennon, somewhat risibly, claims he is in charge when it comes to football decisions and Peter Lawwell appears incapable of surrendering any control, then it is difficult to judge Nick Hammond as a success or a failure at this juncture.
What we do know is that Celtic's performances this season have fallen off a cliff, as players, many of which not signed during Hammond's term and had previously performed admirably have regressed. It's safe to assume such regression, having previously shown consistent ability, is far more likely to be the responsibility of the chap paid to coach and his team expected to develop rather than the fella who bought them in the first place.
I'd also be suspicious as to just how many of Hammond's recommendations were his first choice rather than fifth or sixth by the time the moneyman lumbered his way through any negotiations. Fraser Forster to Vasilis Barkas, Omar Colley to Shane Duffy, Ivan Toney to Albian Ajeti. Worth thinking about.
In truth Nick Hammond may well not be up to scratch but there at least two others in Neil Lennon and Peter Lawwell with far more responsibility to bear for this seasons capitulation and who need to exit stage left before – or at least alongside – Nick Hammond.
If the grand plan all along has been the January review will see Nick Hammond play the fall guy in the hope it will buy the CEO and manager some more time, then the Celtic support are more tuned in than our board believes. No-one will subscribe to that.
Celtic's season already resembles a dreadfully scripted TV drama and the fans need more than a supporting actor to be replaced to improve the scarcely believable spectacle. The leading man is past his best and the director is all out of ideas. Sacrificing the most recent addition to the cast isn't going to maintain the viewing figures that's for sure.
Niall J