This is a season we have been singing about for years. The "Brendan Rodgers here for Ten in a Row" song and the "Here we go Ten in a Row" with the two hands in the air in expectant triumph.
Ten-in-a-Row is only really a thing in the Glasgow football bubble, it's a rivalry thing which ironically has had to have one of the participants change – due to a corporate death back in 2012 – but just like they've done in Coronation Street a few times, a different actor comes in to play a character and while it looks strange for an episode or two, everyone buys into the swap because they want to continue watching the show.
Then time blurs the switch as the show attracts a new generation of viewers who don't even remember the original version of the same character. That's how it's done on a soap opera, two words that could describe what's really been going on at Celtic this season.
Now I have to confess to not having seen Coronation Street since Curly Watts was a Celtic supporter but they do that thing where something happens but someone else doesn't know, the secret apparently remains in the bag but eventually the beans get spilled and all hell breaks loose, usually around Christmas. Or is that Eastenders?
Well this season Glasgow's Eastenders have been the box-office stars in the Ten-in-a-Row soap opera. Here's a version of the script that you might not have read by now.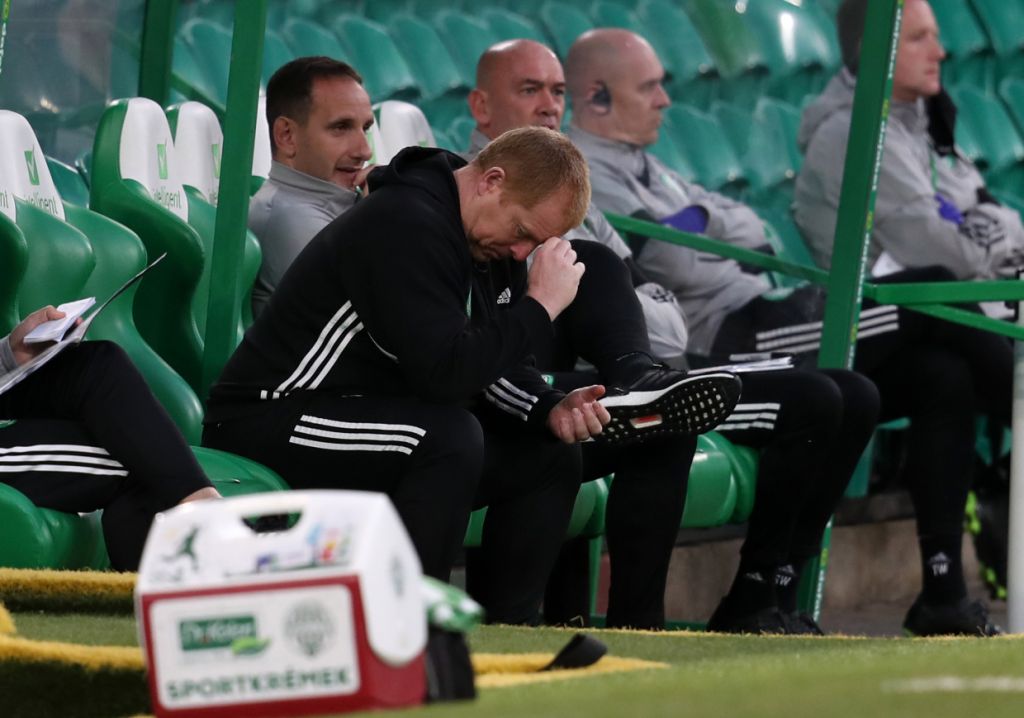 THE CELTIC MANAGER – Neil Lennon, brought back by the cunning CEO after he won his duel with Rodgers, given a backroom management team to work with including long-term Lawwell foot-soldier John Kennedy with Damien Duff being added to the coaching staff. When Duff headed back to Ireland, Gavin Strachan was recruited from Peterborough. Lennon delivered everything that was asked of him domestically but like Rodgers failed to progress in Europe, although he did win the Europa League Group last year against a French and Italian side and recorded home and away victories against Lazio. Played Copenhagen off the park on their own patch in the first half of the knock-out round before in the second leg then our players decided to throw the tie. A huge alarm bell.
Lennon didn't become a bad manager overnight, as he's been painted recently. He is NOT in the elite coach category (we only ever got Rodgers because of the events of April 2016 re losing that penalty shoot-out coupled with heat from Res 12) but he is not the dud some are claiming these past few weeks.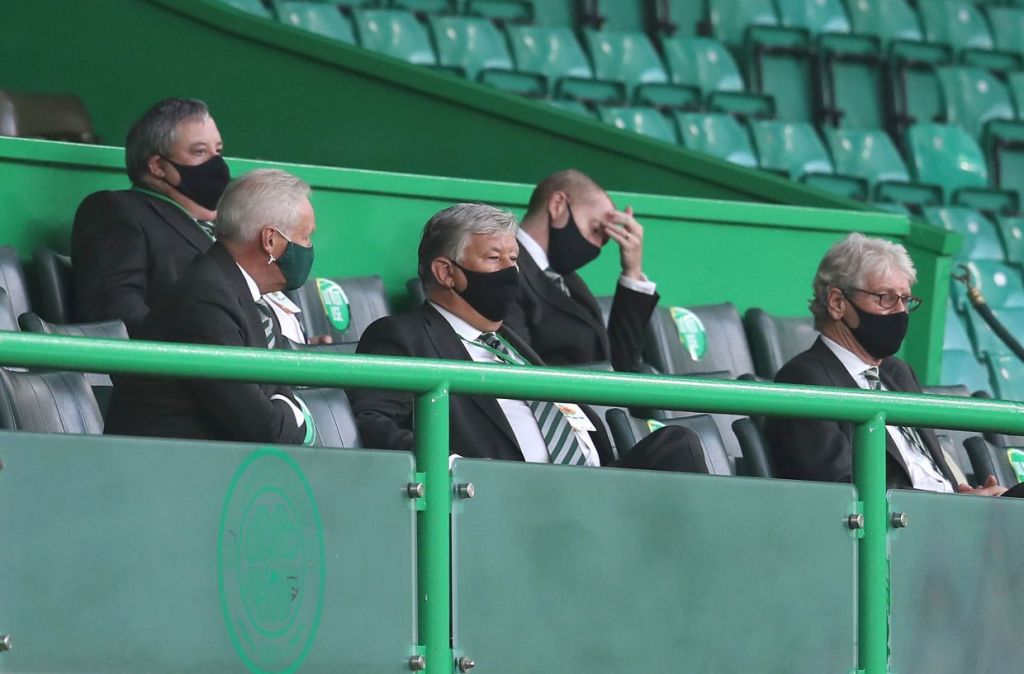 THE CELTIC BOARD – They got rid of Rodgers, replaced with a team that fitted their strategy and kept winning. Europe was a frustration but this season Ten-in-a-Row was the only stop opera that people wanted to watch. The transfer kitty was extended, the players who apparently had high transfer values within the squad were retained and Peter Lawwell, perhaps with an eye on his own legacy, began acting like a Celtic supporter rather than the usual dastardly capitalist,  spent a considerable sum bringing  in new players. Other matters like Res 12 or is it Res 11 now (too few supporters understand, and the new breed, just as in the Coronation Street scenario above, don't even care), were just part and parcel with the usual stuff to be dealt with and wouldn't be a problem.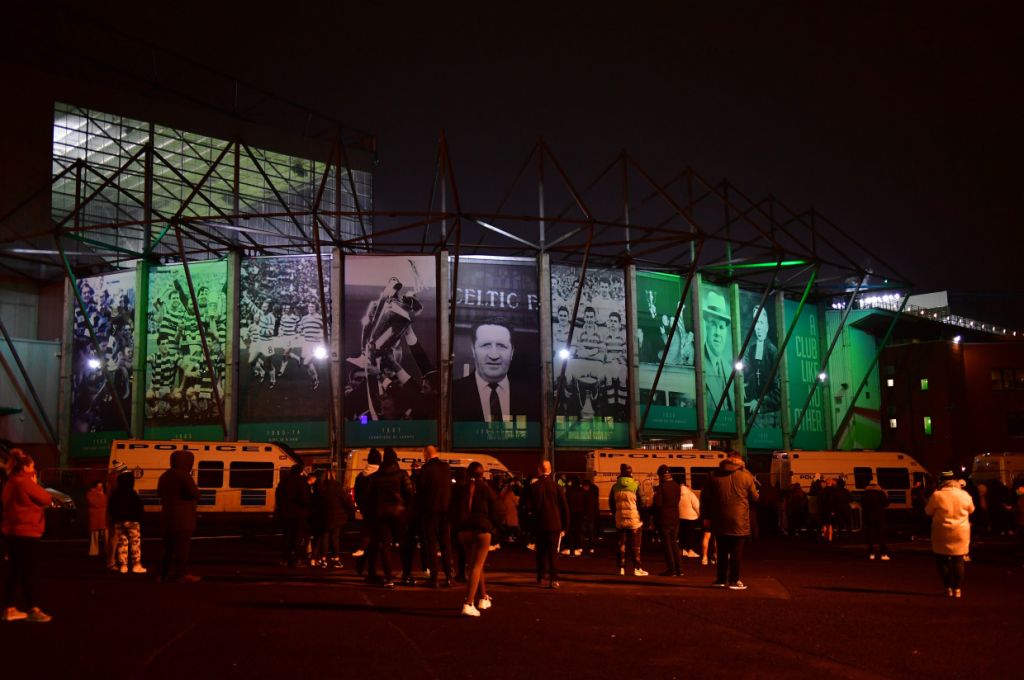 THE CELTIC SUPPORT – Remarkable really. The club offered full discounts for the games not played at the end of last season. Some fans needed that money back and were sent a cheque. Perfectly fair and reasonable by all sides. It should be noted that the offer was made by Celtic but not across the city. Most supporters left the money with the club. Then in record numbers 60,000 Celtic Supporters paid their full season ticket price so that the club would be fully funded for this season. (Check in comparison for how many fans in England have done the same, answer, not very many). The Celtic season ticket holders were promised a stream of the home games and a maybe a return to see games in person when the pandemic problems were resolved via a vaccine.
Few if any games have been enjoyable, the team never seeming to get into top gear and a Champions League exit against a poor Hungarian side was followed by four straight home defeats (the worst run since 1957/58), an 8-2 thrashing by Sparta Prague over two games, a Ross County defeat in the League Cup and falling 11 points behind in the title race, albeit with two games in hand. The support, by last Sunday night, had had enough. Neil Lennon, Peter Lawwell, John Kennedy, Gavin Strachan were all targeted. A few hundred supporters turned up outside the ground to protest and the club released a statement condemning the incident claiming missiles had been thrown at the players and management team as they left their place of work. Neil Lennon stayed and Celtic were by now a Family at War. Wasn't that a soap opera too?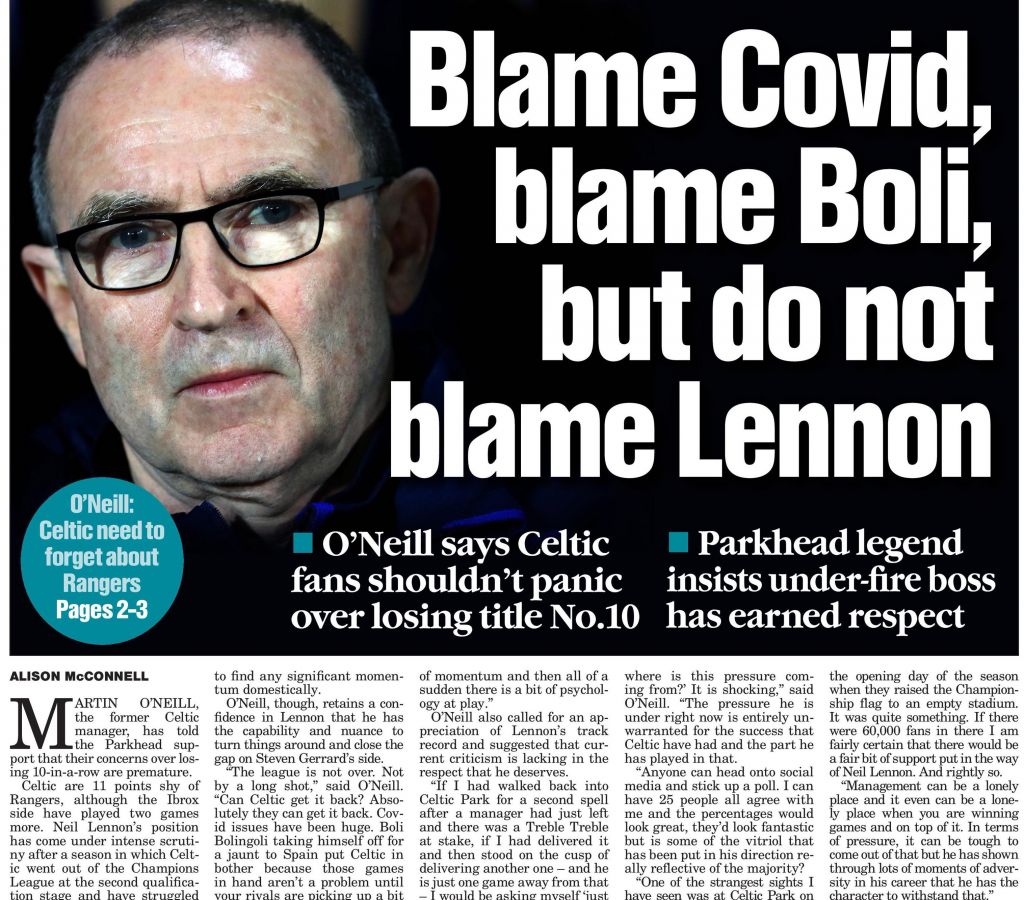 THE MEDIA – You can't blame the media for covering this story, lapping it up and enjoying every minute of it. There will be no prisoners in the Ten-in-a-Row drama, just a winner and a loser and it's increasing looking like there's been a twist in the script, in one of those 'didn't see that coming' episodes and it will be the Ibrox 2012 operation that will emerge triumphant. On the morning of the Ross County game, we told you that Celtic had removed The Cynics from the invited media to their Media Conferences after a question was asked about the roles the management team perform at Lennoxtown. That was just a question that the fans wanted asked and someone at Celtic didn't like it one bit. Unless you are a totally compliant blogger you'd get no access to Celtic – remarkable really.
A plan to deal with the supporters own new media over a decade before saw a wee group gain privileges to Celtic – something that continues to today with one or two even in attendance at the recent Glasgow Derby (nae luck) but these sites aren't the main ones Celtic fans read or listen to these days. A new breed has come through and dominate the attention of the support and doesn't include the ones that had previously been controlled by the club.
As an aside where are the various Supporters Associations in all of this? Not a word has been uttered.
So when Celtic wanted to say something they did what they'd done previously, they apparently whispered something into the ears of a Daily Record hack. The problem with that is that they are in danger of any spin, or perceived bias, or outsider looking in scenarios, adding fuel to the fire. Like this:
"…but he will also not be thrown to the wolves just because of the demands of a bunch of fans with an enormous sense of entitlement."
THE AFTERMATH – Fans looking to re-visit refunds from last season, others looking to cancel their season tickets from this campaign, increased chatter about further protests outside Celtic Park on Sunday and a considerable amount of abusive messages being sent to the club via SLO John Paul Taylor (who deserves much better). One article yesterday was on the 67 Hail Hail site was pushing the 'Go for the Refund strategy' and targeting JPT – It's written by a chap called David Walton and you can see it here.
Incidentally that's the same David Walton who writes for this site and appears to support that mob. These two sites also share an 'Old Firm' (sic) podcast and are owned and operated by a clickbait company.
No-one at Celtic said that the fans had an enormous sense of entitlement but that's the fair and reasonable conclusion that fans have drawn from the events over the past few days. And it comes down to the lack of proper communication with the fans – directly with the support. The Celtic support.
The myth that Dermot Desmond didn't sack Neil Lennon because of the protest of a few hundred fans is understandable, in our own anger we were prepared to believe it, but it isn't actually the case.
Now if you are a Coventry City supporter, or a Plymouth fan, or a Middlesbrough man, and you were watching Sky Sports the other night then you'd probably have been confused. Hadn't Celtic won nine titles in a row, eleven trophies in a row and are in a Cup Final later in the month? Frankly it was a bad look from the outside looking in and a 'reasonable man' with no particular concern for who wins the Scottish Premiership in season 2020/21 could easily draw a  'sense of entitlement' conclusion. And if they're thinking that then a hack at the "Thugs and Thieves" Daily Record is going to state it too. If there is a chance to kick Celtic and the support it will always be taken. Thus the absolute madness of the Celtic media strategy.
THE CELTIC PLAYERS – It's a case of keeping the worst for last . First, ask yourself this question. Why did Dermot Desmond and Peter Lawwell not sack Neil Lennon after the defeat to Ross County? If it had nothing to do with the protest then what was the real reason for keeping Lennon in situ?
Yesterday on The Celtic Huddle Podcast former Celtic striker Scott McDonald pinpointed the problem. McDonald reckons that the current situation stems back to Neil Lennon's comments after the Champions League defeat to Ferencvaros.
"If they are making waves to leave the club they are obviously not committed. We want players committed to the club. I'm not going to go into it but I'm putting it out there because it has been bugging me for a long, long time," Neil Lennon said.
And Scott McDonald reckons, this is the cause of the current situation.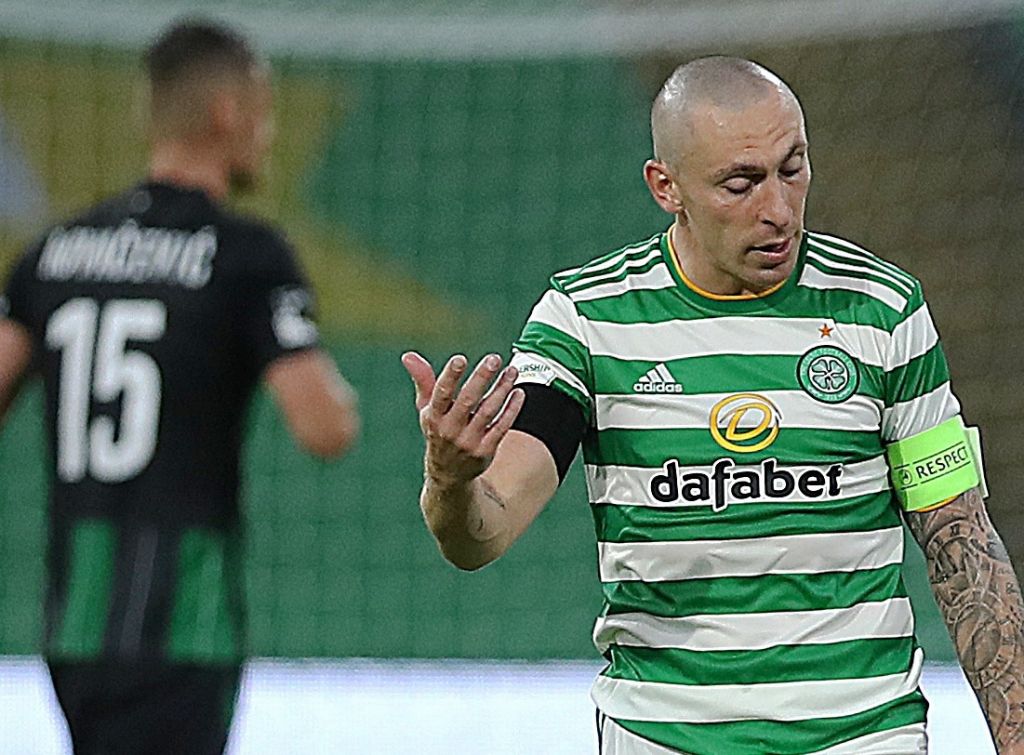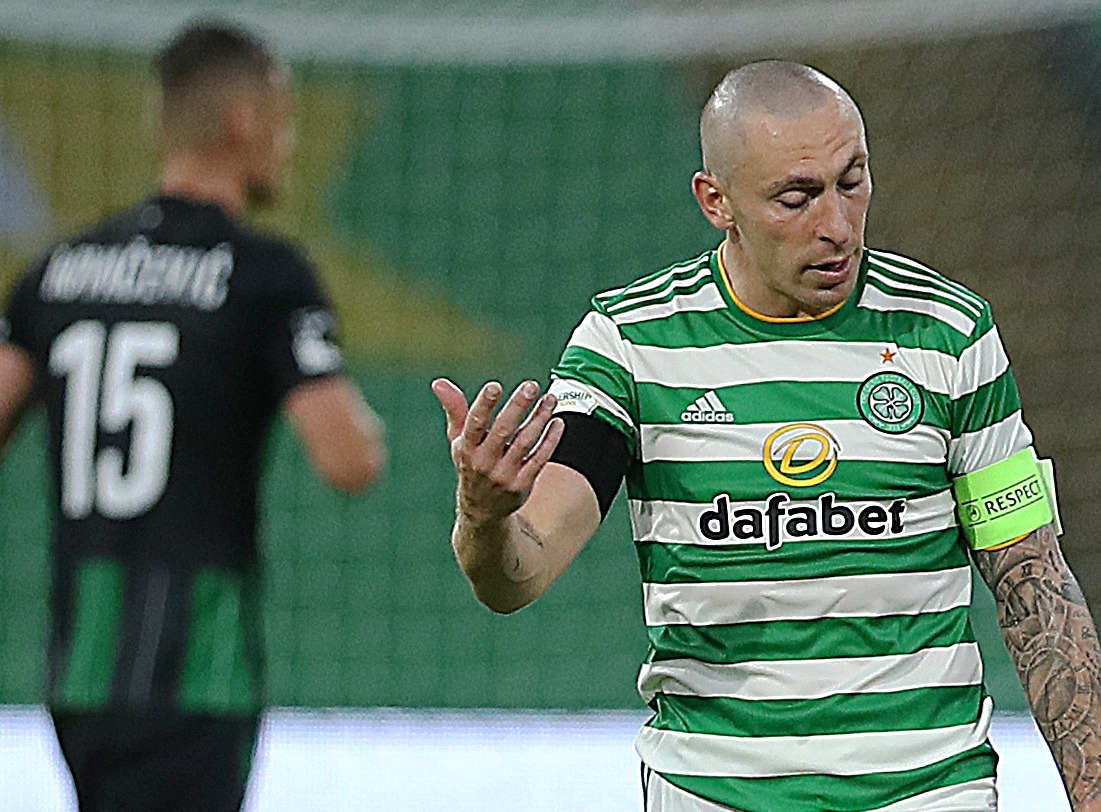 "It's been pretty much a car crash ever since they didn't qualify for the Champions League. I will go back to that and pinpoint that as a serious turning point in terms of what Neil said in his press conference after the game.

"I felt it was alarm bells right there and then when he said half the players don't want to be here. If that is the case, all fine and well but as we all know there is eyes and ears everywhere and you have to keep those things in-house.

"All of a sudden there is crisis and the press love it, they are going to get all over it.
"If there is any cracks at Celtic Park because they have had so much success they are going to go with it and Neil gave them the opportunity.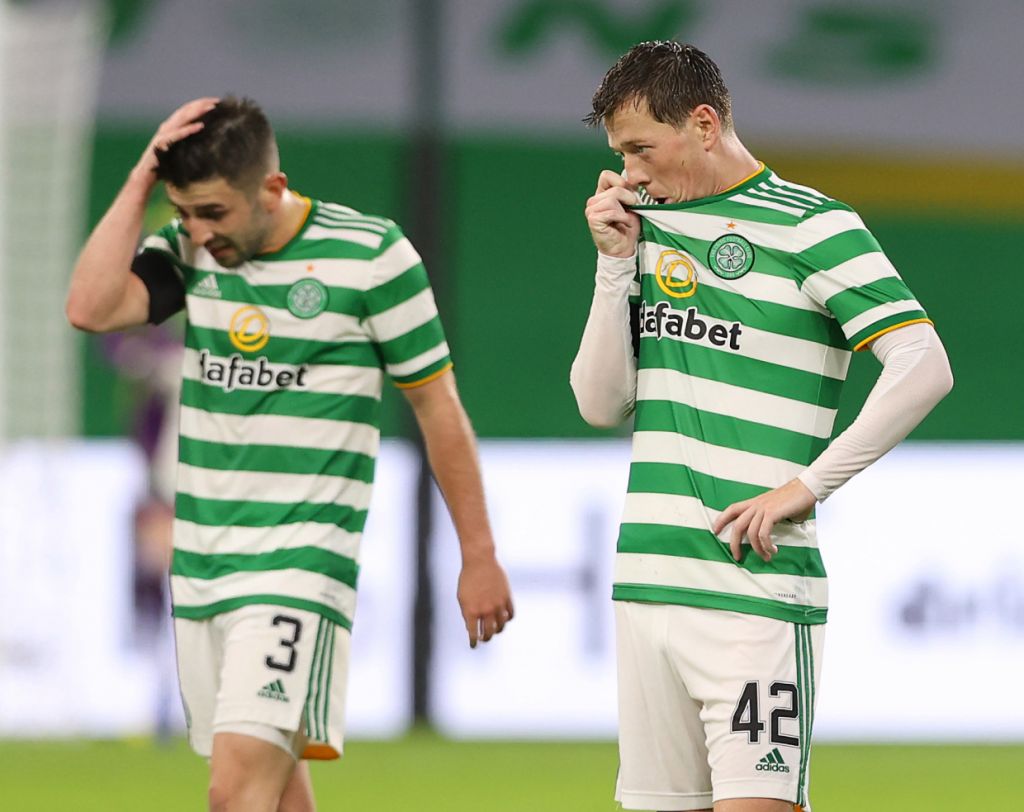 "He was more or less calling the players out and I don't think a lot of those players were ready for that, or appreciated it or accepted it and I feel from that day on, he lost quite a lot of them in that changing room."
Catch up with the latest from the Celtic Huddle Podcast NOW! ⚽️@markwilson_12 is joined by @SimonDonnelly13, @MaccaFrank and @ScottyMcD83 talking about another tough week for @CelticFC…

Available NOW on Apple Podcasts, Podbean and YouTube, just search 'Celtic Huddle' 🎧 pic.twitter.com/cm4dC4OfX3

— The Celtic Huddle (@HuddleCeltic) December 2, 2020
THE REASON – So did a number of Celtic players want away, with some asking for transfers before a ball was kicked this season? Perhaps they reckoned that there would be bids from the clubs that they reckoned they could be playing for (these bids never materialised)?  Was something so wrong that by the time Neil Lennon called them out after the Champions League fiasco, our season was already in danger if hitting the rails big time?
Then after talking to the Board did Neil Lennon have to pull back from these remarks because the players needed to perform and future transfer fees were dependant on the playing in a winning team? And if he predicted what might happen if they are selected and remained half hearted then he could hardly be sacked for being completely correct!  The Celtic Star can share five words from a conversation with someone very close to the action in all of this and any time we have given you this sort of information it is always 100% accurate.
"The players have deserted us," let's type that again "the players have deserted us," let that sink in.
In what we regard as our most important season, domestically at least, in most of our lifetimes, "the players have deserted us". Not them all, honourable exceptions to Scott Brown, Callum McGregor and James Forrest (badly missed when he's not in the team, under appreciated when he is) and a Paradise Pass should be given to the new recruits who walked into the madness of this soap opera. No wonder few if any  have performed to the standard expected.
From here on we should get behind the club and expect 100% from every player selected to wear the jersey. They'll know pretty soon that the support now knows. If we are out of things by 2 January sell the lot of them. But if we can get our focus back before Sunday and give it one last push we might end up with the correct chemistry through adversity to get us back in the hunt for the title and see how theRangers react to a defeat on 2 January with a fully focused Celtic breathing down their necks.
So let's park the dissent for now and deal with it, if necessary early in the New Year or hopefully next summer.  It's the last chance to deliver the Ten and there are those in that Celtic dressing room who owe us big time.
There is still a chance we can turn this around. Maybe the script for Ten in a Row will have a happy ending after all.