CELTIC'S SCOTTISH LEAGUE CUP TRIUMPHS – No.12…
If Celtic were on their knees in spring 2000, they were certainly back on their feet and up fighting by 2001. In summer 2000, they at long last appointed the right man in Martin O'Neill and also backed him up with a certain amount of cash. O'Neill bought wisely, and by the end of August the marker was set in one of the famous "Demolition Derbies" when they beat Rangers 6-2 (… "and the cry was No Defenders!")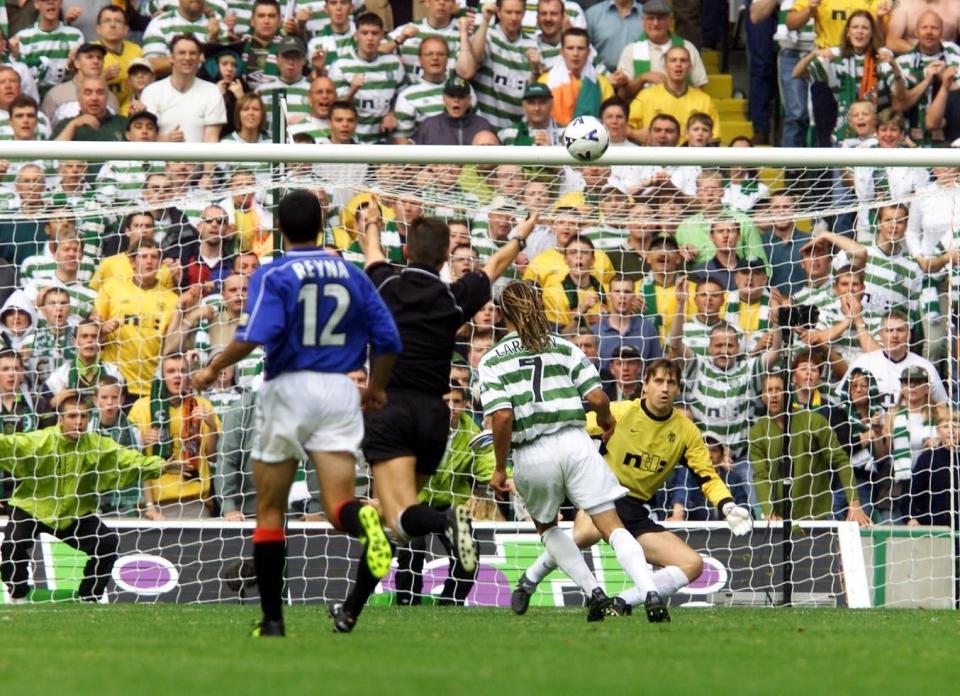 The format of the League Cup was now a great deal simpler. Only four games were required for Celtic to repeat last year's success. The first was a very simple 4-0 win over Raith Rovers, a team which once gave Celtic an awful bother in the League Cup, but on this occasion the Kirkcaldy were simply swept aside by a Celtic team, still revelling in their defeat of Rangers and with a hunger for more success.
The quarter final of the League Cup saw Celtic at Tynecastle. In what was perhaps a brave move, O'Neill decided to rest a few players and to give an opportunity to youngsters like Colin Healy, Jamie Smith and Stephen Crainey. The 5-2 result was actually a very good and close game, marred to an extent by a clash of heads of two Hearts players which necessitated a double substitution. The game went to extra time, and it was only then that Celtic took command, showing that there was indeed strength in depth. It was a game mush enjoyed by the terrestrial TV audience.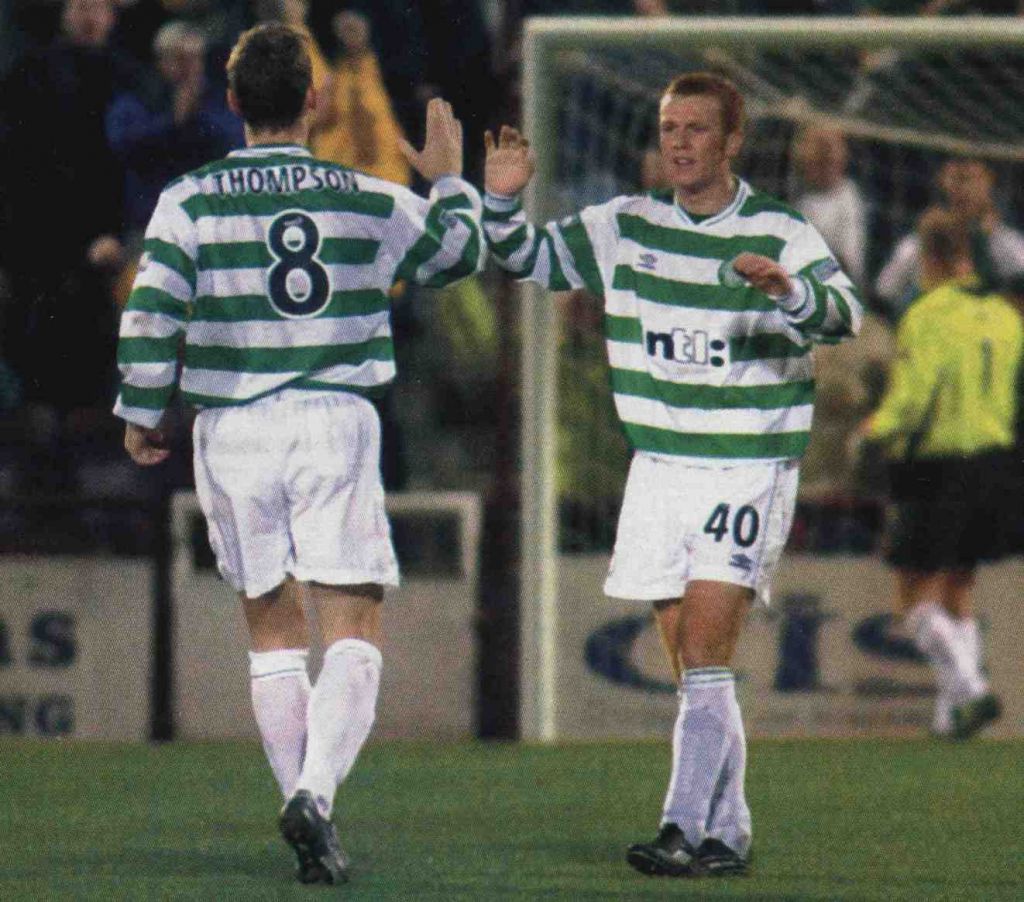 The semi-final then took place in early February and it was against Rangers at Hampden. Once again it was on terrestrial TV and was much enjoyed. The game was eccentrically (but not unfairly) refereed by Willie Young who awarded a soft penalty to each side, sent off three players near the end. Claudio Reyna deserved to go after a shocking tackle but a "talking to" might have done for the other two, Lubo Moravcik and Michael Mols, after a spot of "handbags". All this, however, could not disguise the fact that Celtic were worthy winners with two early goals, one from Larsson and one from Sutton and then Larsson slotted home the penalty as well.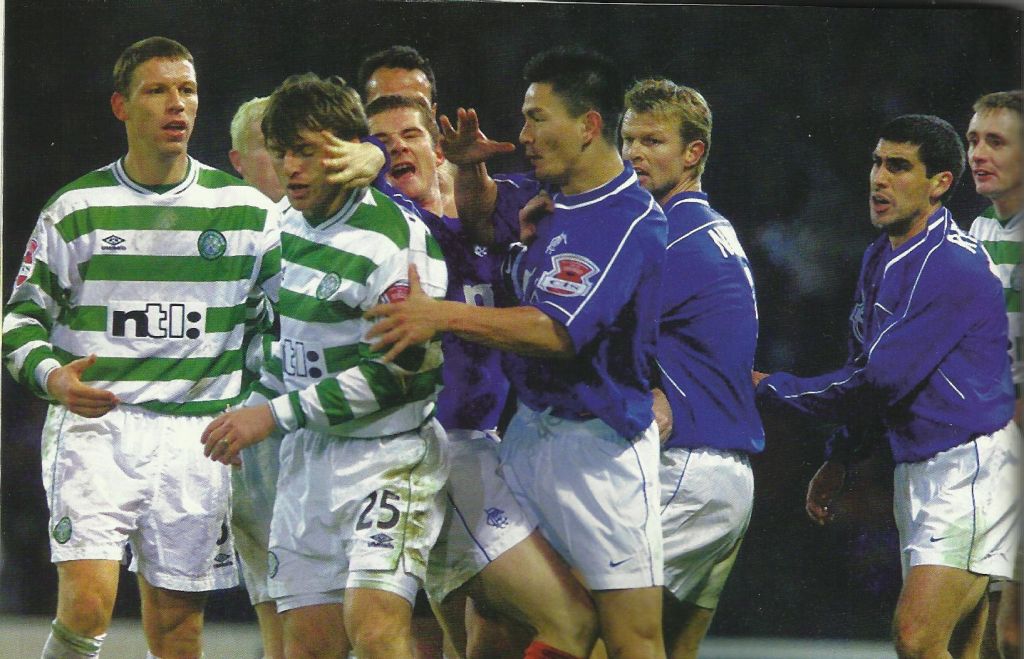 18 March saw the final at Hampden between Celtic and Kilmarnock. Celtic were almost ridiculously understrength for this game as a result of injuries, suspensions and players being cup-tied with other clubs. On the Wednesday before the final, for example, Celtic lost the services of Stilian Petrov who broke his ankle in a game against St Johnstone. But this Celtic team dug deep, deployed their reserves, and duly won 3-0.
It was a remarkable final in many ways. Celtic were wearing yellow and little happened of note in the first half, other than a bad crocking of Bobby Petta by a Kilmarnock player who sould have been more severely dealt with. But then Henrik Larsson took over and scored a memorable hat-trick. The first was a typical Larsson swivel and turn, the second was a deflected shot, and the third was simply a sight to behold – he ran the whole of the Kilmarnock half ignoring the fouls on him on the half-way line, then moved the ball from one foot to another to beat the goalkeeper and score a sublime goal. If anyone had dared to doubt that he was world class before, this was now proof.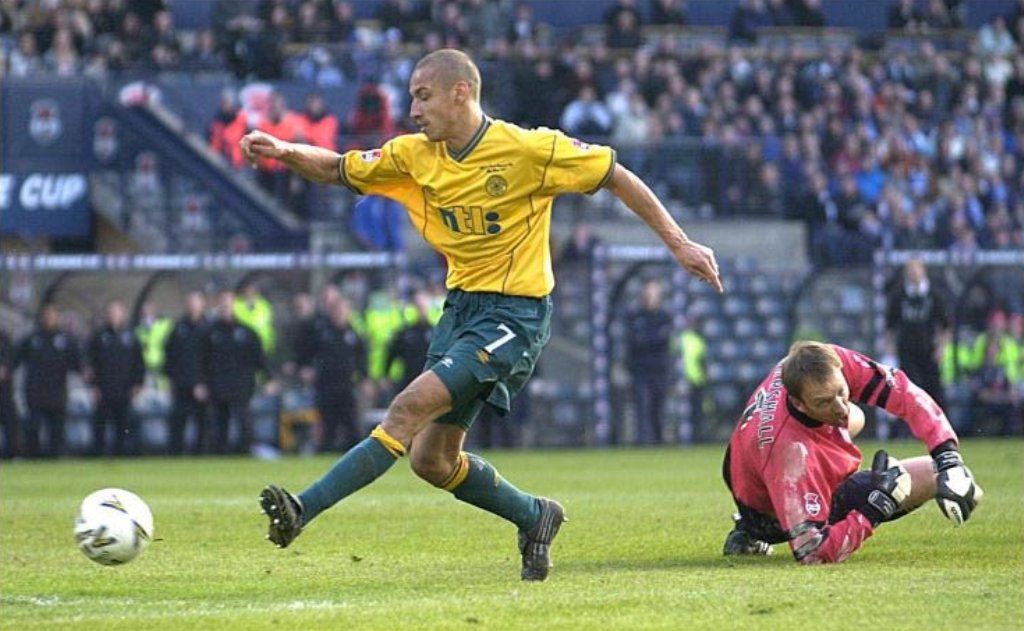 In between all this Chris Sutton had been sent off by referee High Dallas, with a little more enthusiasm than perhaps was warranted, but it mattered not, for Celtic were comfortable winners over an outclassed Kilmarnock side. It was Celtic's 12th League Cup, Martin O'Neill's first trophy and the first of many for a very confident Celtic team and a now animated support.
The team was: Gould, Vega, Mjallby, Valgaeren, Healy, Lambert, Lennon, Moravcik (Smith), Petta (Crainey, Boyd), Sutton, Larsson.
David Potter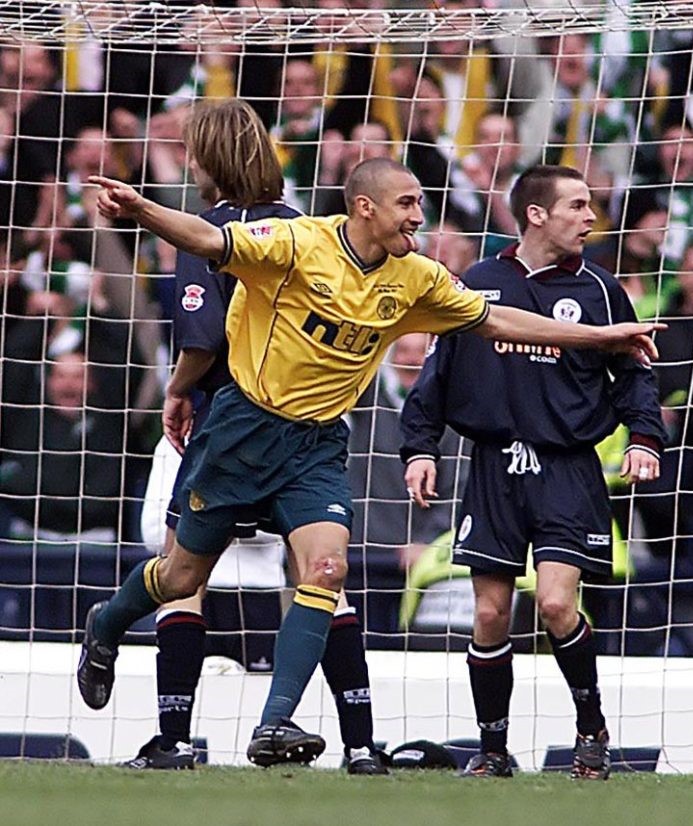 Celtic's League Cup Advent Calendar – Win No. 10 will be featured on The Celtic Star tomorrow morning…