CELTIC'S SCOTTISH LEAGUE CUP TRIUMPHS – WIN No.14…
The Celtic triumph in the Scottish League Cup of season 2008/09 was an unusual, although welcome one. It is of course always particularly pleasing to beat Rangers in the final, but the game must be seen in the context of other competitions where the League was lost painfully to Rangers, and this particular League Cup final was played only a week after a defeat to St Mirren in the Scottish Cup. The semi-final against Dundee United was a remarkable game as well, and Celtic were not without a little fortune in getting through.
Celtic began with a fairly routine and comfortable 4-0 victory over Livingston at Celtic Park on 23 September  with a couple of goals from Georgios Samaras (one a penalty) and one each from Glenn Loovens and Scott Brown. Kilmarnock put up a stiffer test at Rugby Park in a rather more physical (some would say "dirty") encounter at Rugby Park on 29 October.
Scott McDonald, Aiden McGeady and Shunsuke Nakamura (with a free kick) scored the goals in the 3-1 win, but Manager Gordon Strachan felt that he had to withdraw Nakamura from the action, fearing some of the robust tackles on the delicate frame of the talismanically talented man from Japan.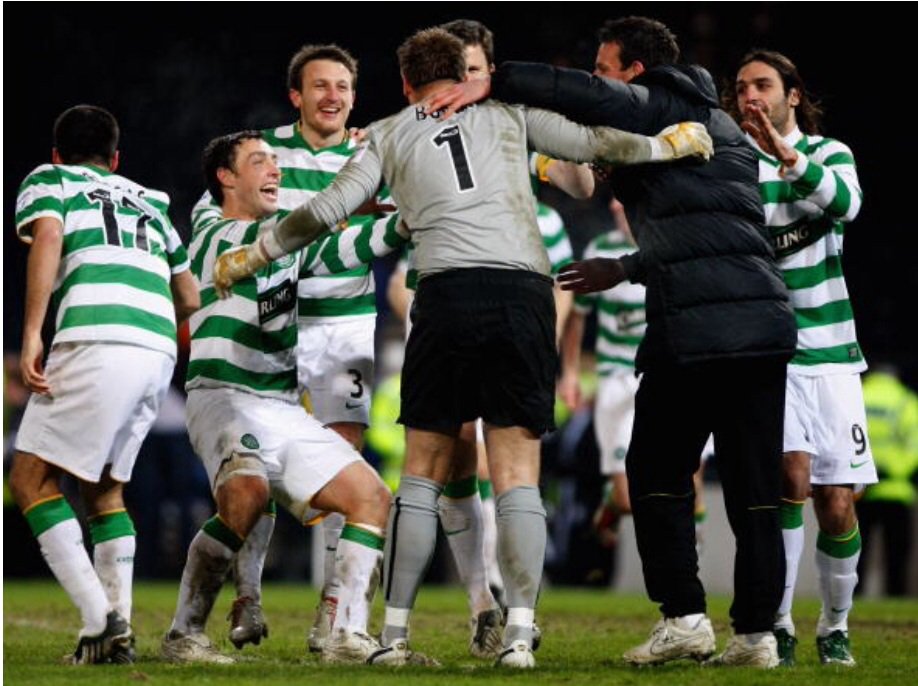 The semi-final was against Dundee United on January 28 2009. Everyone agreed that the Hampden pitch was sub-standard (but then again we have heard that one before, have we not?) but the standard of football was not all that bad, even though the game ended 0-0 after extra time. Both teams had had chances to score, Celtic having hit the woodwork at least twice, but 0-0 it was. There was also a sub-plot in that Willo Flood of Dundee United was on the point of joining Celtic, but played for United that night.
The game went to penalties, and one of the first penalties was scored by Willo Flood. The snag was that everyone else scored their penalty – unusually for Celtic, whose record in a penalty shoot-out is not normally very good – and the game went to sudden death. Then Lee Wilkie of Dundee United and Glenn Loovens of Celtic both missed, and the fun continued with even both goalkeepers Artur Boruc and Lukasz Zaluska scoring one each. And so everyone having had a shot, it was back to the start again, and this time it was the luckless Willo Flood who missed the vital one, hitting the bar, and allowing Scott McDonald to score for Celtic. Celtic thus won 11-10 on penalties.
Those who did not understand such things claimed that Flood missed deliberately so as to win a medal with his new club. This is rubbish for two reasons. One was that he scored the first time round, and the second is that he would not have been eligible to play for Celtic in the League Cup final in any case because he was cup-tied!
The pitch was a whole lot better for the League Cup final on 15 March. It was a good game with Celtic always slightly the better side, but never able to finish things off in the 90 minutes. They did so however in extra time with Darren O'Dea making a rare appearance on the score sheet. It was a header from a Nakamura cross. That was in the first minute of extra time, and then in the last, Aiden McGeady was brought down in the box. Celtic were awarded a penalty, Rangers defender Kirk Broadfoot got a red card, and Aiden McGeady immediately called for the ball because he wanted to take the penalty. He duly sank it, the referee immediately signalled for full time, and Celtic had won their 14th Scottish League Cup.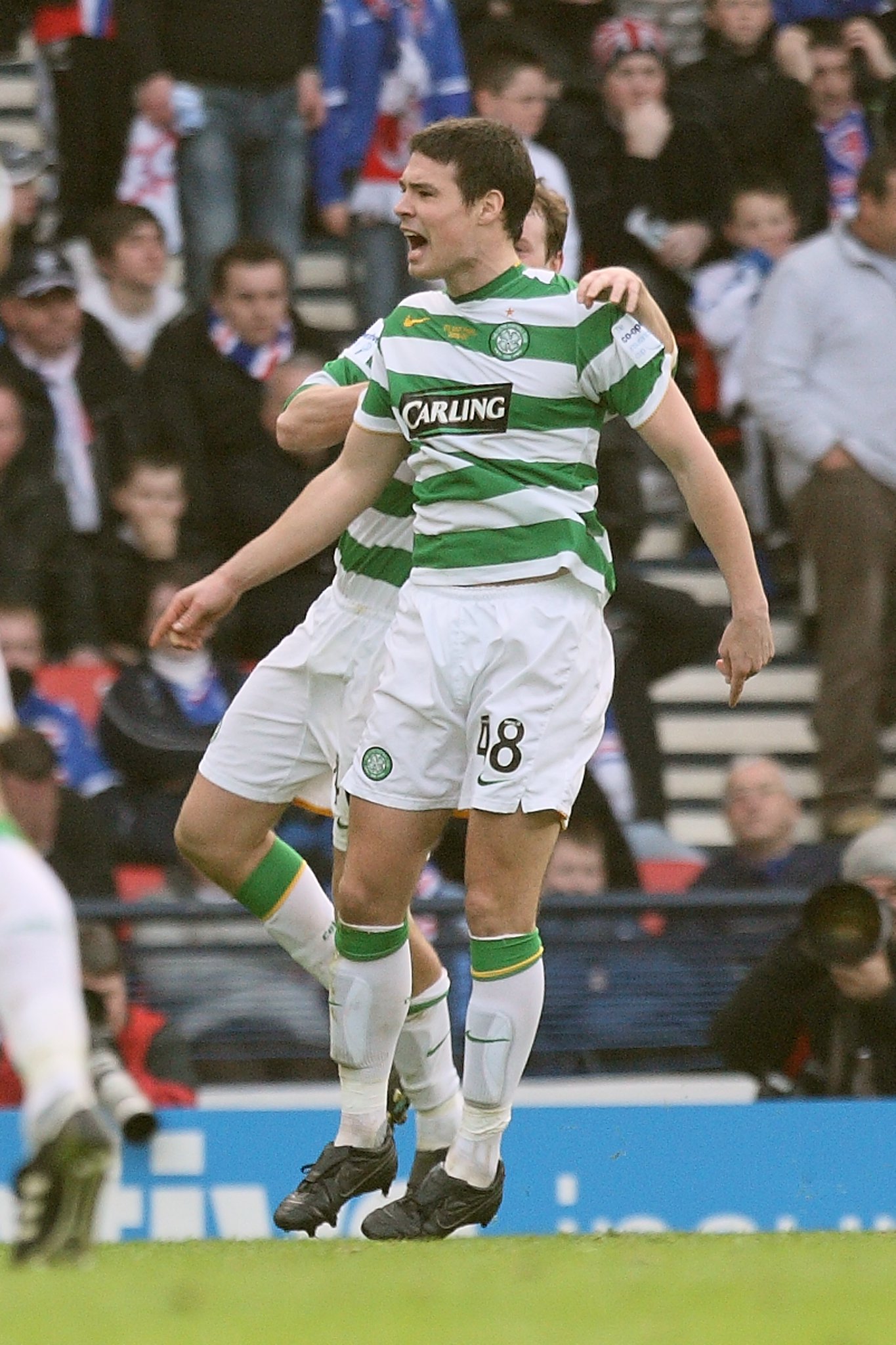 The team was Boruc, Hinkel, Loovens, McManus, O'Dea (Wilson), Caldwell, Nakamura, Brown, Hartley, (Samaras), (Vennegoor of Hesselink), McGeady, McDonald.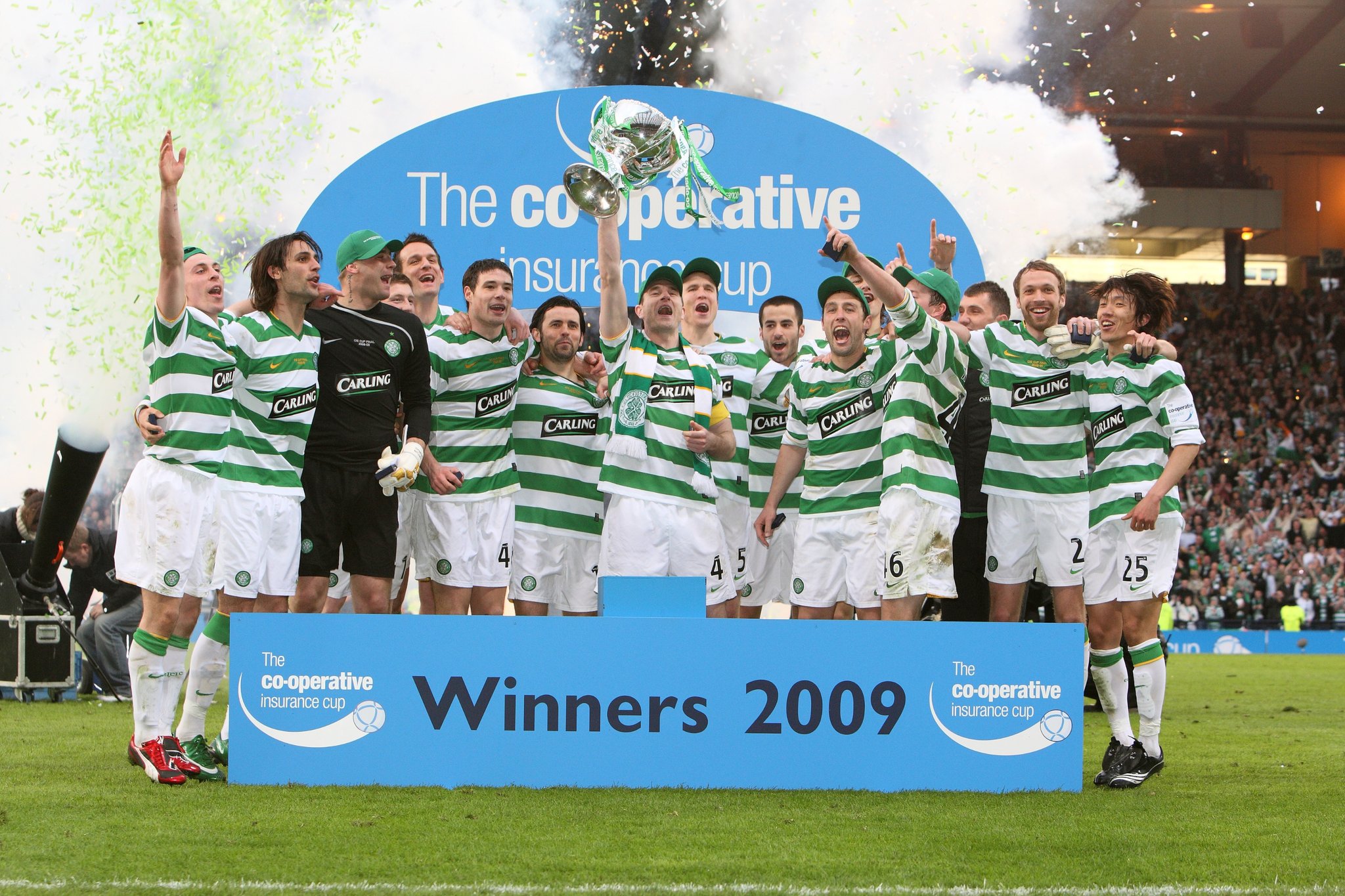 David Potter
*Celtic's League Cup Advent Calendar – Win No. 15 will be featured on The Celtic Star tomorrow morning…