CELTIC'S SCOTTISH LEAGUE CUP TRIUMPHS – WIN No.16…
2016/17 was one of the greatest in the history of the club, as the team, rightly called "the Invincibles" completed the fourth treble in its history, thus putting this season alongside 1967, 1969 and 2001. (The only reason that 1908 cannot be included in this list is that the League Cup did not exist then!) And the winning of the League Cup was what put Celtic on their way.
The Scottish League had once again fiddled about with the League Cup, beginning it in July with a sectional format. (Those advocates of summer football can notice incidentally that the attendances in July were abysmally poor!) This format had a few gimmicks e.g. every game that ended in a draw went to a penalty shoot-out for an extra point – not the worst idea I have come across – but in any case, Celtic and the other three teams who had qualified for Europe were not involved until August. In addition, the competition would now be completed before the turn of the year.
Celtic drew Motherwell at Celtic Park. Motherwell would improve over the next couple of seasons, but on this night of 10 August, Mark McGhee's side were comprehensively outclassed by a Celtic side whose new signings showed every sign of blending together splendidly. Tom Rogic scored twice, Moussa Dembele twice and Scott Sinclair once as Celtic won 5-0 with everyone leaving Celtic Park convinced that new Manager Brendan Rodgers was starting something.
There was however room for a little doubt when Alloa came to Celtic Park for the next round. The Clackmannanshire men had been very impressive in the First Division under a new Manager called Jack Ross, and Celtic had shown signs of a recent stutter with a bad hammering from Barcelona in Europe and an unhappy draw at Inverness.
This night of 21 September saw a poor crowd of about 16,000 at Parkhead, and a prolonged failure to break down a compact Alloa defence. Memories of a recent exit to Morton in similar circumstances in 2013 came flooding back, but thankfully James Forrest eased the pressure and then Moussa Dembele scored at the end to give Celtic a 2-0 victory. But things might have been a lot different if Craig Gordon had seen a red card for a challenge outside the box on an Alloa player which even the most devoted of us would have had to concede was "rather high"!
Possibly we got away with one there, but it set up a semi-final against Rangers on the crisp autumn day Sunday 23 October. We had certainly beaten them rather comprehensively at Celtic Park in September, but once again before a League Cup game we were suffering a crisis of confidence after an awful performance in Europe, defeated comprehensively at home by Borussia Monchengladbach.
Our season teetered on the brink, for failure here would have caused all sorts of ructions. But thankfully we pulled through. Indeed we were by far the better team, and the only wonder was that it took so long for us to score the only goal of the game. A good Erik Sviatchenko goal was disallowed before Leigh Griffiths made ground on the right late in the game, then crossed for Moussa Dembele who scored with a "rabona" – something that only really became apparent on TV replays.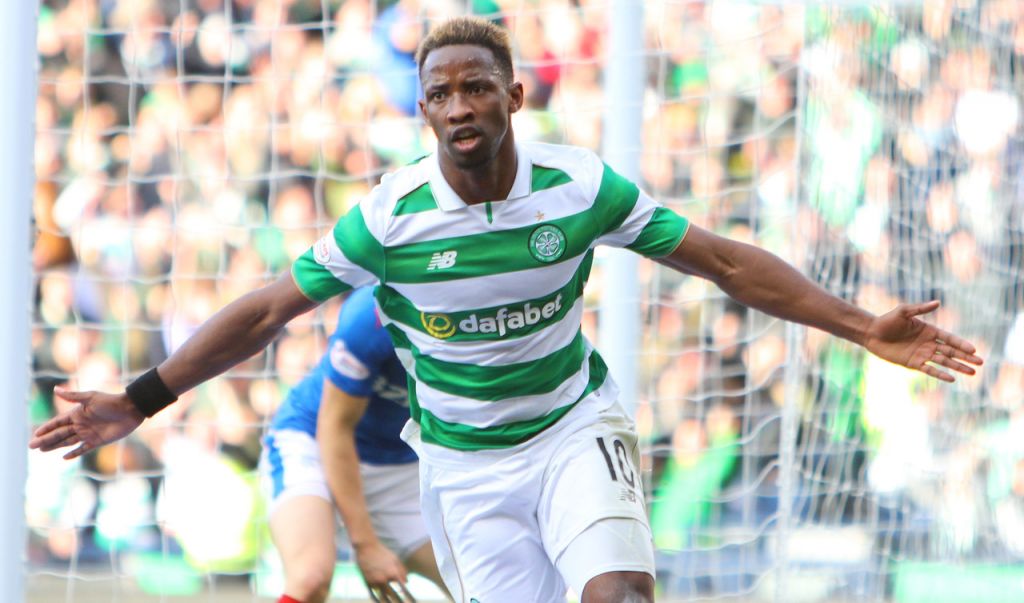 And so for Aberdeen in the final on 27 November.. No-one underestimated Aberdeen, and Celtic won with a thoroughly professional performance. Two good goals from outside the box (a feature of that season) from Tom Rogic and James Forrest in the first half, then after a semblance of an Aberdeen fight back in the early part of the second half, Moussa Dembele completed his fine goal scoring run in this tournament with a penalty in the 67th minute to make it 3-0, and that, basically was that. It was possibly one of Celtic's easier finals in this competition, but the trophy had now been won 16 times.
The team was: Gordon, Lustig, Simunovich, Sviatchenko, Izaguirre, Brown, Armstrong, Rogic (McGregor), Roberts (Bitton), Forrest (Griffiths), Dembele.
David Potter