CELTIC'S SCOTTISH LEAGUE CUP TRIUMPHS – WIN No.18…
Celtic's League Cup triumph number 18 was a good one, although there were times when the team were far from impressive. We did not know that this would be Brendan Rodgers' last ever trophy for Celtic.
Probably the game that Celtic came closest to losing was the first one against Partick Thistle on Saturday 18 August  2018 with a lunch time kick-off. This game was played with Celtic in more than a little trouble. They had just gone out of the European Champions League to AEK Athens in midweek. That was bad enough, but even worse was the Dedryck Boyata incident. Not to put too fine a point on it, he had refused to play for Celtic and was acting like a spoilt brat wanting a transfer. Such behaviour of course is always self-defeating and counter-productive, and it was hardly the greatest of surprises that no-one immediately came rushing in for him.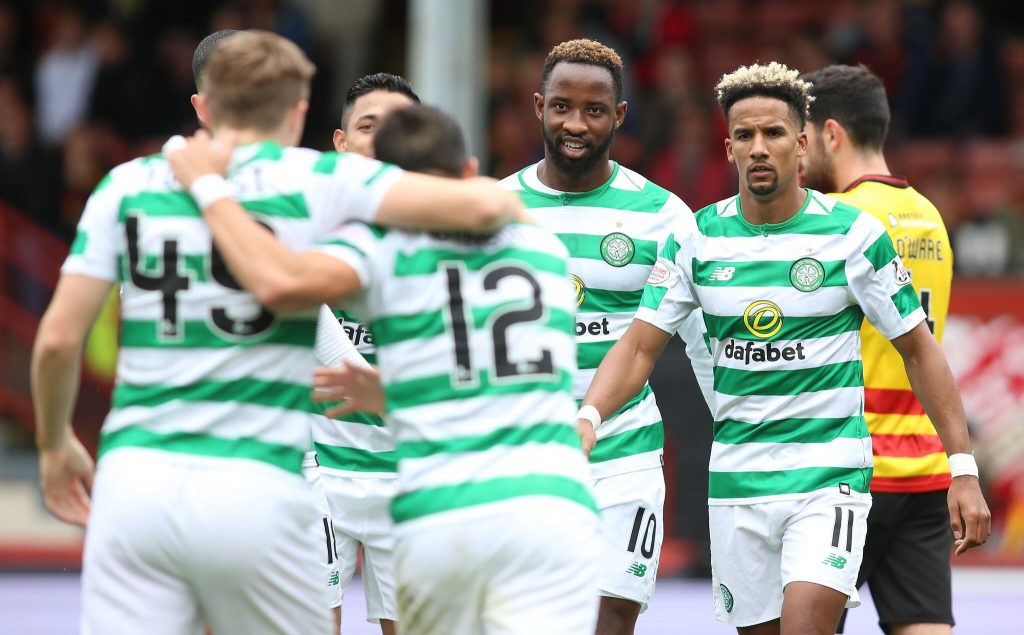 There was also the strange business of John McGinn, a young man from a very Celtic family. His grandfather was Jack McGinn one time Celtic Chairman and John himself made little attempt to hide his loyalties. On three occasions, we were told, Celtic had bid for McGinn, but had been turned down by Hibs who clearly believed that the Celtic valuation was not enough. Another bid was expected, but then Aston Villa nipped in and took him from under our noses. That was the way that the newspapers and the media reported it, and it all went down exceptionally badly with the fans.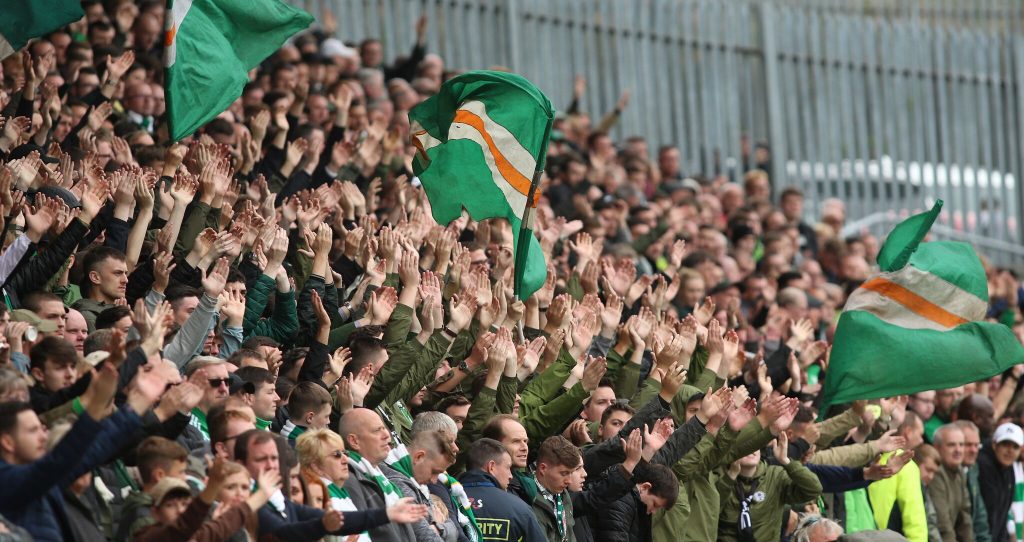 So the Celtic fans who took up their allocation of tickets at Firhill that day were far from happy. It was also a strange line-up with Gamboa and Izaguirre (now returned after a spell in Saudi Arabia) both recognised left backs in the team! Mikey Johnston was also given a game. The standard of football was not high, but a good goal by Leigh Griffiths in the 18th minute gave Celtic the advantage. Celtic then seemed to be muddling through until a goal in the 71st minute by Andrea Mbuyi-Mutombu (undeniably the first person of that name to score against Celtic!) caused us to worry.
It was not that Thistle were the better side, but it was a Cup tie and accidents could happen, particularly if we allowed the game to go to extra-time. Fortunately Dembele and Rogic appeared at the right time and prevented anything more serious happening. It was however a very unsatisfactory and even a worrying victory.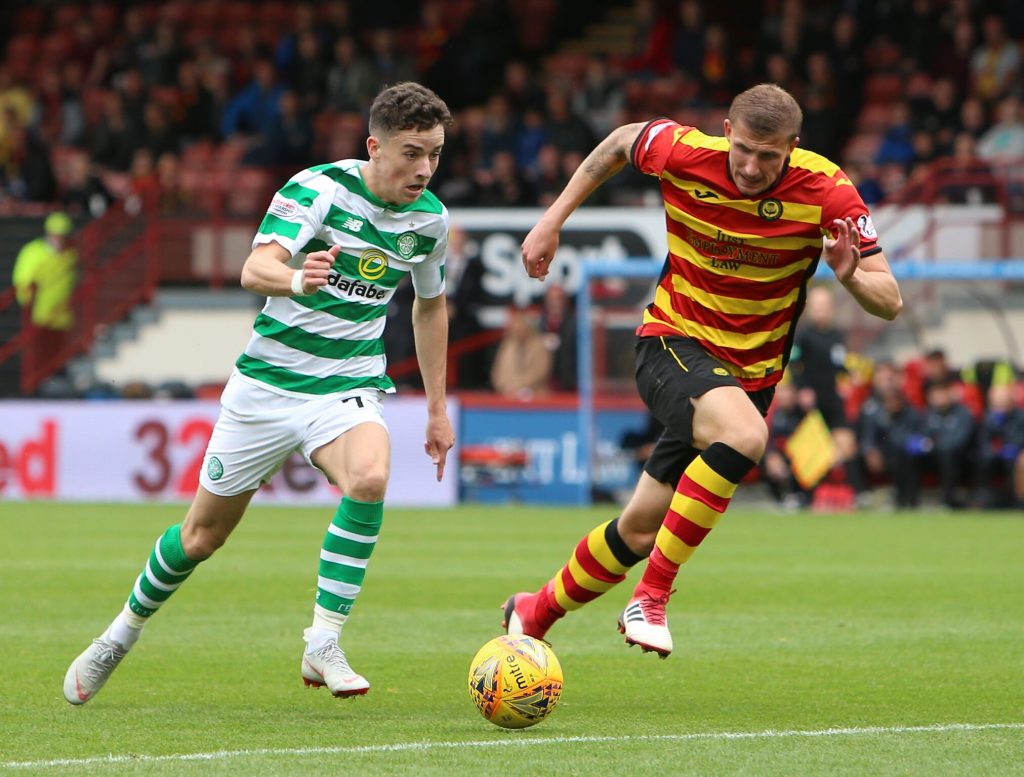 Celtic were still in trouble when the next round was played. They had lost to Kilmarnock on Saturday and now travelled to McDiarmid Park to take on St Johnstone, a place where they often got a hard game. This game was no exception, but it was a better Celtic team tonight. They were well on top and won through at the end with a good Leigh Griffiths goal after some good work from Kieran Tierney and what might have been a penalty kick.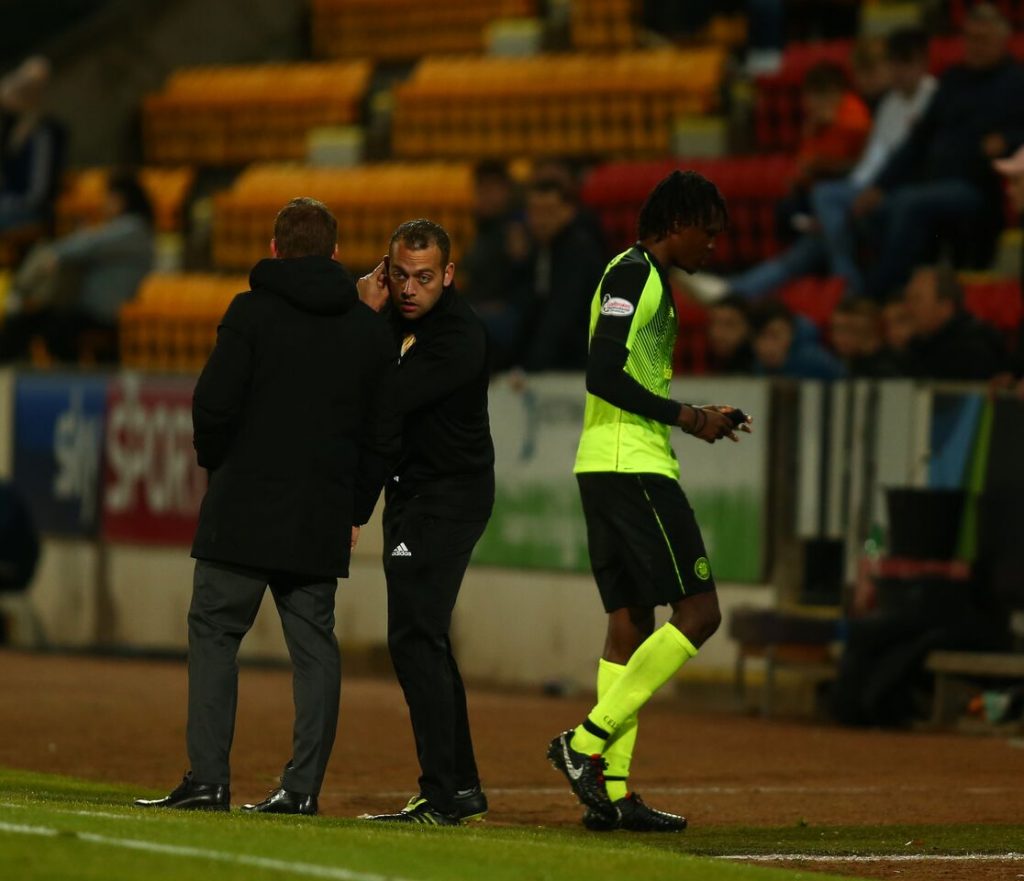 Dedryck Boyata was once again the source of some angst, but for different reasons this time because he got himself needlessly sent off by referee John Beaton, for arguing after a decision or two had gone against him.
And then we come to Scotland's "Super Sunday" on 28 October. Because both Celtic and theRangers had been playing in Europe on the Thursday, both semi-finals had to be played on the Sunday. Well, they didn't actually, for more imaginative fixture schedulers might have delayed one of the games by a week, but in the event, it was a tremendous day for Celtic. 67,000 (Scotland's biggest crowd for many years) were at Murrayfield, yes Murrayfield in Edinburgh to see Celtic take on Hearts.
Those of the persecution complex saw Celtic being "picked upon" and "discriminated against" by all this, but if sinister influences had been at work here, they were distinctly unsuccessful for Celtic won 3-0 over Hearts with three second half goals – a penalty from Scott Sinclair, a piece of opportunism from James Forrest and then a great strike by Ryan Christie to round things off. That was good enough, but then we were all back home or in the pub in time to see the other semi-final when Aberdeen beat theRangers 1-0. It was indeed a super Sunday!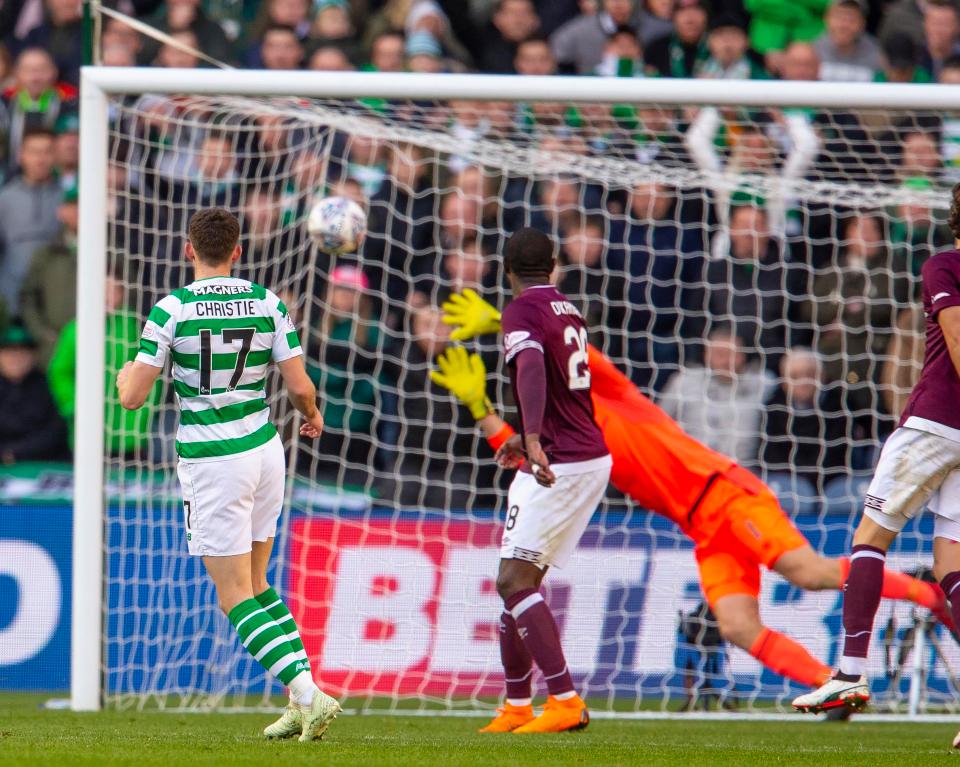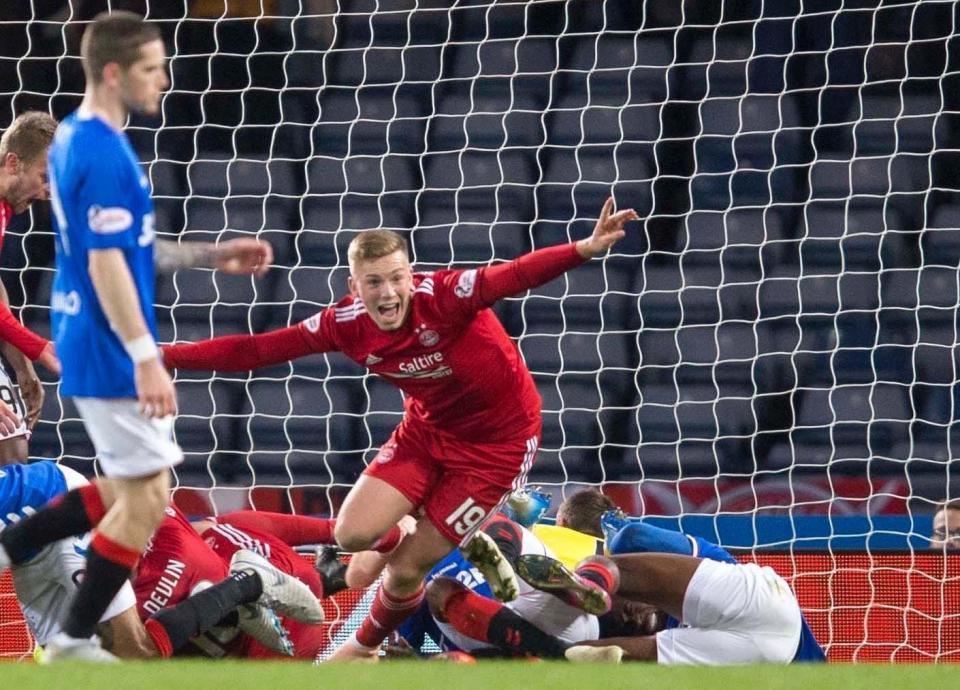 The final was played at Hampden on Sunday 2 December between Celtic and Aberdeen for the second time in three years. It was a good tight game with Aberdeen giving as good as they got, but the teams were separated just on the half time whistle by a superb Ryan Christie goal when he picked up a long ball from Dedryck Boyata (who had temporarily at least made his peace with the club) brought it down with his left foot, shot for goal with his right and then the ball was blocked by goalkeeper Joe Lewis, he hammered it home with his left foot again. It was one of the better Cup final goals, and well worth watching in You Tube.
The game was also characterised by one or the most ridiculous penalties for handball that one could ever have imagined. An accidental handball by an Aberdeen defender outside the box was eccentrically considered to be a penalty by referee Andrew Dallas, and one or two of us even felt embarrassed about that one. Perhaps fortunately Scott Sinclair's effort was saved by Joe Lewis, and the score stayed at 1-0 and that was the way that it remained at the final whistle. Celtic had won the League Cup for the third year in a row and for the 18th time altogether.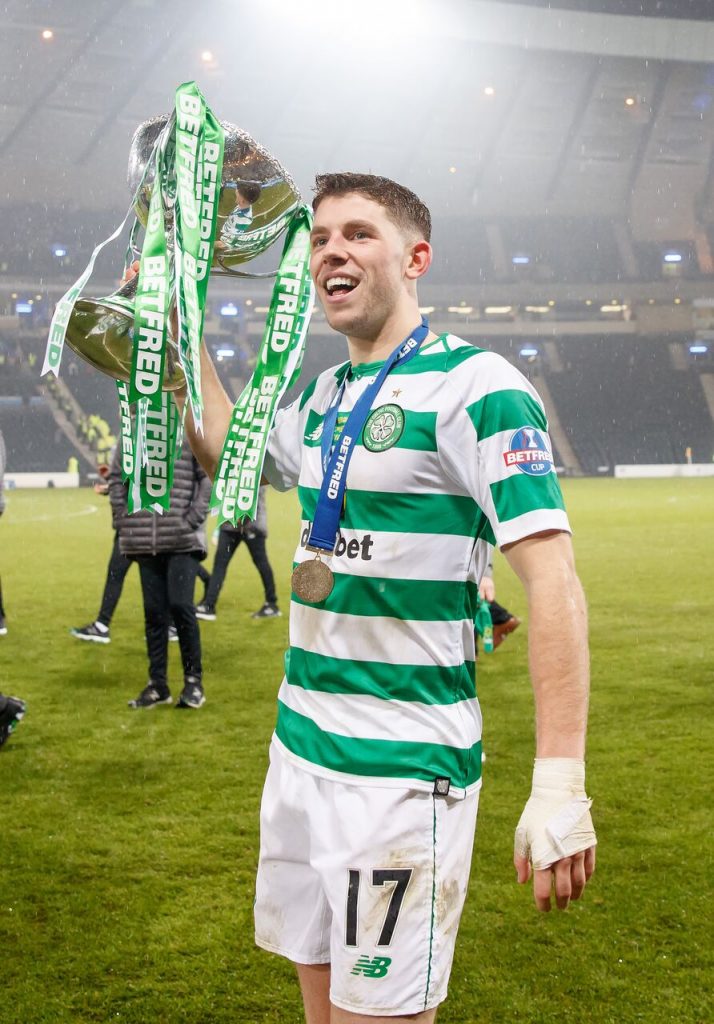 The team was Bain, Lustig, Boyata (Simunovic), Benkovic, Tierney, Rogic (Brown), McGregor, Christie, Forrest (Ntcham), Sinclair, Edouard.
David Potter
* Celtic's League Cup Advent Calendar – Win No.19 will be featured on The Celtic Star tomorrow morning.