On the 25th May I was up at 6am and was soon in Alex Owens car heading for the airport. It was a lovely sunny morning – just perfect for the task that lay ahead. Our first stop was St Andrews Cathedral. It was the feast of Corpus Christi and a special early Mass had been arranged for those flying to Lisbon. Outside the church the non-Catholics waited while inside their mates said their prayers with special requests for any divine assistance that might be available for a favourable outcome in the Portugese capital.
Then off to the airport. Perhaps not unsurprisingly our flight was slightly delayed. The airport was very busy and probably most of the passengers were flying for the first time.
Holiday Enterprises were taking no chances. When we received our flight tickets we also received a tag to wear around our necks with a piece of string. This confirmed our flight number and what to do. It was similar to the children being evacuated during the war! This was a time before replica strips had been thought of so most people were formally dressed. Quite a lot of men even in suits – after all it was a special occasion.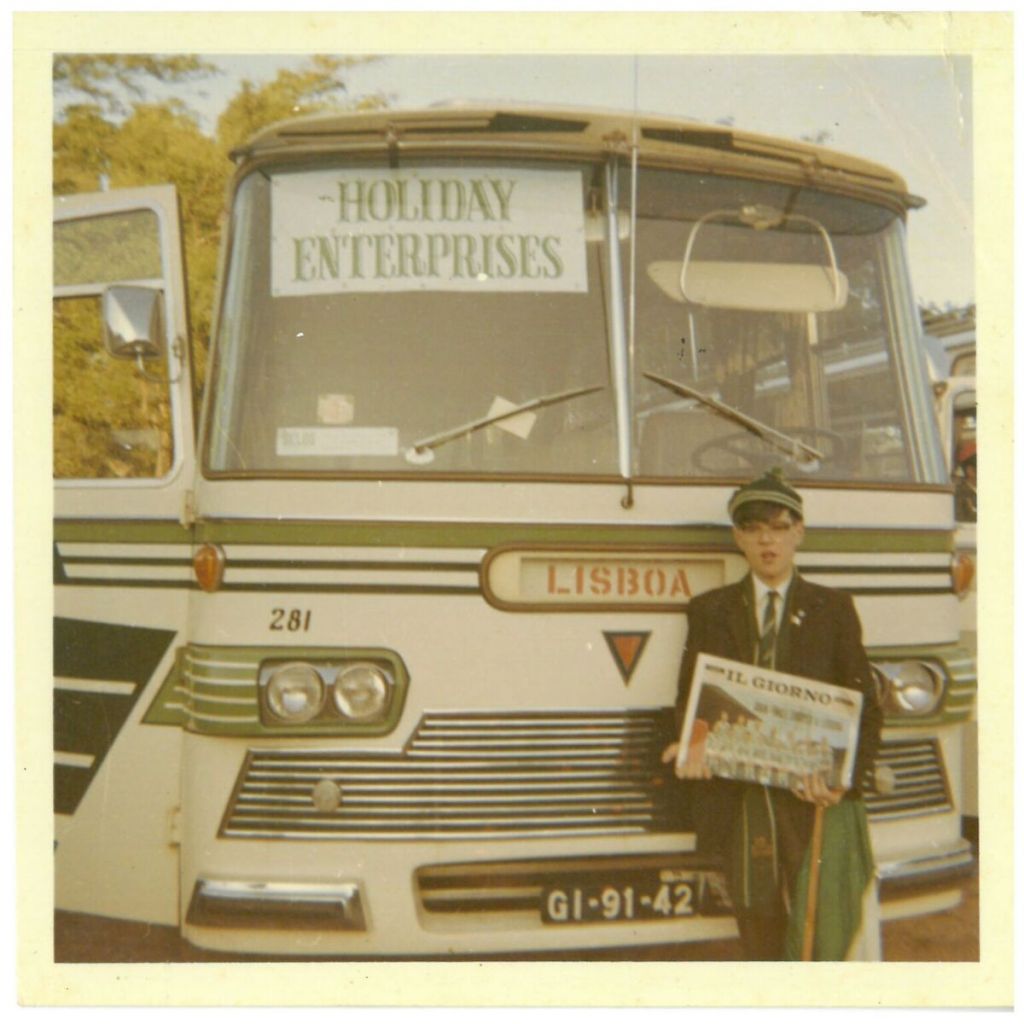 I had my usual 'lucky gear" – Celtic scarf, Celtic Tie and Tiepin and Celtic cuff links. On my head a woollen Celtic tammy. I had not given too much thought to the fact that Portugal might be warmer than Scotland but even if I had it would not have made any difference. This outfit had seen Celtic lift every trophy in Scotland. I was not changing my routine and risking bad luck at this stage of the season.
After a few hours we began our descent into Lisbon. I had a window seat so had a great view. What struck me the most was how bright everything seemed especially the roofs which were all a brilliant red. Just then I realised I had a problem. My ears were getting sore and I was struggling to hear. I explained this to Alex but his only words of sympathy were telling me to shut up and get out of the way so he could see out of the window. When we landed my ears were still sore and sounds were muffled. Now instead of thinking about the greatest day in Celtic's history I was more worried that I was going deaf!
Then from somewhere I remembered about pinching your nostrils together and blowing. I did so and bang! I could hear again!
We were quickly through customs and on to our bus. Jim McGinley welcomed us aboard. He must have been exhausted already. Up until now such large numbers of ordinary football fans had never travelled so far. He had taken a chance in getting planes booked months ago but he knew that if Celtic did make the final then they would not lack support.
He advised us all that due to the later than anticipated arrival of some flights there would not be time to make the specially arranged Mass. However anyone who had not got to Mass would not have to worry. He assured us that the obligation to attend Mass did not apply when travelling between countries. So a knowledge of religious affairs was also an advantage to travel agents handling Celtic fans!
We did not have too much time to spend in the city as the kick off was set for 5.30pm and we were scheduled to get there about an hour before the start. Still even the relatively short time we had was revealing. To someone who had only seen cities and towns in Scotland it was breath-taking. Wide, clean streets and avenues with gardens in the middle of them. There were even flamingos in the park.
At one point we tried to cross a busy road much wider than anything we had experienced in Scotland. We were stopped by a policeman waving frantically from the other side and eventually we realised he was indicating an underpass for us to use. By now we were in need of some sustenance and we looked for a place to eat. We had no idea of foreign food (my mother had suggested bringing a few peeces for lunch!), so what should we do? Fortunately the local café owners seemed to have done their homework on the visitors from Scotland and soon we were sitting down to a large plate of chips washed down by a cold beer.
Then off to the game. At one point our bus stopped in a line of traffic outside some cafes. There was a knock on my window. It was Chic Doherty and the Viewpark boys, having a last refreshment before heading to the game. Our journey to the stadium took us out of the city to what seemed a more rural area. We could see people working in the fields as we passed.