We parked the bus and walked up to the ground. Very different from what we were used to in Scotland. Rather than being surrounded by houses it was set in the slopes of a wooded valley. There were no turnstiles as such. Just someone at a gate tearing a stub off your ticket. I handed mine over and was given the receipt part back. It had cost 10 shillings and meant I could sit anywhere on the terracings behind the goals.
I thought it was a curious stadium. It was of white stone and seemed more like a Roman or Greek amphitheatre we had seen in our school books. It was really just 3 sided with what looked like a temporary stand on the side where the entrance gates were. That stand seemed to host what Inter fans there were. The rest of the stadium had been taken over by the Celtic fans and the locals who all most certainly seemed to be cheering for the team from Glasgow.
We had only been in the ground a few minutes when we met Neil Houston and Michael Sherry (Shanzy), friends of ours from Baillieston who had hitchhiked all the way. Michael was wearing a long white coat, like the ones the guys at the dog tracks wear I thought. On it he had dabbed in green lettering – Celtic. This had helped to get lifts across France and Spain and I was quite envious as I listened to their tales of the fun they had had on the road.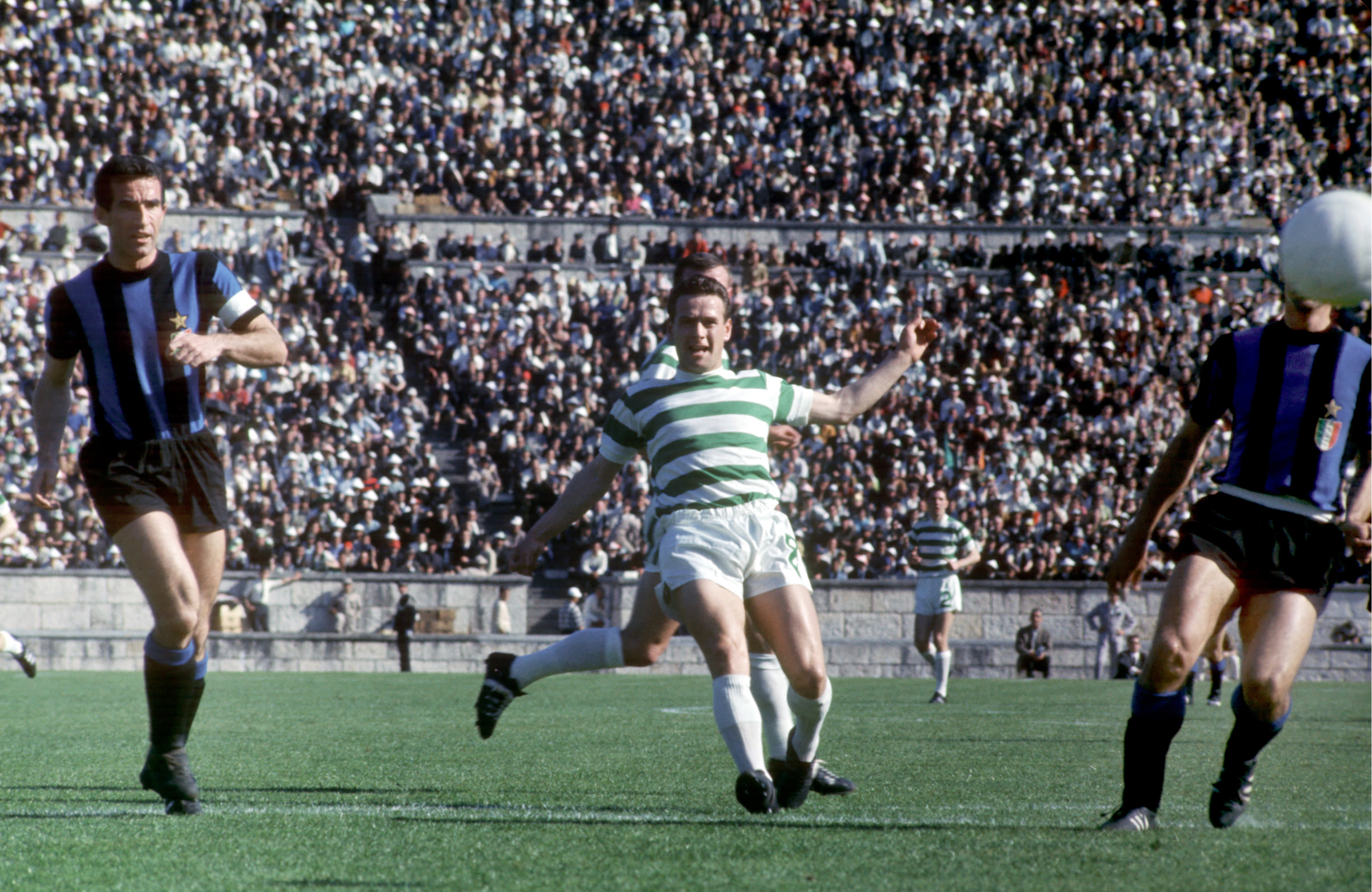 However I was glad my return journey was more assured. We made our way to a spot on the terracing to the right of the entrance. Even the terracing was different from Scotland. The steps were bigger and further apart and designed for sitting on rather than standing. The atmosphere was different too. Different aromas and the smell of warmth. Although I was clad in jacket, shirt, tie and scarf I did not find it uncomfortably hot.
We were able to get refreshments from the vendors who wandered round the terracing selling beer which they carried in small crates packed with ice. This too was different from the Scottish terracing merchants with their spearmint chewing gum and macaroon bars. Or the guy I used to see walking through the Celtic End with a large cardboard box with cheese or gammon rolls. When he was making a sale he would put the box down on wet (with various substances) terracing steps. I had never been that hungry that I had made a purchase from him.
The Lisbon vendors seemed more appealing. At that stage I had only tried a few sips of beer. In those days the terraces had plenty of punters who would go to the game with a large carry out. McEwan's Pale Ale or Tennents Lager seemed to be the most common beverages but I had never seen the point of drinking something that was so warm. Here, thanks to the ice, it was different and we were glad of the refreshment.
We had been in our spot for about 5 minutes when the Celtic team came out onto the park, in their club blazers to inspect the pitch. The cheers were tumultuous. Inter had virtually no support compared to us. About 40 minutes later Celtic reappeared. This time in their kit, side by side with the great players of Inter Milan. The greatest game in Celtic's history was about to begin.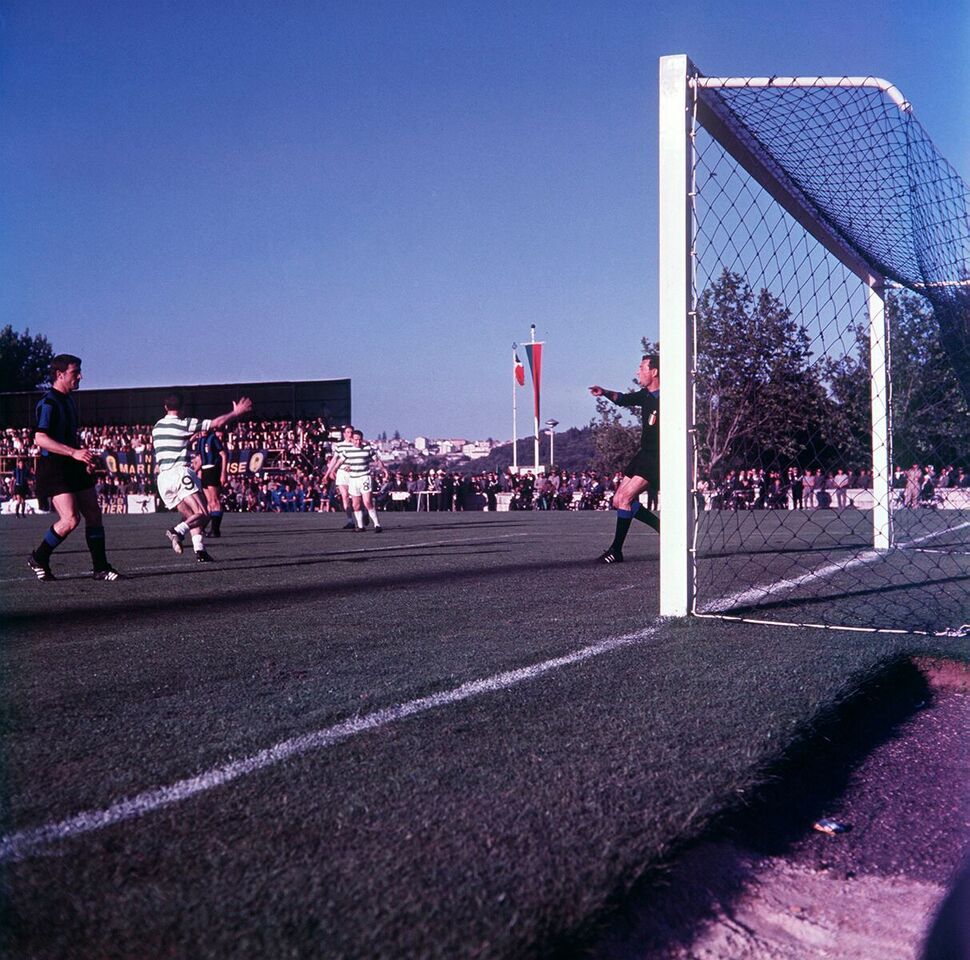 Although generally cautious I had great confidence in getting a win this day. Right from the kick off Celtic were in attack. We cheered but in their first attack Inter nearly scored, Ronnie Simpson having to scramble a header away. Then we were back at the other end looking for the opening goal. Instead it arrived at the other end. Jim Craig brought down Cappellini and the referee pointed to the penalty spot. There was a sick feeling in the pit of my stomach. For the first time I now had some doubts about winning. When Mazzola scored the resultant penalty I was suddenly aware of the long journey back and the Spanish exam awaiting me.
However the dismay soon disappeared as we roared on the Celtic players in their incessant attacks on the Inter goal. Of course we all knew about "Cattenaccio" and how good Inter were at defending but I had never seen a Celtic team as energetic and forceful as on that day.
At half time we decided to walk round the ground so we would be behind the goals that Celtic would be attacking. That was something I had done on a few occasions at away games but never at Parkhead as my place in the Celtic Choir at the Celtic End was essential to the team's performance. None of us were particularly expert in football tactics but the common agreement was that we should try and get a bit wider and set up a cut back for someone to come from midfield and have a crack.
And in 63 minutes that is exactly what happened. Jim Craig rolled the ball back to Big Tam and his shot from outside the box thundered into the net. We were ecstatic. We knew then this game was ours.
There were moments though when you did wonder. I was on my feet cheering a certain goal, only for Sarti to grasp the ball with one big hand on the line, and we were yelling for a penalty when the Inter keeper pulled the feet away from Willie Wallace.
When the winning goal did come however there was still a feeling of disbelief, at least on my part. When Tommy Gemmell had scored I was on my feet instantly, cheering and hugging anyone in my vicinity. When Stevie Chalmers poked home the second there were a few seconds of quiet. I felt almost as if I was in a dream and not part of the thousands celebrating beside me.
It reminded me a bit of the way I had felt at Hampden a couple of years earlier when Big Billy had scored the winner against Dunfermline. On that occasion I felt a sensation that was like lifting a curse, realising not just that we had won a trophy but that there were more to come. And now here in Lisbon I realised we were not just leading in a European Cup Final but that we could be as significant a European club as Inter Milan, Benfica, and Real Madrid.
Of course those moments of thought lasted only a few seconds and my semi-trance state was broken as bodies around me hugged and danced and I joined in.
We saw out the last 5 minutes or so without feeling any great concern and the final whistle blew to confirm our status as the Champions of Europe.
Immediately Alex, Neil & Shanzy with thousands of others were over the boundary wall and moat and onto the park. I hesitated. I recalled all the times when being taken to games as a boy by my father, by Peter Dickson's father and uncle, and by John Fagan's father – they always told us "You never run on the park". Of course in previous years invading the field of play was seen in very negative terms, usually to get away from or be involved in some violence. This was very different. Nothing but genuine exuberance.