Jock Stein's arrival as Celtic manager in March 1965 did not just change Celtic it changed Scottish Football. In fairness Big Jock had already been a force of change. He had taken Dunfermline from a small outfit battling against relegation to Cup Winners and laid the foundation for the period when they were respected in Europe and genuine challengers for the honours in Scotland. I had no doubts he would work his magic at Celtic Park.
Mike Maher's on Celtic's Long Road to Lisbon | The Celtic Star https://t.co/ovYsQjhQk9

— The Celtic Star Editor – INVINCIBLE (@CelticStarMag) May 24, 2020
Big Jock's arrival came at a great time for me. I was 14 coming on 15. I was considered capable enough of going to all the games if not on my own at least in the company of others. Home games were easy to get to by public transport and in the 1965/66 season I started going to away games regularly on the Kirkwood CSC bus.
This was a great experience. Going to grounds I had never been to before, enjoying the rituals and banter on the bus and listening to stories of games and players before my time and hearing songs of past Celtic victories and incidents in Irish history. And that season ended in real glory – winning the Championship. That was something I had not dared to even consider in previous years.
With Jock Stein at the helm things were going to get even better I was sure. Something inside me told me that 1966/67 would be an even greater season than the one just finished so I decided to go back to something I had done in my first season as football fan – I would keep a scrapbook of the season and even a bit of a diary. You never know it might just be worth reading again years later.
30 July 1966
We saw the World Cup Final on the TV today. It was live too – not like the one in 1962 – we had to wait until the next day then to get the pictures from South America. We have been watching all the games on television. I think it is brilliant but Dad is not so sure – he thinks if you get too much on the tele then people will stop going to the games.
About 5 minutes after the kick-off I had to go into the kitchen to get a drink of ginger. Mum was there – she is not that interested in football. She was not looking happy. Did not think that us laddies should be supporting Germany after what happened to Dad in the war. I knew he was a POW. I have seen the marks on his body but the war seems a long time ago. I had not thought of it like that before. Maybe we should think again about supporting Germany.
I went back into the living room to watch the game with that thought in my mind. Just as I got back in Helmut Haller scored for Germany – Dad was up out of his seat yelling "Yes Ya Beauty" Wonder what Mum would have thought? We were all cheering just at the end when Germany scored again but England won in extra time. Dad said the third goal never crossed the line and we all agreed. Maybe there will be a photo in the papers tomorrow to show it. At the end Dad, Gerard and Jim went out of the room but I stayed to watch the World Cup being presented even though I can't stand that Nobby Stiles. Imagine if you could see a Scottish team winning a big Cup on TV?!
6 August 1966
Well what a day – We thumped Manchester Utd 4-1. That wee rat Nobby Stiles was up to his dirty stuff again but we showed them. And a big crowd too – must have been over 50,000 there today.  Me and Peter Dickson right in the middle of the Celtic End.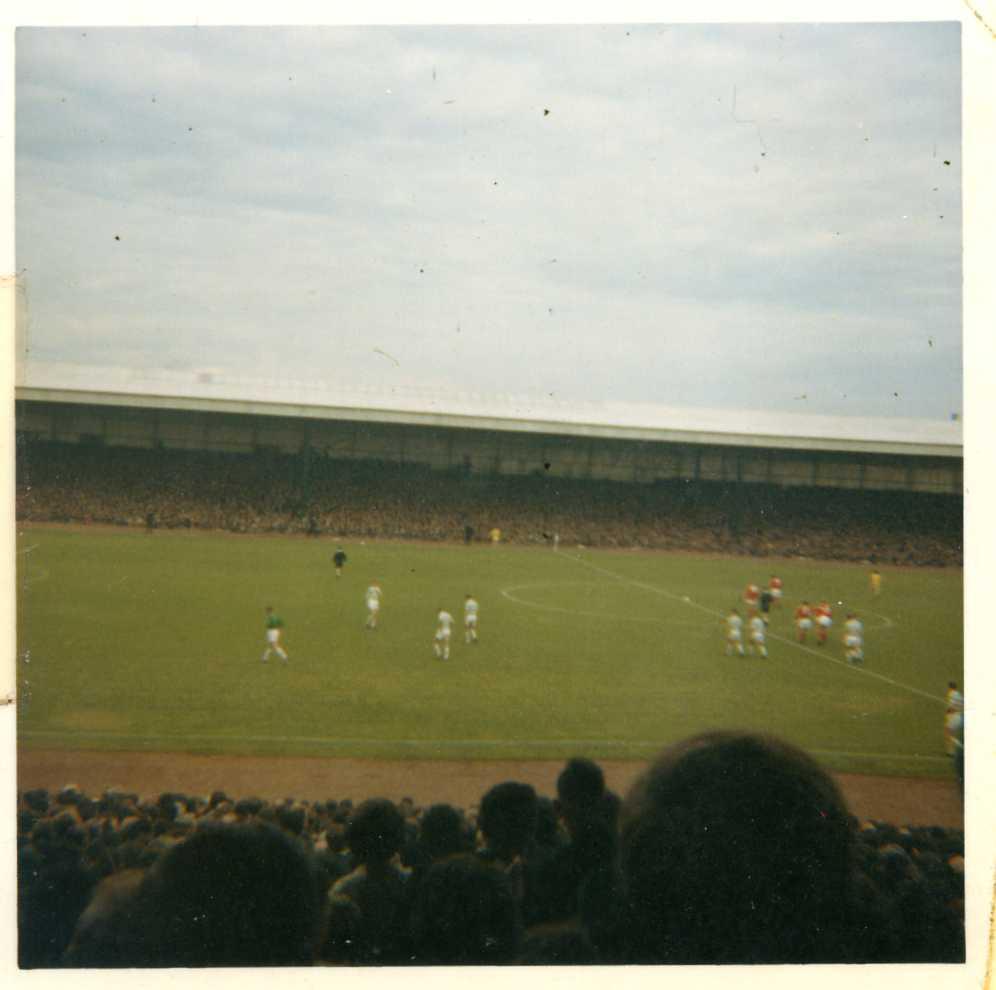 The new Jungle roof was up – some people in the Jungle were even joining in the singing – Never heard that before. Lots of banners there too – Dad said it was good to see the flags and banners back again. There was one designed like a Union Jack but Green, White and Orange instead of Red, White and Blue.  Lots to talk about back at school next week. And I got that Weekly News Colour magazine. Glossy pictures from last season with all the results and us winning the League. Also had a page about the European Cup we will be in. Real Madrid, Inter Milan, Liverpool, Anderlecht are all in it. The final is in Lisbon on Wednesday 24 May next year. It will be on the tele no doubt.
13 August 1966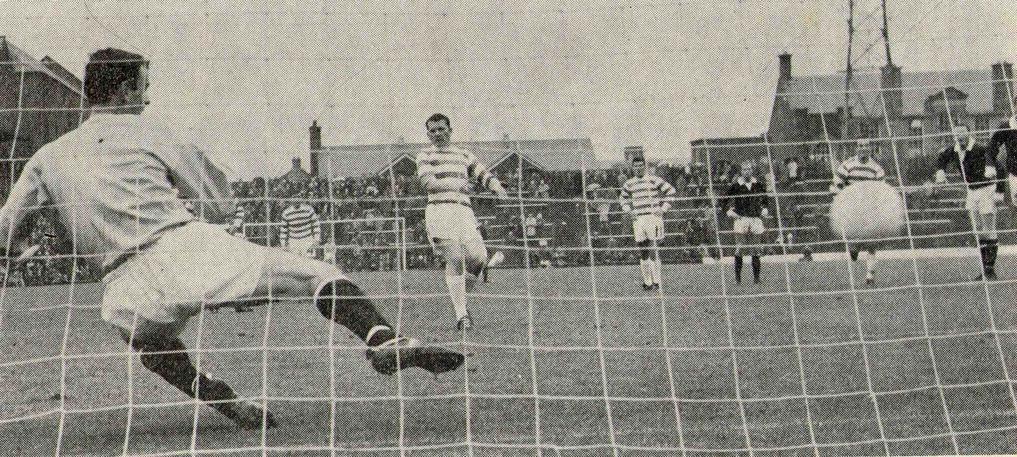 Got soaked today. It was pouring all day. At least when I went to the Public Trial game at Parkhead on Tuesday I could get under cover but not at Tynecastle.  Went on the Kirkwood bus again with John Fagan, his da, his cousin and his uncle. Traffic was bad when we got to Edinburgh.
Somebody said we would miss the kick off and me and John got up out of the seat to see what was happening up the road.  His dad said "no Panic- just remember the 3 C's- cool, calm and collected" He was right and all. We had to step on it going up the road but we made the kick off.
Only about 25,000 there but no way we could get under the cover. Looked like a lot of Hearts fans in there anyway so just as well standing at the Gorgie Road end. Had to keep wiping my specs to see. John said I should fit windae wipers. But I could see the game all right. Wee Joe scored 2. Cost me 5 shillings! No Boys Gate tickets. Last year I got the train to Tynecastle and we walked back to Haymarket after the game. Today it was the other direction back to the buses. "Watch out going under the bridge" says the uncle. "Hearts fans sometimes go up on top and throw bricks and bottles down". Was OK the day though. Hail Hail sounded great echoing in the walls of the bridge.